Eggless Chocolate Chip Cookies
These Eggless Chocolate Chip Cookies are delicious chocolate chip cookies with a soft and chewy texture made without eggs and are perfect for a quick dessert or snack.
I have had a passion for egg-free baking simple and delicious recipes such as my Eggless Blueberry Muffins or Eggless Banana Bread.
You might have already tried my vegan chocolate chips cookies. They are a bit different from this new cookie recipe since they use a flax egg.
I know that not everyone has ground flaxseeds at home, so today, I came up with an easier way to make eggless cookies.
These cookies are using only basic ingredients, nothing complicated and everyone can bake a batch of these delicious eggless chocolate chip cookies.
Here's how to make them.
How To Make Eggless Chocolate Chip Cookies
It's easier than you think to bake delicious chewy chocolate chip cookies without eggs. Let me share the secret to the best eggless cookies.
Ingredients
All you need to make these cookies are:
All-Purpose Flour
Margarine or plant-based butter – Both work very well. Make sure you soften butter if using plant-based butter, and remove it from the fridge 30 minutes before baking cookies. On the other hand, margarine is always soft straight out of the refrigerator, so there is no need to bring it to room temperature.
Sugar – white sugar or caster sugar.
Brown Sugar or soft brown sugar to increase the soft and chewy texture of the cookies.
Plant-Based Milk of Choice – soy milk, almond milk, or oat milk.
Cornstarch
Vanilla Extract
Baking Soda
Chocolate Chips
Instructions
First, in a large mixing bowl or the bowl of your stand mixer, add margarine or plant-based butter, sugar, brown sugar, and vanilla extract.
Using an electric beater or the whisk attachment beat together until creamy. It takes about 1 minute. If it bursts on the sides of the bowl, use a spatula to scrape down the sides of the bowl and beat again.
Add in the milk and keep beating for an extra 30 seconds to incorporate.
Next, stop the hand mixer or stand mixer, and sift in the flour, cornstarch, and baking soda.
If using a stand mixer, use the paddle attachment and beat the ingredients together until creamy and smooth.
In the end, fold in the dark chocolate chips and beat the batter to incorporate.
Transfer the cookie dough to a piece of plastic wrap, wrap tightly, and place in the refrigerator for 30 minutes to 1 hour.
Remove the cookie dough from the fridge and unwrap it.
Preheat the oven to 350°F (180°C). Line two large cookie sheets with parchment paper. Slightly oil the paper, not too much or the cookie spread more and you end up with flatter cookies.
Divide the dough into small balls – you should be able to make 16 cookie dough balls. You can use a cookie scoop to scoop out the batter uniformly.
Roll each cookie dough ball around between lightly greased hands.
Baking The Cookies
Place each cookie dough ball onto the baking sheets, making sure you leave a thumb of space between each.
The cookies expand as they bake so don't place them too close or they touch each other.
Bake one sheet on the center rack and one sheet just under at 350°F (180°C).
The baking time for these eggless cookies is 12 to 14 minutes. Swap the baking sheets halfway to make sure they all cook at the same time.
Bake until golden brown and still a bit soft on top. The cookies firm up as they cool down.
Cooling
Remove the baking sheets from the oven and let the cookies cool down for 5 minutes on the tray before transferring them to a wire rack.
Cool the cookies completely at room temperature on a cooling rack.
Serving
These eggless chocolate chip cookies are a delicious snack with a glass of plant-based milk or a quick dessert.
You can use these cookies to make an ice cream sandwich press a scoop of your favorite vanilla ice cream between two eggless chocolate chip cookies.
Otherwise, try serving these with a dash of sea salt flakes. Salt and chocolate are so good together.
Storage Instructions
Store your cookies in an airtight container or cookie box and place them in the refrigerator to keep them fresh for up to 4 days.
You can freeze leftover cookies in zip-lock bags for up to 1 month.
Thaw your cookies at room temperature the day before on a plate.
Flavor Variations
You can use this eggless cookie recipe to create a range of delicious cookies. Skip the chocolate chips and try.
Eggless Nut Cookies – Replace the chocolate chips with chopped walnuts, pecan, or almonds.
Eggless Oatmeal Raisins Cookies – Add 1/3 cup of rolled oats with the flour, and replace the chocolate chips with dried raisins.
Eggless White Chocolate Chip Cookies – Replace the dark chocolate chips with dairy-free white chocolate chips.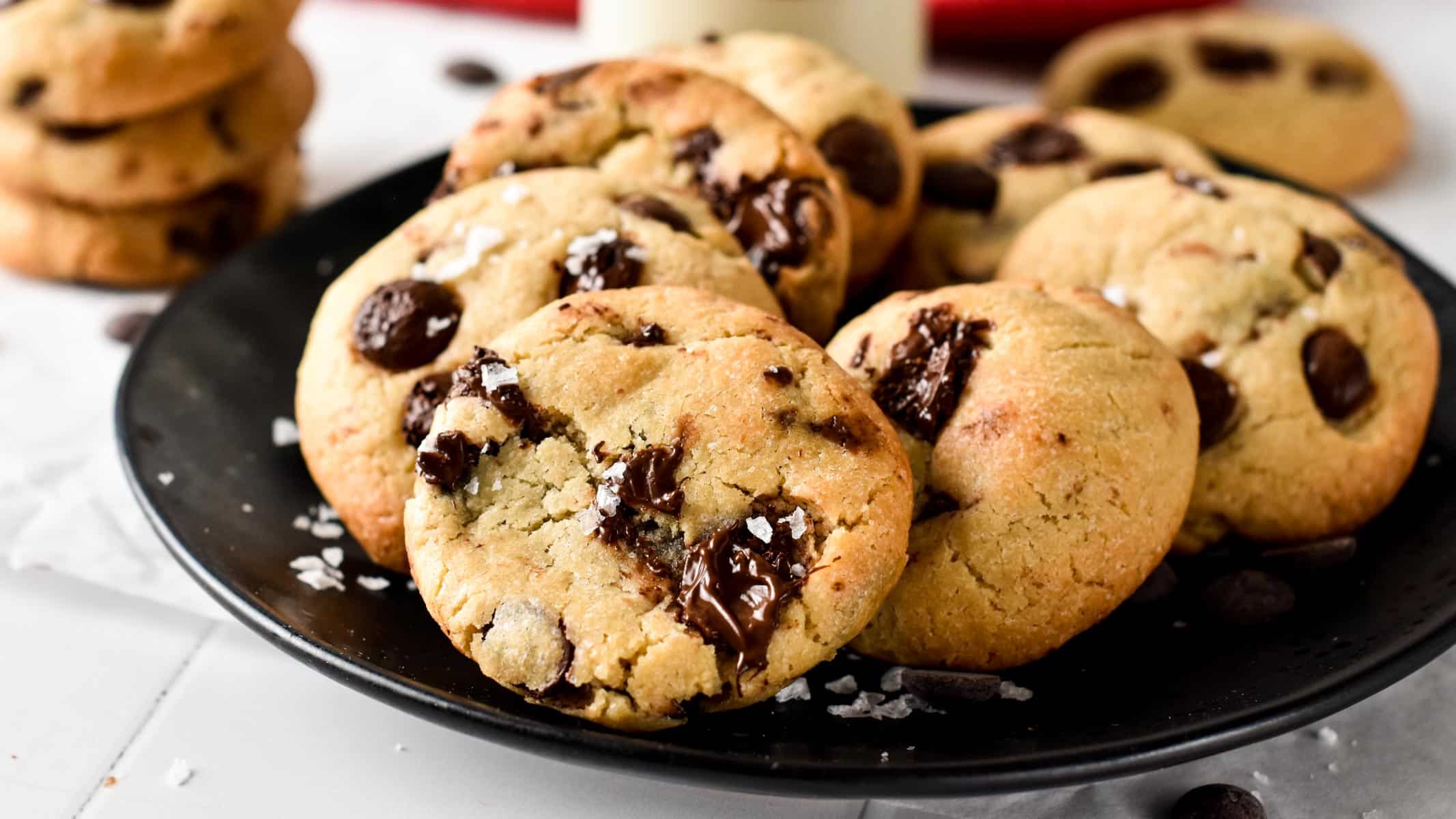 Allergy Swaps
If there are some ingredients in this recipe you need to substitute, try some of the options below.
Sugar-Free – Use sugar-free crystal sweeteners like white and brown erythritol.
Corn-Free – Swap the cornstarch for tapioca flour or arrowroot flour.
Margarine – Try plant-based butter but avoid oil like coconut oil, they make the cookies too oily.
Nut-Free – Use plant-based milk made from seeds or soy like soy milk, hemp milk, or oat milk.
Gluten-Free – I didn't try gluten-free all-purpose flour, but it might provide a nice result if your blend contains added gum.
Frequently Asked Questions
Here are my answers to your most common questions about this eggless chocolate chip cookie recipe.
What Happens If You Don't Add Eggs To Cookies?
You need an egg replacer like cornstarch, a flax egg, or peanut butter to make eggless cookies.
If not, the cookies are crumbly and fall apart easily.
What Is The Best Egg Substitute For Chocolate Chip Cookies?
Cookies should be chewy. Therefore, the best egg replacer is a flax egg or chia egg.
They are all packed with fiber that adds chewiness to cookies.
But cornstarch, potato starch, or tapioca starch are great options to make soft cookies that hold their shape.
What Can I Use For Cookies If I Don't Have Eggs?
Try one tablespoon of ground flaxseeds stirred in 3 tablespoons of lukewarm water.
Set it aside for 10 minutes until gooey, then use as an egg.
Another option is to add one tablespoon of cornstarch and three tablespoons of milk of your choice. Finally, you can also add 3 tablespoons of peanut butter or applesauce, but the cookies will be crumblier and dryer.
More Eggless Baking Recipes
Below are some more eggless baked goods for you if you have an egg allergy.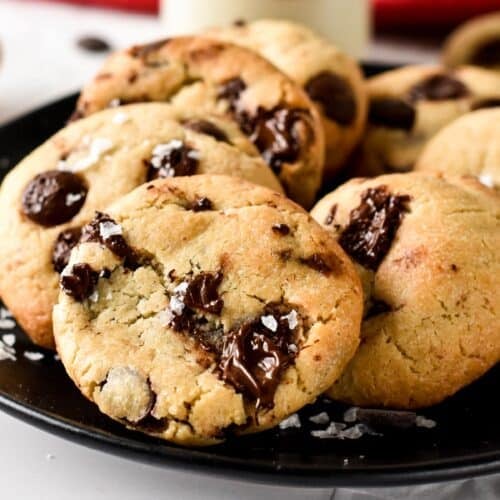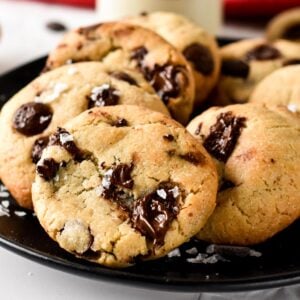 Eggless Chocolate Chip Cookies
These Eggless Chocolate Chip Cookies are easy eggless chocolate chips cookies with a chewy texture and perfect for a quick snack.
Pin
Print
Review
Servings: 16 cookies
Calories: 230.9 kcal
Instructions
Preheat the oven to 350°F (180°C). Line two large cookie sheets with parchment paper. Lightly oil paper with oil spray. Set aside.

In a large bowl or the bowl of your stand mixer, add sugar, brown sugar, and margarine. Use the whisk attachment or an electric beater to beat the ingredients into a creamy mixture – it takes about 1 minute on medium speed.

Beat in plant-based milk and vanilla extract. Stop the beater.

In another bowl, whisk the dry ingredients together: flour, cornstarch, salt, and baking soda.

Sift the dry ingredients into the wet. Now swap to the paddle attachment if you are using a stand mixer, mix to incorporate and form a buttery cookie dough.

Fold in chocolate chips and beat few time to just incorporate.

Film the dough into plastic wrap and chill the dough in the fridge for at least 30 minutes to 1 hour before baking.

Scoop out cookie dough balls the size of a golf ball (about 1 1/2 tablespoons) per cookie. Roll between your hands and place on the baking sheet, leaving 3 inches as the spread while baking.

Bake for 12-14 minutes or until golden brown then cool 5 minutes on the cookie sheet before transferring to a cooling rack.

Cool at room temperature completely for 1 hour.
Storage
Store the cookies in a cookie jar for up to 1 week or freeze them in zip-lock bags for up to 1 month.
Share on Facebook
Pin Recipe
Nutrition
Serving: 1cookie | Calories: 230.9kcal | Carbohydrates: 28.3g | Protein: 2.7g | Fat: 12g | Saturated Fat: 4.7g | Polyunsaturated Fat: 1.8g | Monounsaturated Fat: 4.6g | Trans Fat: 0.004g | Cholesterol: 0.4mg | Sodium: 162.6mg | Potassium: 129.5mg | Fiber: 1.9g | Sugar: 14.2g | Vitamin A: 270.3IU | Vitamin B12: 0.1µg | Vitamin C: 0.2mg | Vitamin D: 0.03µg | Calcium: 22.4mg | Iron: 2.4mg | Magnesium: 36mg | Phosphorus: 60.3mg | Zinc: 0.6mg