This Eggless Cake recipe is an easy one-bowl egg-free chocolate cake recipe with the most deliciously moist cake crumbs.
Plus, the cake is also dairy-free and vegan-friendly.
Baking without eggs just makes sense to me. All vegan recipes are always egg-free, but encouraging everyone to bake without eggs is important.
Why Make Eggless Cakes?
Many people don't enjoy the flavor of eggs in baking and only include them because they are in recipes.
Eggless recipes taste better and can be stored for longer.
You might have tried my eggless vanilla cake recipe. Today, it's a chocolate version of an eggless cake.
If you are new to egg-free baking, it can be overwhelming. But don't overthink the process because it's actually pretty simple.
You don't need any egg replacer, no egg substitute, just basic wholesome ingredients.
How To Make An Eggless Cake
An eggless cake is a delicious, moist chocolate cake made from the most simple ingredients everyone has at home.
Ingredients
All you need to bake an egg-free cake are:
All-Purpose Flour – I didn't try any other flour, and therefore, I won't recommend using a gluten-free all-purpose flour blend. Feel free to try, but by experience, I learned that egg-free and gluten-free don't go very well together without changing the recipe.
Unsweetened Cocoa Powder
Sugar – You can use any crystal sweetener, like coconut sugar, unrefined cane sugar, or sugar-free natural sweeteners like erythritol.
Baking Soda
Water
Milk of Choice – I like soy milk or almond milk. Feel free to try coconut milk or oat milk if preferred.
Avocado Oil or any vegetable oil you have at home. Melted plant-based butter also works well in this eggless chocolate cake recipe.
Vanilla Extract
Apple Cider Vinegar or white vinegar
Salt
Preparation
Preheat the oven to 350°F (180°C).
Grease a round 9-inch pan with oil spray and cover the bottom and sides of the pan with parchment paper.
Spray some oil on the paper as well to prevent the cake from sticking to the paper.
Follow the easy step-by-step instructions below to make a delicious eggless sponge cake.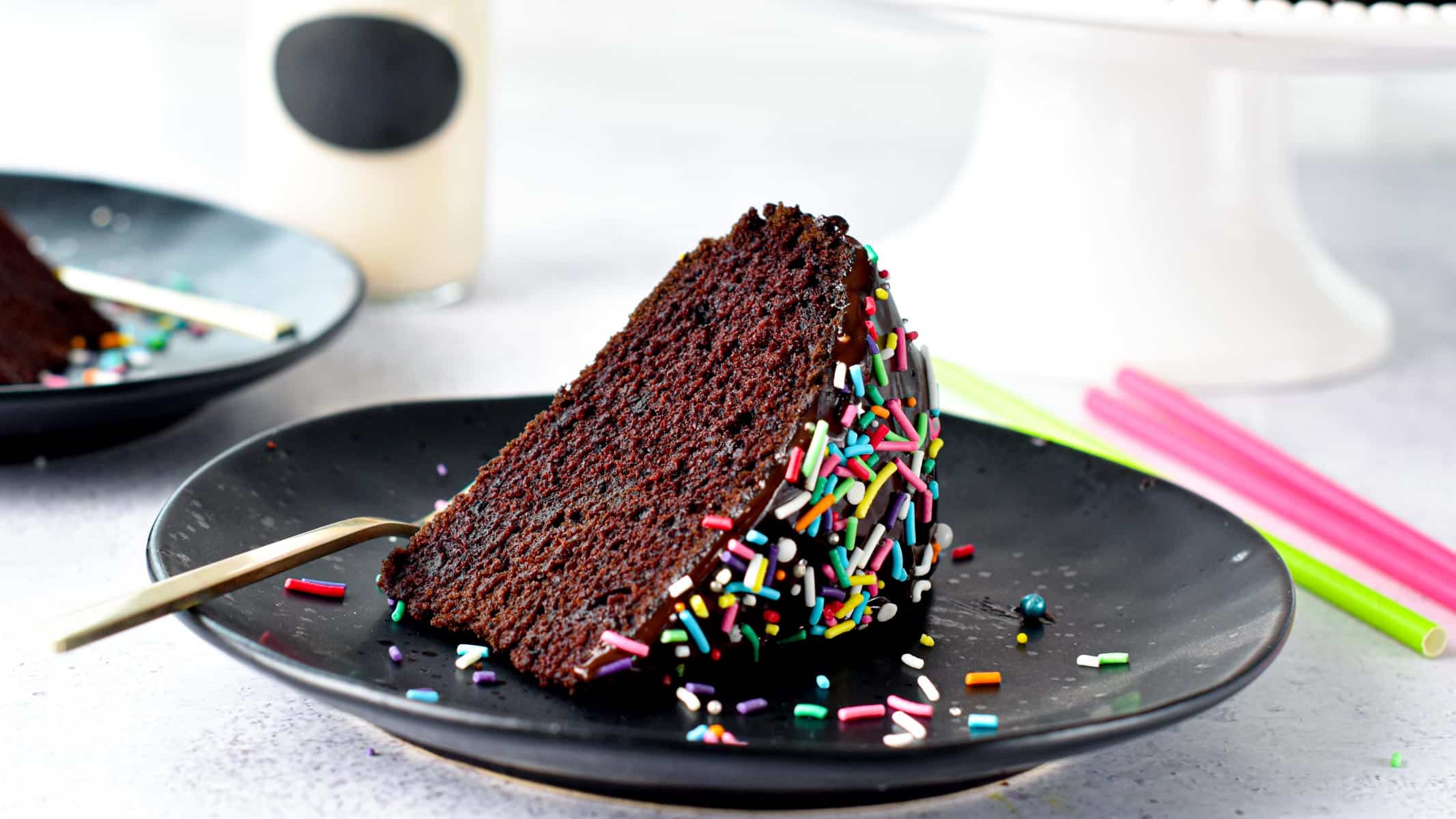 Dry Ingredients
First, add all the dry ingredients in a large mixing bowl or the bowl of your stand mixer: flour, cocoa powder, baking soda, and salt.
Use a whisk to stir and break any lumps of cocoa in the bowl. It should be consistent and fine with no lumps of dry ingredients.
Make a well in the center of the flour mixture.
Liquid Ingredients
Now, add the wet ingredients: water, milk, avocado oil, and vanilla extract.
Use a silicone spatula or wooden spoon to stir and bring all ingredients together into a smooth cake batter.
The chocolate cake batter should look like any regular cake batter, not too thin, not too thick, smooth, and shiny.
Baking Egg-Free Cake
Pour the batter into the mold and place it in the center rack of the oven.
Bake the cake for 40 to 50 minutes or until a pick inserted in the center of the cake comes out clean.
If the top of the cake darkens too fast, foil the top of the pan with a piece of foil.
The baking time varies depending on the size of the pan and oven calibration. Always follow the toothpick indicator to know if the cake is cooked in the center.
Let the cake cool down for 10 minutes in the cake pan, then release it on a wire rack.
Cool completely on a wire rack at room temperature before adding any chocolate ganache or decoration.
Chocolate Ganache
After 3 hours or overnight, the cake should be cool enough to be decorated.
I like to make a chocolate ganache, but feel free to halve the cake and use some of the dairy-free frosting recipes below to fill the cake.
If you prefer to make a ganache, add the ingredients below into a small non-stick saucepan.
Dark Chocolate
Coconut Milk
Bring the saucepan over low-medium heat. Stir gently with a wooden spoon. As it gets warm, it melts and thickens.
Cook until the chocolate is fully melted and the ganache is shiny and slightly thick.
Let it cool down for 10 minutes at room temperature outside the stove.
Then, pour the lukewarm chocolate ganache on top of the chocolate cake and spread to cover.
If you like, sprinkle some candies, sugar sprinkles, or unsweetened coconut on top of the ganache.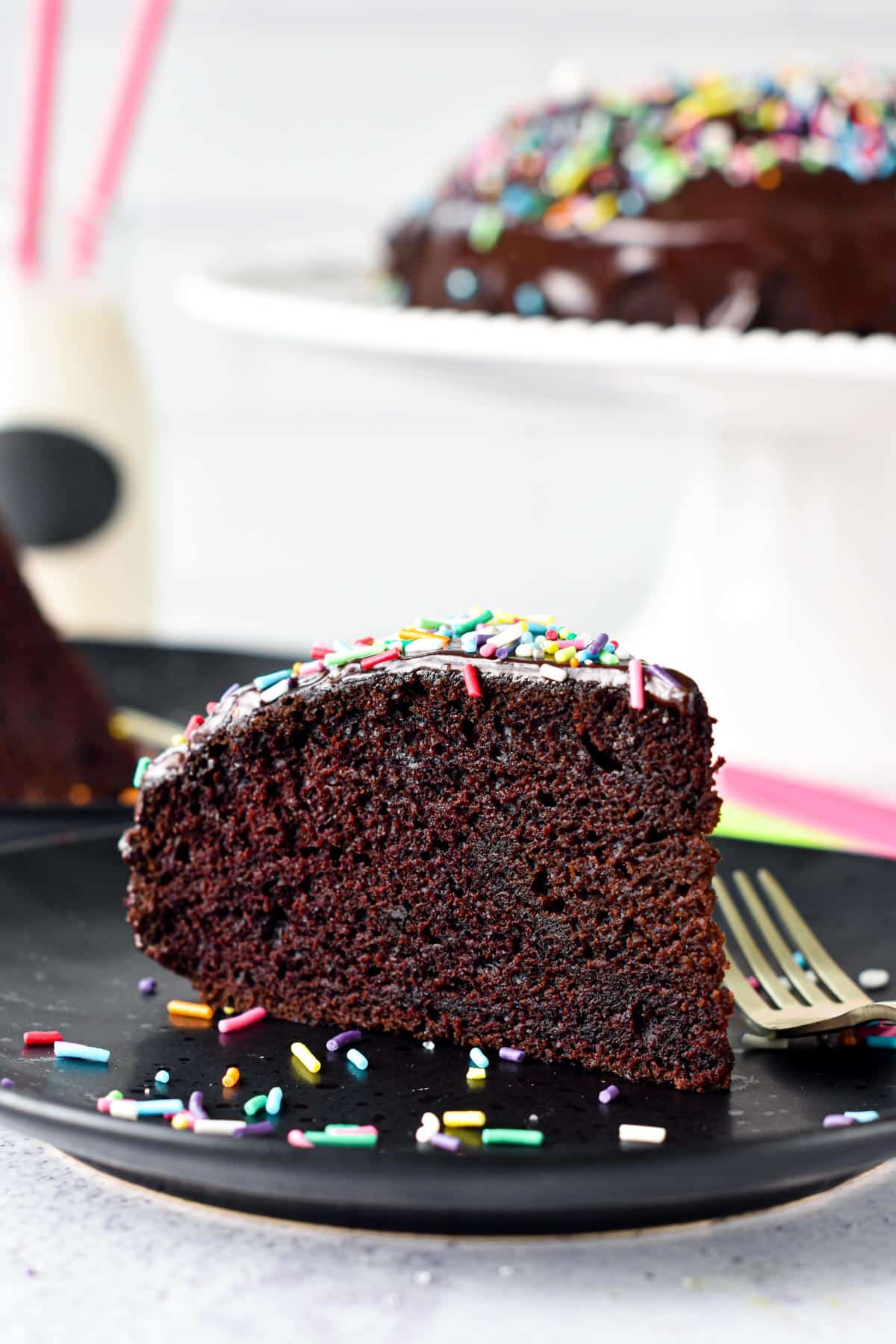 Storage Instructions
This eggless cake can be stored very well at room temperature in a cake box for up to 2 days.
Or store it for up to 4 days in the fridge. If the cake is too large to eat within 4 days, you can also freeze cake slices in sealed bags or a container.
The cake can be frozen for up to one month, and thaw at room temperature the day before.
Allergy Swaps
If you are allergic to some of the ingredients, you can use some of the substitutions below. But overall, the cake is quite allergy-friendly as it's naturally:
Egg-Free
Dairy-Free
Nut-Free
Vegan
Below are some more options for you:
Sugar-Free – Use a sugar-free natural granulated sweetener, like erythritol or allulose. For the ganache, use stevia-sweetened chocolate chips.
Oil-Free – I didn't try an oil-free version of this cake. You may want to try dairy-free yogurt or unsweetened applesauce, but I can't guarantee the texture will be the same.
Gluten-Free – I didn't try a gluten-free option yet. I don't think a gluten-free all-purpose flour will come out very well. Often in egg-free baking, gluten-free flour blends require more fat or baking powder to achieve a similar cake texture. Feel free to experiment, but I can't guarantee a successful result.
Baking Soda can be replaced with twice the amount of baking powder.
Frequently Asked Questions
Can I Bake The Cake In An 8-Inch Pan?
I recommend sticking to a 9-inch pan, or the cake will be too thick, and as a result, it will take a very long time to bake.
Plus, the texture won't be spongy at all but denser if the pan is too small.
Can I Make A Two-Layer Cake With This Recipe?
Yes, you can split the cake batter evenly in half. Bake the cake in two greased 9-inch round pans.
Place one pan in the center rack and one pan under the center rack.
Swap the pans halfway through baking, so both cake layers bake evenly.
Since there's less cake batter in the pan, the baking time will decrease to 30 to 40 minutes.
Always insert a toothpick in the center of each cake layer. The cakes are ready to come out of the oven when the pick comes out clean or with a few crumbs on it.
How Can I Stick The Cake Layers Of A Layered Cake?
Cool down both cake layers and use my chocolate frosting recipe to stick both cake layers.
Use the remaining frosting to cover both cake layers, or use the chocolate ganache recipe.
More Eggless Cake Recipes
If you like making cakes without eggs, try some of these egg-free cake recipes: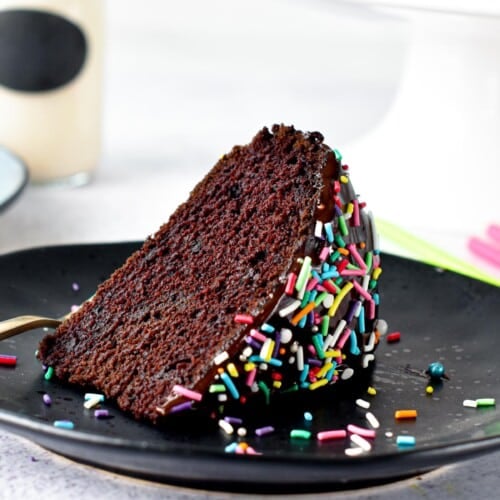 Eggless Cake
This Eggless Cake recipe is an easy one-bowl egg-free chocolate cake recipe with the most delicious, moist cake crumbs. Plus, the cake is also dairy-free and vegan-friendly.
Pin
Print
Review
Ingredients
Dairy-Free Chocolate Ganache
Instructions
Preheat the oven to 350°F (180°C). Lightly grease a 9-inch round cake pan with oil.

In a large mixing bowl, add the flour, sugar, unsweetened cocoa powder, salt, and baking soda. Whisk to combine and break any lumps of flour.

Make a well in the dry ingredients and add the vinegar, oil, and vanilla extract.

Pour the water and milk at room temperature over the ingredients and whisk to form a smooth, lump-free cake batter.

Pour the cake batter into the prepared pan and bake in the center rack of the oven.

Bake for

40-50 minutes

or until a pick inserted in the center of the cake comes out clean. I recommend checking the cake after 30 minutes and foiling the pan if the top browns too fast.

Cool down completely on a wire rack at room temperature before adding the ganache frosting.

Just before glazing, prepare the chocolate ganache.
Chocolate Ganache
Bring coconut milk and chocolate chips over low-medium heat in a non-stick saucepan.

Cook and stir gently with a silicone or wooden spoon until the chocolate is melted and a shiny melted mixture forms.

Spread all over the cooled cake before serving and add sprinkles if desired.
Notes
Flour Options: You can replace the wheat flour with the same amount of spelt flour, all-purpose gluten-free flour, or oat flour. Oat flour makes the cake very dense and doesn't work in combination with sugar-free sweeteners. The texture will be fragile if so. Sugar Options: coconut sugar, unrefined cane sugar, or sugar-free option: replace sugar with erythritol or xylitol. Nutrition will be Calories: 176 kcal, Carbs: 17.8g, Sugar: 3.1g, Protein: 2.7 g Fiber: 1.8 g, Net carbs: 16g
Share on Facebook
Pin Recipe
Nutrition
Serving:
1
slice with ganache
|
Calories:
215.1
kcal
|
Carbohydrates:
29.1
g
|
Protein:
2.7
g
|
Fat:
10.4
g
|
Saturated Fat:
2.4
g
|
Polyunsaturated Fat:
2.2
g
|
Monounsaturated Fat:
5.4
g
|
Trans Fat:
0.03
g
|
Cholesterol:
0.2
mg
|
Sodium:
152.2
mg
|
Potassium:
103.8
mg
|
Fiber:
2.1
g
|
Sugar:
14.3
g
|
Vitamin A:
2.4
IU
|
Vitamin B12:
0.1
µg
|
Vitamin D:
2.5
µg
|
Calcium:
22.5
mg
|
Iron:
1.8
mg
|
Magnesium:
32.1
mg
|
Phosphorus:
55.8
mg
|
Zinc:
0.5
mg