This Vegan Coffee Cake is a moist, buttery vanilla cake filled with sweet cinnamon sugar and topped with a crunchy walnut cinnamon streusel.
It's the perfect weekend breakfast cake to bring all the family around the table.
If you love vegan cinnamon rolls for breakfast, you'll love this vegan coffee cake.
A coffee cake doesn't contain coffee. Its name only refers to the fact that this cake marries perfectly with coffee.
So you can safely serve a coffee cake for a kid's breakfast!
How To Make Vegan Coffee Cake
It's very simple to make a coffee cake and a great way to meal prep days of breakfast or feed a crowd in the morning during the holiday season.
Cake Batter Ingredients
All you need to make this vegan coffee cake batter are:
Soy Milk or any non-dairy milk you love, like almond milk, oat milk, or coconut milk.
Apple Cider Vinegar or lemon juice
All-Purpose Flour, white spelt flour, or whole white spelt flour.
Baking Powder
Baking Soda
Salt
Sugar – or sugar-free erythritol
Unsalted Vegan Butter, light olive oil, or avocado oil.
Vegan Yogurt or Unsweetened Applesauce
Vanilla Extract
Filling Ingredients
For the center of the cake, you need to prepare cinnamon sugar by stirring together the two ingredients below:
Cinnamon
Coconut Sugar, brown sugar, or sugar. I like the caramel earthy flavor of coconut sugar in a coffee cake, so it's my go-to option.
Cinnamon Walnut Streusel
For the cake topping, you need to prepare a nut cinnamon crumble by combining the following:
Flour – Classic all-purpose flour or spelt flour.
Cinnamon
Coconut Sugar
Melted Vegan Butter – I don't recommend coconut oil or any oil for the streusel. It melts too quickly and blends with the cake batter.
Preparation
First, preheat the oven to 350°F (180°C). Line a 9-inch x 13-inch cake pan with parchment paper and lightly oil the paper with cooking oil spray.
Set the pan aside while you prepare the rest.
Making The Vegan Buttermilk
Next, prepare the vegan buttermilk. In a small jug, stir soy milk and apple cider vinegar.
Set aside for 10 minutes until it curdles.
Coffee Cake Batter
In a large mixing bowl, add the flour, baking powder, baking soda, salt, and sugar.
Stir to combine evenly and make a well in the center of the flour.
Pour the buttermilk into the well along with the remaining wet ingredients: melted vegan butter, vanilla extract, and unsweetened apple sauce or vegan yogurt.
Stir to combine and form a smooth, lump-free cake batter.
Split the batter in half, which makes about 2½ cups, and place the batter into the prepared baking pan.
Set the remaining cake batter aside in its bowl while you prepare the cinnamon filling.
Cinnamon Sugar And Crumble Topping
In a small bowl, prepare the cinnamon sugar. This is what you are going to use between the two layers of cake.
Simply stir cinnamon and coconut sugar in a small bowl.
Sprinkle the cinnamon sugar all over the first layer of the cake.
Then, spread the remaining cake batter all over the cinnamon sugar.
This is a tricky part. Don't add all the batter in one spot, but rather add dollops of batter all over the pan.
Then use a fork to gently spread the top cake layer over the cinnamon sugar layer.
A fork can help you spread the batter without interfering too much with the cinnamon sugar. Spread evenly until no more cinnamon sugar can be seen.
Crumble Topping
Set the cake aside while preparing the streusel topping.
In another bowl, add all the toppings ingredients: flour, cinnamon, melted butter, and vanilla extract.
Stir to combine and form a sticky paste that you can easily rub and crumble into pieces on top of the cake.
Sprinkle the cinnamon crumble all over the cake.
Baking
Bake the vegan coffee cake in the center rack of the oven for 40 to 50 minutes or until a toothpick or skewer inserted in the center of the cake comes out clean.
Cool first in the pan for 20 to 25 minutes. Then, use the overhanging parchment paper to pull the cake out of the pan.
Let the cake cool completely on a wire rack before serving, cutting, or glazing.
Glazing
The glazing is totally optional, but like any cake, adding a little sweet drizzle on top makes it even more delicious.
To make the glazing, simply stir powdered sugar and your plant-based milk of choice until it thickens but is still drippy.
Drizzle the glazing over the cooled cake.
Storage Instructions
This vegan coffee cake can be stored at room temperature for 2 to 3 days or up to 5 days in the fridge in a sealed cake box.
I recommend storing the cake whole and to slice it as you go to keep the crumb fluffy and buttery.
Flavors Variation
There are many ways to make coffee cake, and you can play with flavors by swapping some of the ingredients in this recipe.
Chocolate Coffee Cake – Add 1/3 cup of dark chocolate chips to the cinnamon layer and the same in the streusel.
Coffee Flavors – Add 1 teaspoon of instant coffee in the streusel and cinnamon layer.
Pumpkin Coffee Cake – Swap the cinnamon for pumpkin pie spices and replace the apple sauce with pumpkin puree.
Walnut Coffee Cake – Finely chop 1/2 cup of walnuts or pecan and sprinkle over the top layer, along with the crumble topping.
Allergy Swaps
Below I listed some ingredient substitutions for the most common food allergies.
Gluten-Free – Feel free to replace the flour with an all-purpose gluten-free flour blend. Make sure your baking powder is gluten-free as well.
Nut-Free – Skip the walnuts in the topping or replace them with sunflower seeds. Use nut-free, dairy-free milk like soy milk suggested.
Sugar-Free – Natural sugar-free granulated sweeteners like brown or white erythritol also work.
Soy-Free – Use almond milk, oat milk, or coconut milk.
Vegan Butter Swap – Olive oil or avocado oil works well in the batter. For the streusel, melted coconut oil would work, but the texture won't be as crispy as with vegan butter.
Frequently Asked Questions
Find below my answers to your most frequent questions about this vegan cake recipe.
Does Coffee Cake Contain Coffee?
No, a coffee cake is a breakfast vanilla cake with a cinnamon filling and topping but no coffee or espresso at all.
It gets its name because it's the perfect treat next to a cup of coffee.
Can I Make This Into Muffins?
You can make coffee cake muffins, but this batter serves about 24 muffins.
It means that you need two muffin pans and bake them on two different racks, center and below, for about 30 to 40 minutes, switching the pan halfway.
More Vegan Cake Recipes
If you like this vegan coffee cake, you'll love these other vegan cake recipes.
Did you try this vegan coffee cake recipe? Share a comment or review below to connect with me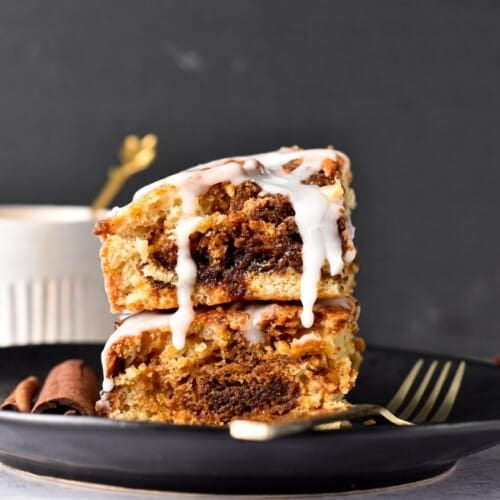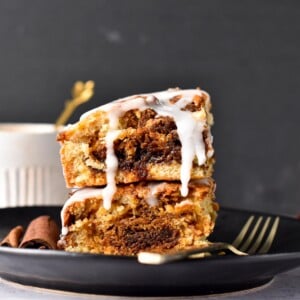 Vegan Coffee Cake
This Vegan Coffee Cake recipe is the most delicious tea cake ever. Two buttery vanilla cake layers filled with cinnamon sugar and topped with a crispy cinnamon crumble.
Pin
Print
Review
Save
Saved Recipes
Instructions
Preheat the oven to 350°F (180°C). Line a 9-inch x 13-inch baking pan with parchment paper, making sure you keep overhanging parts of parchment paper on the sides to help unmold the cake. Slightly oil paper with oil spray. Set aside.
Cinnamon Sugar
In a small bowl, stir coconut sugar and cinnamon. Set aside for later.
Coffee Cake Batter
In a medium bowl, whisk milk and apple cider vinegar. Set aside for 10 minutes until it curdles.

In a large bowl, add all-purpose flour, sugar, baking soda, baking powder, and salt. Whisk to combine evenly. Make a well in the center of the dry ingredients.

Pour the milk mixture into the well along with plant-based yogurt (or unsweetened applesauce), vanilla extract, and melted vegan butter.

Use a silicone spatula or wooden spoon to stir the ingredients together and form a consistent, smooth cake batter.

Pour half of the batter into the prepared pan, then evenly sprinkle the batch of cinnamon sugar all over it.

Pour the remaining half batter on top – watch my pictures above for visual help.
Crumble Topping
In a small bowl, add melted vegan butter, coconut sugar, cinnamon, flour, and vanilla extract.

Stir the ingredients together until they form a paste that you can crumble into pieces with your fingers.

Use your finger to crumble the mixture all over the cake.

Bake in the center rack of the oven for 35-40 minutes or until golden brown on top and a pick inserted in the center of the vegan coffee cake comes out clean.

Cool down for 5 minutes in the pan, then transfer to a wire rack to cool completely at room temperature.
Storage
Store leftovers in a sealed cake box in the fridge or freeze them in an airtight container for up to 1 month.
Share on Facebook
Pin Recipe
Nutrition
Serving:
1
slice
|
Calories:
222.3
kcal
|
Carbohydrates:
37
g
|
Protein:
2.8
g
|
Fat:
7.4
g
|
Saturated Fat:
4.4
g
|
Polyunsaturated Fat:
0.6
g
|
Monounsaturated Fat:
1.8
g
|
Trans Fat:
0.3
g
|
Cholesterol:
18
mg
|
Sodium:
189.6
mg
|
Potassium:
58.6
mg
|
Fiber:
1
g
|
Sugar:
19.4
g
|
Vitamin A:
287.4
IU
|
Vitamin B12:
0.2
µg
|
Vitamin C:
1.5
mg
|
Vitamin D:
0.2
µg
|
Calcium:
62
mg
|
Iron:
1.1
mg
|
Magnesium:
5.3
mg
|
Phosphorus:
33.2
mg
|
Zinc:
0.2
mg