Easy Vegan Crepes – An Eggless Crepe Recipe
Vegan crepes are French-style crepes made without eggs or dairy. They are large thin pancakes perfect for a sweet vegan breakfast or delicious dessert.
Plus, these are easy eggless crepes made with only 5 ingredients.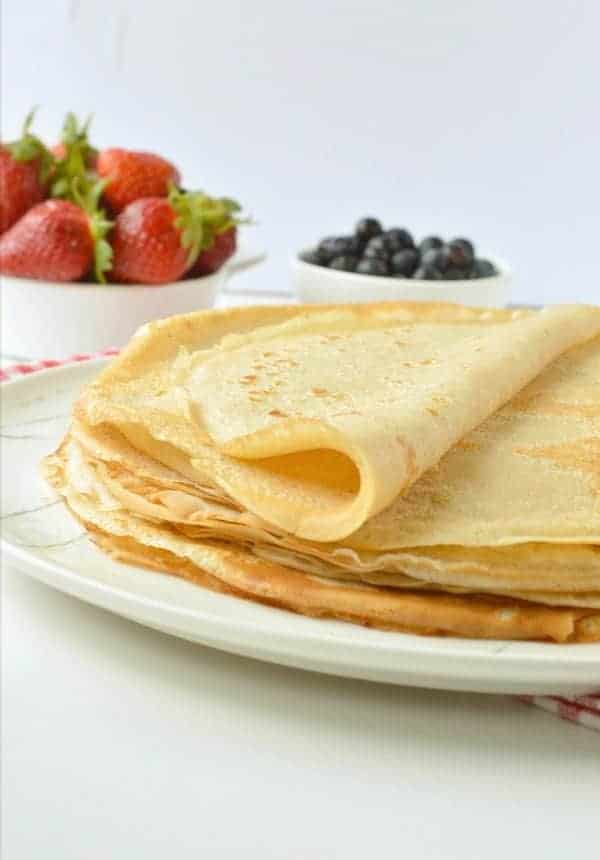 As a French mum, crepes are part of our culture. We eat crepes weekly and these egg-free crepes are our favorite vegan dessert or breakfast on the weekend.
What Are Crepes?
A crepe (in French spelling "crêpe"), is a very thin pancake-style specialty that is typical of the Brittany region of western France.
Crepes are much larger than pancakes and also much thinner, similar in shape and size to wraps.
Their texture is very close to a pancake but slightly softer.
Crepes are either served with a sweet filling or with a savory filling. This recipe will give you 6 delicious sweet crepes.
A classic French Crepe Recipe is not vegan, as it typically contains eggs and milk.
How Do I Pronounce Crepe The French Way?
Pronouncing crepes like a true French person can be tricky, but the best approximation is "krep", though try to make a guttural "r". The final "e" is silent. The first "e" is the same as in "best".
How To Make Crepes Vegan
There are always two important rules to make a perfect french crepe, vegan or not, you need to:
Have all your ingredients at room temperature. This prevents flour lumps in your batter or oil lumps if you are using coconut oil.
Use a non-stick crepe pan. A crepe pan is thinner than a regular pan. It cooks food faster, creating thin and crispy crepes borders. Crepe pans have a non-stick coating that prevents the crepe from sticking to the pan. This is a must-to-have tool to make beautiful, thin crepes.
Egg-Free Crepes Without Egg Replacer
A classic crepe uses eggs, milk, and butter, and I am here to tell you that it doesn't have to be the case!
These vegan crepes taste exactly like French crepes, and they don't even need an egg replacer.
They hold perfectly well without a flax egg as long as you are using a non-stick crepe pan. I know I am repeating myself here but trust me, this is the key to success.
Learn more about how to start your vegan journey with our beginner's guide to the vegan diet!
Otherwise, make sure you are using at least a non-stick pancake pan or a griddle!
5-Ingredient Easy Vegan Crepes
This is a very easy vegan crepe recipe that requires only 5 ingredients. The ingredients you need to make these lovely egg-free crepes are:
All-purpose flour – it gives the best result, or use white spelt flour for extra nutrients.
Soy milk or oat milk – this is a dairy-free crepe recipe, and these two milk options work the best. Other options are almond milk or coconut milk, but the texture will be different.
Crystal sweetener – sugar can be used, but I prefer unrefined sugar as it's more natural. I recommend coconut sugar or Monk fruit sugar, or erythritol if you want a sugar-free option.
Avocado oil or light olive oil, or coconut oil.
Vanilla extract
Can I Make Vegan Gluten-Free Crepes?
You can use this recipe to make vegan, gluten-free crepes.
Simply replace the all-purpose wheat flour with an all-purpose gluten-free flour blend.
The texture of the crepe will be chewier but still delicious.
Vegan Crepe Fillings
These eggless crepes are thin, chewy, and won't break with any filling. I will share with you the 3 easy steps to perfectly fill crepes as a true French person.
First, always add a soft spread like jam, maple syrup, nut butter, dairy-free coconut yogurt, apple puree, or melted dark chocolate.
Then, add some texture with fruits like strawberries, thin apple slices, pear, pineapple, or crunchy ingredients like sliced almonds, desiccated coconut, crushed peanuts, and chopped dark chocolate.
Finally, add a vegan crepe topping to decorate like icing sugar, powdered monk fruit if sugar-free, whipped coconut cream, fresh mint, or edible flowers!
Best Vegan Crepes Fillings
Below I listed the top 7 vegan crepes fillings to use with this easy dairy-free crepes recipe.
All these combinations are inspired by the french crepes we used to eat when we lived in France.
Chocolate hemp nut butter spread – see recipe card for the spread recipe – with strawberries and desiccated coconut.
Strawberry chia seed jam and peanut butter with crushed peanuts
Apricot jam with desiccated coconut and whipped coconut cream.
Apple puree with toasted walnuts and ground cinnamon.
Maple syrup, pear slices, chopped dark chocolate, and fresh mint on top.
Maple syrup, coconut yogurt, pineapple slices, and fresh coconut pieces.
Step-By-Step Video
More Vegan Breakfast Recipes
We recommend you also try our range of vegan pancakes and vegan waffles recipes below!
Vegan Crepes
Instructions
Before you start, make sure all the ingredients are at room temperature. If you are using cold milk, you will create flour lumps that will require an electric beater to be dissolved.

In a large mixing bowl, add flour of your choice – I recommend all-purpose wheat or spelt flour for best results. Whisk for a few seconds to remove any big lumps. You don't need to sift the flour.

Add vanilla, sugar, avocado oil, and soy milk (all at room temperature).

Whisk vigorously until the crepe batter forms, with no lumps. It is ok to have a few small lumps at the end for a crepe recipe. If you really don't like these lumps, use an electric beater to get a smoother batter. The batter should be slightly thick but runnier than a pancake batter.

Warm a non-stick crepe pan or non-stick pancake griddle under medium/high heat.

Rub avocado oil onto the pan using a piece of absorbent paper. I used about 1 teaspoon of oil placed on a piece of absorbent paper. Then, I rub the crepe pan. This avoids leaving drops of oil on the pan that will fry the crepes, so always use this technique to avoid too much oil in the pan.

Scoop the batter onto the pan, then tip and rotate it to spread the batter as thinly as possible. Note that 1/2 cup of crepe batter perfectly covers a 28 cm (11 inches) crepe pan and makes a thin crepe.

Brown

2-3 minutes

on one side. You know it's ready to flip the crepe when the underside is getting crispy and unsticks by itself.

Loosen sides with a flat tool and then slide a spatula under the crepe to flip on the other side.

Cook for

1 more minute

on the other side, then put on a plate and repeat this until no more batter is left. You will make 8 large 11-inch crepes with this recipe.
Storage
Store crepes in the fridge for up to 3 days. Place them flat, on a plate covered with a silicone lid to prevent them from drying out.
Toppings and fillings
Look at the recipe post for vegan crepe filling ideas.
Chocolate hemp spread
Place dark chocolate in a small saucepan and melt on low heat.

Stir in hemp powder, fresh runny peanut butter, or sunflower seed butter until smooth.

Spread on the crepes or store in the pantry in an airtight container for up to 1 week.
Notes
Gluten-free vegan crepes: you can make this recipe using all-purpose gluten-free flour. The crepes will be chewier but delicious. Another option is to use half buckwheat flour and half all-purpose gluten-free flour.
Share on Facebook
Pin Recipe
Nutrition
Serving:
1
crepe (no filling)
|
Calories:
283
kcal
|
Carbohydrates:
34.6
g
|
Protein:
7.7
g
|
Fat:
12.3
g
|
Saturated Fat:
3.1
g
|
Polyunsaturated Fat:
2.5
g
|
Monounsaturated Fat:
5.7
g
|
Trans Fat:
0.003
g
|
Cholesterol:
0.2
mg
|
Sodium:
70
mg
|
Potassium:
226.7
mg
|
Fiber:
2.5
g
|
Sugar:
7.5
g
|
Vitamin A:
264.4
IU
|
Vitamin B12:
0.7
µg
|
Vitamin C:
4.8
mg
|
Vitamin D:
0.8
µg
|
Calcium:
109.7
mg
|
Iron:
2.8
mg
|
Magnesium:
37
mg
|
Phosphorus:
83.2
mg
|
Zinc:
0.8
mg