Date Caramel (Only 2 Ingredients!)
This easy 2-Ingredient Date Caramel sauce is the best spread for breakfast or no-bake desserts.
Plus, this is a vegan caramel sauce made with no dairy, no butter, and no refined sugar.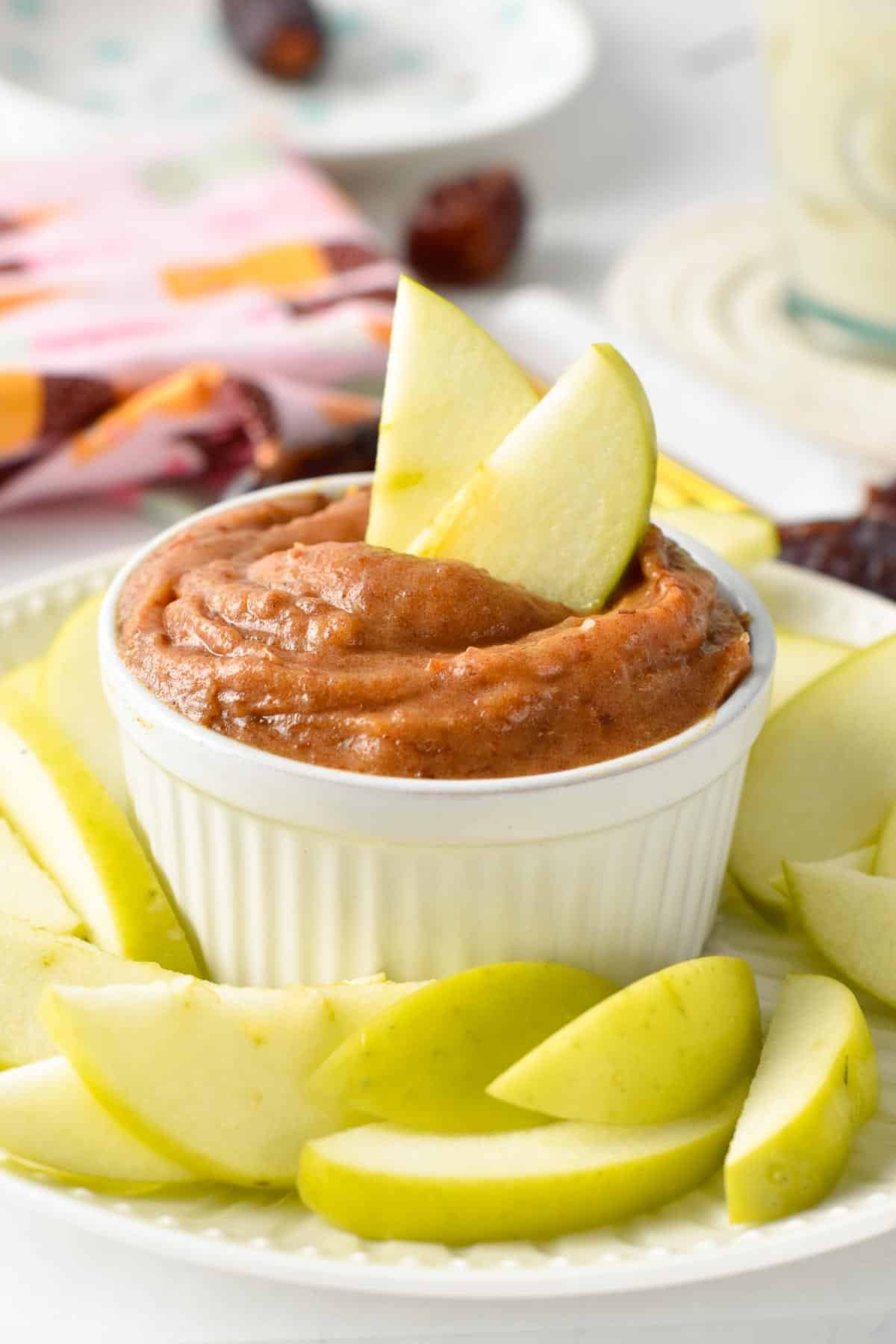 What Is Date Caramel?
Date caramel is a thick sticky caramel sauce made from Medjool dates, a thick variety of dried dates.
It's a versatile staple that can be used in no-bake desserts to replace caramel, but it can also be added to plant-based yogurts or on top of cakes and cookies.
It's an alternative to my Peanut Butter Caramel.
Best Date Varieties
The success of a date caramel depends on the variety of dates you use. In fact, there are many date varieties.
Some are thicker, sweeter, and better for desserts, while others are better for cooking with their smaller size and dryer texture.
Below I listed the names of the most common dates from the grocery store. The top 3 are great to make date caramel recipes because of their soft, rich and sweet flavor.
Medjool – the best choice of dates for dessert with a rich, sweet, soft strong caramel-like flavor and amber color.
Bahri – rich and soft date with firm flesh and skin. These work well in desserts but take longer to process into a paste, especially in a food processor.
Dayri – heavy, sweet, and soft with red skin.
Deglet Noor – semi-dry, strong date flavor, no caramel-like flavor, and mostly used in cooking for meals.
Halaway or halawi – with a sweet honey flavor, very soft with a lighter orange color.
Thoory – also called bread date. They are perfectly sweet, nutty, and dry dates for baking.
So to make this recipe, I highly recommend Medjool date or Bahri or Dayri dates.
If you don't have a high-speed blender, Medjool dates are the ones that blend the best in a food processor.
How To Make Date Caramel
All you need to make date caramel are 2 ingredients that you probably have at home.
Ingredients
Medjool dates – this variety of dates is rich and soft, with a chewy flesh that naturally has a caramel-like taste.
Lukewarm water or almond milk or coconut milk or even coconut cream for a smoother, richer sauce.
Soaking Dates
First, place the dates into a large mixing bowl and cover with hot water for 3 minutes.
This softens the flesh of the dates and makes it easier to blend and pulse into a paste.
Blending
There are two ways to make date caramel in your high-speed blender.
You can make:
Thick date caramel – to spread on a piece of bread or make Snickers frozen banana bites.
Thin caramel sauce – to drizzle on ice cream, dessert, or make caramel apple.
The difference between both is the amount of water or almond milk you add to the blender. The more you add, the thinner the caramel will be.
Add all the ingredients into the jug of a high-speed blender and blend until it reaches your favorite texture.
Use the tamper tool of the food processor to push down the dates onto the blade and help the food processor pulse the dates into a creamy paste. Add more liquid.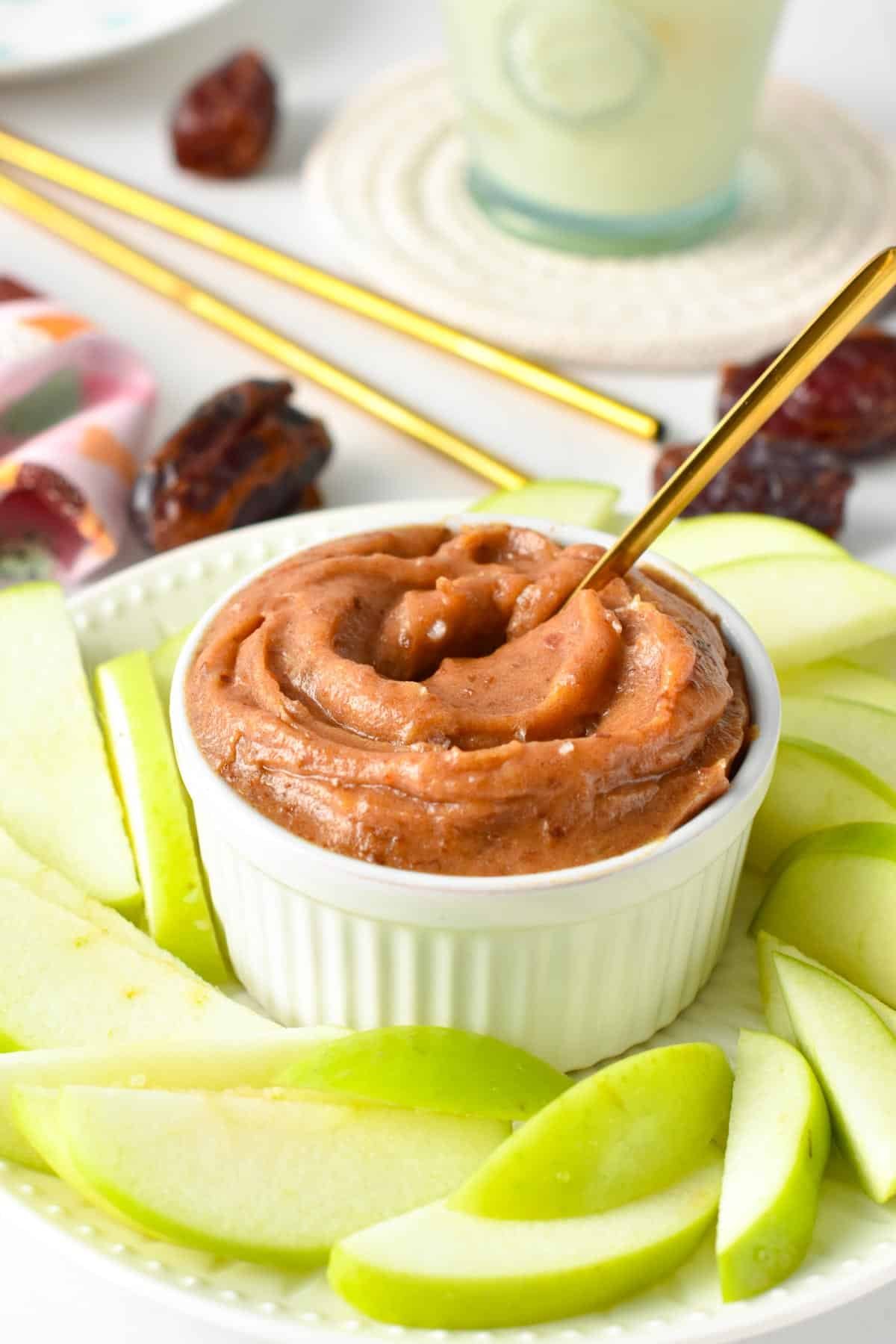 Flavors
There are a few delicious additions you can make to this recipe to flavor your spread.
Caramel flavor – add 1/2 teaspoon of natural caramel extract.
Vanilla flavor – add 1/2 teaspoon vanilla extract vanilla seed.
Sea salt – to make a sea salt caramel paste.
Peanut butter – add 1-2 tablespoons of natural peanut butter in the blender to make a peanut butter caramel.
Serving Ideas
This caramel date sauce is delicious as a breakfast spread onto
Storage Instructions
This date caramel stores very well in the fridge or in the pantry if made with water.
Store in a sealed glass mason jar, for 3 weeks in the fridge, and 7 days in the pantry.
You can also freeze this recipe in an ice cube tray and thaw one serving at a time a few hours before using.
Frequently Asked Questions
Can I Use A Food Processor?
A food processor works for this recipe, but it won't form such a creamy caramel.
In fact, the bowl of a food processor is wider, and the blade is weaker than a high-speed blender.
As a result, the skin of the dates won't turn easily into a creamy paste. You will see pieces of dates and a slightly grainy texture.
More Caramel Recipes
I love to create recipes with natural caramel flavors from dates or maple syrup. Below I listed my favorite vegan caramel desserts for you to try:
Have you made this gluten-free date caramel recipe? Share a review or comment below! I love to hear your feedback on my recipes.
Your friend, Carine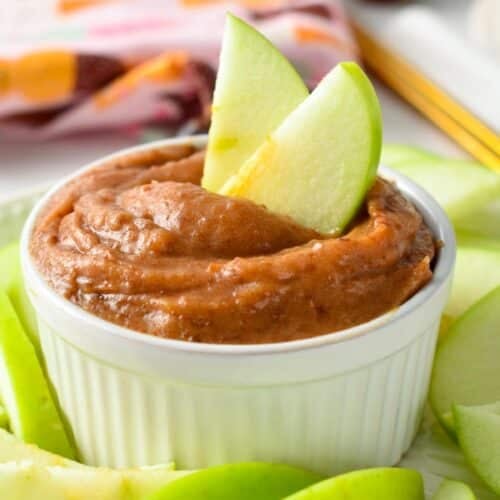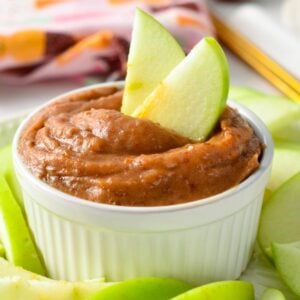 Date Caramel
An easy 2-ingredient date caramel recipe for spreading on bread, crepes, pancakes, or drizzle onto vegan desserts and ice creams.
Pin
Print
Review
Servings:
16
serving (1 tablespoon each)
Ingredients
1

cup

Medjool Dates -

pitted

3-6

tablespoons

Lukewarm Water

-

or lukewarm almond milk
Instructions
In a high-speed blender or food processor, add all the ingredients and blend at medium speed. Use the tamper tool of the blender to push down the dates onto the blade and help the blender turns the date into a sticky caramel paste.

Add more lukewarm water or lukewarm almond milk to thin out the spread. The more you add, the easier it is to blend. Keep adjusting based on your preferences.

Serve onto bread, crepes, pancakes, desserts, or for dipping apple slices.
Storage
Store for 3 weeks in a sealed mason jar in the fridge.
Share on Facebook
Pin Recipe
Nutrition
Serving:
1
tablespoon
|
Calories:
31.5
kcal
|
Carbohydrates:
7.1
g
|
Protein:
0.4
g
|
Fat:
0.5
g
|
Saturated Fat:
0.1
g
|
Polyunsaturated Fat:
0.1
g
|
Monounsaturated Fat:
0.2
g
|
Sodium:
41
mg
|
Potassium:
70.5
mg
|
Fiber:
0.7
g
|
Sugar:
6.2
g
|
Vitamin A:
13.7
IU
|
Calcium:
6.3
mg
|
Iron:
0.1
mg
|
Magnesium:
6.5
mg
|
Phosphorus:
9.3
mg
|
Zinc:
0.1
mg