This Peanut Butter Caramel is the easiest caramel recipe, sweetened with unrefined sugar and ready in less than 5 minutes.
This vegan caramel recipe is perfect for drizzling on any vegan dessert.
I love peanut butter and have recently shared so many vegan peanut butter recipes with you. Some of these already use a peanut butter caramel-like filling like my no-bake millionaire bars.
But I never shared with you how to make a fresh, drippy caramel with peanut butter.
So here you are, this easy 5-ingredient caramel recipe is for your next vegan dessert toppings or vegan snacks.
How To Make Peanut Butter Caramel
If you love my date caramel recipe, you need to try this caramel with peanut butter next time.
Here's how to make it.
Ingredients
It's super easy to make this homemade vegan caramel at home with just a few ingredients and no cooking required.
All you need are:
Peanut Butter – Use natural peanut butter made 100% from peanuts, no added sugar, no added oils. Of course, feel free to use salted peanut butter to make salted caramel. You can also use crunchy peanut butter to add some texture and crunchy bits and pieces to the caramel.
Maple Syrup or any unrefined liquid sweetener you love. I love the flavor of maple syrup, but for a low-carb keto caramel, you can opt for monk fruit sugar-free syrup. Other healthy sweetener options are agave syrup, coconut nectar, and rice syrup.
Melted Coconut Oil – To avoid coconut flavor in your caramel, it's worth using refined coconut oil. The refined version of coconut oil has absolutely no coconut flavors. I don't recommend using other vegetable oils that add a strange flavor to the caramel. Eventually, vegan butter would work.
Vanilla Extract – You can also add caramel extract to add a caramel flavor to the mix.
Sea Salt – If your peanut butter is unsalted and you enjoy salted caramel.
Preparation
First, open a fresh jar of natural peanut butter and stir well to combine. Measure the peanut butter and place it in a mixing bowl.
Place the coconut oil in a microwave safe bowl or non-stick saucepan. Melt over low medium heat stirring occasionally until the coconut oil is just melted.
Or, microwave the bowl for 30 seconds and burst until melted.
Pour the warm melted coconut oil on top of the peanut butter, and add maple syrup, vanilla extract, and salt.
Stir to combine the ingredients and form a drippy caramel evenly.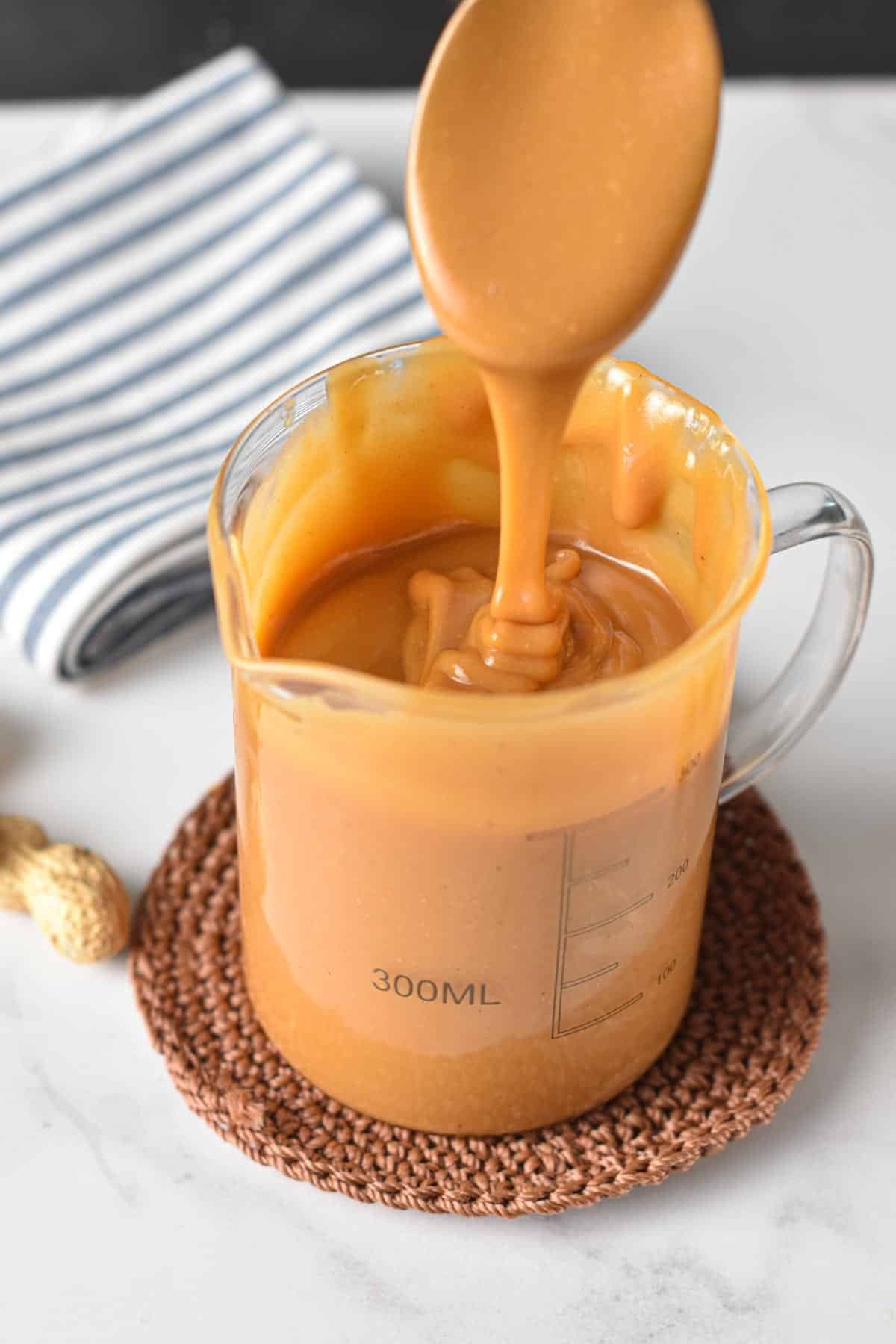 Storage Instructions
Place the prepared peanut butter caramel in a sealed glass mason jar and store for up to 2 weeks in the pantry. You can also store the caramel in the fridge to thicken the mixture.
The coconut oil hardens in the refrigerator and solidifies the caramel.
Finally, you can freeze this caramel in ice cube trays and defrost one cube at a time for single-serve use.
Thaw in a bowl at room temperature the day before.
Serving
This peanut butter caramel can be used in so many ways.
Here are some ideas for using this vegan caramel recipe:
Drizzle on top of fruits – like apple slices, pears, or berries as a healthy snack full of proteins.
On bread toast as a peanut butter sweet spread.
On top of the vegan cheesecake recipe.
On top of vegan ice cream.
In coffee as a caramel coffee creamer – stir 1-2 teaspoons of caramel in a hot brewed coffee. It sweetens your drink and adds the most delicious caramel flavor. Top the coffee with frothed soy milk or almond milk for a caramel latte.
Frozen – add frozen peanut butter caramel cubes in your blender to thicken and flavor smoothies. Or, add a frozen banana and a splash of almond milk to make the best caramel nice cream.
The possibilities with this recipe are endless, and you can create and design many snacks and desserts with it.
Allergy Swaps
Below are some allergy swaps ideas to adapt this recipe if you have some allergies to the ingredients listed below:
Peanuts – This recipe works perfectly well with a peanut-free spread like tahini, sun butter, or almond butter.
Sugar-Free – Pick your favorite sugar-free liquid sweetener. Make sure you don't use sugar-free pancake syrup. The primary ingredients of these syrup types are water. Water-based syrup creates a super thick caramel when in contact with nut butter.
Sodium-Free – Use unsalted peanut butter, and don't add salt to the recipe.
Coconut-Free – Some low-flavor liquid oil like organic avocado oil, melted vegan butter, or cocoa butter provides a great alternative to melted coconut oil.
Frequently Asked Questions
Here I provide answers to the most frequent questions about this recipe.
Can I Use Powdered Peanut Butter?
I didn't try this option. But powdered peanut butter cuts calories and fat in this recipe.
It should work well, but you will have to play with the amount of powder/water ratio to create a thick peanut butter caramel.
The lack of fat in peanut butter powder won't make the caramel as thick and won't need as much coconut oil.
Can I Add Flavors?
Yes, you can add one teaspoon of your favorite ground spices like cinnamon, pumpkin pie spices, or allspice to add flavor to the caramel.
Recipes To Use Peanut Butter Caramel
If you need some inspiration to use this caramel recipe, here are some recipe ideas to marry with the peanut caramel recipe below.
More Vegan Peanut Butter Recipes
Below are some peanut butter recipes for you to try:
Did you try this peanut butter caramel recipe? Share a comment or review below to connect with me.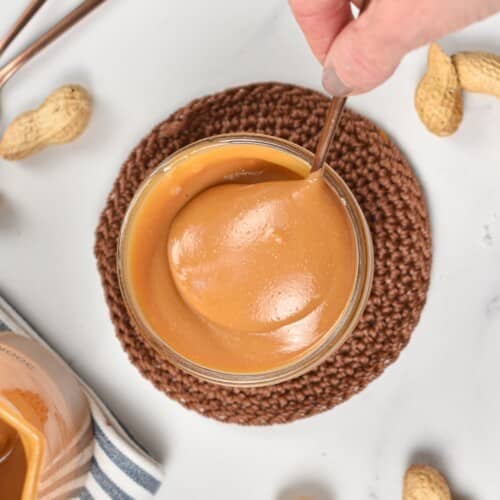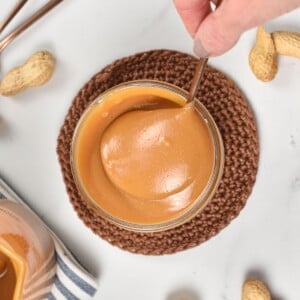 Peanut Butter Caramel
This Peanut Butter Caramel is an easy caramel recipe sweetened with unrefined sugar and ready in less than 5 minutes. Plus, this is a vegan caramel recipe perfect for drizzling on any vegan dessert.
Pin
Print
Review
Servings: 12 servings
Calories: 172.8 kcal
Instructions
Melt coconut oil in a microwave-safe bowl in 30-second bursts or place it in a non-stick saucepan over low-medium heat and stir until melted. Set it aside.

In a large glass bowl, add peanut butter, melted coconut oil, maple syrup, vanilla extract, and salt if used.

Stir with a silicone spatula until runny and well combined.

Serve on top of vegan desserts, apple slices, or vegan ice cream.
Storage
Store in a glass mason jar in the pantry for up to 2 weeks or in the fridge to thicken the peanut butter caramel sauce.
Share on Facebook
Pin Recipe
Nutrition
Serving: 1serving (2 tablespoons) | Calories: 172.8kcal | Carbohydrates: 9.8g | Protein: 3.6g | Fat: 14.2g | Saturated Fat: 6.6g | Polyunsaturated Fat: 2.1g | Monounsaturated Fat: 4.5g | Sodium: 166.9mg | Potassium: 112.1mg | Fiber: 0.8g | Sugar: 7.1g | Calcium: 17.8mg | Iron: 0.3mg | Magnesium: 29.2mg | Phosphorus: 54.7mg | Zinc: 0.5mg