No Bake Vegan chocolate cheesecake Bars
Smooth, creamy no-bake vegan chocolate cheesecake bars are the perfect dessert for chocolate lovers. A no-bake brownie base topped with the fudgiest chocolate cheesecake entirely made of wholesome ingredients.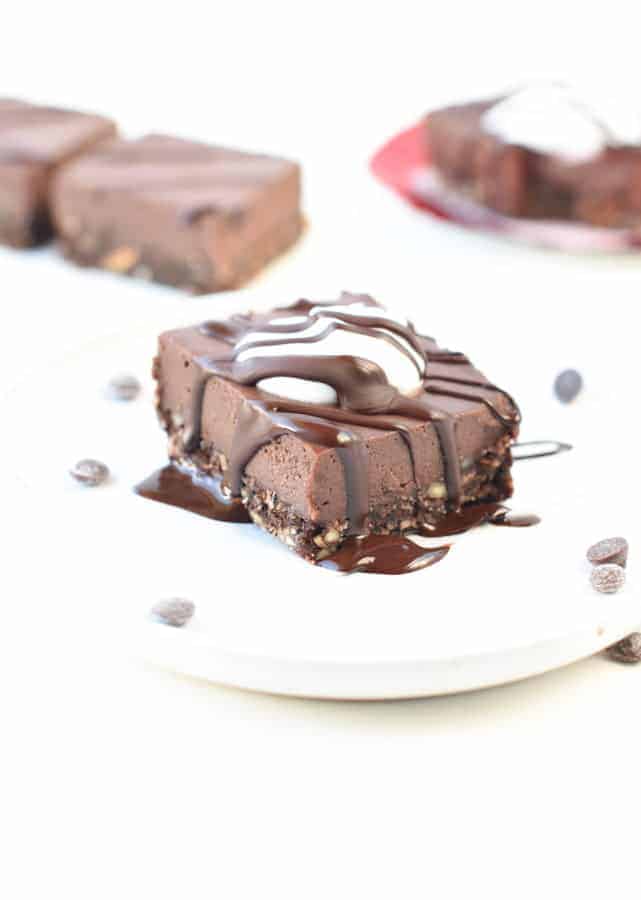 What's a vegan chocolate cheesecake?
Vegan chocolate cheesecake is an egg-free and dairy-free cheesecake. Consequently, the crust doesn't use graham crackers or butter, unlike traditional cheesecake recipes. Instead, vegan cheesecake use nuts, dates, and cocoa powder for the biscuit. The filling can be made of tofu, vegan cream cheese or, healthy vegan cheesecake use soaked nuts like cashews or almonds. This vegan chocolate cheesecake bar recipe is a healthy version of your favorite chocolate cheesecake recipe. Therefore, it is made with nourishing nuts, unsweetened cocoa powder, and refined sugar-free sweeteners.
A healthy vegan cheesecake
This is a healthy vegan cheesecake recipe or no-bake vegan cheesecake using raw wholesome ingredients, no refined sugar, and gluten-free. It is a pretty easy recipe to make even if you are new to no-bake desserts recipe. Let us see all the ingredients you need to make this recipe.
Ingredients
The ingredients you need to make these vegan chocolate cheesecake bars are:
Almonds – the base and filling are made of almonds. However, for the filling  make sure you soak the almonds in boiling water for 30 minutes to make the cheesecake layer smooth and creamy. If you have a powerful blender, like a Vitamix or professional KitchenAid, you can skip the soaking step and well on high speed around 8-9.
Unsweetened cocoa powder or cacao powder for a stronger chocolate flavor.
Coconut oil – you must use coconut oil in raw desserts. In fact, coconut oil is solid at room temperature, below 23C, and it is the key ingredient to give texture to no-bake vegan desserts. Other oils won't work in this recipe. Same, you can't make oil-free raw dessert so don't be tempted to replace the oil by applesauce.
Unsweetened desiccated coconut
Dates – any variety of date works fine. Some varieties are drier so it is recommended to pre-soak them in hot water for 20 minutes, drain then use in the recipe
Salt-
Vanilla
Maple syrup – or any liquid sweetener you like, agave syrup or rice syrup works too. You cannot use a crystal sweetener like coconut sugar in this recipe, it needs to be liquid
Unsweetened almond milk – or non-dairy plant-based milk of choice like oat milk or soy milk
How to make no-bake vegan cheesecake?
Material needed
It is very easy to make vegan no-bake cheesecakes as long as you have the right material to start. So before you jump to the recipe, make sure you have:
a food processor – to make the brownie base. You cannot make the base in a blender simply because the jug is too narrow and the nuts would not blend properly.
a high-speed blender – this is optional, but this is the best tool to create a smooth cheesecake layer without soaking the nuts. In fact, if your blender is not powerful enough it would not be able to pulse the nuts into a thick, smooth cream. It would result in bites of nuts in the cheesecake layer that are not appealing or tasty. However, if you do not have a blender and still want to make this recipe, soak the nuts in boiling water for about 30 minutes or in cold water overnight. This is the best option to use a food processor and create a smooth cheesecake.
a springform round pan or square pan – this recipe makes a thin vegan chocolate cheesecake layer that is why I love to make it into bars. Therefore I am using either a 9-inch square pan or a 9-inch x 5-inch rectangle pan. This said, a round springform pan will work too but since the cheesecake layer is thin it looks better as a cheesecake bar. Note that you must cover the bottom of the pan with parchment paper to avoid your no-bake cheesecake base sticking to the pan.
Brownie base
First, make the no-bake cheesecake biscuit using your food processor. Add almonds and coconut into your food processor and pulse them into a coarse ground. Then, add the rest of the ingredients and blend again until it forms a sticky no-bake brownie batter, similar to no-bake brownie energy bites. Press this batter evenly into the pan covered with parchment paper and refrigerate while making the cheesecake layer.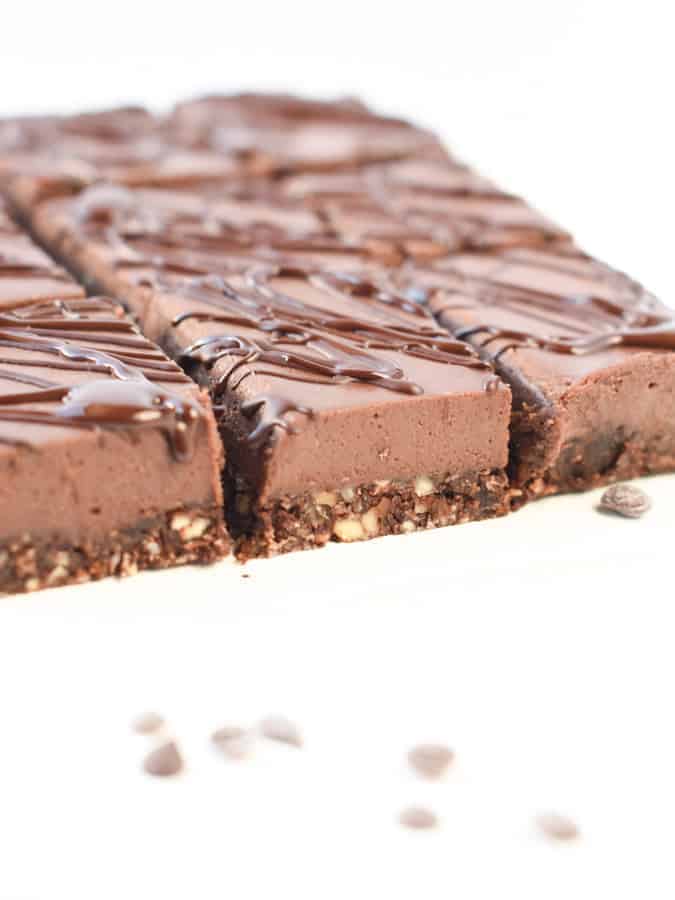 Almond chocolate cheesecake
Next, add the soaked raw almonds into the jug of your blender or food processor. As mentioned before, you do not have to soak the almonds if you are using a high-speed blender like Vitamix. Add the rest of the ingredients. Blend on high speed, speed 7-9 for about 1-2 minutes, depending on the power of your blender, or until it forms a thick, shiny chocolate cream.
Form cheesecake bars
Pour the creamy chocolate cheesecake layer on top of the brownie base and refrigerate 3 hours to set.
Chocolate cheesecake serving ideas
You can serve these vegan chocolate cheese bars with :
a dollop of coconut yogurt
few vegan chocolate chips
a drizzle of melted dark chocolate
fresh berries like raspberries or strawberries

How to store vegan cheesecake?
Vegan cheesecakes made of nuts can be frozen, in slices or entirely, in an airtight cake box. Simply bring the cheesecake into the fridge the day before serving. Otherwise, your fresh cheesecake will last up to 5 days in the fridge, in an airtight cake box.
Raw baking tips
How to avoid coconut flavor in no-bake cheesecake?
No-bake cheesecake uses coconut oil as the main ingredient. It is the key to create set the cheesecake filling without using eggs or dairy. However, coconut has a strong coconut flavor. But, to avoid coconut flavor in your raw cheesecake use refined coconut oil. In fact, refined coconut has no flavor but it has the same properties as unrefined coconut oil.
Can I make raw vegan cheesecake oil-free?
Unfortunately, you cannot make any no-bake vegan desserts without oil. As mentioned above, coconut oil is the secret ingredient that holds no-bake goods together and creates texture.
Why my raw cheesecake layer is gritty?
Raw baking uses soaked nuts to form creamy smooth cheesecakes or cream. However, nuts are hard to blend and turn into a smooth cream. To do so, you must soak them for at least 24 hours in cold water or 30 minutes in boiling water. Then, you must blend them into a high-speed blender, a food processor does not work to make cashew cream or the almond cheesecake filling in this recipe. You need a narrow jug with enough liquid to cover the soaked nut and a powerful blade.
More no bake vegan desserts
If you love vegan dessert you may also like my raw dessert recipes below.
Don't forget to join me on Instagram to share a picture of your chocolate cheesecake with me! I love to connect with you and see your creations.
Your friend, Carine