This healthy caramel slice is a delicious no-bake dessert made from an almond coconut base and topped with a date peanut butter caramel.
If you love healthier treats naturally sweetened with wholesome ingredients, this is the best caramel slice you will ever make.
I have been sharing healthy no-bake desserts on this blog for years but that's the first time I revisit an Australian classic dessert.
This healthy caramel slice recipe is inspired by two of my favorite recipe: my no-bake Samoas bar and caramel date paste.
What Is Healthy Caramel Slice?
A healthy caramel slice is a healthier version of the classic Australian dessert called a caramel slice.
The traditional recipe use condensed milk, butter flour and sugar which is high in refined sugar and not gluten free.
This healthier version is made with gluten-free wholesome flour from almond flour, and the caramel is naturally made from Medjool date to focus on unrefined sugar.
Therefore, this healthy caramel slice recipe is better for you. It's higher in nutrients, like healthy fats from almonds, coconut oil, and peanut butter, and also packed with vitamins and fibers from dates.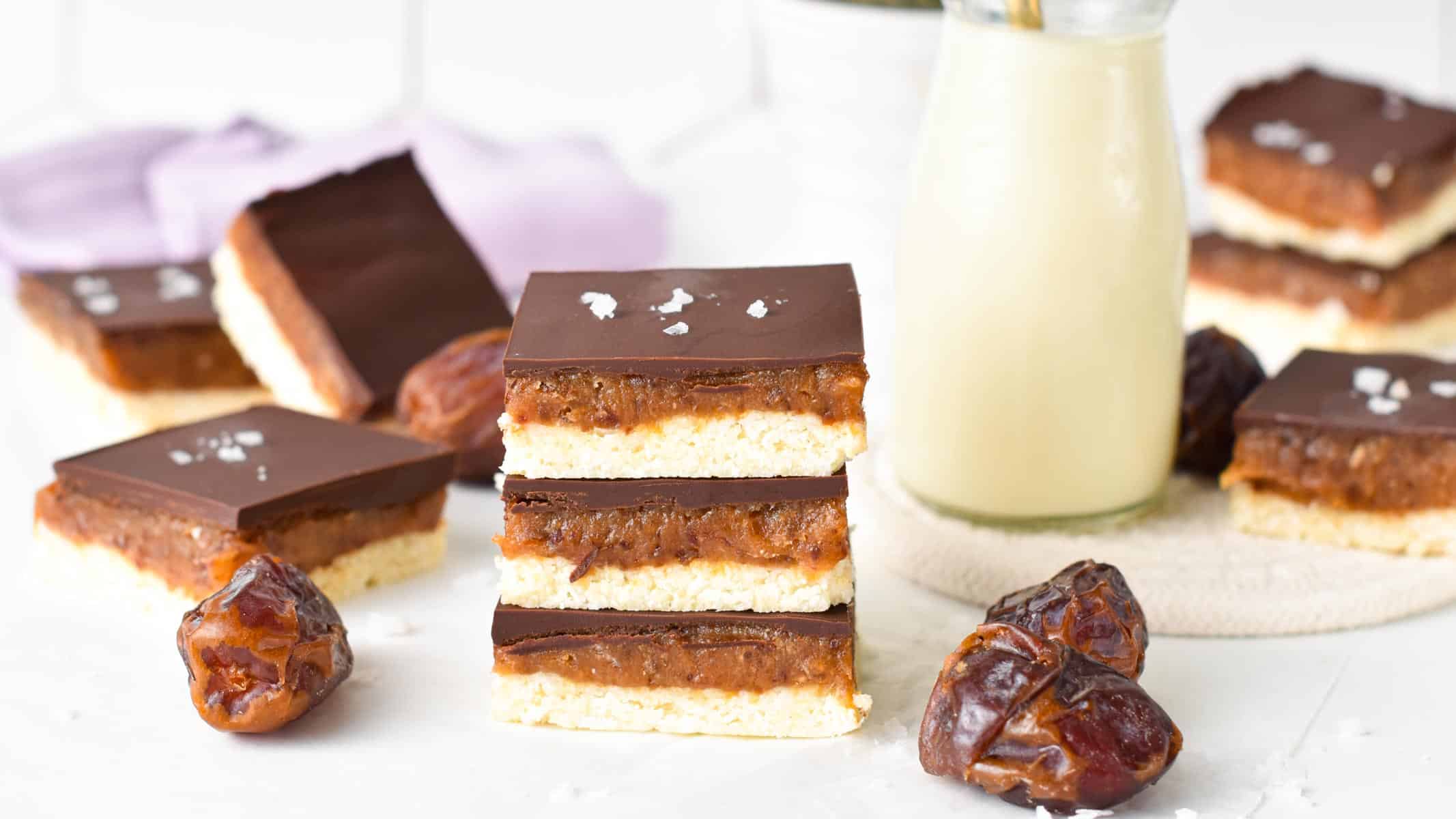 How To Make A Healthy Caramel Slice
It's very easy to make this caramel slice because it's a no-bake caramel slice, with no baking required.
Bottom Layer Ingredients
While most healthy caramel slice calls for a Medjool date base that is soft, with crunchy bites of nuts, mine truly taste like a biscuit.
It mimics the real caramel slice recipe shortbread crust by combining almond flour, coconut, and coconut oil into a scrumptious no-bake shortbread layer.
All you need to make the no-bake shortbread biscuit are:
Almond Flour or almond meal
Unsweetened Desiccated Coconut
Coconut Oil – You must use coconut oil for this recipe because it's a no-bake base that firms up as the melted coconut oil cools in the fridge. If you don't like the coconut flavor of virgin coconut oil, use refined coconut oil which has no coconut flavors.
Vanilla Extract
Pure Maple Syrup, brown rice syrup, or coconut nectar.
Preparing The Base
In a small bowl, stir all ingredients together until a dry, crumble mixture.
Line a slice pan with parchment paper, oil paper, and pan then spread the crumbly mixture all over the pan. Use a flat silicone spatula to press firmly the mixture into an even layer.
Pressing compacts the ingredients together and makes the layer firm.
Place the pan in the freezer while you make the caramel layer. The freezer solidify the coconut oil quickly and will harden the bottom layer faster than the fridge.
Date Caramel Filling Ingredient
For the middle layer, the healthy caramel you will need:
Pitted Medjool Dates – You can use partially rehydrated Deglet Noor dates, but avoid Camel dates that are super dry. Keep in mind that Medjool dates varieties are the only one with a true caramel flavor that mimic real caramel in this healthy recipe.
Coconut Oil
Peanut Butter – unsalted or use almond butter or cashew butter if preferred.
Vanilla Extract
Sea Salt – For a salted caramel flavor. Skip it if you prefer no salt taste.
Maple Syrup
Water
Making The Caramel
Place all the ingredients into a food processor and process on high speed until it forms a thick paste.
You may have to stop the food processor a few times to scrap down the sides of the bowl and repeat until the paste is smooth and no bits of dates shows.
Remove the pan from the fridge and spread the caramel layer on top in an even single layer.
Pop the pan in the fridge while melting the chocolate.
Chocolate Layer
For the top layer, I choose to use:
85% dark chocolate bar – You can use 90 % for ultra dark chocolate flavor or 70% for a sweeter layer.
Coconut Oil
Place both ingredients into a microwave-safe bowl and microwave in 30-second bursts, stirring between, until melted and shiny.
Pour the melted chocolate on top of the caramel layer.
Setting The Bar
I don't like to wait to enjoy my dessert, so I usually freeze the slice pan until the chocolate layer hardens, which takes about 15 minutes.
If you prefer to use the fridge, it takes up to 2 hours to solidify the chocolate layer.
Slicing
To slice nice caramel slice, use a long sharp knife and warm the blade under the stove.
Slice and wash the blade before slicing through again.
Storage Instructions
Store the caramel slice in the fridge for up to 1 week in an airtight container.
You can also freeze caramel slices in freezer bags and thaw in the fridge the day before.
Allergy Swaps
This is a vegan caramel slice, it's naturally dairy-free, egg-free and also gluten-free.
However, if you have allergies to some of the ingredients used in this recipe, I listed below some ingredient swap ideas for you.
Nut-Free – Swap peanut butter for sunflower seed butter or tahini. Note that both of these options are slightly bitter. For the base layer, swap almond flour for sesame flour or homemade oat flour and add two tablespoons of water.
Peanut-Free – Alternatives to peanut butter are almond butter, cashew butter, or coconut butter.
Sugar-Free – You can use a sugar-free maple-flavored syrup in this recipe. Dates still contain sugar, so they won't be entirely sugar-free.
Sweetener Options – Rice syrup, agave syrup, coconut nectar, or maple syrup are great options.
Coconut Oil – You can also use melted cocoa butter, but you can't use oils that are liquid at room temperature, or your base will never firm up.
Frequently Asked Questions
Below are my answers to your most common questions about this recipe.
How Many Calories Are In A Piece Of Caramel Slice?
A regular caramel slice contains about 450 kcal and 44 grams of sugar per serving.
How Many Calories Are In A Healthy Caramel Slice?
This healthy caramel slice with date caramel filling has only 238 kcal and 13 grams of sugar per serving, all coming from the refined sugar-free sweetener.
Can I Make The Chocolate Layer With Cocoa Powder?
You can combine 1/2 cup of unsweetened cocoa powder with 1/2 cup of melted coconut oil and two tablespoons of maple syrup.
Stir until smooth, then use on top of the caramel layer. The chocolate cocoa layer hardens in the freezer.
Should I Soak The Dates?
No, if you use fresh pitted Medjool dates, they are soft and juicy. If they are drier, you can soak them in warm water for 10 minutes, drain and discard the water.
Note that soaking older dates remove some of their flavor and sweetness.
More Recipes With Dates
If you like to make delicious desserts with dates, you'll love these other recipes.
Healthy Caramel Slice
This healthy caramel slice is a delicious no-bake dessert made from an almond coconut base and topped with a date peanut butter caramel.
Pin
Print
Review
Servings: 16 Slices
Calories: 238.2 kcal
Ingredients
Healthy Date Caramel Layer
Instructions
Shortbread Layer
Cover a 9-inch x 5-inch slice pan, or an 8-inch x 8-inch baking pan, with parchment paper and let enough paper hang off the sides of the pan so you can easily pull out the slice later. Set aside.

In a mixing bowl, add: desiccated coconut, almond flour, maple syrup, and melted coconut oil.

Stir with a spatula first, then squeeze with your hand to make sure all the ingredients come together and stick together. It can be slightly crumbly, but that's ok. If it's very dry, add an extra tablespoon of coconut oil.

Press the shortbread crumble tightly onto the prepared baking dish.

Freeze 10 minutes while you are making the caramel layer. The freezer harden the coconut oil and firm up the shortbread without baking.
Caramel Filling
In a food processor, add pitted dates, fresh runny peanut butter, melted coconut oil, water, maple syrup, salt, and vanilla.

Process on high speed, until a sticky thick caramel paste forms. You may have to stop the food processor once in a while, scrape down the sides of the bowl and repeat until all the ingredients form a consistent thick date paste.

Pour the caramel paste in the pan, press with a silicon spatula into an even layer.

Return slice tin to the freezer for 10 minutes while you melt the chocolate.
Chocolate Layer
Melt the dark chocolate with coconut oil, in a microwave safe bowl, in 30-second bursts, stirring between to prevent the chocolate from burning.

Drizzle the melted chocolate all over the bar and return to the freezer for 12-15 minutes to harden the chocolate.

Remove the slice pan from the freezer, and pull out the bar from the pan using the hanging pieces of parchment paper.

Cut into 16 squares and enjoy!
Storage
Store the healthy caramel slices in an airtight box in the fridge for up to 2 weeks, or freeze for up to 1 month and thaw in the fridge for a few hours before serving.
Share on Facebook
Pin Recipe
Nutrition
Serving: 1slice | Calories: 238.2kcal | Carbohydrates: 18.1g | Protein: 3.6g | Fat: 19g | Saturated Fat: 11.1g | Polyunsaturated Fat: 0.9g | Monounsaturated Fat: 2.7g | Sodium: 62.2mg | Potassium: 148.8mg | Fiber: 3.2g | Sugar: 13.1g | Vitamin A: 17.1IU | Vitamin C: 0.1mg | Calcium: 30.8mg | Iron: 0.6mg | Magnesium: 21mg | Phosphorus: 36.3mg | Zinc: 0.3mg