These Snickers Overnight Oats are easy healthy breakfasts with the most delicious Snickers bar flavors.
They are naturally bringing all the flavors of Snickers using wholesome ingredients like dates, peanut butter, and dark chocolate.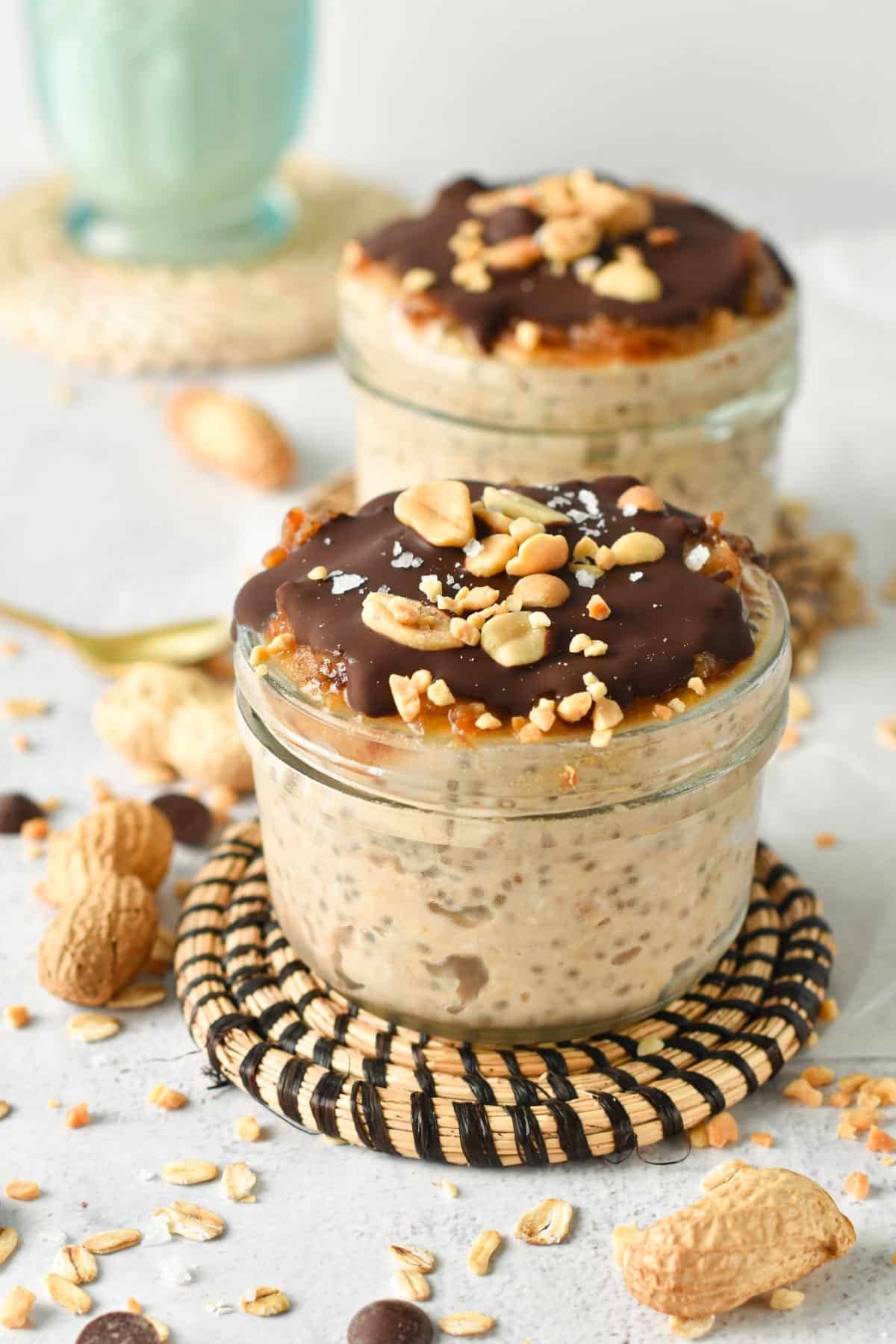 While Snickers are delicious snacks, we love to enjoy their classic tastes in healthier, plant based versions like my Peanut Butter Snickers Cookies, Snickers Frozen Chocolate Banana Bites, or No-Bake Snickers Bars.
What makes Snickers so good is the combination of caramel, peanuts and chocolate. And in fact, these flavors are easy to bring in your breakfast oats using healthy ingredients.
What Are Snickers Overnight Oats?
Snickers overnight oats are no-bake oatmeal flavored with wholesome ingredients like Medjool dates, peanut butter, and dark chocolate that mimic the classic Snickers bars flavors.
They are healthy breakfasts packed with fiber and proteins and are refined sugar free.
How To Make Snickers Overnight Oats
All you need to make this overnight oat recipe are a few ingredients and a blender or smoothie blender, but not necessarily. Let me explain.
Ingredients
Old-Fashioned Rolled Oats or quick oats or a mix of both.
Chia Seeds
Plant-Based Milk – Soy milk is a great option to boost proteins or almond milk is low calories and low flavor.
Medjool Dates – Medjool dates are thick, rich, dried fruits with a caramel-like flavor. They are excellent healthy options to mimic snickers flavors in healthy snickers recipes like our no-bake snickers bars.
Boiled Water
Natural Peanut Butter
Sea Salt – only if your peanut butter is unsalted.
Chopped Roasted Peanuts or crushed roasted peanuts – unsalted
Toppings
Once you've prepared your base, you need the following ingredients to make the topping:
Medjool Dates – for the caramel layer
Boiled Water – for the dates
Dark chocolate chips or dark chocolate bars like 85% cocoa chocolate bars.
Coconut oil or avocado oil
Preparation
First, you need to flavor your milk with dates and peanut butter to give it a snickers flavor.
To do so, place the pitted Medjool dates in a bowl and cover it with boiling water.
Set it aside for 5 to 8 minutes until they are soft. Keep the water. You need it later in the recipe.
You have two options for combining the recipe.
Option 1: Blending
In a blender, add the soaked Medjool in their boiled water, non-dairy milk, vanilla extract, and peanut butter.
Blend until smooth and transfer to a large bowl.
Option 2: With A Fork
Use a fork to mash the soaked dates into a paste. You will have some pieces and pieces of dates that won't mash very well, but it tastes so good in the overnight oats.
Then, stir in peanut butter to form a creamy paste. Finally, add milk and vanilla extract.
Adding Dry Ingredients.
Now that the milk is ready, add the rolled oats, chia seeds, salt, and crushed peanuts.
Stir to bring all ingredients together. Cover the bowl with film wrap or a silicone lid and refrigerate overnight.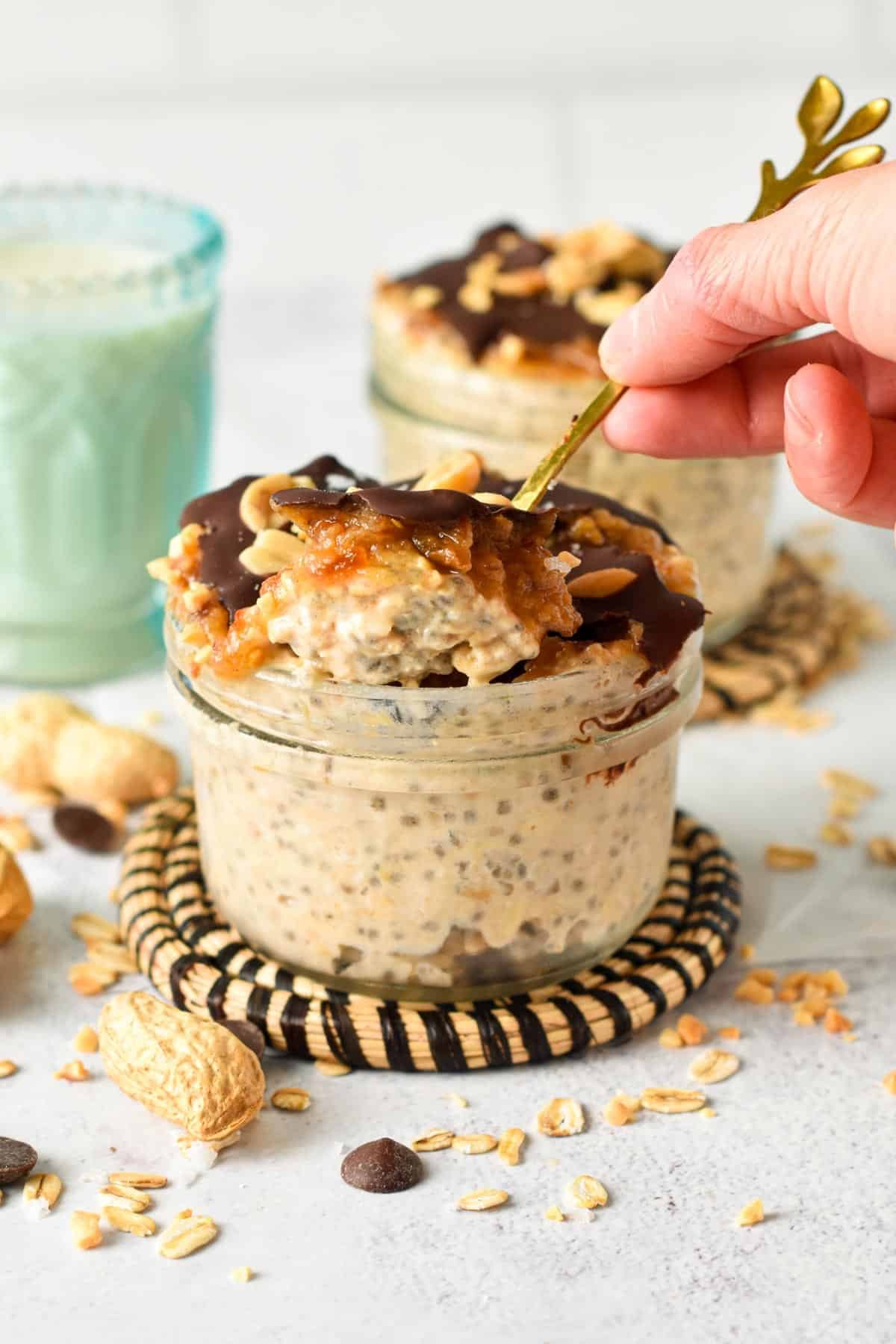 Flavoring Options
You can adapt this vegan snicker overnight oats by adding some of the following to the overnight oats mixture.
3 tablespoons of dark chocolate chips
1/2 tablespoon of cocoa powder
Serving Snickers Overnight Oats
The next day, divide the batch in four small jars.
For the top caramel layer, you soak pitted dates in boiled water.
Then, use a fork to mash into a date puree and mash in salt, maple syrup, and peanut butter. It should form a paste that tastes like caramel paste.
Spread evenly on top of each jar.
Finally, melt the dark chocolate and coconut oil in a microwave safe bowl, or non-stick saucepan over medium heat.
Pour on top of the jar. Decorate top with chopped roasted peanuts to add some crunch.
Serve the next day as a filling breakfast or post-workout snack to refuel on proteins.
Storage Instructions
You can store the overnight oats for up to 3 days in a sealed jar in the fridge so they are ready to eat when you need.
You may not be able to screw a lid on top of the chocolate layer, so you can add a piece of foil on top of the jar.
Allergy Swaps
Below are some ingredient swap ideas for this healthy snickers overnight oats recipe:
Peanut Butter – Almond Snickers are a tasty thing you can make by swapping peanut butter for almond butter and peanuts for roasted almonds.
Nut-Free – Replace the nut butter and nuts with sunflower seed butter and sunflower seeds or coconut. Also, make sure you use nut-free milk like oat milk or coconut milk.
Gluten-Free – Use a gluten-free oat brand.
Chia Seed-Free – Chia seeds add texture to overnight oats. Because they are high in fiber, they soak up a lot of liquid. So, if you remove chia seeds, you need to add an extra 1/4 cup of oats or swap them for 2 tablespoons of ground flaxseeds.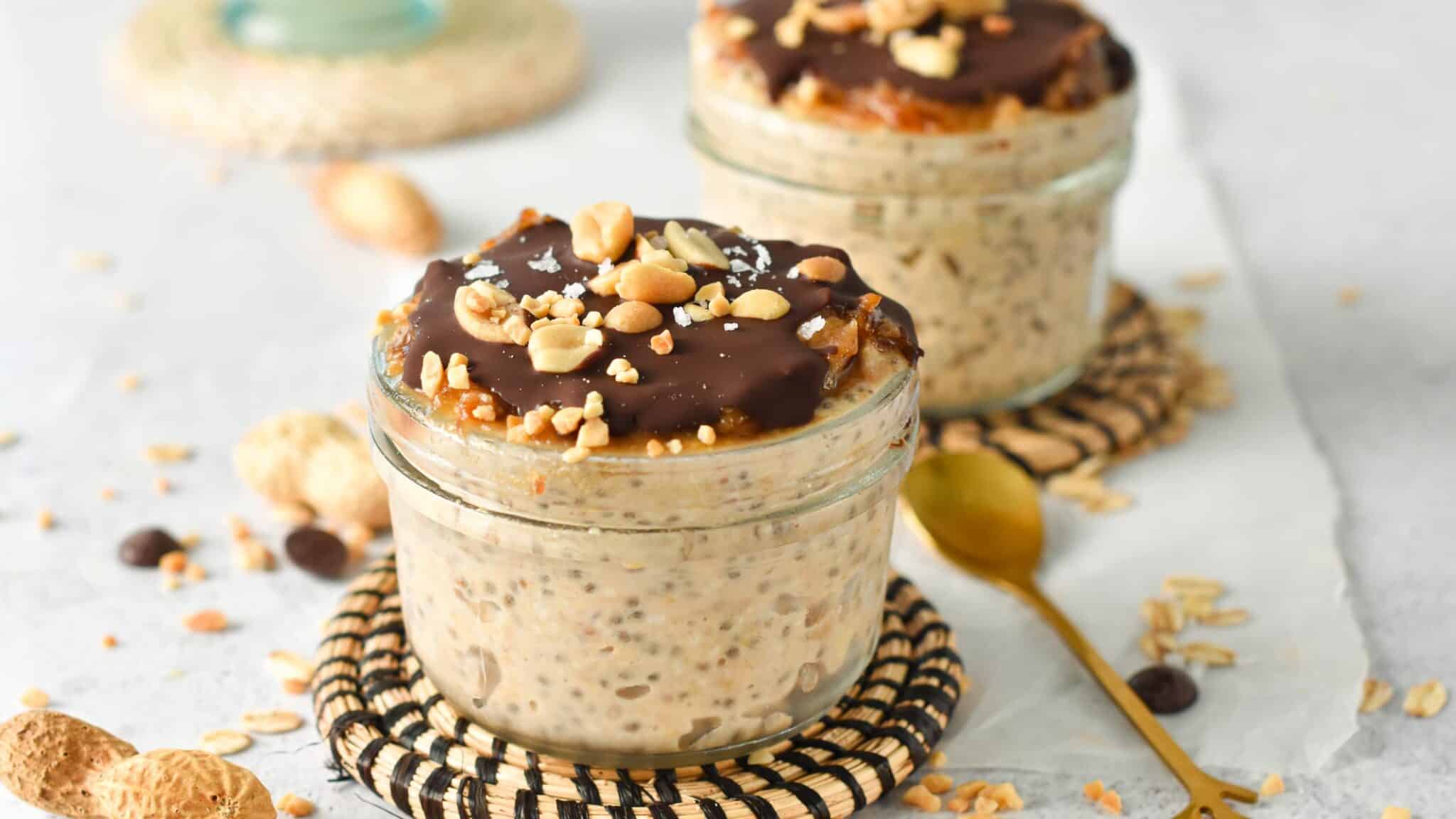 Frequently Asked Questions
Below are my answers to your most common questions about this recipe.
How Do You Mess Up Overnight Oats?
Yes, you can mess up overnight oats in three ways.
– First, if you add too much liquid or remove the chia seeds, the absorbency will be low. As a result, the recipe won't get its creamy texture and come together.
– Next, if you didn't stir the mixture well before you refrigerate overnight or use narrow jars, chia seeds will sink to the bottom of the jar, forming lumps.
– Finally, using quick oats makes overnight oats creamier. If you like the texture less chunky, pick that option.
Can Overnight Oats Be A Snack?
Absolutely, overnight oats are healthy snacks packed with all you need to feel energized and full, like fiber and proteins.
However, a snack should be smaller than a breakfast serving, so divide the portion in half if you use a breakfast recipe to keep the snack calories in control.
More Overnight Oats Recipes
If you like overnight oats, you'll love these other healthy overnight oats recipes:
Have you tried this easy snicker overnight oats recipe? Share a comment or review below.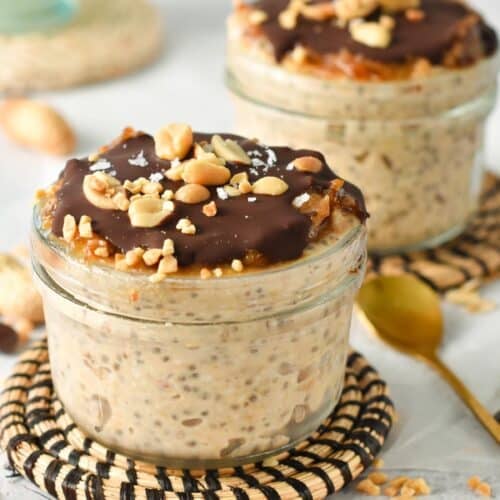 Snickers Overnight Oats
These Snickers Overnight are easy healthy breakfast with the most delicious snickers bars flavors. They are naturally bringing all snickers' flavors using wholesome ingredients like dates, peanut butter and dark chocolate.
Pin
Print
Review
Shop My Tools
Instructions
Place the pitted dates in a bowl, cover with warm boiled water, and set aside for 5-8 minutes until soft. Don't discard the water they are soaking in!

Next, add the dates and their water in a blender with peanut butter, vanilla extract, and almond milk. Blend until smooth. Set aside in a mixing bowl.

If you don't have a blender, transfer the soaked dates and their water to a large mixing bowl. Then, use a fork to mash the soaked dates in their water until the mixture resembles a caramel paste with chunky bites.

Stir in peanut butter and vanilla extract until creamy, then whisk in almond milk.

In the milk, add remaining dry ingredients: oats, chia seeds, and roasted peanuts.

Stir to combine, cover the bowl and refrigerate for at least 8 hours or overnight.

The next day, divide the mixture evenly into four jars.
Caramel Layer
Place the pitted dates in a small bowl with warm boiled water, maple syrup, peanut butter, and sea salt. Mash with a fork until thick and creamy with bites of dates.

Spread on top of each overnight oats jar.
Chocolate Layer
In a microwave-safe bowl, melt the dark chocolate and coconut until smooth and shiny.

Refrigerate for a few hours to set the chocolate layer.
Storage
Store for up to 3 days in an airtight jar in the fridge.
Share on Facebook
Pin Recipe
Nutrition
Serving:
1
serving
|
Calories:
474.9
kcal
|
Carbohydrates:
64.2
g
|
Protein:
11.3
g
|
Fat:
22.1
g
|
Saturated Fat:
6.2
g
|
Polyunsaturated Fat:
5.3
g
|
Monounsaturated Fat:
8.6
g
|
Trans Fat:
0.01
g
|
Cholesterol:
0.3
mg
|
Sodium:
206.3
mg
|
Potassium:
655.5
mg
|
Fiber:
10.2
g
|
Sugar:
38.1
g
|
Vitamin A:
79.1
IU
|
Vitamin B12:
0.03
µg
|
Vitamin C:
0.1
mg
|
Calcium:
214
mg
|
Iron:
3.5
mg
|
Magnesium:
140.5
mg
|
Phosphorus:
280.6
mg
|
Zinc:
2.2
mg