Cookie Dough Overnight Oats
This Cookie Dough Overnight Oats is the perfect healthy breakfast for cookies lovers.
It tastes like raw cookie dough but is much healthier, packed with wholegrain oats, vitamins, and proteins.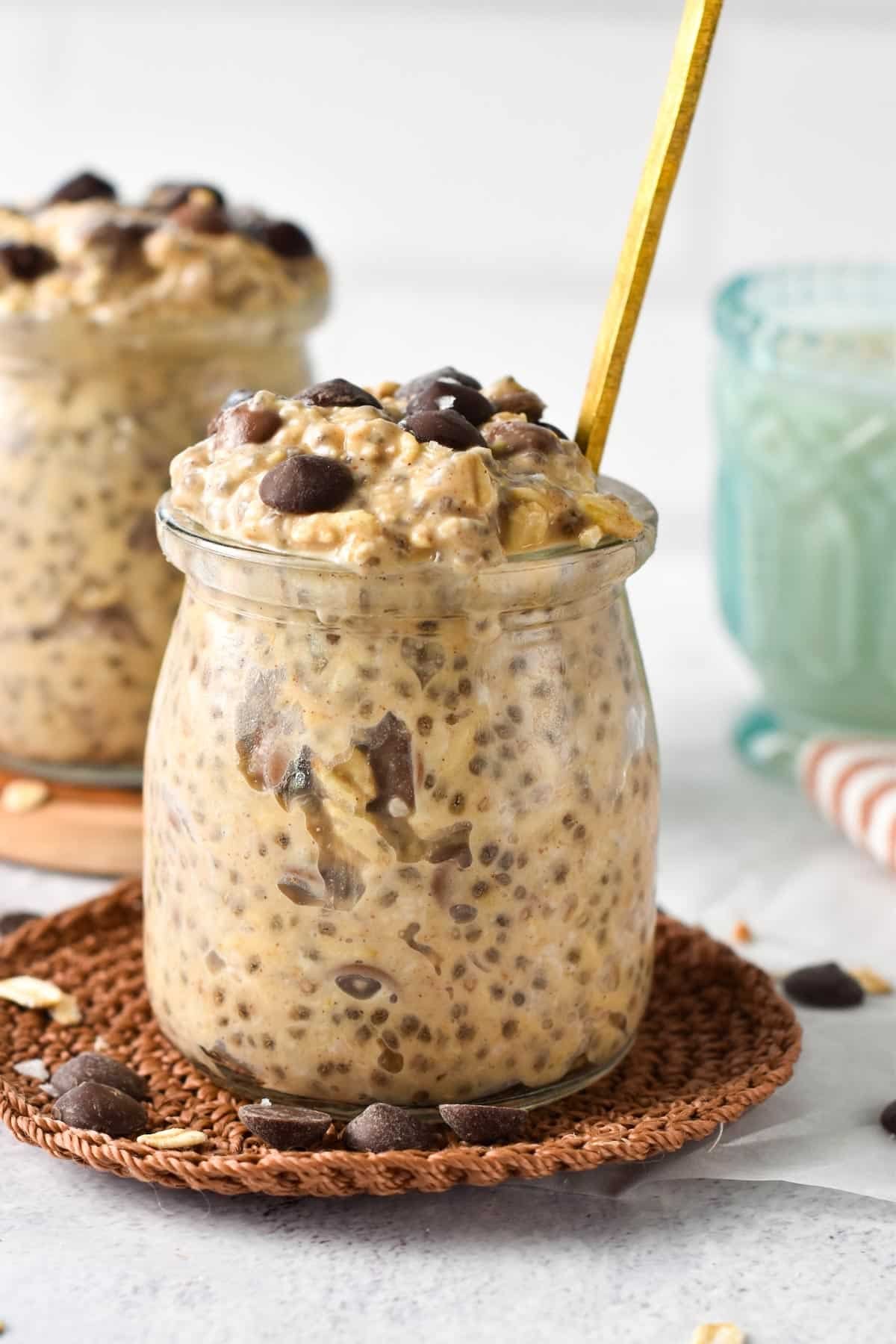 We have shared countless overnight oats recipe flavors, but if you are new to this kind of healthy breakfast, you can start with our basic overnight oats recipe.
It's delicious on its own, but if you like dessert for breakfast, keep reading.
This cookie dough version is one of the most fantastic oatmeal breakfasts, and so easy to make to meal prep your week with healthy, tasty oats.
What Are Cookie Dough Overnight Oats?
Cookie dough overnight oats are oats flavored with nut butter, vanilla extract or almond extract, and chocolate chips that are then kept in the refrigerator overnight to soak.
It resembles a real cookie dough flavor, but it's healthy and good for you.
How To Make Cookie Dough Overnight Oats
It takes under 10 minutes to prepare this decadent yet healthy breakfast.
Ingredients
All you need to make a batch of overnight oats with cookie dough flavor are:
Old-Fashioned Rolled Oats or quick oats, or steel-cut oats for more texture.
Chia Seeds
Non-Dairy Milk, like almond milk, oat milk, or any dairy-free milk you love.
Nut-Butter – Depending on the cookie dough flavor you want to achieve, you can pick from unsalted almond butter, peanut butter, or cashew butter.
Maple Syrup, coconut nectar, or date syrup. Using different sweeteners creates different flavors.
Dark Chocolate Chips – Mini chocolate chips or regular chips, depending on how much chocolate you love in your breakfast.
Vanilla Extract
Cinnamon
Almond Extract – It's optional. If you like it's flavor in cookies.
Sea Salt
Preparation
In a large bowl, add peanut butter, maple syrup, vanilla extract, and almond extract. Use a fork or a small whisk to bring the ingredients together into a smooth paste.
Whisk in plant-based milk. When the milk has a lovely caramel color, whisk in the remaining ingredients: rolled oats, chia seeds, cinnamon, sea salt, and chocolate chips.
Cover the bowl and place in the fridge overnight.
Serving
The next day, divide the cookie dough oats recipe into four jars. Serve as a snack or healthy breakfast with some of the delicious overnight oats toppings ideas below:
Fresh fruits like banana slices
A drizzle of extra nut butter
Dark chocolate chips
Pinch of sea salt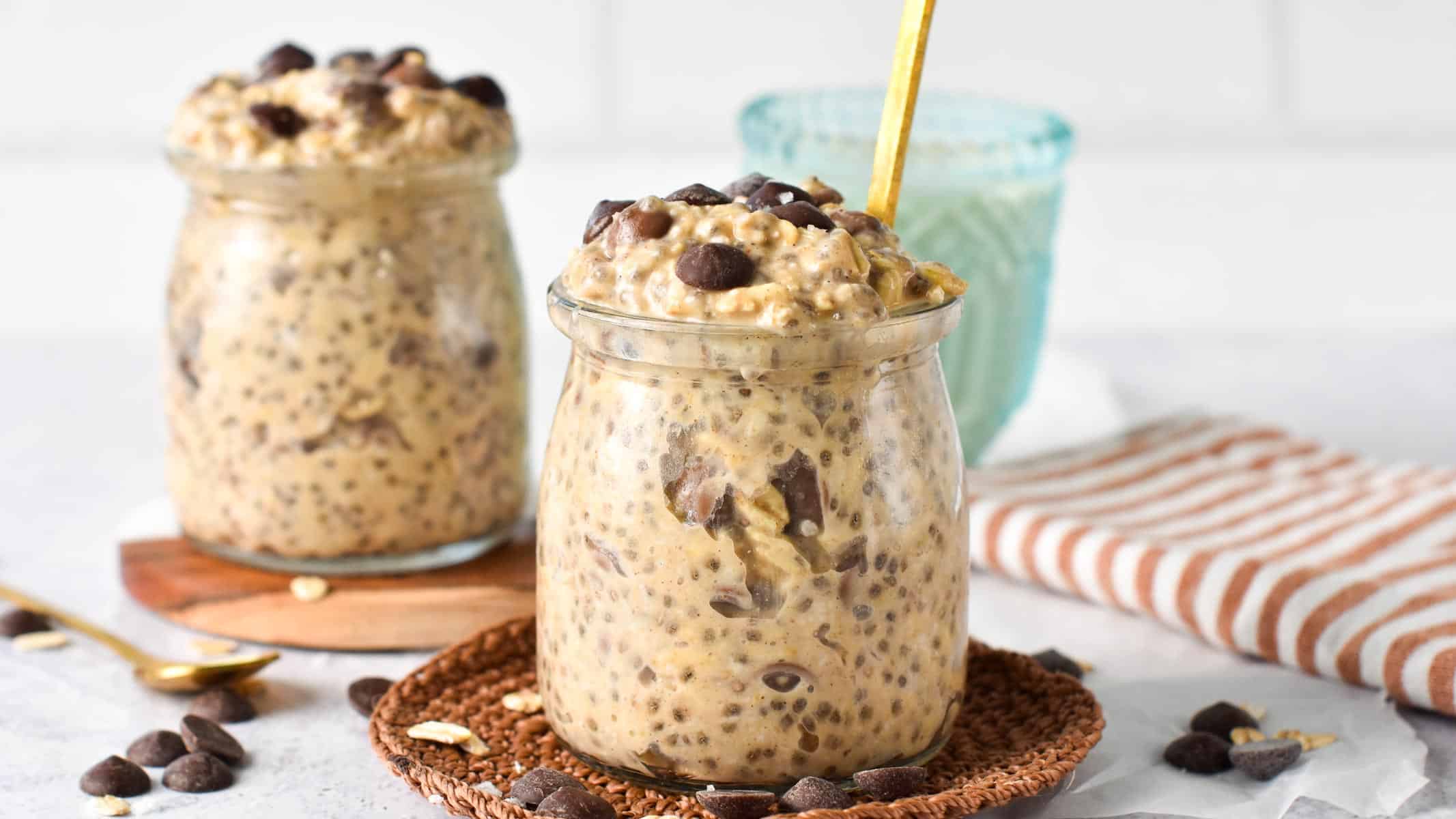 Storage Instructions
This cookie dough overnight oat recipe can be stored in the refrigerator for up to 3 days in a sealed glass mason jar.
You can freeze leftovers as well, in sealed airtight container up to one month.
Thaw in the fridge the day before serving.
Flavoring Options
You can add different flavors to the cookie dough by adding some of the below ingredients:
Chocolate Cookie Dough Flavor – Add three teaspoons of unsweetened cocoa powder to the dry ingredients.
Chocolate Peppermint – Stir in 1/2 teaspoon of peppermint extract with the liquid ingredients.
Birthday Cake Cookie Dough – Stir in 1/4 cup of plant-based sprinkles.
Allergy Swaps
I've listed below some options if you need to substitute the ingredients used in this recipe.
Nut-Free – You can use sunflower seed butter instead of peanut butter or tahini. However, both are a bit bitter, and you may like to increase the sweetener to balance the bitterness. Also, pick nut-free milk, like coconut milk or soy milk.
Peanut-Free – You can swap peanut butter for cashew butter, almond butter, or pecan butter. They all taste great to mimic cookie dough flavors.
Chia-Free – Swap the chia seed for an additional 1/4 cup of rolled oats.
Cocoa-Free – Replace the chocolate chips with cocoa nibs or unsweetened shredded coconut.
Gluten-Free – Use gluten-free certified oats.
Sweeteners – You can use granulated sweetener as well including coconut sugar or brown sugar.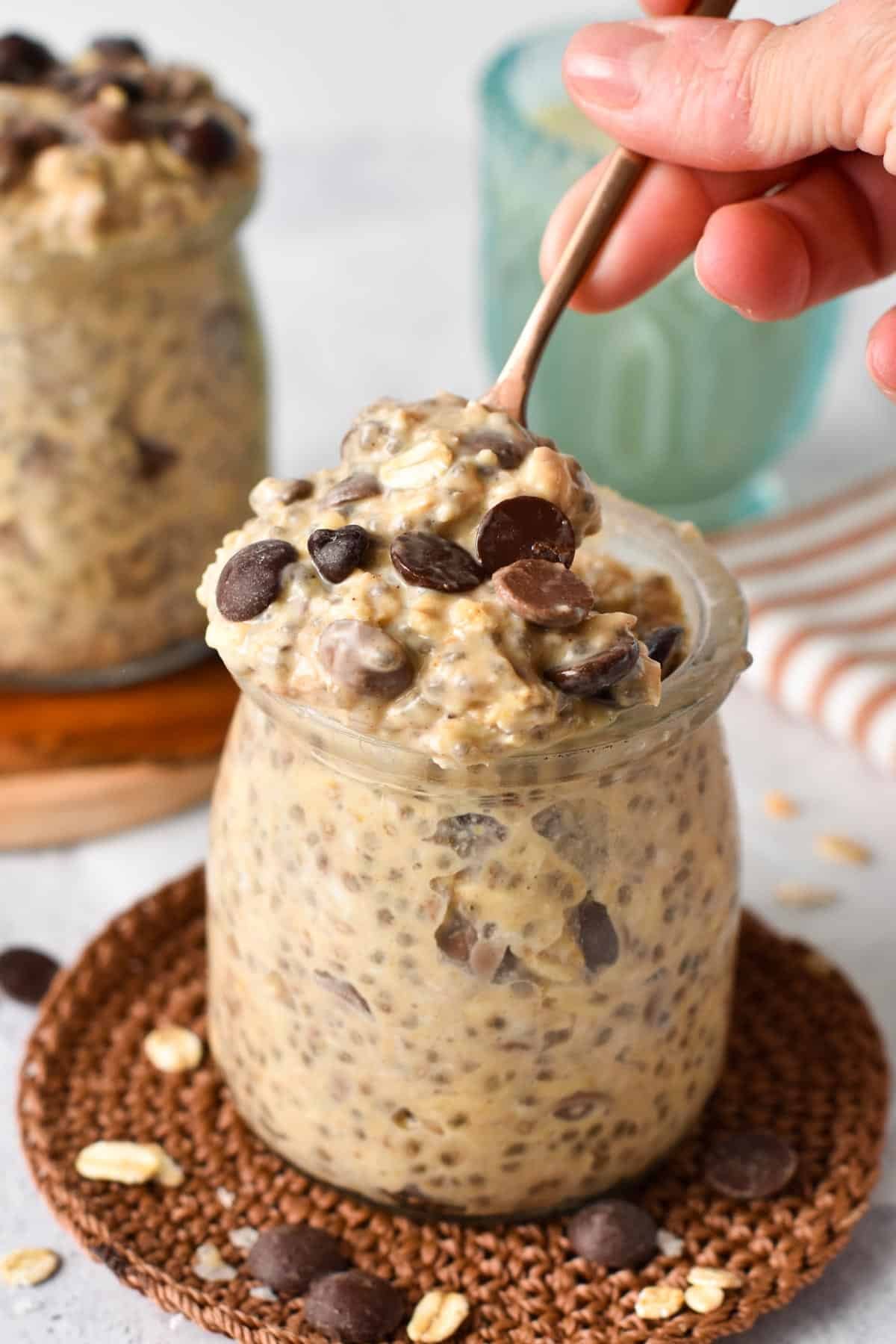 Frequently Asked Questions
I answered your most frequent questions about this recipe. Comment below if you don't find the answer you need.
Can I Add Protein Powder?
You can stir in 2 tablespoons of protein powder in the dry ingredients.
If your protein powder is sweetened or flavored, decrease the sweetener and vanilla extract, or the flavors will be overpowering.
Is Cookie Dough Overnight Oats Healthy?
Overnight oats, in general, are healthy breakfasts packed with fiber and proteins and minimal sugar – sweetened with refined sugar-free sweeteners.
They keep you full up to the next meal and feed good gut bacteria because of the chia seeds and oats used in the recipe.
In this cookie dough version, nut butter is also added, decreasing the speed at which carbohydrates are released in your body, keeping your blood sugar level stable for longer – no food craving too quickly.
Also, nut butter up the protein content of the recipe. To keep it healthy, choose dark chocolate chips with at least 70% cocoa or 85% cocoa to keep the added sugar low.
Can I Use PB2 Peanut Butter?
You can decrease the fat in the recipe using defatted nut butter in a powder form.
Rehydrate before adding to the recipe following the ratio provided on the packaging instructions.
Can I Add Plain Greek Yogurt?
You can swap 1/2 cup of plant-based milk for plant-based Greek Yogurt in the oat mixture to add creaminess and proteins.
More Overnight Oats Recipes
Below are some more delicious flavors to bring overnight oats ideas to your breakfast table everyday.
Have you tried this healthy chocolate chip cookie dough overnight oats recipe? Share a comment or review below to connect with me.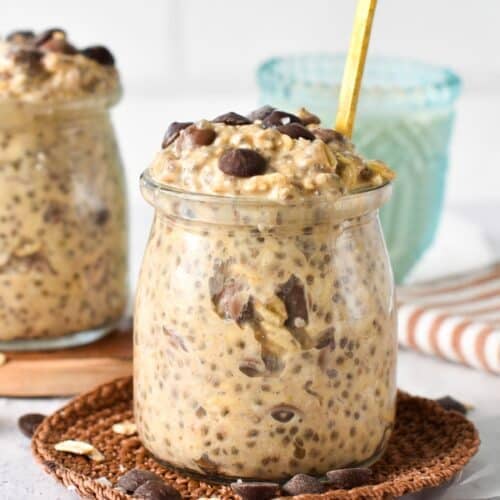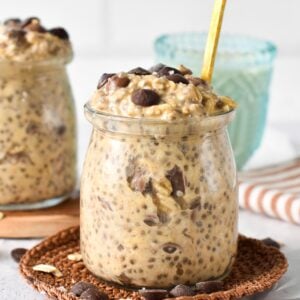 Cookie Dough Overnight Oats
This Cookie Dough Overnight Oats is the perfect healthy breakfast for cookie lovers. It tastes like raw cookie dough but much healthier, packed with wholegrain oats, vitamins, and proteins.
Pin
Print
Review
Shop My Tools
Instructions
In a large bowl, add peanut butter, maple syrup, almond extract (if used), and vanilla extract. Stir until a thick paste forms.

Whisk in milk until the paste is well dissolved and has a caramel-like color.

Stir in oats, chia seeds, salt, cinnamon, and chocolate chips.

Cover the bowl and refrigerate overnight or at least 8 hours. After 10 minutes in the fridge, you can give a quick stir in the bowl to prevent the chia seeds from sinking down to the bowl.

The next day, divide into four small jars and serve with extra chocolate chips and peanut butter on top.
Storage
Store in a sealed glass mason jar in the fridge for up to 3 days.
Share on Facebook
Pin Recipe
Nutrition
Serving:
1
serving
|
Calories:
315.9
kcal
|
Carbohydrates:
37.9
g
|
Protein:
7.8
g
|
Fat:
15.7
g
|
Saturated Fat:
4.1
g
|
Polyunsaturated Fat:
4.4
g
|
Monounsaturated Fat:
5.2
g
|
Trans Fat:
0.01
g
|
Sodium:
267.4
mg
|
Potassium:
257.3
mg
|
Fiber:
5.3
g
|
Sugar:
17.6
g
|
Vitamin A:
4
IU
|
Vitamin C:
0.1
mg
|
Calcium:
195.8
mg
|
Iron:
1.6
mg
|
Magnesium:
78.7
mg
|
Phosphorus:
189.5
mg
|
Zinc:
1.5
mg