Overnight Oats With Water
This Overnight Oats with Water is the perfect healthy breakfast if you ran out of milk, or simply want a low-calorie healthy breakfast.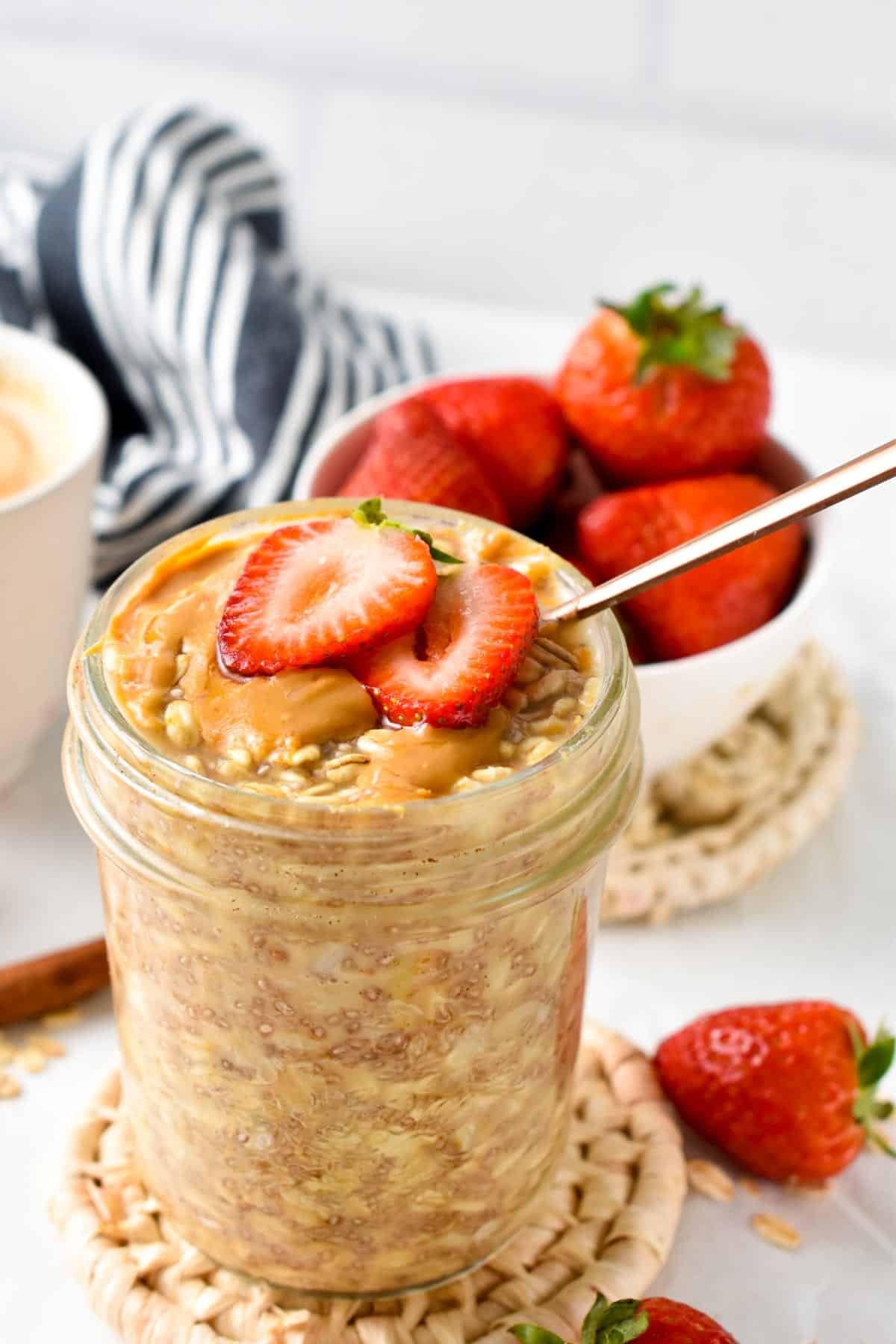 Soaking oats overnight makes delicious, easier-to-digest recipes packed with nutrients and so fresh to eat in the morning.
While I usually use almond milk or coconut milk for overnight oats, I recently tried using water!
It's a great way to save on expensive plant-based milk and serve a healthy breakfast.
What Are Overnight Oats With Water?
It's a healthy, dairy-free, make-ahead breakfast where oats, chia seeds, and spices are soaked overnight in water to create raw oatmeal.
The recipe also contains flavors, sweeteners, and often some added ingredients to add creaminess, like yogurt or nut butter.
It's the perfect healthy breakfast if you love to meal prep and ready-to-eat oats in the morning.
Can You Do Overnight Oats With Water?
If you run out of plant-based milk, try this amazing idea of replacing plant-based milk with water in overnight oats.
The result is good, light, lower in calories, and works like any other non-dairy milk.
Below are my tips to make this easy overnight oat without milk.
Why You Will Love This Recipe
This overnight oats recipe is perfect for oats lovers who :
Ran out of non-dairy milk and crave a healthy breakfast
Cut calories and look for a low-calorie breakfast packed with whole grains, fiber, and proteins
Budget and look for a cheaper healthy breakfast option
Have allergies to plant-based milk
Doesn't have a microwave or stove or look for a cold healthy breakfast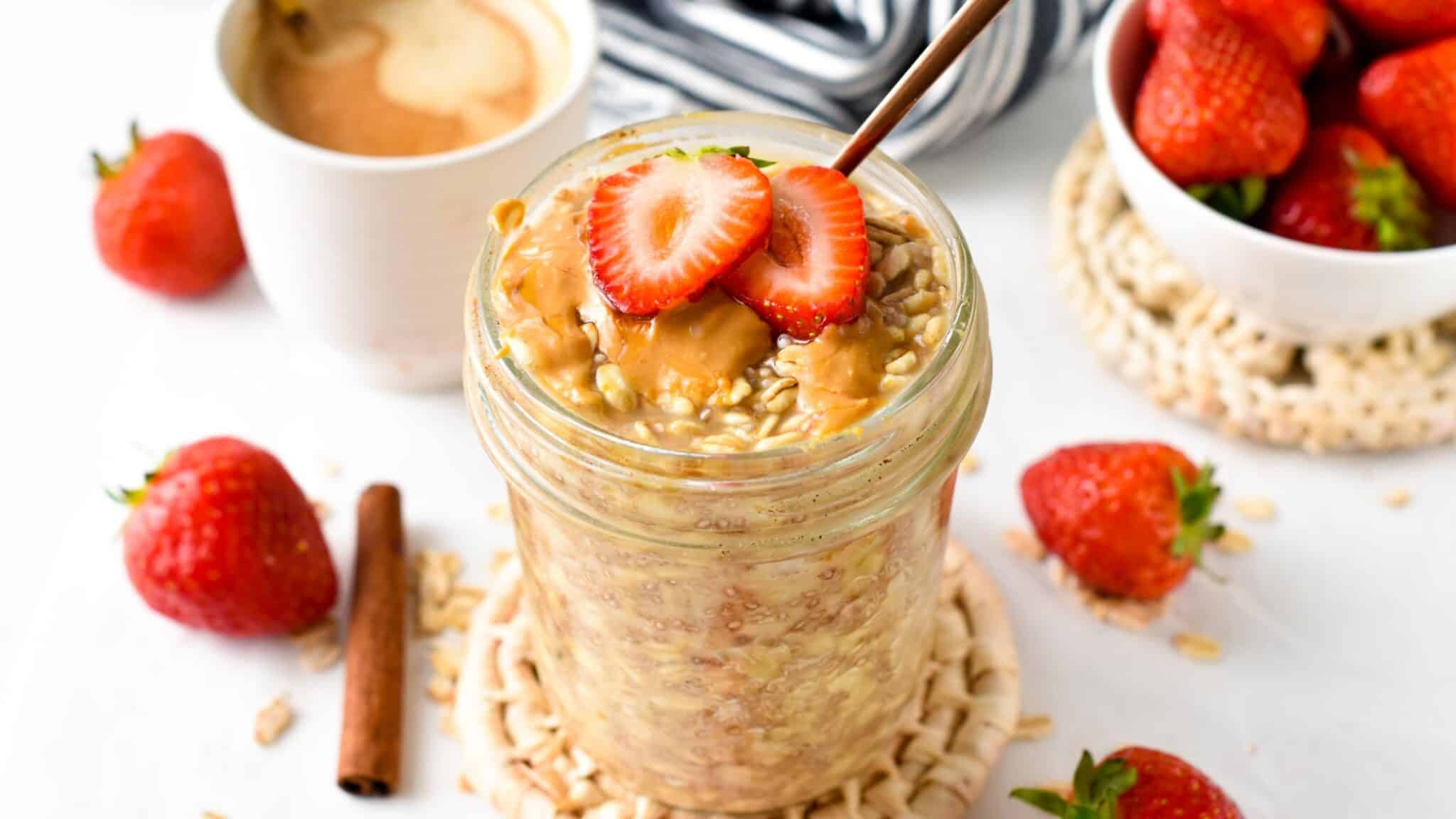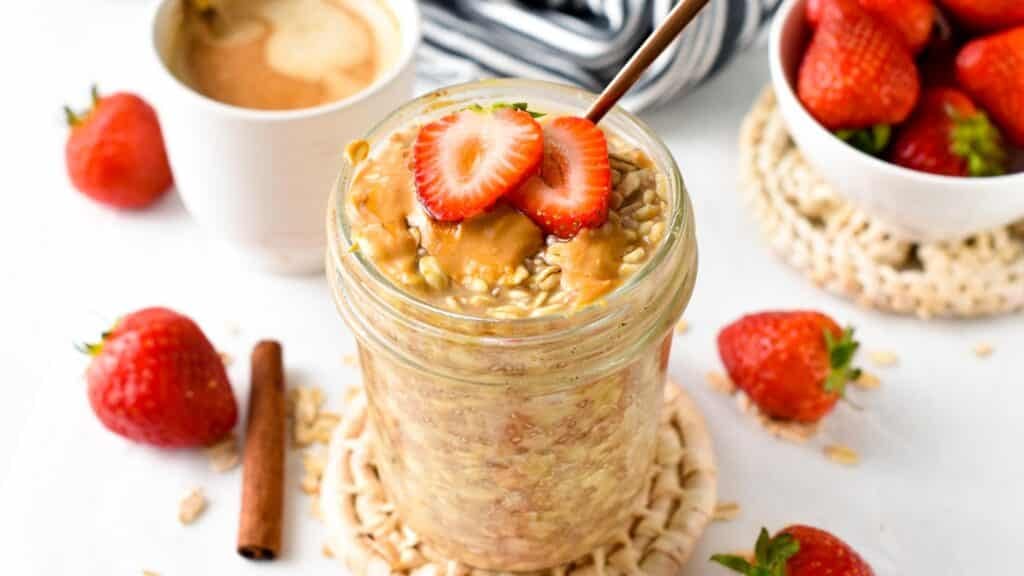 How To Make Overnight Oats With Water
This recipe is as easy as my basic overnight oats recipe, and a bit lighter since you don't need milk.
Ingredients
The basic ingredients you need to make this healthy breakfast are:
Old-Fashioned Rolled Oats or quick-cooking oats, I always use half of each. Rolled oats add a chunky texture, and quick oats add creaminess.
Chia Seeds
Cinnamon or any spices like pumpkin pie spices, nutmeg, ginger, or anything that add taste to the water.
Maple Syrup or any refined sugar-free sweetener you love, like agave syrup or coconut nectar.
Vanilla Extract
Water
The recipe comes together pretty well with the ingredients above in the same ratio as my 3-ingredient overnight oats.
The difference is that the texture is lighter and less creamy than a classic overnight oats recipe.
Preparation
Place oats, chia seeds, and cinnamon in a glass mason jar close the lid and shake to combine.
In a small bowl, add peanut butter and maple syrup and stir until creamy and runny.
Open the jar, and pour the peanut butter mixture, water, and vanilla extract. Use a fork to stir the ingredients together, close the lid and refrigerate for 5 minutes.
After 5 minutes, you often end up with two layers – the water goes on top, and oats and seeds gravitate to the bottom.
Open the jar and stir again for 20 seconds. Since the mixture already thickened a bit, this second stirring step will ensure that the mixture won't split into layers.
Keep in the fridge overnight, or at least 5 hours before serving.
Making The Overnight Oats Creamier
But, if you like your oats creamier, with more flavor and smooth texture, add:
1 tablespoon of peanut butter
2 tablespoons plant-based yogurt
Half mashed banana
I recommend adding some of the above to the recipe or the flavor is pretty blend and the texture watery.
But then, if you are making overnight oats for weight loss and trying to cut down the calories, you may enjoy the texture without adding these suggested ingredients.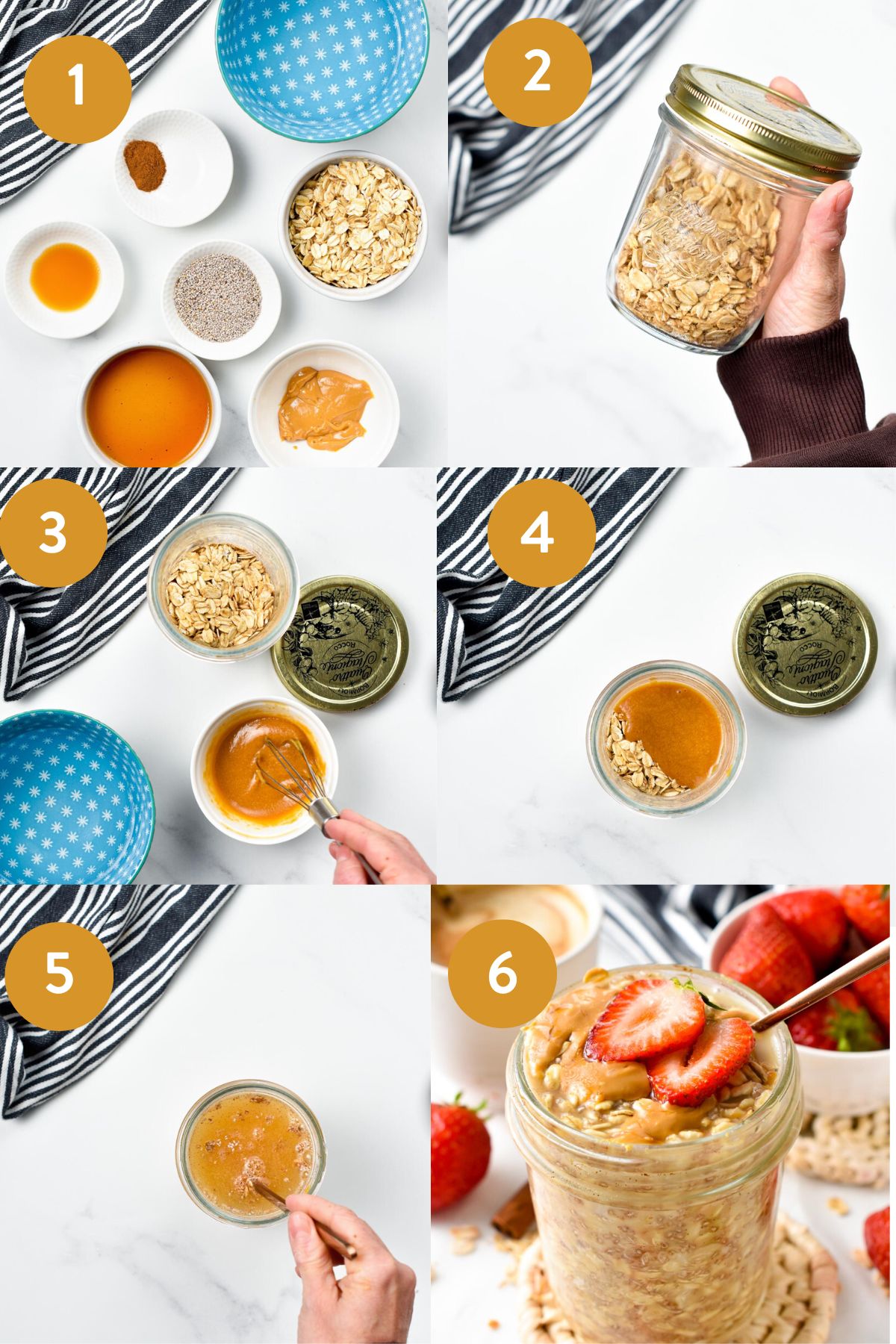 Using Other Liquids
This recipe calls for water and works perfectly with cold tap water.
But, it means you can also use any liquid, juice, non-dairy milk or flavored water if you want to try something new.
My best suggestions for water swaps are:
Coconut Water
Watermelon Water
Half of cold brew coffee and half of almond milk for coffee overnight oats.
Half cold matcha tea and half coconut milk.
Flavoring Ideas
Using the suggestions below, you can use the based recipe to create a range of healthy breakfast flavors.
Carrot Cake – Stir two tablespoons of plant-based Greek Yogurt, a few chopped pecans, 1/4 cup of grated carrots, and two tablespoons of dried raisins.
Peanut Butter Chocolate – Stir one tablespoon of peanut butter, two teaspoons of cocoa powder, and a few dark chocolate chips with a pinch of salt to enhance the chocolate flavor.
Protein Vanilla Berries – Stir 1 or 2 tablespoons of your favorite plant-based vanilla protein powder and add a few berries.
Apple Pie – Stir in 1/2 finely chopped apple and a few chopped walnuts.
Serving
The next day, serve this overnight oat recipe with:
Nut Butter like peanut butter, almond butter, or cashew butter.
Chia Seed Jam – try my 2-ingredient chia seed jam recipe.
Fresh Berries like strawberries
Chopped Nuts and seeds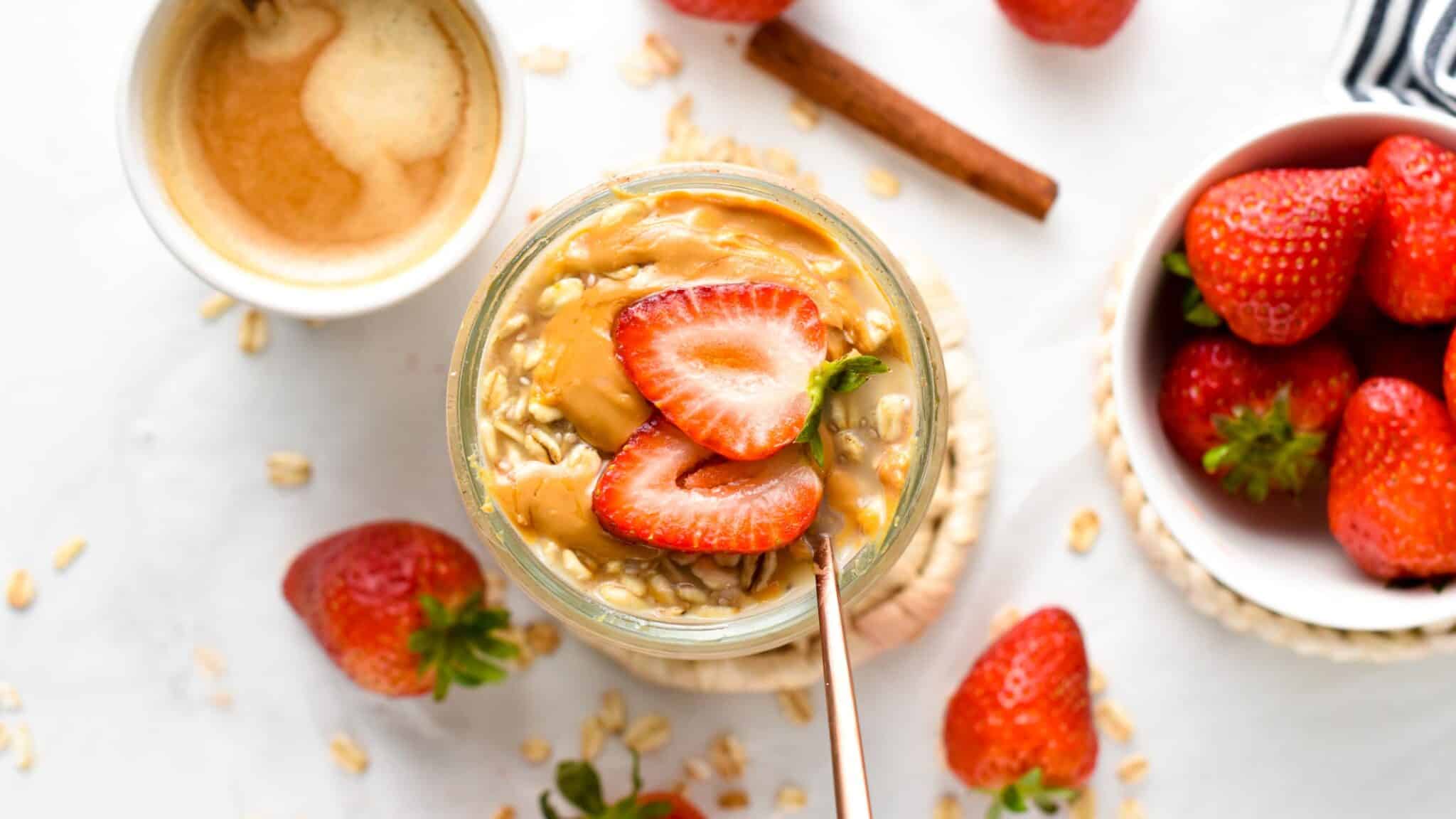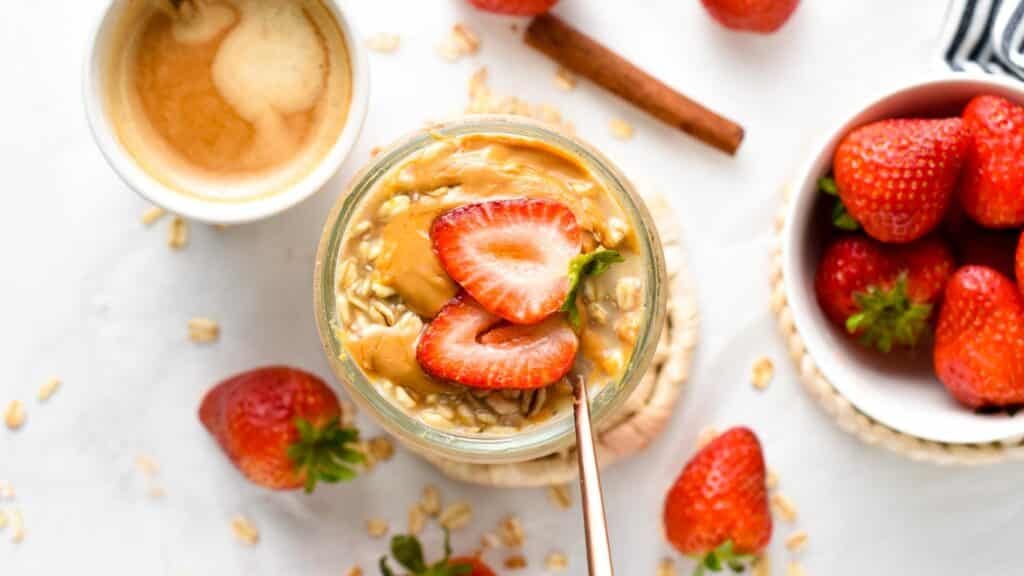 Allergy Swaps
This overnight oats recipe is already quite allergy-friendly.
However, if you are allergic to some of the ingredients listed, pick some options below.
Gluten-Free – Choose a gluten-free oats brands.
Chia-Seed Free – You can use the same amount of ground flaxseeds or 3 extra tablespoons of quick oats.
Sugar-Free – Use your favorite natural sugar-free liquid sweetener.
Frequently Asked Questions
Below are my answers to your most common questions about this simple healthy breakfast recipe.
How Can I Make Overnight Oats Creamier?
Since water doesn't add much creaminess to this overnight oats recipe, I recommend you add some of the below:
• 1 tablespoon of vanilla protein powder
• 1-2 teaspoons of unsweetened cocoa powder
• 1 tablespoon of powdered peanut butter
Can I Make Overnight Oats With Steel-Cut Oats?
Yes, you can replace the oats with the same amount of steel-cut oats.
Can I Use Milk Instead Of Water To Make Overnight Oats?
Yes, the milk and water ratio is the same, so you can use this recipe with non-dairy milk if you prefer.
More Overnight Oat Recipes
If you like overnight oats, below are my favorite flavored overnight oat recipes.
Have you tried making overnight oats with water? Share a comment and review below to tell me what you think.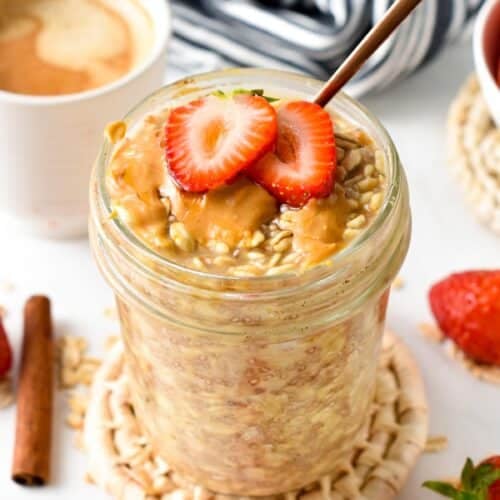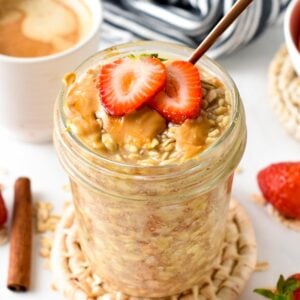 Overnight Oats With Water
These Overnight Oats With Water are the perfect healthy breakfast if you run out of milk or simply want a low-calorie healthy breakfast.
Pin
Print
Review
Servings: 2 servings
Calories: 237.3 kcal
Instructions
In a medium mixing bowl or glass mason jar, combine old-fashioned oats, chia seeds, and cinnamon.

In another bowl, stir maple syrup, vanilla extract, and peanut butter until smooth and add in the previous mixture along with water.

Stir well to bring all ingredients together and until no lumps of nut butter can be seen.

Cover the bowl with foil or a lid and place in the fridge for 5 minutes. After that time, you may have two layers as water often goes to the top. Stir again for 20 seconds to form an even mixture.
Serving
Close the jar and keep it overnight in the fridge.

The next day, serve plain or with toppings like fresh berries, peanut butter, plant-based yogurt, and chocolate chips.
Storage
Store for up to 4 days in the fridge in an airtight container or in 8-ounce glass mason jars. Freeze in airtight jars and thaw in the fridge the day before.
Meal Prep
You can double or triple this recipe and store it in sealed jars in the fridge for many breakfasts.
Share on Facebook
Pin Recipe
Nutrition
Serving: 1serving | Calories: 237.3kcal | Carbohydrates: 33.1g | Protein: 6.5g | Fat: 9.6g | Saturated Fat: 1.7g | Polyunsaturated Fat: 3.5g | Monounsaturated Fat: 3.6g | Trans Fat: 0.01g | Sodium: 59.8mg | Potassium: 219.3mg | Fiber: 5.9g | Sugar: 13g | Vitamin A: 21.8IU | Vitamin C: 1.1mg | Calcium: 77.4mg | Iron: 1.6mg | Magnesium: 74.3mg | Phosphorus: 179.8mg | Zinc: 1.4mg