This easy Overnight Oats Recipe is a vegan, 3-ingredient healthy breakfast you can make every day of the week.
Plus, this recipe provides 6 delicious flavor options to make a tasty and nourishing breakfast.
Have you heard of overnight oats before? If not, don't be overwhelmed at all because it's the simplest, healthiest oatmeal breakfast you will ever make.
All you need are 3 basic ingredients or more if you fancy some delicious flavors, but let me explain more below.
What Are Overnight Oats?
Many people wonder why overnight oats are so popular.
First, it's an easy make-ahead recipe that requires only 5 minutes to make and serves plenty of breakfasts. But most of all, it's a healthy breakfast.
In fact, overnight oats are basically a raw porridge, a combination of old-fashioned rolled oats, milk, sometimes yogurt, and chia seeds soaked in the fridge overnight or at least 6 hours.
The soaking process breaks down the starch and acid in oats which increase their nutrient absorption and make them easier to digest.
For example, if you have IBS symptoms, soaking seeds and grains makes it smoother in your gut.
Plus, the soaking time gives the fibers in the grain and seeds time to swollen and create a creamy pudding texture.
A very intense creamy texture that is much better than your hot porridge, I believe.
Anyway, there are so many benefits to eating raw, soaked grains and seeds for your overall health, including vitamins, nutrients, iron, and protein absorption.
How To Make Overnight Oats Recipe
So now, let's see how easy it is to make overnight oats at home with 3 simple ingredients.
Yes, only 3 ingredients are enough to start making tasty overnight oats, nothing more!
Ingredients For The Base Recipe
A simple overnight oats recipe starts with the most basic wholesome ingredients below.
I will also give you a list of options to create a range of flavors, but with the 3 ingredients below, you can make a cheap, healthy breakfast that tastes really good.
Old-Fashioned Rolled Oats – this refers to the coarse version of oats. You can use quick oats as well, but the texture of the pudding is more liquid, and I prefer this option for baby overnight oats.
Almond Milk – if you use sweetened almond milk, you don't need to add a sweetener to this recipe. Of course, for a low-sugar option, use unsweetened plant-based milk, including oat milk, coconut milk, or cashew milk. Other options are unsweetened vanilla-flavored almond milk or chocolate almond milk. If you don't have milk, you can also just make overnight oats with water.
Chia Seeds
Preparation
There are two ways to prepare your overnight recipe:
Option 1: In a Glass Mason Jar
It's the most common way to prepare overnight oats but let me share my pro and cons on this method.
Pros
Fast and simple for a classic 3-ingredient overnight oats recipe.
Minimal washing – can be eaten from the jar the next day.
Cons
The chia seeds often form lumps in the jar, especially if the jar is too narrow. To avoid this, open and stir the mixture after 2 or 3 hours to prevent the seeds from forming lumps in your jar.
It's hard to fit extra ingredients like frozen fruits in a mason jar.
Instructions
Put everything in the jar, shake it, and you are done. Making overnight oats in a glass mason jar requires at least an 8-ounce mason jar.
Don't use smaller jars or the seeds gravitate to the bottom of the jar, and the texture won't be evenly smooth and creamy.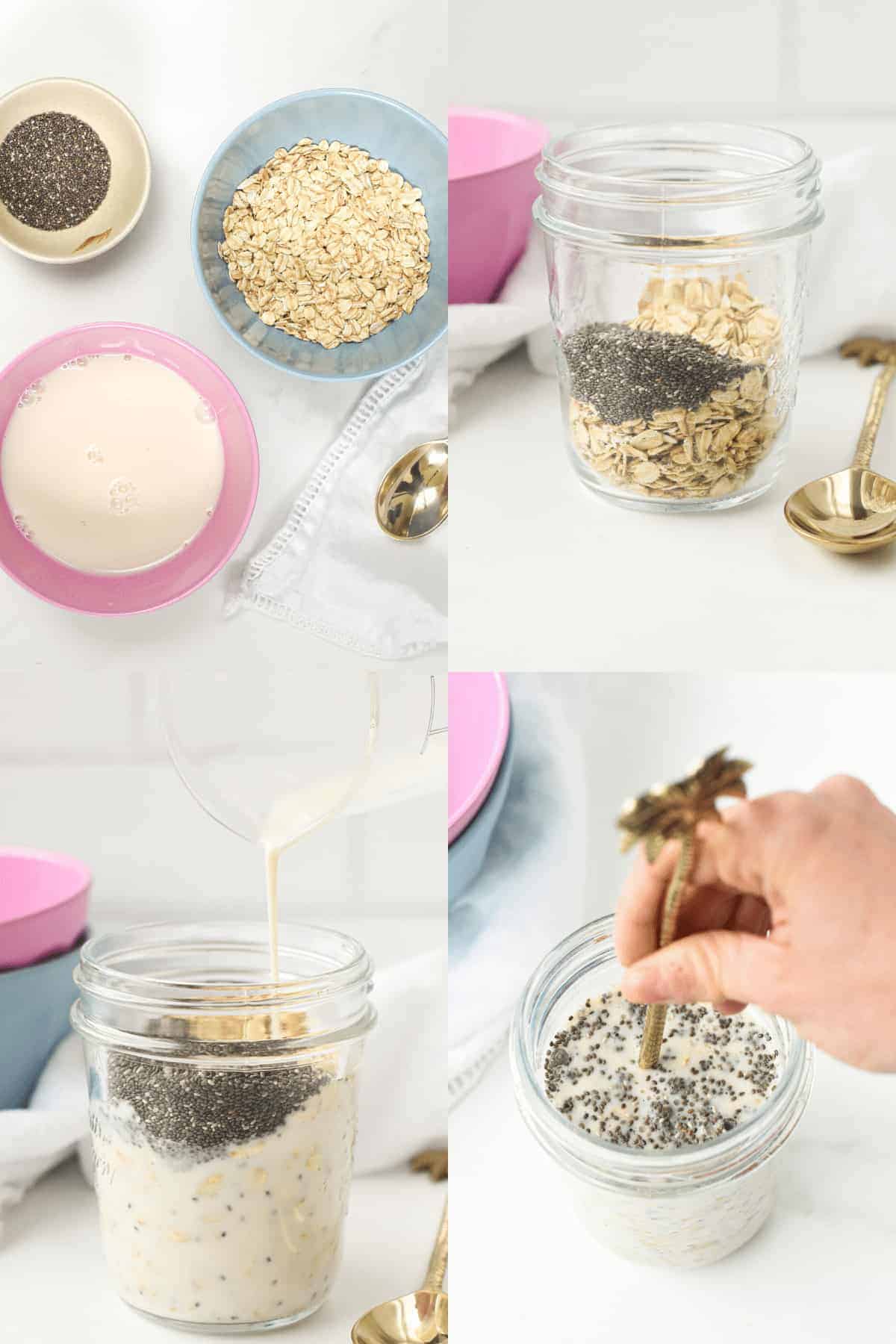 Option 2: Wide Mixing Bowl
It's the best method if you want to:
Double the recipe batch.
Add more ingredients to the recipe like fruits, nut butter, and sweetener.
Pros
Perfect texture – the seeds won't form lumps.
Fits large batches – perfect for making large quantities of overnight oats or fits plenty of extra ingredients for flavor.
Cons
More cleaning – you need to transfer the preparation in small jars the next day.
It can't store in the bowl for as long – plastic wrap is not sealing the bowl as well as a glass mason jar lid.
Instructions
In a large mixing bowl, whisk the dry ingredients first to evenly distribute the seeds and oats together. Then stir in your almond milk or any liquid you choose – see tips below.
Seal the bowl with a piece of plastic wrap or a silicone lid.
The next day, serve overnight oats cold or lukewarm, plain or with toppings or sweeteners. Store the leftovers in airtight glass mason jars.

Alternatives To Make Flavorsome Vegan Overnight Oats
This is the most basic overnight oats recipe and since we all love different flavor variations, let me share some tips.
Swap Half The Milk For Yogurt
This is the most common recommendation in overnight oatmeal recipes. Replacing half the milk with half Greek yogurt increase the creamy pudding texture.
Also, you can use flavored Greek yogurt. There is plenty of low-sugar, dairy-free Greek Yogurt options like vanilla coconut yogurt or almond yogurt that go well with this recipe.
Stir In A Sweetener
If you use unsweetened almond milk, your overnight oats will be sugar-free. To boost its sweetness, add:
Stevia drops
Sugar-free sweetener – 2-3 tablespoons of erythritol.
Natural refined sugar-free sweeteners like coconut nectar or maple syrup from 1 to 3 tablespoons per batch.
Add Fresh Fruits
Again, this is very optional but very tasty and refreshing. You have two options. You can add the fruits:
Before soaking
After soaking
And also, you can absolutely make overnight oats with frozen fruits! Don't thaw the fruits, just throw them in and soak overnight.
Of course, they release some fruit juice in the mix that decreases the creaminess of the pudding but still tastes amazing.
The best fruits to add are:
Sliced strawberries
Whole blueberries
Raspberries
Boysenberries
Blackberries
Sliced Bananas
Sliced Apples
Add Nut Butter
Some very common addition to overnight oats recipes are:
Peanut butter
Almond butter
Cashew butter
Sunflower seed butter for a nut-free option
In fact, adding nut butter to your recipe boosts its plant-based protein content and tastes amazing too.
More protein means it's super satisfying and, if you are on a weight loss journey, it keeps you full for longer, so you eat less.
Add Protein Powder
This is a great option to also boost protein in your breakfast. Feel free to use my overnight oats with protein powder recipe to try this option.
Spice It Up!
Finally, the last thing you can add to your mix before soaking overnight are:
Spices – cinnamon, nutmeg, turmeric
Vanilla extract
Dried fruits– raisins, cranberries, chopped apricots
Nuts and seeds – hemp seeds, coconut.
Cocoa powder – try my chocolate peanut butter overnight oats for inspiration
Use Flavored Milk
This is especially great if you opt for the easy 3 ingredient recipe that is naturally unsweetened.
There's plenty of delicious flavored plant-based milk available in store that I would recommend like :
Unsweetened vanilla almond milk
Chocolate almond milk or chocolate soy milk
Strawberry soy milk
Serving
There are two ways of serving overnight oats. Some eat cold overnight oats straight out of the refrigerator, and I really think it's the best in summer.
But, on cold days, I like to microwave overnight oats for a few seconds to eat just warm.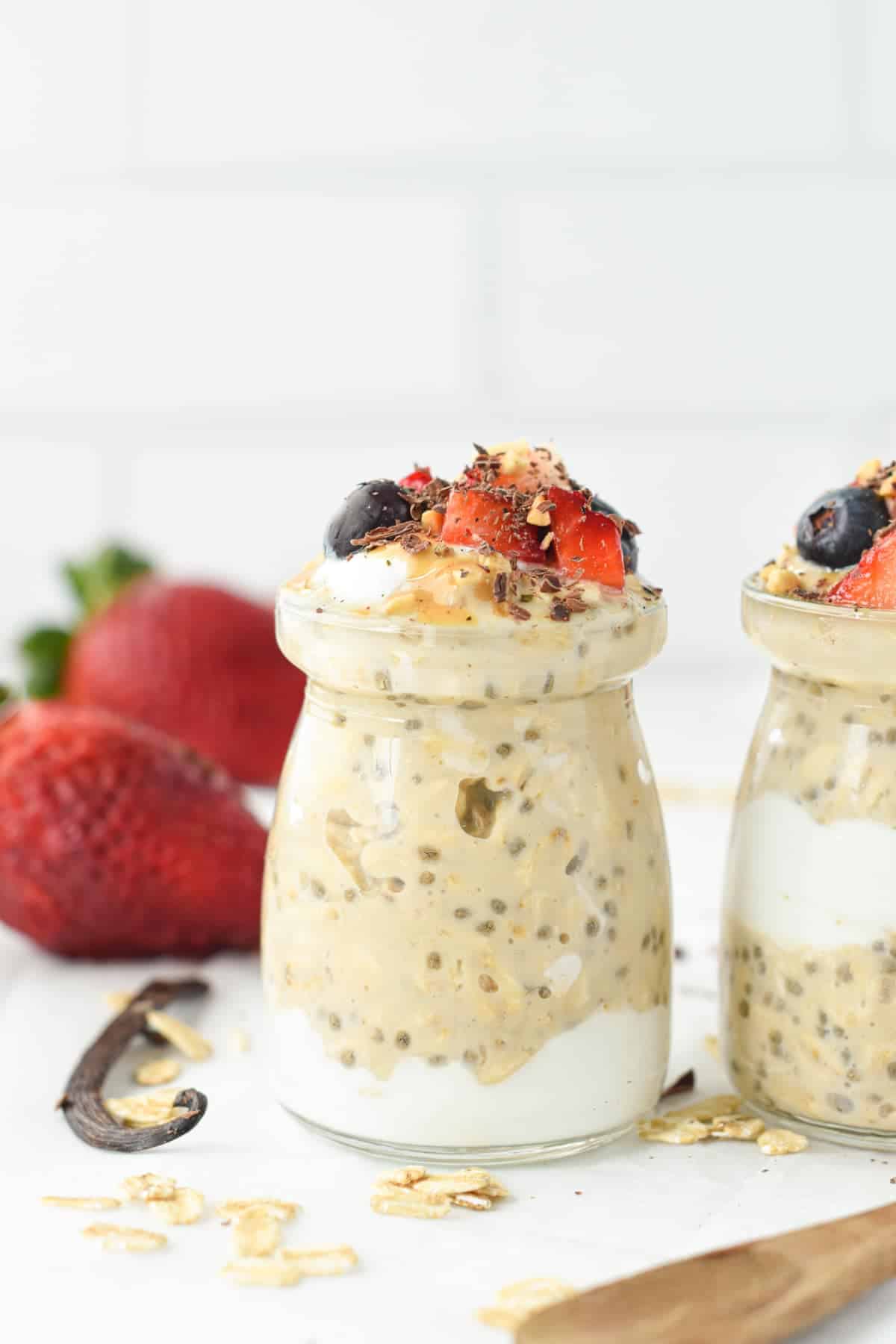 Frequently Asked Questions
How Long Are Vegan Overnight Oats Good For?
You can store the soaked preparation in glass mason jars for up to 4 days in the fridge or for just 3 days if you add fruits.
Of course, you can freeze overnight oats as well, which is perfect for busy weeks.
Thaw one serving in the fridge in the fridge before morning. Also, remember that if you added frozen fruits to your overnight oats, you can't freeze them!
It's not safe to freeze a product that contains thaw, raw fruits.
Which Type Of Oats Should I Use?
You are probably wondering if you can make overnight oats with steel-cut oats!
Steel-cut oats contain the outer layer of the oat kernel, and they won't soak and swell as much.
The result won't be as smooth and creamy, and they will stay slightly hard, so I don't recommend this option.
The best is to use old-fashioned oats. You can use certified gluten-free oats if you have gluten sensitivities.
Quick oats are great for baby overnight recipes.
Are Overnight Oats Healthy?
Overnight oats bring a lot of potential health benefits because they are rich in fiber, protein, vitamins, and minerals.
More Overnight Oats Recipe Flavors
Below I listed my top 6 vegan overnight oats recipes for you to try. It includes recipes with protein powder, fruits, different milk options, nut butter, or chocolate.
Pick the one that matches your taste buds and enjoy a healthy breakfast.
Have you made this basic overnight oats recipe? Share a comment or review below to let me know how it went.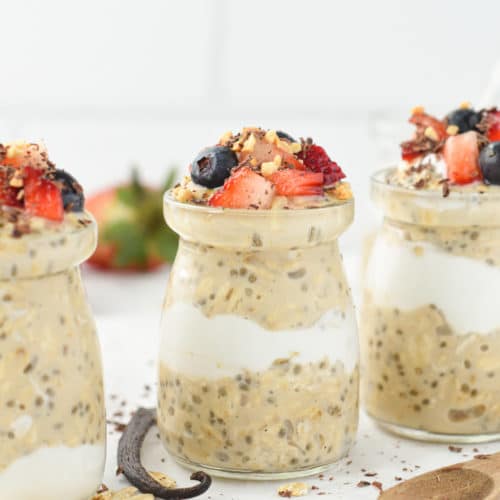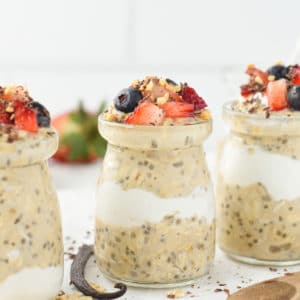 Overnight Oats Recipe
This 3-ingredient Overnight Oats Recipe is the simplest way of making a quick vegan healthy breakfast to meal prep.
Pin
Print
Review
Shop My Tools
Ingredients
1

tablespoon

Chia Seeds

¾

cup

Almond Milk -

sweetened or 1/4 cup Greek Coconut yogurt and 1/2 cup almond milk
Instructions
In a medium mixing bowl, combine the dry ingredients: old-fashioned oats and chia seeds.

Stir in almond milk and any optional ingredients you want, like vanilla extract, sweetener (optional if milk is sweetened!), and frozen fruits.

Cover the bowl with film wrap and refrigerate overnight or for at least 6 hours. I recommend stirring after 2-3 hours to prevent the seeds from sinking to the bottom of the bowl.

The next day, serve plain or with toppings like chopped peanuts, sliced almonds, toasted coconut, a drizzle of nut butter, berries, or chocolate chips.

Store for up to 4 days in the fridge in an airtight container or in 8-ounce glass mason jars. Freeze in airtight jars and thaw in the fridge the day before.
Share on Facebook
Pin Recipe
Nutrition
Serving:
1
serving
|
Calories:
119
kcal
|
Carbohydrates:
16.6
g
|
Protein:
4.1
g
|
Fat:
4.3
g
|
Saturated Fat:
0.4
g
|
Polyunsaturated Fat:
2.5
g
|
Monounsaturated Fat:
1.1
g
|
Trans Fat:
0.1
g
|
Sodium:
124
mg
|
Potassium:
97.7
mg
|
Fiber:
4.4
g
|
Sugar:
0.3
g
|
Vitamin A:
3.2
IU
|
Vitamin C:
0.1
mg
|
Calcium:
160.9
mg
|
Iron:
1.3
mg
|
Magnesium:
48
mg
|
Phosphorus:
134.6
mg
|
Zinc:
1
mg