Overnight Oats With Coconut Milk
This Overnight Oats with Coconut Milk is the easiest, healthy breakfast with a dreamy creamy coconut texture. Coconut lovers, this breakfast is for you.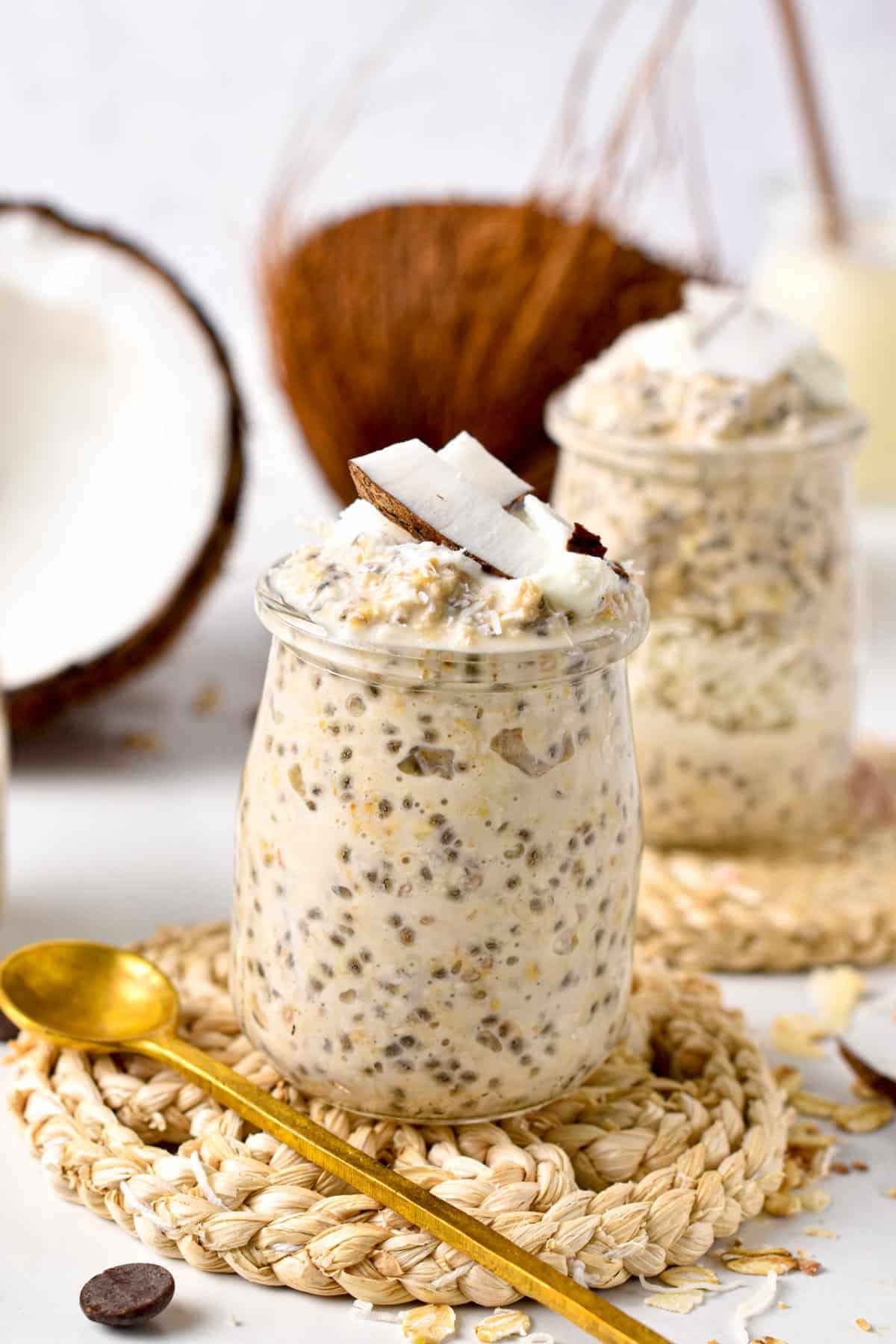 I often get asked if I can make overnight oats with any milk. The answer is yes.
You can make overnight oats recipes with any plant-based milk flavor, even water, as in my overnight oats with water recipe.
The trick is to adjust the dry-to-liquid ingredients ratio of your oatmeal recipe based on the liquid you use.
So let me share with you how to make creamy overnight oats with coconut milk.
What Are Overnight Oats With Coconut Milk?
It's an oatmeal recipe that consists of soaking oats and coconut milk together overnight.
Therefore, coconut overnight oats are a cold breakfast with a delicious creamy texture and strong coconut flavor.
It's the perfect recipe if you don't have a microwave or stove and crave a healthy breakfast.
How To Make Overnight Oats With Coconut Milk
Making a delicious vegan coconut milk oats bowl is super simple to start the day. Here are my tips and ideas below for you to start cooking with coconut milk.
Coconut Milk Choice
Pick the coconut milk you like:
Before you start, select the coconut milk type you want to use. There are a few types of coconut milk:
Canned Full-Fat Coconut Milk is thick and has less water content and you will need a little more of it to make the overnight oat creamy and not dry. However, it's also higher in fats and calories, so not my favorite option for a breakfast that is easy to digest.
Canned Light Coconut Milk – Also known as low-fat canned coconut milk, this contains the perfect balance of fat and water for coconut milk overnight oats.
Coconut Milk Beverage – The one in a carton contains more water and works with a similar ratio as other plant-based milk like almond milk. It doesn't add much coconut flavor, so I am not recommending this option.
Canned Coconut Cream – This is not recommended in this recipe as it's too high in fat, and the oats won't thicken as well. Plus, the result is heavy and not easy on your gut in the morning.
Ingredients
All you need to start with this healthy make-ahead breakfast are:
Old-Fashioned Rolled Oats or quick oats
Chia Seeds – For a boost of omega-3 and omega-6 fatty acids.
Light Canned Coconut Milk – Shake the can before opening and measuring in a measuring cup. I use light canned coconut milk, because it makes the overnight oats so creamy and flavorsome, but not as fatty as with regular canned coconut milk.
Coconut Nectar – My favorite sweetener is coconut nectar with coconut milk, but maple syrup, agave syrup, or coconut sugar also works.
Vanilla Extract
Unsweetened Shredded Coconut – For flavor and texture, you can skip it or use seeds or nuts.
Preparation
Overnight oats must be prepared the day before or 8 hours before serving to give the oats time to soak up the liquid they are placed in.
The day before, in a mixing bowl, whisk all the ingredients together: oats, chia seeds, shredded coconut, sweetener, vanilla extract, and light coconut milk.
Cover the bowl with a silicone lid, and refrigerate it for at least 8 hours.
I like to stir the mixture with a fork after 30 minutes in the fridge. This prevents the chia seeds from sinking to the bottom of the bowl and forming lumps.
Flavor Options
If you like, try adding some extra ingredients to the oat mixture before you place it in the fridge to boost flavor or nutrients. This includes:
One Tablespoon of your favorite Protein Powder – Watch out! Protein powder is sweetened and flavored. As a result, you may want to decrease or skip the sweetener and vanilla extract in the recipe to avoid a too-sweet recipe.
Dark Chocolate Chips
Pinch of Salt
One Teaspoon of Cinnamon or pumpkin pie spices
Two Tablespoons of Mashed Banana instead of the sweetener.
Serving
The next day, divide the batch of oats into two serving bowls or small glass mason jars.
Add some of your favorite toppings on top. I like:
Fresh Fruits, like raspberries, strawberries, pineapple, or mango, for a tropical breakfast.
Toasted Coconut Flakes
Nut Butter like peanut butter, almond butter, or cashew butter.
Chocolate Chips and sliced almonds turn this recipe into an almond joy overnight oats flavor.
Storage Instructions
You can store this recipe in the fridge for up to 3 days in sealed, airtight containers.
It's the perfect breakfast for busy mornings, just remove it from the fridge and eat cold straight out of it.
Allergy Swaps
Below I listed some ingredients substitutions if you need them:
Gluten-Free – Pick a gluten-free certified oat brand.
Sugar-Free – You can skip the sweetener or use natural sugar-free options like a few drops of liquid stevia.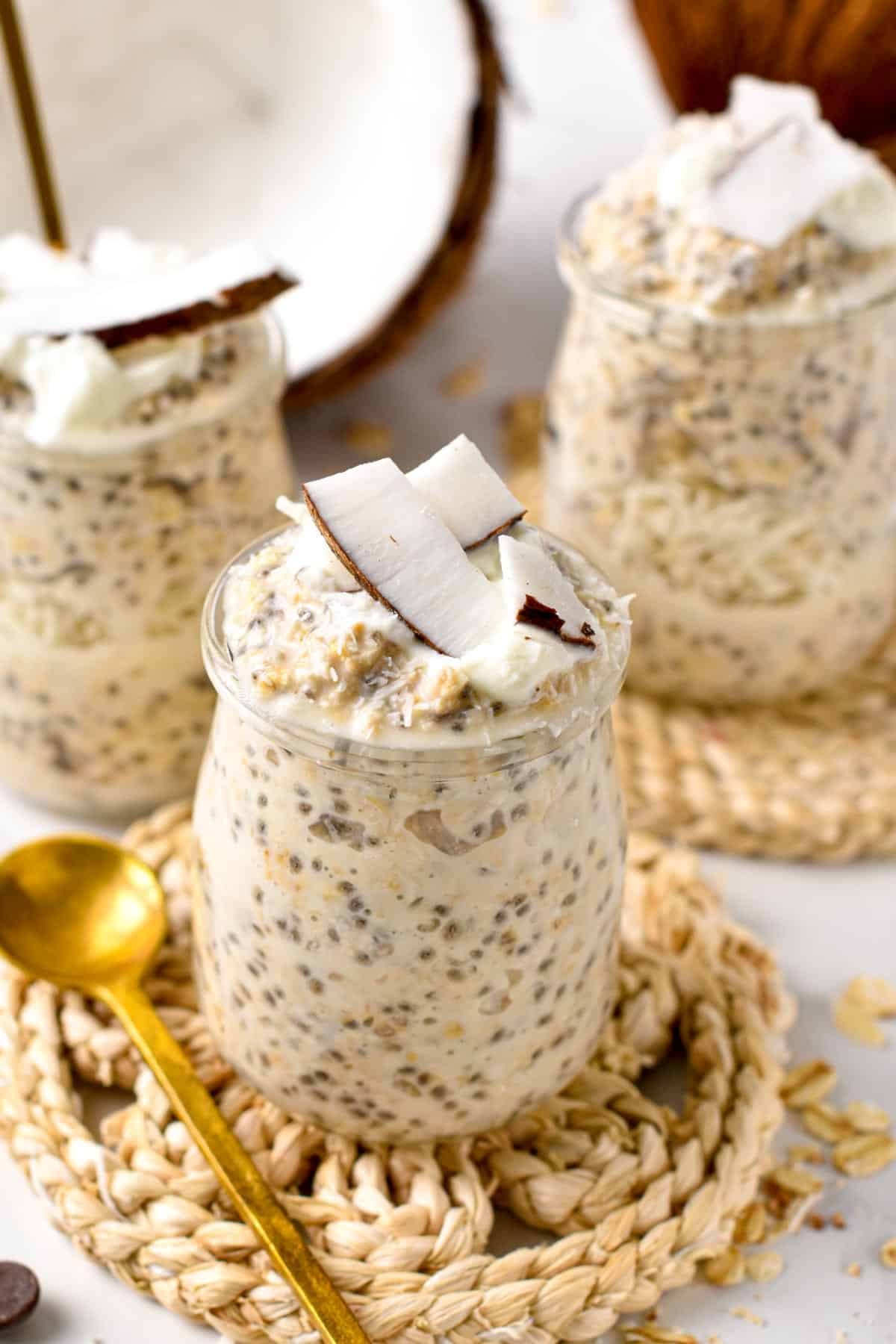 Frequently Asked Questions
Below are my answers to your most common questions about this easy breakfast meal-prep recipe.
Can I Use Steel-Cut Oats In Overnight Oats?
Yes, you can use the same amount of steel-cut oats. The texture is lightly tougher and dryer.
You may want to add more plant-based milk to the mix to make the recipe creamier.

What Milk Is The Best For Overnight Oats?
The best milk is plant-based milk cartons like almond milk, oat milk, or light coconut milk.
Avoid full-fat milk – they have less water content, and the oats won't be as soft with them. Plus, they are much more difficult to digest in the morning.
What Are The Benefits Of Oat And Coconut Milk?
Oats are high in proteins, fiber, and iron, making this plant an excellent breakfast cereal to stabilize blood sugar levels, lower cholesterol, and avoid cravings.
Coconut milk, on the other hand, contains medium-chain fatty acids that increase fullness.
Plus, coconut has excellent anti-fungal and anti-microbial properties from lauric acid that reduce inflammation of the gut lining and skin.
Therefore, the combo of oats and coconut is popular in food and skincare.
More Overnight Oat Recipes
If you like these overnight oats, you'll love my other overnight oat recipes:
Have you tried this coconut milk overnight oats recipe? Share a comment or review below.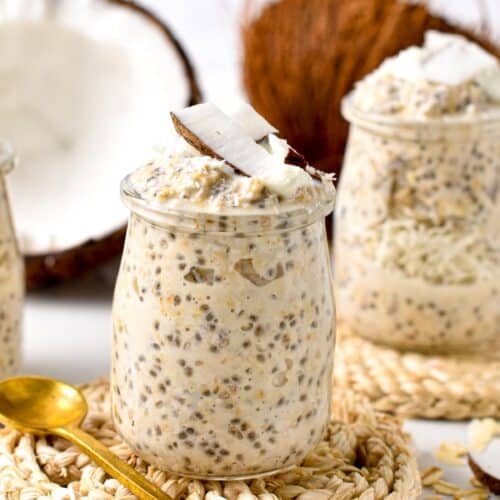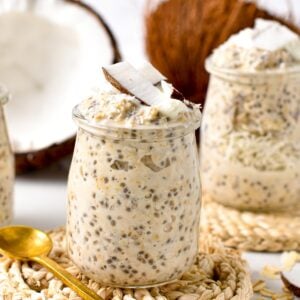 Overnight Oats with Coconut Milk
This Overnight Oats with Coconut Milk is the easiest, healthy breakfast with a dreamy creamy coconut texture. Coconut lovers, this breakfast is for you.
Pin
Print
Review
Shop My Tools
Instructions
In a medium mixing bowl or glass mason jar, combine old-fashioned oats, shredded coconut, and chia seeds.

Add in coconut milk, coconut neactar or maple syrup, and vanilla extract

Stir well to bring all ingredients together

Cover the bowl with foil or a lid and place in the fridge overnight or at least 6 hours. If the chia seeds gravitate at the bottom of the bottom, stir halfway.
Serving
The next day, serve plain or with toppings like fresh berries, peanut butter, plant-based yogurt, and chocolate chips.
Storage
Store for up to 4 days in the fridge in an airtight container or in 8-ounce glass mason jars. Freeze in airtight jars and thaw in the fridge the day before.
Share on Facebook
Pin Recipe
Nutrition
Serving:
1
serving
|
Calories:
364.7
kcal
|
Carbohydrates:
47.8
g
|
Protein:
8.1
g
|
Fat:
16.9
g
|
Saturated Fat:
10.2
g
|
Polyunsaturated Fat:
3.9
g
|
Monounsaturated Fat:
1.4
g
|
Trans Fat:
0.01
g
|
Sodium:
9.4
mg
|
Potassium:
279.3
mg
|
Fiber:
10.8
g
|
Sugar:
12.4
g
|
Vitamin A:
6.5
IU
|
Vitamin B12:
2.2
µg
|
Vitamin C:
0.4
mg
|
Vitamin D:
88.5
µg
|
Calcium:
184.2
mg
|
Iron:
3
mg
|
Magnesium:
137.8
mg
|
Phosphorus:
292.4
mg
|
Zinc:
2.8
mg