This Pumpkin Overnight Oat recipe has a creamy smooth texture, full of pumpkin spice flavor and nutrients to start the day healthy.
Plus, this overnight oats recipe is also dairy-free, and refined sugar-free.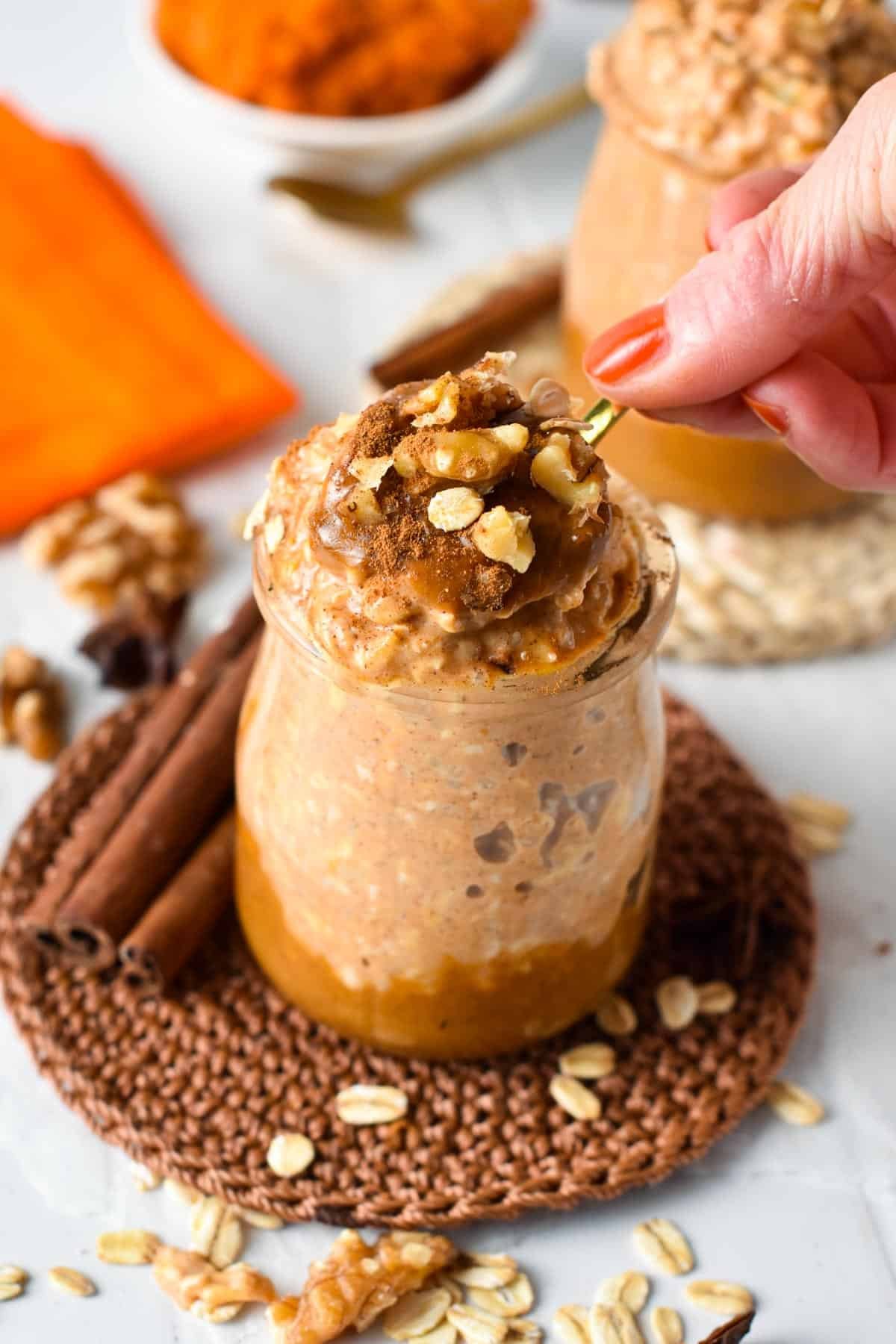 Calling all the pumpkin spice lovers with this easy, healthy pumpkin overnight oats recipe.
This is the healthiest decadent Fall breakfast and a must to meal prep daily healthy breakfasts.
There is no more reason to skip a healthy breakfast, celebrate fall, and indulge in a wholesome jar of this!
What Is Pumpkin Overnight Oatmeal?
A pumpkin overnight oats recipe is a raw oatmeal breakfast made of soaked rolled oats, chia seeds, plant-based milk and flavored with pumpkin spices, and pumpkin puree.
It's a wonderful healthy breakfast to start the day with nutritious fiber, plant-based proteins, and minimal sugar to keep your blood sugar level steady during the day.
How To Make Pumpkin Overnight Oats
Pumpkin spice overnight oats are an easy Fall breakfast recipe. It takes just about 5 minutes to make it the day before, and it can be meal prepped for about a week of breakfast!
So convenient for the whole family, nourishing and delicious.
So let's see the ingredients you need to make this delicious pumpkin overnight oats recipe.
Ingredients
Old fashioned rolled oats – this is the thick variety of oats. They are much higher in fiber and liquid absorbent than quick oats. Don't use steel-cut oats. They won't soften as well and will stay hard the next day.
Chia seeds
Pumpkin puree – you can use canned pumpkin puree. Most cans are made of 100% pumpkin puree with no additives. Or, follow my tutorial to make your homemade pumpkin puree.
Unsweetened almond milk or any plant-based milk you love. Coconut milk goes very well with pumpkin spice flavors.
Coconut yogurt – or simply more almond milk.
Pumpkin pie spices – it's simply a combo of cinnamon, nutmeg, and ginger to bring out the most delicious pumpkin pie flavor in your breakfast jars. I provide the breakdown of each spice in the recipe card below to make it easier for you. But, if you have a pumpkin pie spice mix from the grocery store, use 1 1/4 teaspoon of it for this recipe.
Maple syrup or any liquid sweetener you love, like agave syrup or coconut nectar.
Vanilla extract
Making The Pumpkin Overnight Oats Mixture
First, in a large mixing bowl or glass container, combine rolled oats and chia seeds until evenly distributed.
Next, stir in almond milk, coconut yogurt, maple syrup, pumpkin pie spices, and vanilla extract.
Stir until all the ingredients come together. Then, cover the mixing bowl with a piece of plastic wrapor a lid, to seal the bowl from the air.
Pop the bowl in the refrigerator overnight.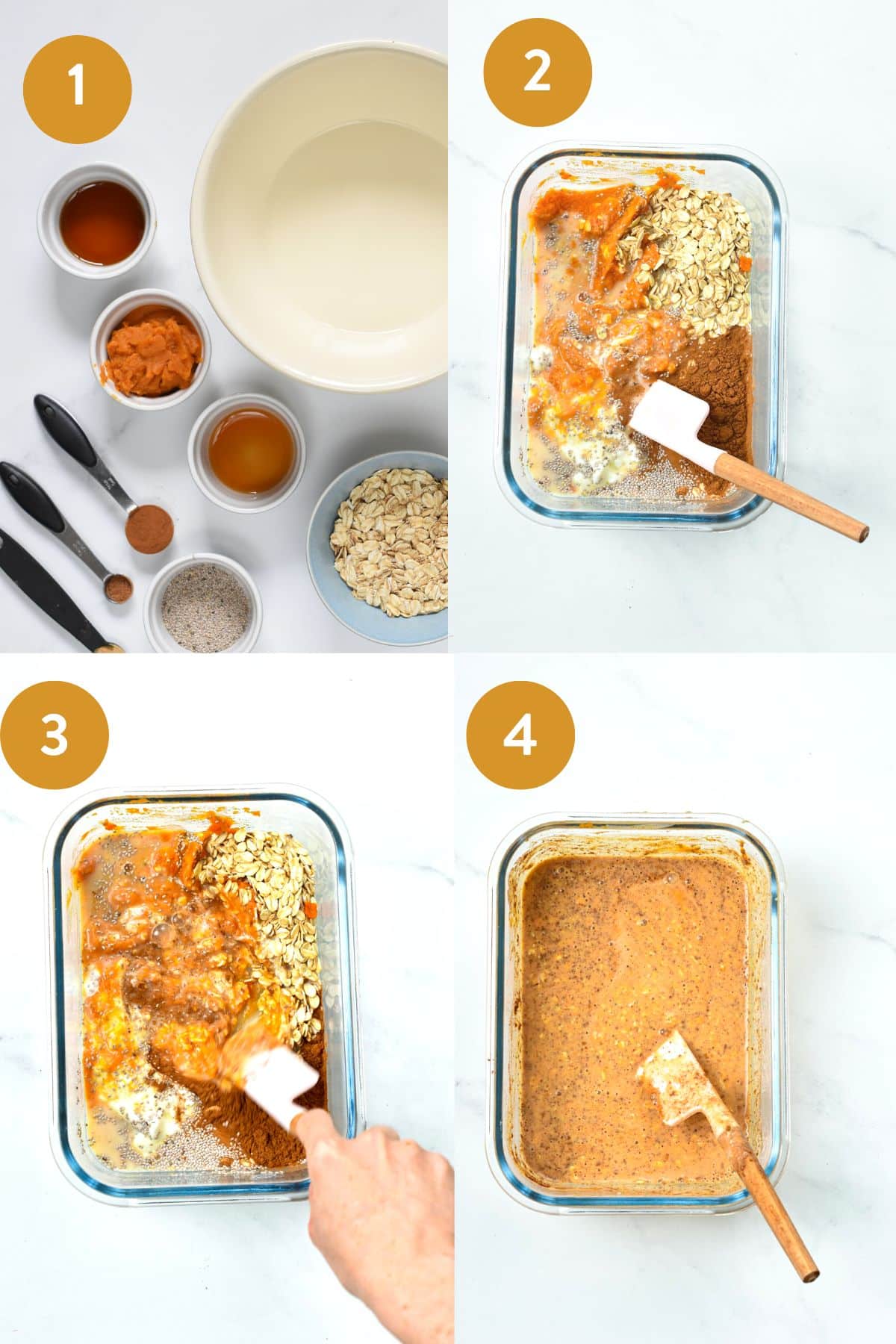 Serving
The next day, your pumpkin-flavored overnight oats recipe is ready to eat! But, it's much better served with some toppings or layers of other ingredients.
That's the best part! Assembling overnight oats allows you to create so many different combos of flavor!
In fact, overnight oats are best served with other ingredients, mostly crunchy nuts, seeds, and layers.
Adding Flavors
So, let me share my perfect combo to bring out even more fall flavors into this simple recipe.
First, choose cute little glass yogurt jars to serve.
Next, add these ingredients in layers and repeat until it reaches the top of the jar:
Pumpkin pie overnight oats mixture
Unsweetened coconut yogurt
Chopped pecan or walnuts
A drizzle of pure maple syrup and a pinch of cinnamon
Top at the end with a dollop of almond butter or peanut butter
Here I suggest to layer the pumpkin oat mixture in small mason jars, with:
Plant-based Greek yogurt for a boost of protein
Peanut butter or almond butter
Apple sauce or mashed banana
For the topping, the best nuts and seeds to add to the pumpkin are:
Pecans
Walnuts
Coconut
A pinch of cinnamon
Maple syrup
more peanut butter!
Storage Instructions
Overnight Oats recipes store for up to 4 to 5 days in the fridge as long as you seal the jar.
You can also freeze leftovers in airtight containers and thaw them in the fridge the day before.
Allergy Swaps
If you have some food allergies, or you don't like so of the ingredients used in this recipe, try some of the substitutions below.
Sweetener – You can use any sweetener for this recipe, not obviously liquid sweetener. Try brown sugar, coconut sugar, or coconut nectar. They all bring out the best pumpkin pie flavors in this overnight oats recipe.
Allspice – You can replace this with more cinnamon or a pinch of ground ginger.
Yogurt– I like dairy-free coconut yogurt with pumpkin. It adds a delicious flavor and texture, making this breakfast jar taste like a fall dessert. But feel free to swap for more plant-based milk.
Nut-Free – Use nut-free milk like soy milk or oat milk. For the layers, use sunflower seed butter or Biscoff Lotus spread, it tastes a lot like cinnamon and goes so well with pumpkin.
Gluten-Free – Use gluten-free certified oats.
Chia-Seed-Free – If you skip the chia seed, the texture will be very liquid. To compensate, use ground flaxseeds or use three tablespoons of extra rolled oats.
Frequently Asked Questions
Below are my answers to your most common questions about this recipe.
Are Overnight Oats Still Healthy?
Overnight oats like oatmeal recipes are one of the healthiest breakfasts you can have as soon as you don't overload your recipe with sugar.
Overnight oats are packed with 3 simple wholesome ingredients loaded with fibers, proteins, and vitamins from oats, chia seeds, and plant-based milk.
To keep the healthy profile of overnight oats, sweetened with unrefined sugar and fruits.
How Often Should You Have Overnight Oats?
You can eat overnight oats every morning for breakfast. It contains all the nutritional elements your body needs in the morning.
But then, it won't hurt to have some extra as a post work out snack, as it brings some slow-release carbs and fiber to keep you full.
More Overnight Oat Recipes
I have a range of overnight oats recipes on the blog for you to enjoy, all vegan and delicious. Pick some of the below for a change of flavors.
Have you made these overnight oats with pumpkin spices? Share a review or comment below to let me know how it turns out! I love to hear back from you on my recipes.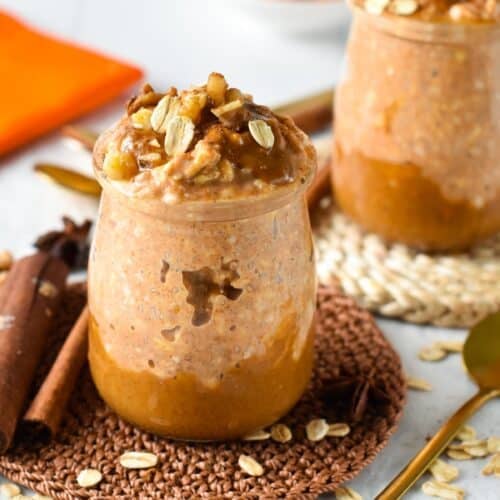 Pumpkin Overnight Oats
This Pumpkin Overnight Oat recipe has a creamy smooth texture, full of pumpkin spice flavor and nutrients to start the day healthy.
Pin
Print
Review
Servings: 2 servings
Calories: 152.3 kcal
Ingredients
Suggestion to serve per jar
Instructions
In a wide bowl, combine the dry ingredients: rolled oats, chia seeds, cinnamon, ginger, and allspice (or nutmeg).

Stir in pumpkin puree, almond milk, coconut yogurt, maple syrup, and vanilla extract. Stir until evenly combined.

Wrap the top of the bowl with plastic wrap or a silicone lid. Set in the fridge overnight.

Serve the next day with any toppings you love, placed on top of the bowl or in layers. The best flavor combinations are coconut yogurt, chopped pecans, shredded coconut, banana slices, and a pinch of extra cinnamon.
Share on Facebook
Pin Recipe
Nutrition
Serving: 1serving (half a batch) | Calories: 152.3kcal | Carbohydrates: 26g | Protein: 4.2g | Fat: 3.8g | Saturated Fat: 0.4g | Polyunsaturated Fat: 2g | Monounsaturated Fat: 1.1g | Trans Fat: 0.1g | Sodium: 126.4mg | Potassium: 182mg | Fiber: 5.1g | Sugar: 7.4g | Vitamin A: 4771.3IU | Vitamin C: 1.4mg | Calcium: 177.3mg | Iron: 1.7mg | Magnesium: 51.3mg | Phosphorus: 128.9mg | Zinc: 1.1mg