It's easier than you think to get the protein you need on a vegan diet. The vegan protein source chart below will help you identify the best sources of protein to add to your shopping list.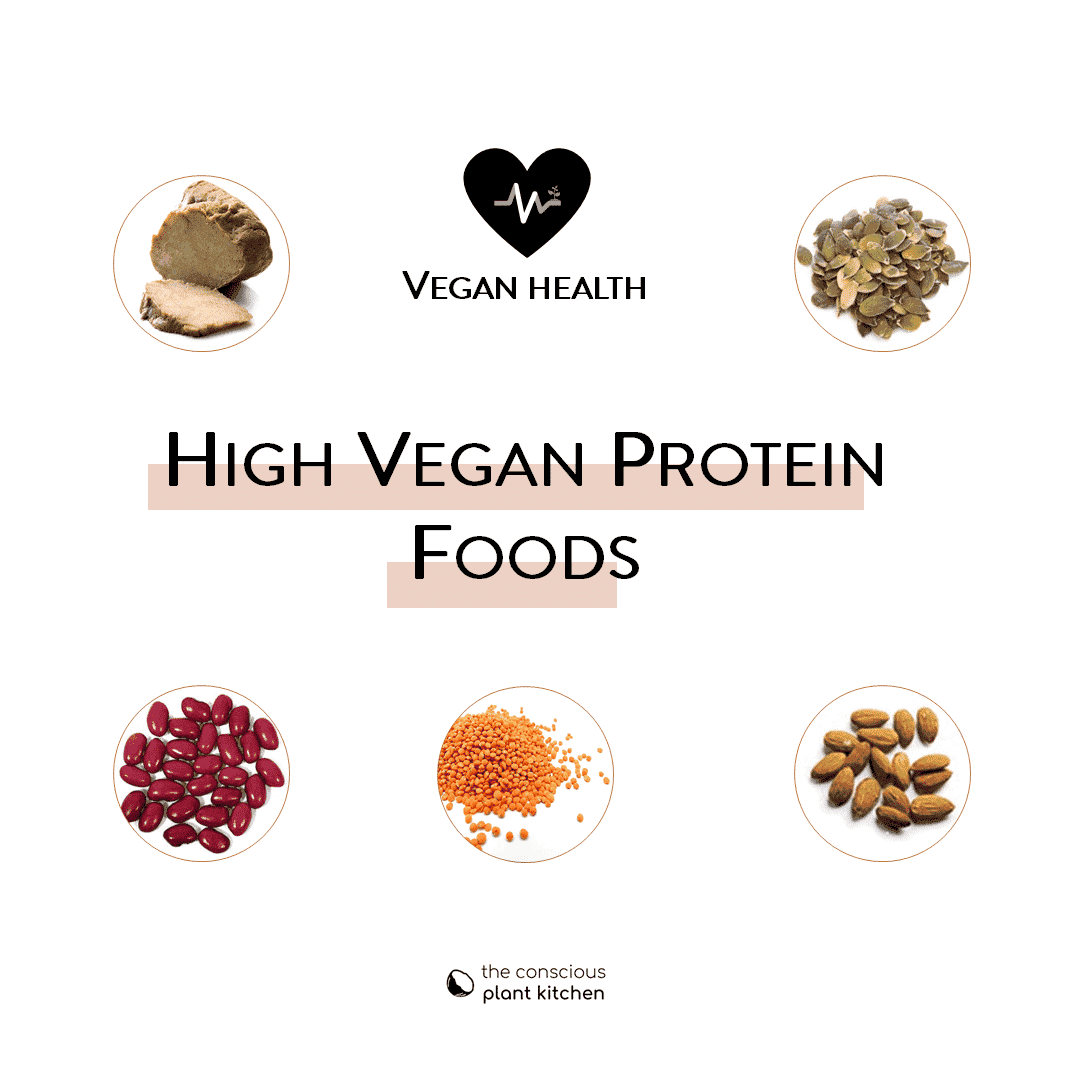 Where can I find the best vegan protein sources?
First, did you know you need only 0.8g of protein per kg of body weight per day? This is actually not that much and it's easily achievable eating 100% plant-based protein. So, let's see what are the main protein sources for vegans and how much protein each ingredient will bring you per 100 grams.
Nuts – almonds, cashews, pecans, walnuts, hazelnuts
Seeds – pumpkin seed, flaxseed, sunflower seeds, hemp seeds, sesame seeds
Grains – rice, amaranth, quinoa, wheat, spelt
Pulses – chickpeas, black beans, cannellini beans, lentils
Vegetables – spinach, broccoli, artichokes, asparagus
Soy product – mung beans, edamame, soy milk, tofu, tempeh
Some fruits – avocado, apricots, blackberries, banana
The vegan protein sources chart below gives you more details about how much protein you will get per 100 grams of each ingredient.
What are the high-protein vegan foods?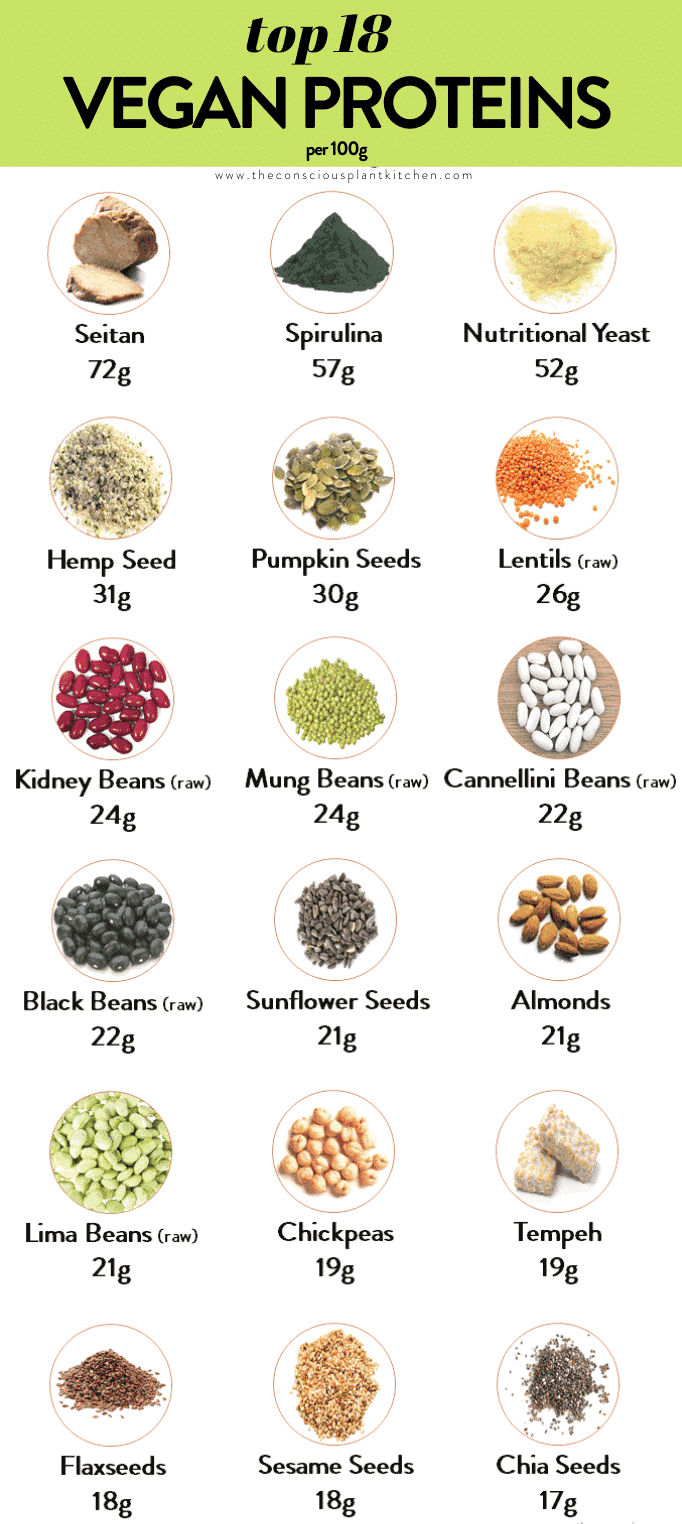 The highest protein vegan foods per 100g are:
Seitan (75g)
Seitan is a very popular vegan protein source. In fact, it is not only high in protein but also a tasty meat replacement with a meat-like texture when cooked. However, watch out if you are sensitive to gluten, seitan contains a large amount of vital wheat that won't be suitable for you.
Spirulina (57g)
Spirulina is a cyanobacteria also known as the blue-green algae. It's available in powder or tablets and can be eaten in smoothie, ice cream or protein shake to boost your protein intake. It has a lovely blue green color with a light savory sea flavor that is barely noticeable if used in small amount. Therefore, use about 1 tablespoon per 2 cups of smoothie.
Nutritional yeast is a deactivated yeast, meaning that there's no more living yeast in the final product. You can buy nutritional yeast in flakes or powder and it's often used in vegan meals to add a cheesy flavor. Add 1 tablespoon in any sauce to create a cheese-like vegan sauce. Check out our vegan nacho cheese dip recipe to see how to use nutritional yeast.
Hemp seeds or hemp hearts are the seeds from the hemp plant and show a very high nutritional profile. They are high in protein but also in healthy fats and minerals. The best way to enjoy them is for breakfast mixed with your favorite vegan cereals or into a plain dairy-free yoghurt. You can also add 1 tablespoon of hemp seeds in smoothie or shake.
Pumpkin seeds can be used in breakfast cereals, so make sure to check out our grain free breakfast cereals recipe for inspiration. Roasted in olive oil, they make a delicious soup topping!
Raw beans (22g – 26g)
Lentils (26 g)
Kidney beans (24g)
Mung beans (24 g)
Cannellini Beans (22 g)
Black beans (22g)
Almonds are a great snack, raw, roasted or salted there are many ways to enjoy them daily. They also act as a vegan, gluten-free flour in bakings like in these almond flour chocolate chips cookies. 
Sunflower seeds (21g)
Roasted sunflower seeds are delicious and add some crunch to salads, wraps or breakfast smoothie bowl. Check out our roasted cauliflower salad recipe to see how to incorporate them into a healthy meal.
Chickpea (19g)
There are many ways to use chickpeas, either as whole beans or as flour also known as besan flour. The beans are also available dry or canned. If you want to make curry or roasted chickpeas, buy canned chickpeas because you can use them straight away. Dried chickpeas require a minimum 24-hour soaking time. Also, you can get you protein from chickpea flour like in our vegan protein pancakes recipe.
Flaxseeds are the most amazing seeds for a vegan diet. Besides their high protein content, they also contain a high amount of fiber that gives an egg-like texture when soaked in water. In fact, you can easily use flaxseed meal to create a 'vegan egg' also known as flaxegg to replace eggs in any vegan recipe. Simply combine 1 tablespoon of flaxseed meal with 3 tablespoons of water. Then stir and set aside for 10 minutes to let the magic happened. Try our spelt strawberry muffin recipe to see how you can use flaxeggs to create bakery-style vegan muffins.
Do you want to see more recipes? Head to my Instagram account!