Red Lentil Pasta Recipe – Healthy, Vegan
This healthy red lentil pasta recipe is an easy 30-minute vegan protein meal, perfect for a comforting family dinner or a pre-workout meal.
Bonus, red lentils are low-carb plant-based proteins, and this red split lentil recipe makes a delicious vegan, low-carb dinner over low-carb pasta. Keep reading to learn more.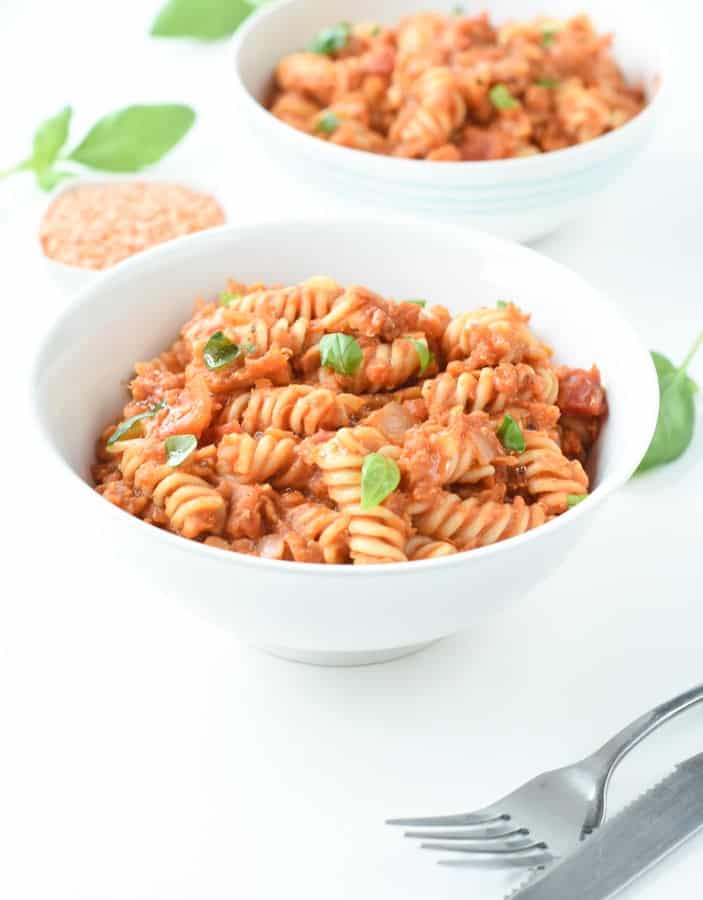 Is Red Lentil Pasta Healthy?
Yes, red lentil pasta is a healthy plant-based meal packed with vegan protein and nutrients.
Red lentils are excellent vegan protein, with about 25% protein and full of nutrients like B vitamins, magnesium, zinc, and potassium.
They are also very low carb. 100g contains only 20g of carbs, including 8g of fiber, which means it has only 12g of net carbs per 100g!
As a comparison, chickpea, a good plant-based protein source, contains 44g net carbs/100 g. So if you are looking for a vegan, low-carb dinner, red lentils are a great choice.
For more on vegan protein sources, please read my article on where to find plant-based protein.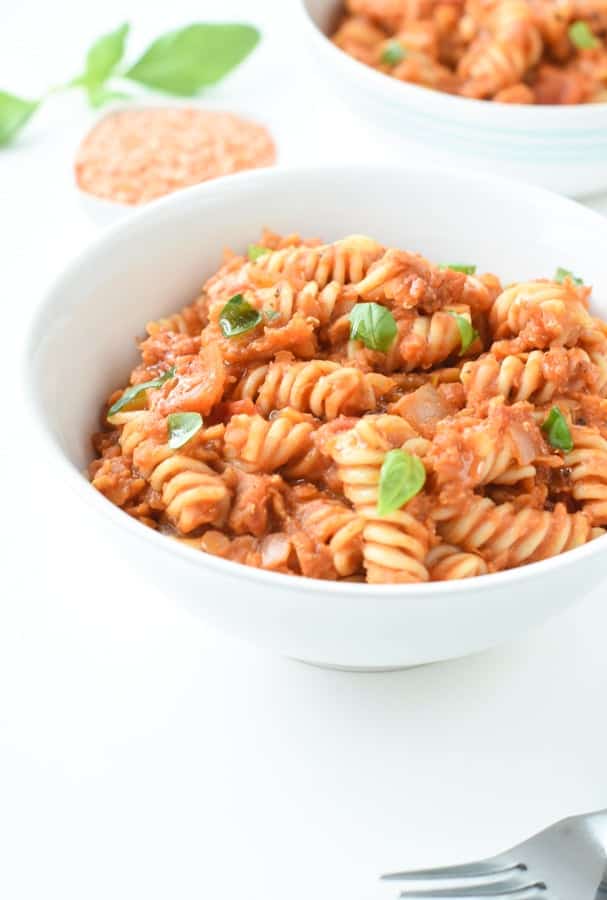 How To Make Red Lentil Pasta
Red lentils are split lentils, and therefore they cook quickly, way faster than green or brown lentils.
They are great for making Indian red lentil dahl curries and creating a thick and creamy red lentil pasta sauce without using any cream or dairy.
Ingredients
For this homemade vegan pasta sauce, you will need:
Red Split Lentils
Tomato passata – or tomato sauce with no added sugar
Canned diced tomatoes
Vegetable broth
Salt
Paprika
Dried oregano
Dried basil
Nutritional yeast – yes, nutritional yeast is vegan-friendly.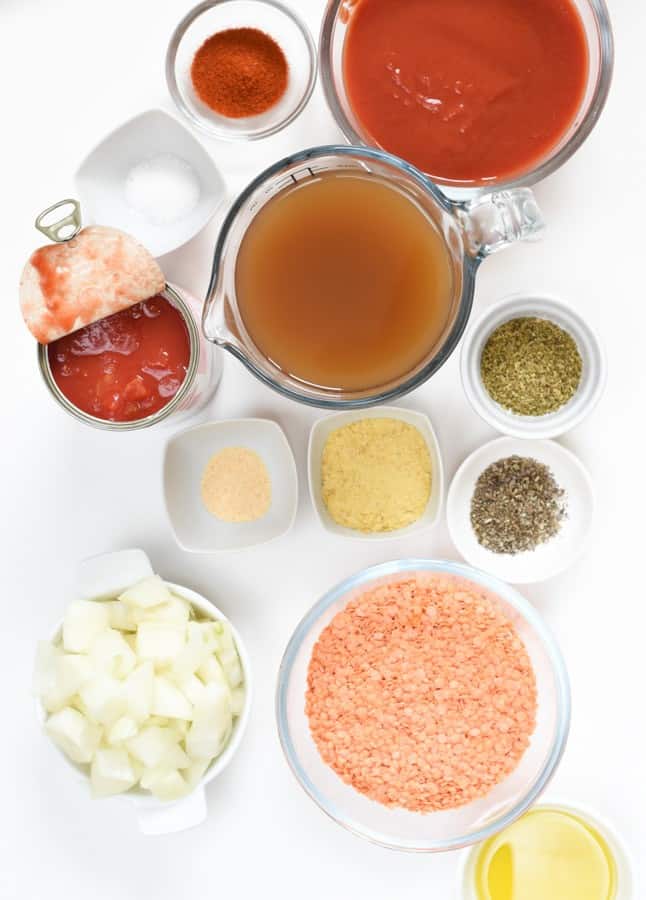 Cooking the pasta
Before making the red lentil pasta sauce, cook your favorite pasta by following the packaging instructions.
For tips on how to choose healthy pasta for this recipe, check the next paragraph.
Making the red lentil tomato pasta sauce
To make the sauce, start by cooking diced onion and garlic in warm olive oil.
Then, add all the sauce ingredients, bring to a boil and then simmer for 15 minutes, stirring often.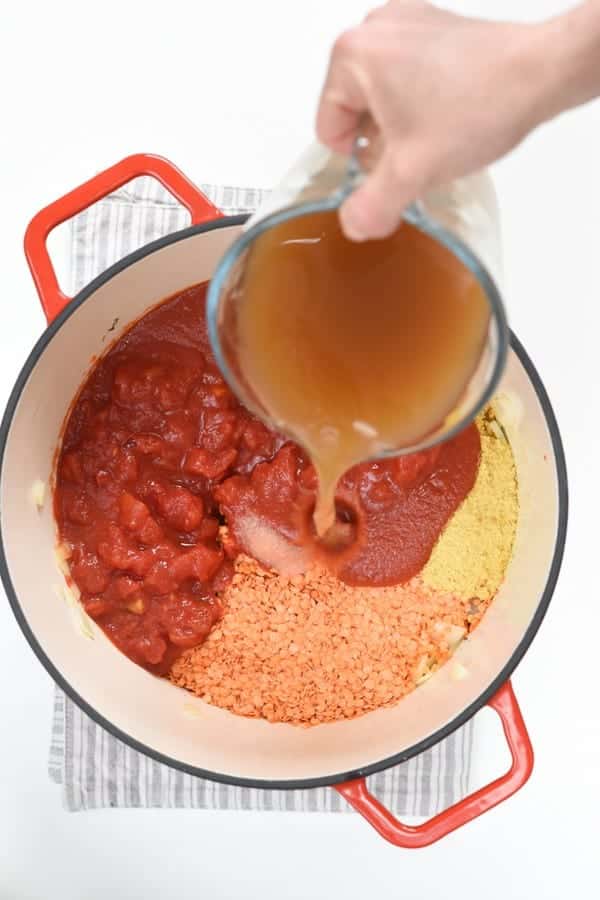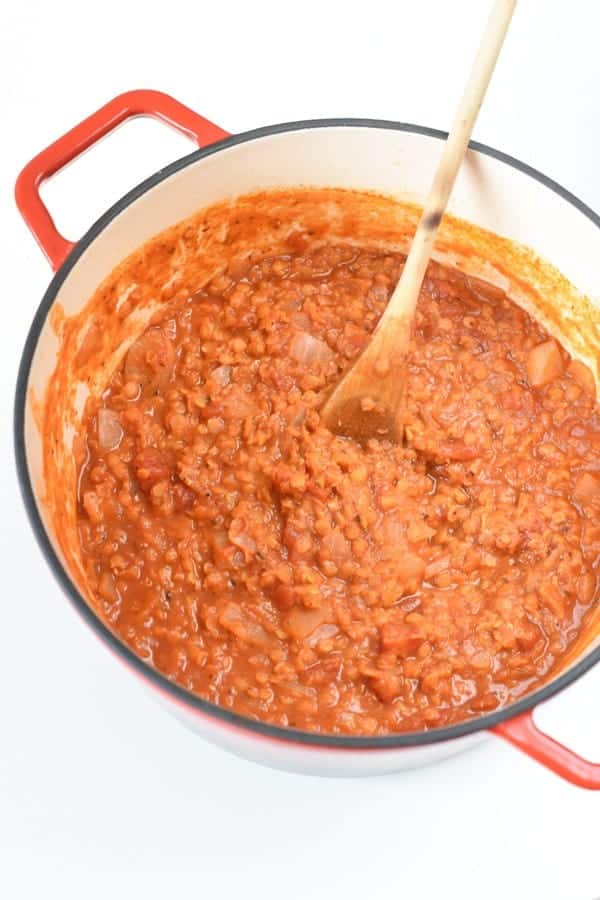 Stir in the pasta
Finally, add the cooked pasta and keep cooking for 5 minutes until warm. The sauce will thicken and get creamy.
Storing Red Lentil Pasta
This is a great vegan meal to meal prep your week with a healthy vegan dinner. You can store your cooked pasta in sealed containers in the fridge for up to 3 days.
Otherwise, you can freeze them for later. I recommend freezing this healthy red lentil recipe in individual containers so you can thaw one serving at a time.
Always thaw the day before in the fridge. Rewarm in the microwave or in a saucepan over medium heat.
Serving Lentil Pasta
Like for any pasta, you can add cheese on top of your pasta.
There is plenty of vegan-friendly cheese available at the grocery store, like vegan parmesan or vegan mozzarella.
If you don't fancy the vegan cheese, then add one or a few of the following vegan pasta topping ideas:
Coconut milk – or coconut cream, add a drizzle on top of your plate for extra creaminess.
Fresh herbs – chopped basil or parsley or sage.
Olive oil – a drizzle of extra virgin olive oil enhances the sauce's flavor in this easy red lentil recipe.
Chilli flakes – for spicy pasta.
Frequently Asked Questions
Which Pasta Should I Use?
You can use any cooked pasta or fresh pasta you like in this recipe.
The shape doesn't matter. However, since it is a vegan red lentil pasta recipe, you want to make sure your pasta is egg-free! Check the ingredients list of your pasta to avoid eggs.
The best gluten-free healthy pasta options are
Brown rice pasta or rice pasta
Buckwheat pasta
Quinoa pasta
Chickpea pasta
Edamame pasta
Red lentil pasta – yes, you can use red lentil pasta in this red lentil pasta sauce! They are made of lentil flour and tend to cook faster, but they will taste great with this red lentil pasta sauce.
Other healthy pasta that is not gluten-free are:
Semolina flour pasta
Wholewheat or wheat pasta
Spelt pasta
Homemade pasta if you have a pasta machine! I don't!
How Does Red Lentil Pasta Taste?
This is the best red lentil recipe for creamy pasta lovers! Red lentils are the best to turn a sauce into the creamiest sauce without adding any dairy.
You don't even need to soak the lentils or use any fancy kitchen tool to make this sauce.
The red lentil act like all-purpose flour in a white sauce recipe. They thicken the sauce and create the most delicious creamy tomato pasta sauce.
More Vegan Protein Meal Recipes
If you love healthy vegan pasta recipes, you may also want to try my other recipe below:
Made this homemade red lentil pasta recipe? Share a picture with me on Instagram or review the recipe below. I love to read your feedback.
Your friend, Carine
Red Lentil Pasta Recipe
Red Lentil Pasta is an easy, healthy 30-minute vegan dinner with a thick red lentil tomato sauce with Italian spices and pasta.
Pin
Print
Review
Servings: 4 servings
Calories: 388 kcal
Instructions
Cook the pasta by following instructions on the packaging. Rinse, drain, and set aside while making the sauce. Read my post above for tips on how to choose healthy pasta for this recipe.

Heat the olive oil in a large saucepan over medium heat. Add the diced onion and garlic and cook for 5 minutes until fragrant and golden in color.

Add the tomato passata, canned chopped tomatoes, red lentils, dried basil, dried oregano, nutritional yeast, salt, and vegetable broth.

Stir all ingredients together, cover, bring to a light boil, reduce heat to low, cover and simmer the sauce for 15 minutes, stirring often.

Uncover, stir in the cooked pasta and keep cooking under medium heat until the pasta are hot and flavor combined.

Serve immediately with chopped fresh basil leaves and vegan Parmesan if desired. The recipe serves 6 people.
Storage
Store in the fridge in a sealed container for up to 3 days or freeze.
Share on Facebook
Pin Recipe
Nutrition
Serving: 1serve | Calories: 388kcal | Carbohydrates: 75g | Protein: 22g | Fat: 2g | Saturated Fat: 1g | Sodium: 1154mg | Potassium: 1005mg | Fiber: 23g | Sugar: 9g | Vitamin A: 669IU | Vitamin C: 19mg | Calcium: 108mg | Iron: 7mg