Crispy Orange Tofu Recipe (The Best Vegan Chinese-Style Dinner)
This Vegan Orange Tofu recipe is a vegan adaptation of the classic Chinese Orange Chicken.
Crispy baked tofu pieces coated in a sweet, sticky, spiced orange sauce and served with jasmine rice to bring your favorite takeaway home, with a healthier twist!
What's Orange Tofu?
Orange tofu is a Chinese-style vegan meal made of breaded firm tofu baked in the oven and coated in a sweet, sticky spiced orange sauce.
It's a plant-based version of the classic Chinese orange chicken recipe, also healthier as the authentic recipe deep fry the proteins.
How To Make Tofu Orange Chicken
It's very easy to make this orange tofu vegan recipe at home.
All you need are a few ingredients and a bit of patience to prepare the tofu and bake it.
Ingredients for baked orange tofu
To make crispy pieces of tofu, you need:
Firm tofu block – firm tofu is a must for this recipe, or the tofu will crumble apart in the dish.
Corn starch – or cornflour.
Olive oil or sesame oil or any oil you have on hand.
Garlic powder
Salt
Orange zest – gather the orange peel of the orange you use for the orange sauce and chop finely. This is optional but delicious.
In a small mixing bowl, combine all the ingredients above. This is the tofu marinade that you will use later to coat each tofu piece.
Draining The Tofu
Before you start, prepare the tofu by pressing the tofu blocks to release all its water.
Wrap the blocks between pieces of absorbent paper and squeeze between two chopping boards placing heavy weights on the top board – can be a 1 kg jar of bean or water bottle.
Set aside 20-30 minutes until the block has released all its water.
Preparing The Tofu
Now that the tofu released all its water cut into cubes of 1 cm/0.4 inch, or pulled apart roughly to mimic chicken texture even more.
Coat the tofu cubes with marinade and lay the tofu pieces on a baking sheet covered with parchment paper.
Bake at 400°F (200°C) for 20 to 30 minutes, flipping the pieces halfway, until golden brown and crispy.
How To Make Orange Tofu Sauce
While the tofu cubes are baking, prepare the sweet orange sauce.
Orange tofu orange sauce ingredients
The ingredients you need to make the orange tofu sauce are:
Coconut oil or sesame oil
Fresh orange juice – freshly squeezed is the best.
Garlic
Ginger
Rice vinegar or White vinegar
Soy sauce or tamari sauce if you need a gluten-free option.
Brown sugar – you can adjust the amount of sugar-based on your palate. Start with 1/3 cup and increase by 2 tablespoons for a sweeter sauce.
Corn starch
Cold water
First, make the slurry by whisking the corn starch and cold water in a small mixing bowl. Set aside.
Over medium heat, warm the coconut oil, and quickly stir fry the garlic and ginger until fragrant in a large skillet.
Now stir in orange juice, white vinegar, soy sauce, and brown sugar, and bring to a light simmer. Keep stirring until the sugar is dissolved.
Then, whisk in the slurry and keep cooking on low-medium heat for 2-3 minutes or until the sauce thickened. Remove from heat.
Adding tofu
Finally, use a slotted spoon to transfer the crispy cubes of tofu into the large skillet. Stir in the sticky orange sauce until the tofu cubes are evenly coated.
Serving Orange Tofu
This easy orange tofu recipe is delicious with a side of:
White rice like basmati rice or jasmine rice.
Brown rice for more fiber.
Quinoa for a boost of plant-based protein and fiber.
Cauliflower rice for a low-carb option.
Steamed broccoli – orange tofu and broccoli match well together! You can even stir the steamed broccoli in the sauce and serve on rice.
Also, add some of these flavorings on top of the tofu before serving:
finely chopped scallions,
roasted sesame seeds
a pinch of chili flakes
Storing Orange Tofu
This orange chicken-style tofu can be stored for up to 4 days in an airtight container in the fridge.
You can freeze the tofu with orange sauce for up to 3 months. Thaw in the fridge the day before. Rewarm in the microwave on a plate until hot or in a large skillet.
Frequently Asked Questions
How Does Orange Tofu Taste?
This vegan orange chicken tofu tastes like the real thing, but it's cruelty-free!
The tofu cubes are crispy, and chewy, and the sauce is sticky, sweet, and full of Asian cuisine flavor from garlic, and ginger sauce with a delicious tangy orange flavor.
Can I Make Spicy Orange Tofu?
If you love spicy food, you can boost the spiciness of the tofu orange sauce by adding:
drops of sriracha sauce
pinch of chili powder or chili flakes
fresh finely chopped chili
more garlic!
Can I Replace The Tofu?
If you don't like tofu, you can make orange cauliflower using the same recipe.
First, cut the cauliflower florets into small 4-inch pieces.
Then, coat in as you will do for tofu and bake until the cauliflower is soft and tender in the center and outside is crispy.
Can I Air Fry The Tofu?
Sure, you can use an air fryer instead of an oven to cook the tofu.
Follow your air fryer setting to cook the tofu until crispy and golden brown.
Can I Pan Fry The Tofu?
Usually, yes you can pan fry coated tofu. But to make crispy orange tofu, I don't recommend the pan fry method.
The tofu won't crisp on the outside as much, and the center will stay moist.
More Vegan Meal Recipes
If you love cooking easy vegan meals, I have plenty more delicious recipes for you to try.
Below I listed our favorite comforting vegan dinner ready in less than 30 minutes.
Have you made this crispy orange tofu recipe? Leave a comment or share a review below! I love to hear your feedback on my vegan recipes.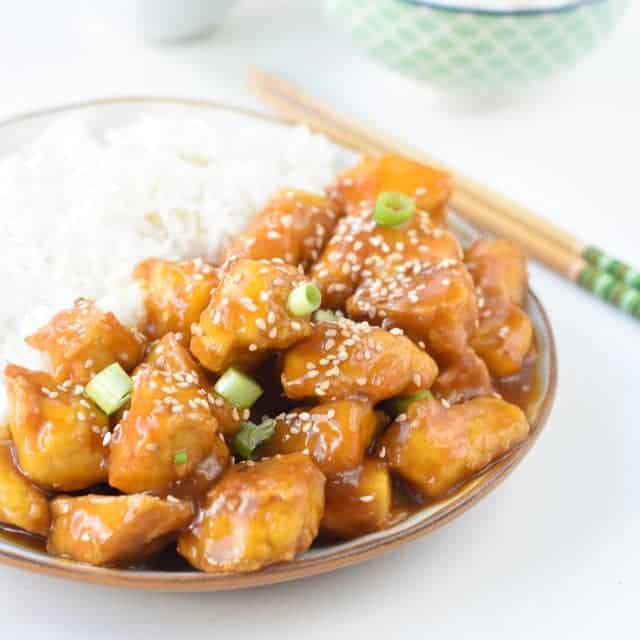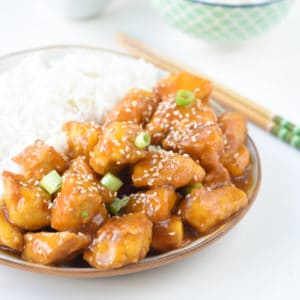 Vegan Orange Tofu
This easy Orange Tofu Recipe with crispy tofu pieces coated in sweet, sticky orange sauce.
Pin
Print
Review
Instructions
Prepare the tofu
Wrap the tofu block with absorbent paper and place it between two chopping boards, adding a few books on top of the top board to add pressure. Set aside 30 minutes to release all the tofu moisture.
Marinate tofu
Cut the tofu block into cubes of (about 0.4 inches/1cm) or roughly pull apart the tofu to create irregular pieces of tofu – this mimics chicken texture the best!

Preheat oven to 400°F (200°C). Line a baking tray with parchment paper. Set aside.

In a large mixing bowl, combine all the marinade ingredients: olive oil, cornstarch, garlic powder, orange zest, and salt.

Add the tofu chunks into the marinade and combine with a spoon.

Lay the tofu pieces onto the prepared baking sheet into a single layer, make sure the tofu pieces don't touch each other or overlap.

Bake on the center rack for 20-30 minutes, flipping them halfway. Meanwhile, prepare the curry sauce.
Orange sauce
Heat a large skillet or medium saucepan over medium-high heat.

Over medium heat, melt coconut oil, then stir in garlic, ginger, and cook over low heat to prevent the garlic from burning. Cook until fragrant for about 1 minute.

Add orange juice, brown sugar, rice vinegar, and soy sauce. Bring to a light simmer, occasionally stirring, until the sugar dissolves – about 2-3 minutes.

Meanwhile, whisk water and cornstarch in a small mixing bowl. Whisk in the cornstarch slurry into the hot orange sauce and keep simmering, occasionally stirring, until the sauce thickens – about 2-3 minutes. Remove from heat.

Toss the crispy hot tofu in the sauce until coated.

Serve over cooked jasmine rice and garnish with scallions pieces or chili flakes to add a spicy touch.
Storage
Store in the fridge in a sealed container for 3-4 days or freeze up to 3 months.
Share on Facebook
Pin Recipe
Nutrition
Serving:
1
serving
|
Calories:
317
kcal
|
Carbohydrates:
43
g
|
Protein:
6
g
|
Fat:
14
g
|
Saturated Fat:
10
g
|
Sodium:
448
mg
|
Potassium:
140
mg
|
Fiber:
3
g
|
Sugar:
35
g
|
Vitamin A:
241
IU
|
Vitamin C:
4
mg
|
Calcium:
73
mg
|
Iron:
1
mg