This Smooth Creamy Chocolate Tofu Mousse is made with only 5 ingredients for a quick healthy plant-based dessert.
Plus, this chocolate mousse is also vegan, gluten-free, and ready in less than 30 minutes.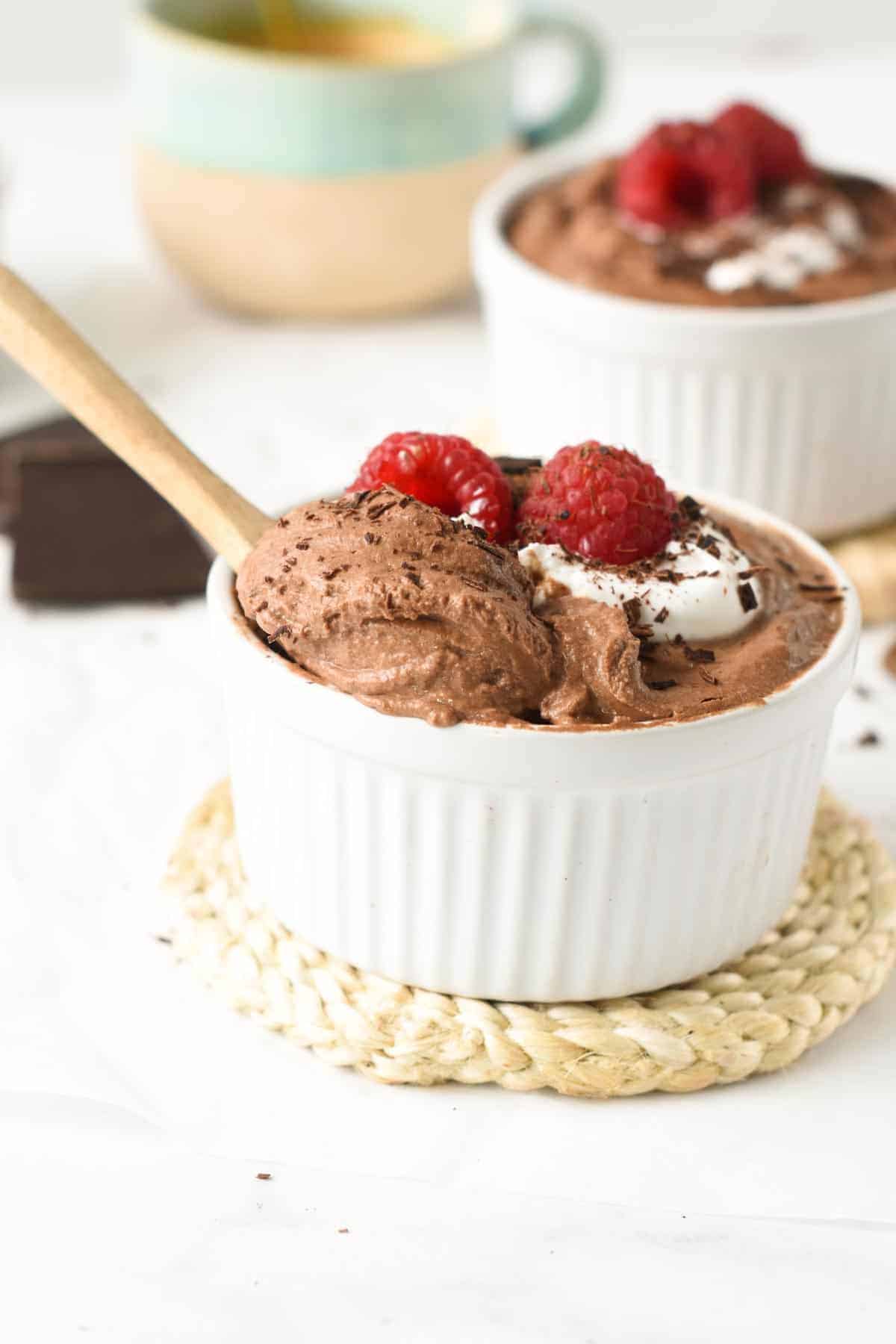 What's Chocolate Tofu Mousse?
A tofu mousse is a dairy-free chocolate mousse made from a block of silken tofu into a creamy smooth chocolate dessert!
It's naturally Gluten-free, Dairy-free, Egg-free, and vegan approved.
How To Make Tofu Mousse
All you need to make a tofu mousse are a high-speed blender or food processor and a few ingredients below:
Ingredients
Silken tofu – read the paragraph below about the difference between firm tofu and silken tofu. You must use silken tofu to make tasty chocolate mousse from tofu.
Dark chocolate – use good quality vegan dark chocolate made for baking with about 60% cocoa for best sweetness balance. Of course, if you want to decrease the sugar, or you love ultra-dark chocolate mousse, then use 70% or 85%-cocoa dark chocolate.
Maple syrup or any liquid sweetener you love.
Unsweetened cocoa powder – optional. Add only to thicken up the mousse or increase its cocoa flavor.
Vanilla extract
Preparing The Ingredients
The key to making a tasty chocolate mousse out of tofu is to bring ingredients at room temperature.
I recommend using silken tofu that doesn't need refrigeration for this recipe, so you can store it at room temperature.
Otherwise, bring the tofu block out of the fridge 1 hour before baking.
You shouldn't use ultra-cold tofu because the melted chocolate firms up and hardens too fast if in contact with cold ingredients.
The mousse recipe will fail if your tofu is too cold.
Then, add the dark chocolate chips into a saucepan or microwave-safe bowl.
Microwave for 30 seconds, stirring until the chocolate chips have fully melted. You can also bring the chocolate chips over medium-low heat in a saucepan.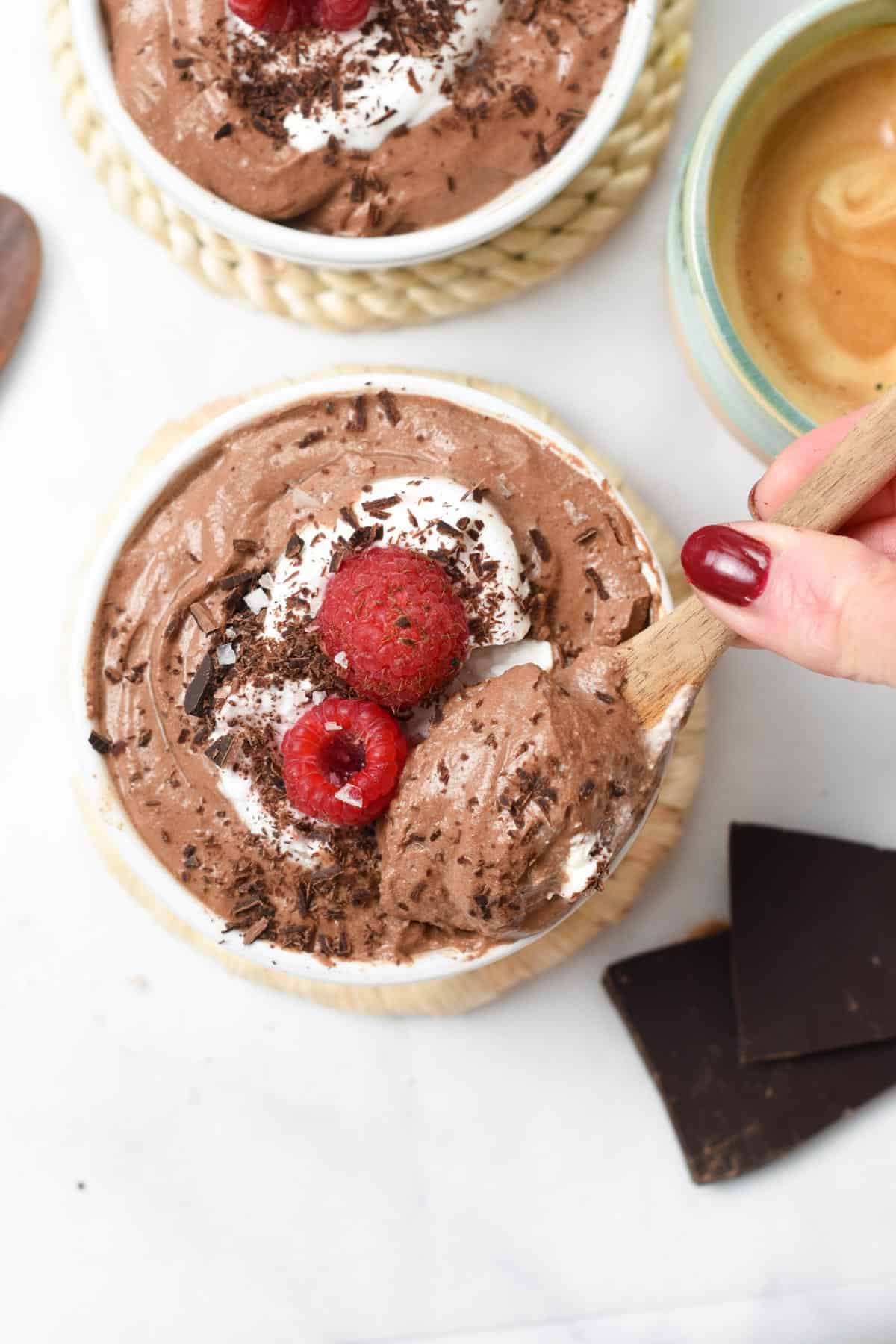 Blending
Now, open the tofu packaging, drain water and place the silken tofu into the bowl of your food processor.
Blend a few seconds to pulse, then add the remaining ingredients: melted dark chocolate, cocoa powder, maple syrup, and vanilla extract.
When all the ingredients are combined and completely smooth, stop the food processor.
Taste the mousse and adjust the flavor by adding more vanilla extract, more cocoa powder for a thicker texture, more robust cocoa flavor, and more sweetener to boost the sweetness.
Refrigerating
Transfer the tofu mousse into small ramekins. Film the top of the ramekin with plastic wrap to avoid the mousse from drying out.
Store it in the fridge for a few hours before serving and enjoy its best texture.
Storage
You can store this chocolate mousse for up to 4 days in a sealed container in the fridge.
Tofu chocolate mousse is an easy-to-freeze dessert. Freeze it in small sealed containers for up to 3 months and thaw in the fridge the day before.
Vegan Tofu Chocolate Mousse Toppings
This tofu mousse is delicious on its own or topped with some of the below ingredients:
Coconut whipped cream
Coconut yogurt
Berries
Sliced almonds
Shredded coconut
Chocolate flakes
Mousse Flavor Boosters
You can always make your chocolate mousse better by adding some of the flavorsome ingredients below into the blender:
1/2 teaspoon peppermint extract
1 teaspoon sea salt
1/2 teaspoon cinnamon
1/2 teaspoon stevia drops to boost sweetness without adding sugar.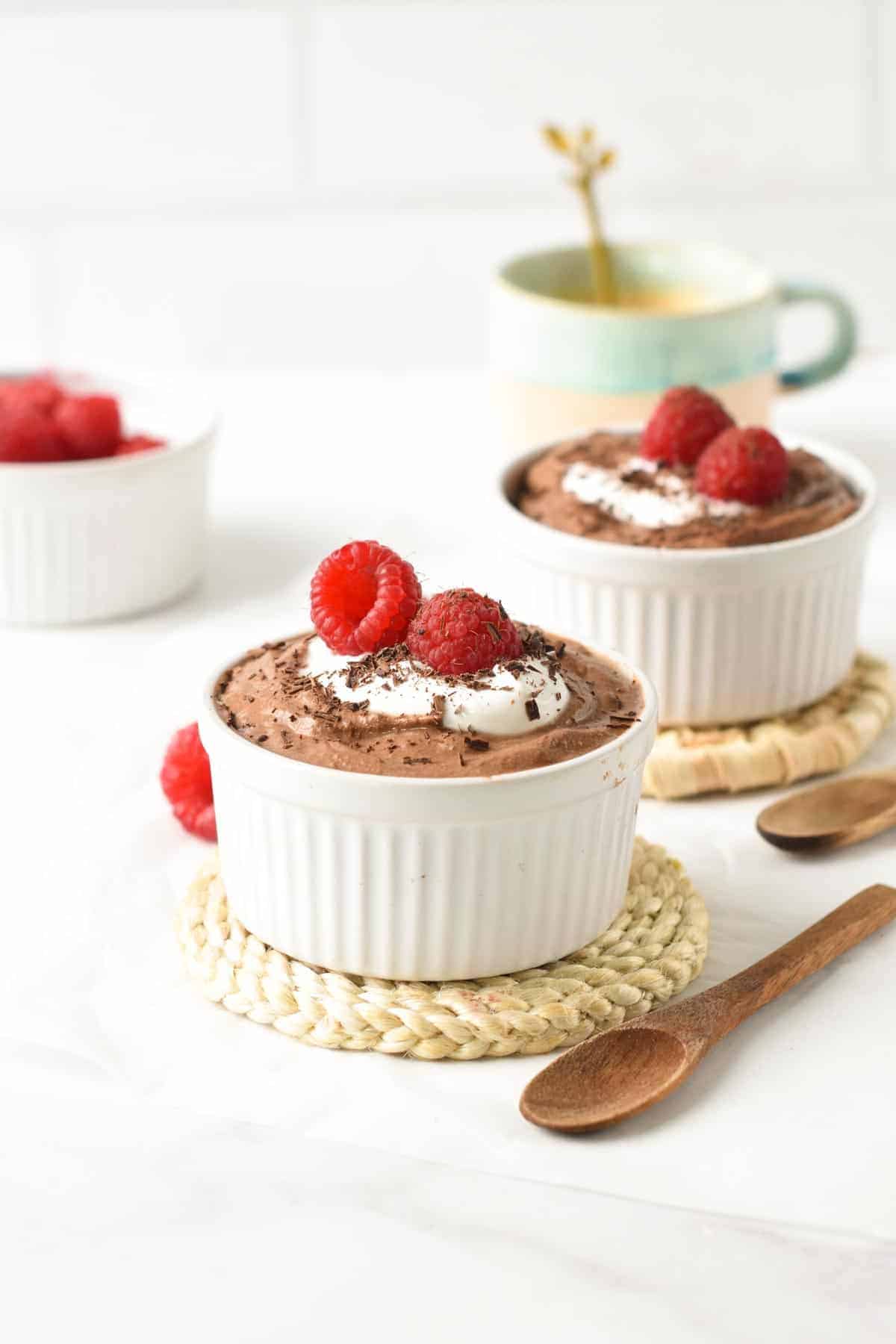 Frequently Asked Questions
Below I listed the answers to the most frequent questions about this vegan chocolate mousse.
What's The Difference Between Silken Tofu And Regular Tofu?
Silken tofu is soft, jiggly tofu, often referred to as Japanese Tofu, that you can buy in the non-refrigerated Japanese section in the grocery store.
It's made like regular firm tofu, but the soy milk is coagulated without curdling the milk.
It results in a softer texture that feels like jelly and is perfect to use in vegan sauce and vegan dessert recipes.
Can I Make Tofu White Chocolate Mousse?
Yes, you can make a vegan white chocolate mousse with tofu if you add vegan-friendly white chocolate in the recipe instead of dark chocolate chips.
Skip the cocoa powder and add a tablespoon of coconut milk powder.
Is Tofu Mousse Low-Carb?
Yes, tofu is a low-carb ingredient, and it makes delicious diabetes-friendly vegan desserts.
Use sugar-free sweetener or sugar-free chocolate to cut out the added sugar in the recipe if needed.
Can I Use Any Type Of Tofu?
No, as mentioned above, silken tofu is the best option for dessert because it's silky smooth with no grainy texture.
The recipe will work with other tofu varieties, but the taste won't be as good.
More Healthy Vegan Dessert Recipes
Below I listed some more delicious and easy vegan dessert recipes for you to try.
Have you made this chocolate tofu mousse recipe? Share a comment or review below to let me know how it goes.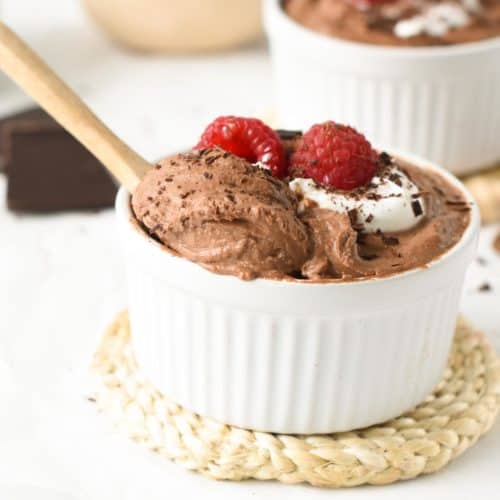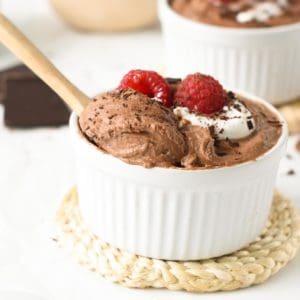 Tofu Mousse
This 5-Ingredient Protein Mousse is made from silken tofu and dark chocolate. The easiest vegan protein dessert ever with an amazingly smooth and silky texture.
Pin
Print
Review
Servings: 4 servings
Calories: 193 kcal
Instructions
Before you start, take the tofu out of the fridge for at least 30 minutes to 1 hour.

Open the silken tofu, and discard the water in the packaging, you don't need to press this tofu before using it.

In the bowl of a food processor, add the silken tofu, unsweetened cocoa powder, sweetener, and melted dark chocolate.

Blend until it forms a consistent mousse. You may have to stop the food processor a few times, scrape down the sides of the bowl and repeat until all the ingredients come together.

Transfer the mousse into ramekins and top them with coconut yogurt, fresh raspberries, and chocolate flakes, and store them in the fridge for 1 hour before serving.
Storage
Film the top of the ramekins to store them for up to 3 days in the fridge.
Share on Facebook
Pin Recipe
Nutrition
Serving: 1ramekin | Calories: 193kcal | Carbohydrates: 21.9g | Protein: 2g | Fat: 10.7g | Saturated Fat: 6.1g | Polyunsaturated Fat: 0.3g | Monounsaturated Fat: 3.2g | Trans Fat: 0.1g | Cholesterol: 0.7mg | Sodium: 6.5mg | Potassium: 220.6mg | Fiber: 2.9g | Sugar: 15.1g | Vitamin A: 9.7IU | Vitamin B12: 0.1µg | Calcium: 35.3mg | Iron: 3mg | Magnesium: 62.4mg | Phosphorus: 80.3mg | Zinc: 1mg