3-Ingredient Vegan Banana Pudding (No Sugar Added)
This is the most delicious creamy Vegan Banana Pudding made with only 3 ingredients and no sugar!
Bonus, this recipe is also gluten-free and perfect as a vegan kid snack.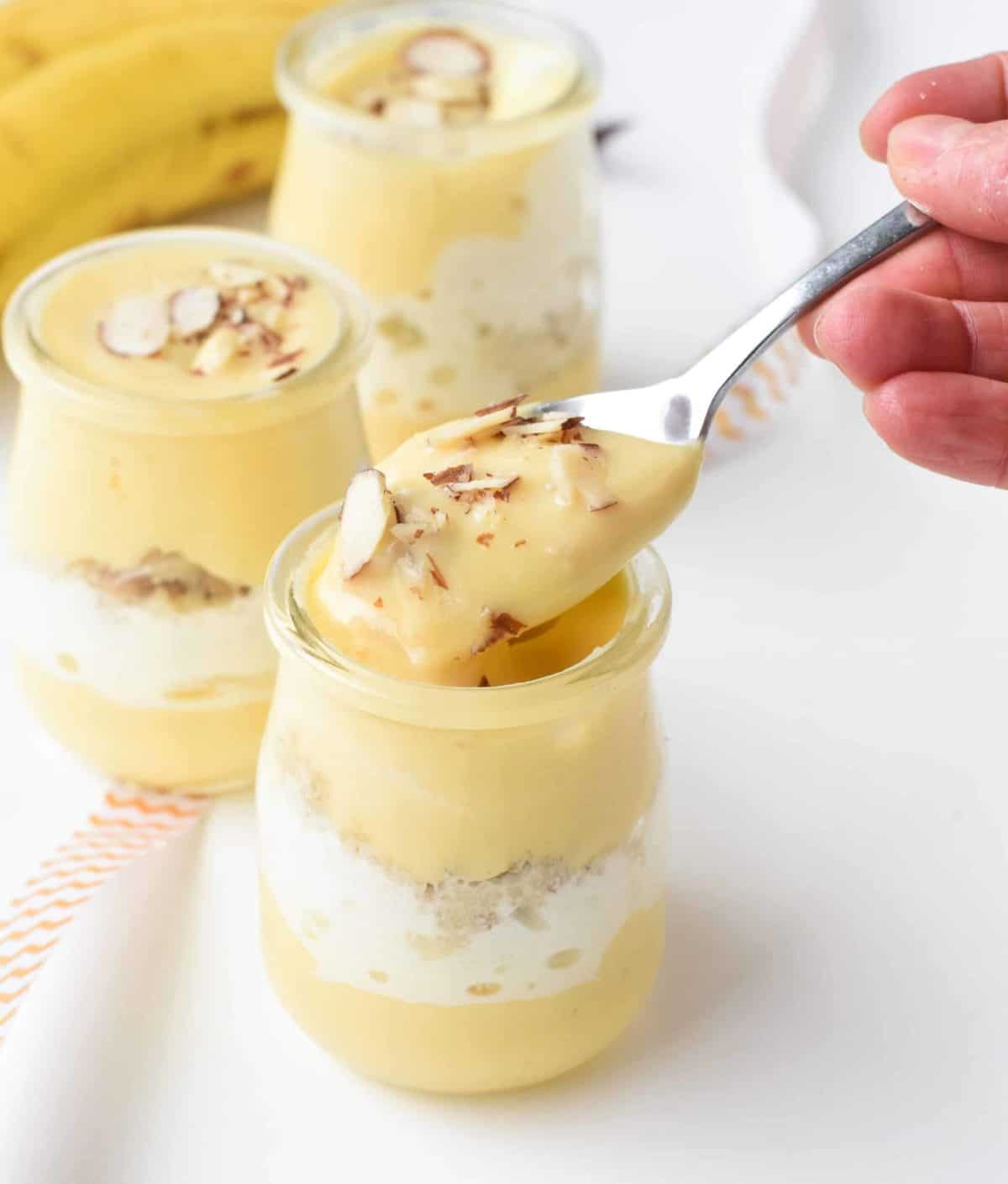 Is Banana Pudding Vegan?
No, an authentic banana pudding recipe is not vegan. The banana custard contains eggs, milk, and butter, and if served in layers, the biscuit also contains milk and eggs.
But, it's super easy to make a delicious Banana Pudding vegan-friendly. Keep reading below!
How To Make Vegan Banana Pudding
Surprisingly, all you need to make a quick and easy Vegan Banana Pudding recipe are 4 ingredients.
Ingredients
Non-Dairy Milk – I like to use soy milk fortified with calcium. Soy milk is also higher in fat than almond milk, making the pudding much creamier. You can also use coconut milk or almond milk.
Corn Starch or Corn Flour – I also tested the recipe with ground chia seeds and tapioca flour. These options don't come out great. Tapioca flour is probably the best swap for corn flour if you have a corn allergy, but still, the pudding splits and doesn't come together as with corn starch.
Liquid Sweetener of Choice – Maple syrup, agave syrup, or banana Stevia drops. This is the best way to add a natural banana flavor to your pudding and sweetness without added white sugar. Of course, you can also swap stevia drops for 2-3 tablespoons of maple syrup or any liquid sweetener you love and use a natural banana extract as a flavor.
Natural Banana Extract – Use only if you didn't use banana stevia drops.
Making The Pudding
First, stir the cornstarch with 1/4 cup of cold soy milk in a small bowl. Whisk well and set it aside.
Next, warm 1 cup of milk in a non-stick saucepan over medium heat.
When the milk starts simmering and forms bubbles on the side of the pan, whisk in the corn starch slurry, reduce to low heat and keep cooking, occasionally stirring with a wooden spoon.
The pudding thickens as you go. It takes about 5 minutes to keep thick and creamy.
Remove the pudding from the heat. Transfer it to a glass bowl and stir in the banana stevia drops or banana extract and sweetener you love.
Refrigerating
Cool the pudding down for 30 minutes at room temperature. Then stir and cover the top of the bowl with plastic wrap.
Make sure the wrap goes in direct contact with the pudding to seal the pudding from any air.
This technique prevents the top of the pudding from drying out and forming a thin layer.
Refrigerate for three hours to thicken. Meanwhile, bake a batch of my quick and easy almond flour shortbread with 3 ingredients.
I am using these to assemble the banana vegan pudding in the next step.
You can also use a store-bought vegan wafer if preferred.
Serving ideas
You can use this vegan banana pudding recipe to serve a large pudding or single-serve jars.
Single-serve Jars
First, add a layer of banana pudding, then top with pieces of biscuit, diced or sliced banana, and a layer of coconut cream. Repeat these layers until you reach the top of the jar.
Serve with sliced almonds on top or shredded coconut for extra crunch.
Large family dessert
You can use this recipe to make a Southern-style vegan banana pudding.
Prepare an 8-inch x 8-inch serving dish and follow this layer pattern:
Banana Pudding
Vegan Vanilla Wafers
Banana Slices – place a single layer on top of the wafers
Vegan Whipped Cream – you can also use my vegan coconut whipped cream recipe
Add layers until you reach the top of the dish and top it all with a whipped cream topping of choice. It can be whipped aquafaba meringue or whipped coconut cream.
Variations
Feel free to use this recipe to make any vegan pudding recipes following the tips below:
Vegan Vanilla Pudding – use vanilla stevia drops, or vanilla extract and maple syrup.
Vegan Peanut Butter Pudding – add 1-2 tablespoons peanut butter at the end and replace the banana stevia drops with vanilla flavor drops.
Storage
This Vegan Banana Pudding stores very well in the fridge for up to 4 days if placed in an airtight container.
You can freeze banana pudding as well. Simply thaw the batch in the fridge the day before serving.
Frequently Asked Questions
Can I add fresh banana to flavor my pudding?
Yes, you can add mashed banana to the pudding just before placing the bowl in the fridge and after it has cooled down for 30 minutes.
However, adding bananas to the pudding darkens its color with time. In fact, bananas oxidize quickly, and the pudding color becomes greyish after a few days.
So it's better to consume the banana pudding immediately if you added fresh fruits to the recipe.
Can I fix a liquid Banana Pudding?
Some people like thicker puddings. To do si, dilute more cornstarch with 1/4 cup of milk at the beginning of the recipe. You can go up to 4-5 tablespoons, but it will look more like a vegan custard than a pudding.
To thicken the pudding at the end of the recipe, whisk 3 tablespoons of milk of choice with 1 tablespoon extra cornstarch and stir in the saucepan. Stir and cook until it thickens to your liking.
Can I fix a thick Banana Pudding?
Yes, you can! Add more non-dairy milk, one tablespoon at a time, over medium heat until it reaches your favorite texture!
My Pudding color Is Off
This is an egg-free pudding recipe. It won't have the same striking yellow color as regular pudding recipes.
To naturally boost the color of your vegan banana pudding, add a pinch of turmeric in the mix. Don't overdo it, or the flavor will be overpowering.
If your pudding darkens, it's probably because you used fresh bananas. A bit of lemon juice can off the dark color but also cover the banana flavor slightly.
More Vegan Pudding And Dessert Recipes
I love creating vegan desserts, especially creamy, custardy ones. Below I listed some other delicious vegan dessert recipes for you to try.
Have you made this vegan, gluten-free pudding recipe? Share a comment or review below.
Your friend, Carine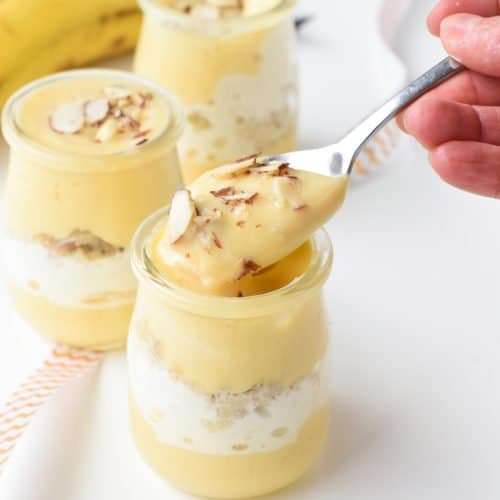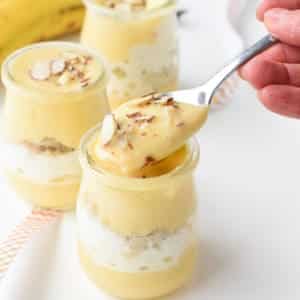 Vegan Banana Pudding
An easy 3-ingredient Vegan Banana Pudding recipe with no sugar added and natural banana flavor.
Pin
Print
Review
Servings:
4
servings (about 1/2 cup)
Instructions
In a small mixing bowl, whisk 1/4 cup of milk and corn starch until a flurry forms. Set aside.

In a small saucepan, add the remaining 1 cup of milk and warm over medium-high heat until it simmers and forms bubbles on the sides of the pan.

Stir in the slurry and reduce to medium heat. Keep cooking and stirring slowly with a spoon until the mixture thickens – it takes about 5-8 minutes.

Remove from the heat, transfer into a glass bowl and stir in banana stevia drops – or maple syrup and natural banana extract, and mashed bananas.

Optional: You can also stir in a pinch of turmeric to boost the yellow color of the pudding. You can also stir in a tablespoon of vegan butter at the end to boost the creaminess of the pudding, or a tablespoon of natural peanut butter to add a creamy texture, or make a vegan banana peanut butter pudding.

Set it aside uncovered for 20 minutes to steam out. Then, place a piece of plastic wrap on top of the bowl, making sure it touches the mixture to seal the pudding. No need to press. Just bring the plastic wrap in contact to prevent custard skin from forming on top when refrigerated.

Refrigerate for at least 1 hour or overnight.
Serving large batch
To fill a large 8-inch x 8-inch baking dish, double or triple the vegan pudding recipe.
Notes
Note 1: You can replace the stevia drops with 2-3 tablespoons of maple syrup and 1/2 teaspoon of natural banana extract.
Share on Facebook
Pin Recipe
Nutrition
Serving:
1
serving (1/2 cup, no toppings)
|
Calories:
56
kcal
|
Carbohydrates:
8
g
|
Protein:
2.2
g
|
Fat:
1.5
g
|
Saturated Fat:
0.2
g
|
Polyunsaturated Fat:
0.9
g
|
Monounsaturated Fat:
0.3
g
|
Sodium:
37.4
mg
|
Potassium:
104.2
mg
|
Fiber:
0.3
g
|
Sugar:
1.9
g
|
Vitamin A:
289.8
IU
|
Vitamin B12:
0.8
µg
|
Vitamin C:
5.3
mg
|
Vitamin D:
0.9
µg
|
Calcium:
103.4
mg
|
Iron:
0.4
mg
|
Magnesium:
0.2
mg
|
Phosphorus:
0.8
mg
|
Zinc:
0.2
mg