This Flaxseed pudding is an easy healthy high-fiber breakfast with 12 grams of fiber per serving and a delicious vanilla cinnamon flavor.
Plus, this healthy pudding is also vegan, gluten-free, and keto-friendly.
If you love chia seed pudding, you should try flaxseed pudding next. It's a delicious alternative to chia seeds, packed with fiber and healthy Omega-3 fatty acids.
What Is Flaxseed Pudding?
A flaxseed pudding is a high-fiber, high-protein sweet breakfast made from ground flaxseeds soaked in plant-based milk.
It has a pudding-like consistency with a nutty flavor and no pieces of seeds, as you will find in chia seed pudding.
Nutrition-wise, it's a great addition to your day to improve gut health and digestion as it's high in dietary fiber and packed with heart-healthy omega-3 fatty acids.
Difference Between Chia Seed Pudding And Flaxseed Pudding
Chia seed pudding is made from soaked whole chia seeds. It has a creamy texture with soft, pieces of seeds similar to tapioca pudding.
On the other side, flaxseed pudding is made from ground flaxseed. It has a gooey texture with no seed pieces.
How To Make Flaxseed Pudding
It's super easy to put together this tasty flax meal pudding.
Ingredients
All you need to make a flaxseed pudding recipe are:
Golden Flaxseed – Ground into flax meal. There are two types of flaxseeds – brown flaxseeds and golden flaxseeds. In all my breakfast and baking recipes, I recommend using golden flaxseed ground into a fine powder. The reason I am not using brown flaxseeds is that they have a bitter fishy taste that doesn't go well with sweet recipes.
Plant-Based Milk – Like soy milk, oat milk, or unsweetened almond milk.
Cinnamon
Peanut Butter
Vanilla Extract
Maple Syrup
Making Ground Flaxseeds
First, place the whole flaxseeds in a blender, food processor, or coffee grinder.
Make sure you add enough seeds to entirely cover the blade – about 1 or 2 cups, depending on the size of your kitchen appliance.
Process or blend until a fine powder forms.
Store ground flaxseeds leftovers for up to 3 months in a sealed glass jar.
Preparing The Flaxseed Pudding
In a large bowl, add the flax meal, cinnamon, and whisk to evenly combine.
First, in a large mixing bowl or airtight container, add peanut butter, maple syrup, and vanilla extract. Stir until it forms a smooth thick caramel-like texture.
Adding Milk
Next, whisk in cinnamon and plant-based milk of choice. Keep in mind that the more you add the less thick and gooey it will be.
I tried two options:
Ultra-Thick And Gooey – use 1 1/2 cups of non-dairy milk per cup of ground flaxseeds,
Thick But Thinner – Use 1 3/4 cup plant-based per cup of ground flaxseeds.
Whisk until all ingredients come together nicely.
Close the container with a lid and refrigerate overnight.
The next day, the texture will be very thick and gooey and that's what you should expect.
Serving Flax Pudding
Divide the batch into 4 small glass mason jars.
Top each jar with your favorite toppings like:
Chocolate chips
Berries
Yogurt of choice
Sliced almonds or nuts you love
Flavor Variations
Some people don't enjoy the taste of a flax meal. In fact, compared to chia pudding, flax pudding can taste slightly earthy and bitter.
I recommend you play with flavors, adding mashed fruit puree, more sweetener, or cocoa powder for flavor.
Banana Peanut Butter – Add 1/3 cup mashed banana. It adds sweetness and decreases the gooey texture. Serve with banana slices and a drizzle of extra peanut butter.
Peanut Butter Chocolate – Add one tablespoon of cocoa powder and use 1 cup + 3/4 cup milk. Stir in 1/3 cup chocolate chips or shredded coconut for flavors. Serve with more chocolate chips and a drizzle of peanut butter.
Apple Almonds – Add 1/3 cup unsweetened apple sauce, use almond milk, and add almond butter instead of peanut butter. Top with chopped apples, maple syrup, and sliced almonds.
Allergy Swaps
Below are some ingredient swap ideas if you need them.
Nut-Free – Pick nut-free milk like soy milk, coconut milk, or oat milk. Swap the peanut butter for sunflower seed butter.
Peanut-Free – Replace peanut butter with almond butter, cashew butter, or sunflower seed butter.
Low-Carb Paleo – Flaxseeds are great diabetic-friendly seeds for people on a low-carb diet. To keep this recipe low in sugar and carbs, swap the maple syrup for sugar-free maple-flavored syrup or allulose.
Frequently Asked Questions
Below are my most common questions about this flaxseed pudding recipe.
Why Is My Flaxseed Pudding Too Thick?
If you don't enjoy the texture you achieve the next day, pour the whole into a blender and add 1/4 to 1/3 cup of plant-based milk of choice.
Blend until smoother and rest in the fridge for 30 minutes. It will be thinner and easier to serve.
What Do Flaxseeds Do To Your Body?
Flaxseeds contain 50-60% omega-3 fatty acids, healthy fats that are the starting point for creating hormones regulating blood clotting and inflammation.
As a result, flaxseeds are often recommended to improve heart health.
But also, flaxseeds are very high in dietary fiber, which helps with digestion and constipation and reduces bad (LDL) cholesterol.
When Should I Eat Flaxseed Pudding?
This recipe is a great snack or healthy breakfast to keep you full quickly.
It's also a great way to decrease bloating and help with digestion due to the high amount of fiber per serving.
Can We Mix Flaxseeds With Milk?
You should always grind the flaxseeds into a meal before stirring it with milk.
The grounded process releases the healthy fats from the seeds that won't be absorbed by your body if you use whole flaxseeds.
When Should You Not Use Flaxseeds?
Don't eat flaxseed if you have hormone-sensitive conditions or cancer, as flaxseeds act like estrogen and can worsen your conditions.
There are also many allergies to flaxseeds, and some people report sensitivity to their high-fiber content resulting in bloating.
If you have any doubts, always ask your health professional before adding flaxseeds to your diet.
More Pudding Recipes
If you like puddings, you'll love these: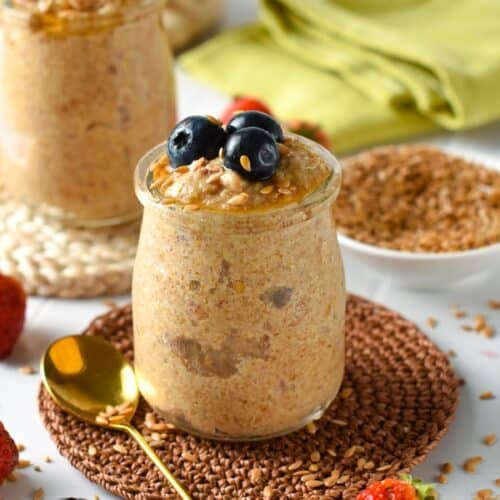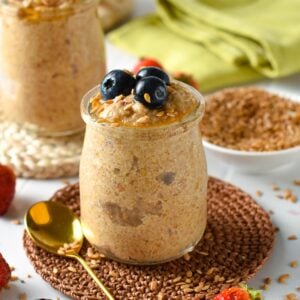 Flaxseed Pudding
This Flaxseed Pudding is an easy, healthy, high-fiber breakfast with a delicious peanut butter, vanilla, and cinnamon flavor.
Pin
Print
Review
Servings: 4 servings
Calories: 334.4 kcal
Instructions
To make ground golden flaxseeds. place whole flax seeds in a food processor or coffee grinder. Make sure it fully covers the blade and grind it into a fine powder. Store leftovers in a sealed container in the pantry for up to 3 months.

In a large bowl, whisk peanut butter, maple syrup, and vanilla until a thick caramel like texture forms.

Whisk in milk, ground golden flaxseeds, and cinnamon until well combined.

Close the bowl tight with a lid and refrigerate overnight.
Serving
The next day, divide into 4 small glass jars and serve with 1/4 cup of berries or sliced banana, extra nut butter, or plant-based yogurt.
Storage
Store up to 3 days in the fridge, in sealed glass mason jars.
Share on Facebook
Pin Recipe
Nutrition
Serving: 1serving | Calories: 334.4kcal | Carbohydrates: 24.7g | Protein: 11.8g | Fat: 22.8g | Saturated Fat: 2.5g | Polyunsaturated Fat: 13.5g | Monounsaturated Fat: 5.4g | Sodium: 91.6mg | Potassium: 525mg | Fiber: 12.2g | Sugar: 10.5g | Vitamin A: 353.7IU | Vitamin B12: 1µg | Vitamin C: 6.9mg | Vitamin D: 1.1µg | Calcium: 246.5mg | Iron: 2.9mg | Magnesium: 173.2mg | Phosphorus: 285.3mg | Zinc: 2.2mg