This Warm Chia Pudding is a quick and easy, healthy breakfast made with just three ingredients and packed with fibers and proteins.
If you love overnight chia pudding, this warm cozy version doesn't require too long to make.
There are three breakfasts I can't get enough of overnight oats, chia seed pudding, and oatmeal recipes.
Here's a new way to enjoy one of my favorites, and the best of all these worlds: a hot chia pudding!
What Is A Warm Chia Seed Pudding?
A warm chia seed pudding is a hot version of the classic chia pudding recipe.
Instead of soaking the chia seeds overnight, they are cooked in warm milk.
How To Make An Easy Warm Chia Pudding
It's very easy to make hot chia pudding for breakfast with simple pantry staple ingredients.
Ingredients
All you need are:
Chia Seeds – Feel free to use white chia seeds or black chia seeds. They have the same nutritional profile and absorb liquid just the same.
Plant Milk of Choice – almond milk, soy milk, oat milk, or coconut milk all work well.
Maple Syrup – For a touch of sweetness.
Cooking Chia Pudding
In a medium saucepan, add non-dairy milk and maple syrup.
Bring it to a low boil on medium heat. Reduce the heat, stir in the chia seed, cover, and cook on low heat for 2 to 3 minutes.
Cook while occasionally whisking to make sure the seeds don't form lumps, and cook until the seeds absorb liquid and the mixture starts to thicken.
Remove from the heat, keep a lid on, and set aside for 5 to 8 minutes until the chia seeds turn the mixture into a gel-like texture.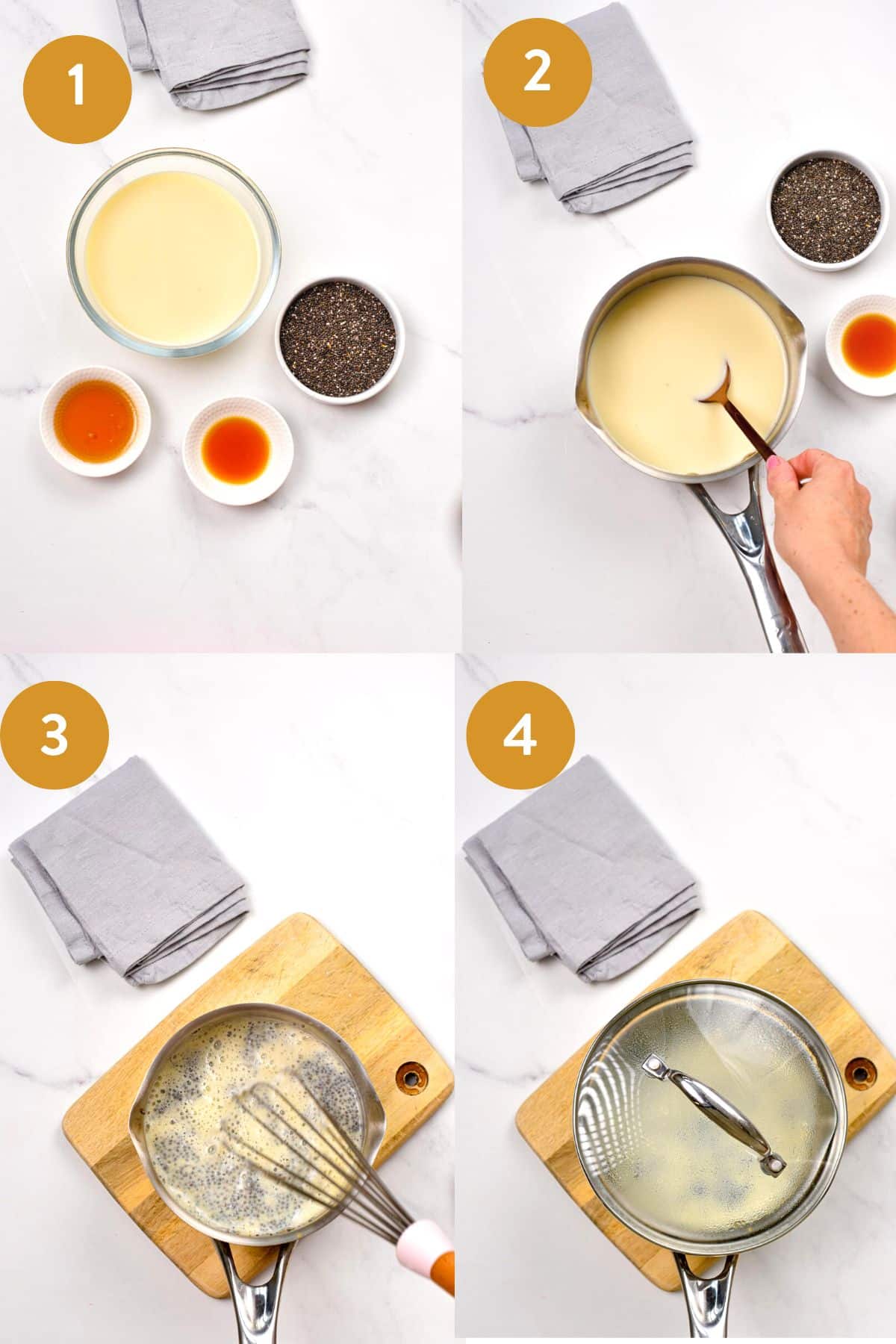 Flavors
Then, feel free to add some other ingredients for flavors like
Vanilla Extract – add 1/2 teaspoon at the end, when the pudding is cooked.
Cocoa Powder or cacao powder – 1-2 teaspoons
Protein Powder – 1 tablespoon
Cinnamon – stir up to 1 teaspoon of ground cinnamon
Pinch of Salt
Serving
Serve this vegan chia pudding warm, as a breakfast or snack, or healthy dessert, with any of your favorite toppings like:
Fresh fruits – banana slices, fresh berries
Chocolate chips
Nut butter like peanut butter or almond butter
Seeds like pumpkin seeds, sunflower seeds, or hemp seeds for a boost of proteins
Coconut yogurt or any dairy-free yogurt you love
Shredded coconut
Storage Instructions
You can store the leftover pudding in the fridge, in a sealed container or small pot for up to 2 days.
Rewarm in the microwave the next day, in a microwave-safe bowl until warm.
Allergy Swaps
Below are some options to make this recipe if you have some food allergies.
Nut-Free – Swap the almond milk for soy milk or oat milk.
Gluten-Free – Use gluten-free plant-based milk. If you can't have oat milk, try coconut milk, soy milk, or almond milk.
Sugar-Free – Chia seeds are low in carbs. To make this recipe keto-friendly, skip the sweeteners or use a natural sugar-free sweetener.
Frequently Asked Questions
Below are my answers to your most common questions about this recipe.
Is It OK To Heat Chia Seeds?
Yes, you can use chia seeds in hot recipes like pudding, cakes, muffins, or sauce.
However, like any seeds or nuts, their nutritional profile decreases when heated.
This is because chia seeds are mostly made of fatty acids that degrade at high temperatures between 280°F and 320°F (140°C -160°C).
It means you will lose some of the benefits of chia seeds when cooked above these temperatures.
Can You Put Chia Seeds In Warm Milk?
Yes, absolutely! The normal boiling temperature of the water is 212°F (100°C) – less for plant-based milk because it contains a bit of fat.
Since chia seeds are stable under 280°F (140°C), adding them to a warm liquid under that temperature activates the seeds' fiber faster without destroying their nutrients.
Therefore, they grow and soak in the liquid faster than in cold liquid and turn your mixture into a gluey mixture if you let them in for 10 minutes.
Can You Heat Chia Seeds In The Microwave?
Yes, you can cook the chia seeds in a liquid like milk or porridge, in the microwave.
The maximum temperature of internal food in the microwave is 212°F (100°C), and chia seed fatty acids are stable up to 280°F (140°C), so you won't lose their properties.
Is It Bad To Heat Up Chia Seeds?
Don't heat chia seed above 280°F (140°C), a temperature at which the fatty acids chain break and degrade into free radicals that are not good for your health.
Otherwise, any temperature under that is perfectly fine!
More Chia Pudding Recipes
I love chia seeds, and below are some more chia recipes for you to try next time.
Did you make this easy healthy breakfast pudding? Share a comment or review below.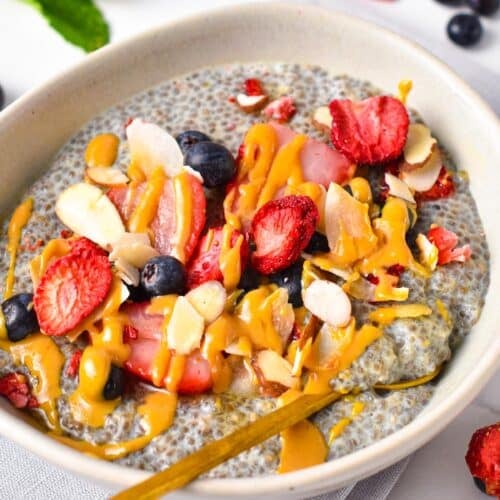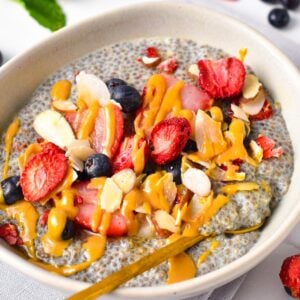 Warm Chia Pudding
This Warm Chia Pudding is an easy, healthy breakfast made with just three ingredients packed with fibers and proteins. If you love overnight chia pudding, this warm cozy version doesn't require much time to make.
Pin
Print
Review
Servings: 2 serving
Calories: 132 kcal
Instructions
In a non-stick saucepan add almond milk, and maple syrup, warm over medium heat.

When the milk is warm and few a bubbles start to form on the sides of the saucepan, reduce to low heat, whisk in the chia seeds, cover, and simmer for 3 minutes. Whisk once in a while to prevent the seeds from clumping.

Remove from the heat and stir in vanilla extract. Keep the lid on and set aside for 5-6 minutes until it thickens.
Storage
Store for up to 3 days in an airtight container in the fridge.
Share on Facebook
Pin Recipe
Nutrition
Serving: 1serving | Calories: 132kcal | Carbohydrates: 14.8g | Protein: 3.6g | Fat: 7g | Saturated Fat: 0.6g | Polyunsaturated Fat: 5g | Monounsaturated Fat: 1.2g | Trans Fat: 0.1g | Sodium: 166.3mg | Potassium: 95.8mg | Fiber: 6.6g | Sugar: 6.1g | Vitamin A: 9.7IU | Vitamin C: 0.3mg | Calcium: 274.5mg | Iron: 1.4mg | Magnesium: 62.4mg | Phosphorus: 154.8mg | Zinc: 0.9mg