Chocolate Peanut Butter Chia Pudding
This easy Chocolate Peanut Butter Chia Pudding is a healthy breakfast recipe with a smooth, creamy texture packed with fiber and proteins.
This chia pudding is also dairy-free, keto-friendly, and gluten-free, so everyone can enjoy it.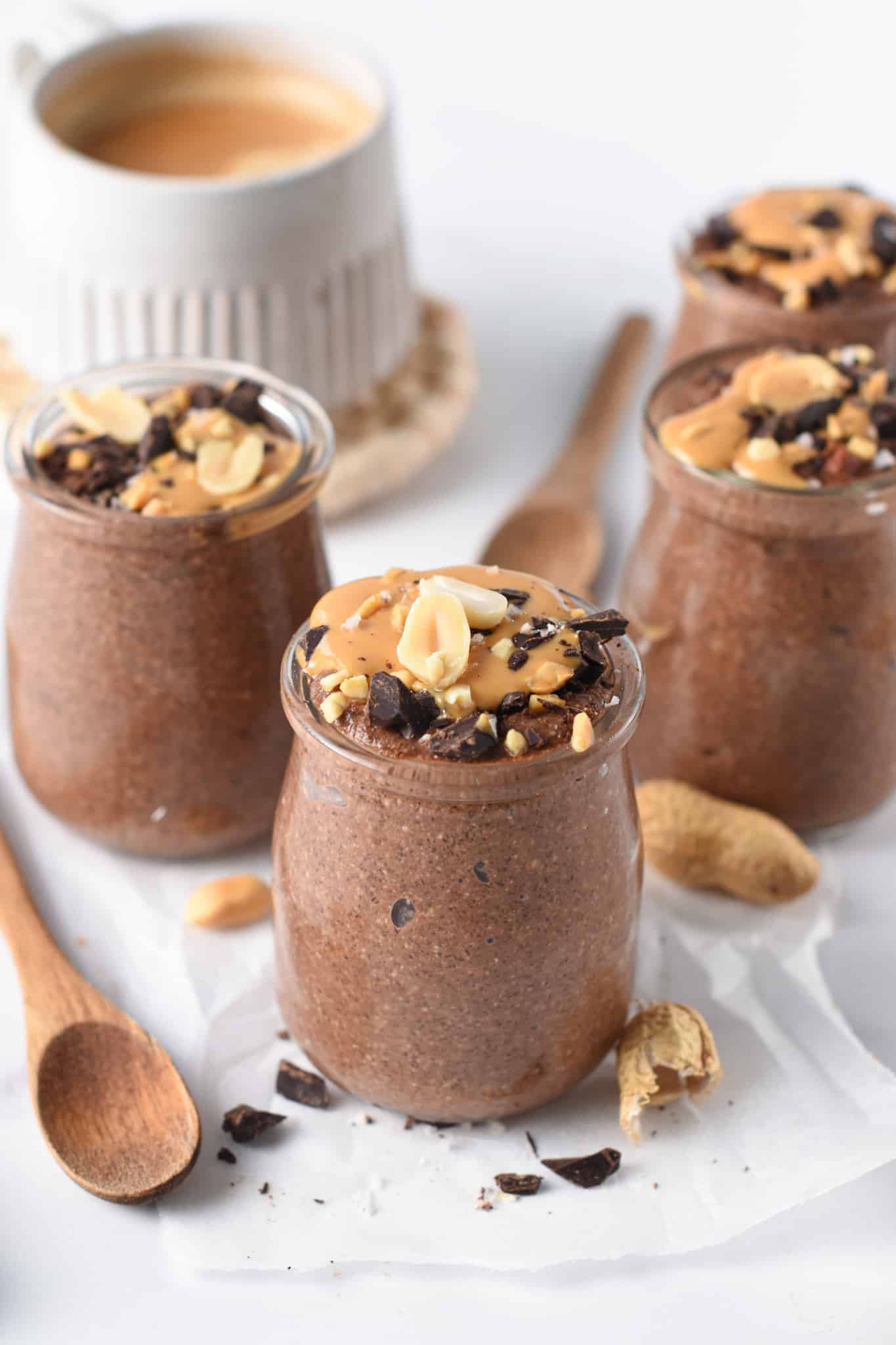 What's Chia Pudding?
A chia pudding is a healthy breakfast made from chia seeds and milk.
Chia seeds are high in fiber and protein, and when in contact with a liquid, they swell and create a pudding-like texture delicious for breakfast.
Chia puddings are, most of the time, vegan-friendly if they are made with non-dairy milk and plant-based ingredients. It's similar to my Flaxseed Pudding.
This chocolate and peanut butter chia pudding version is naturally:
Grain-free
Gluten-free
Keto-friendly
Vegan
Paleo
Dairy-free
How To Make Chocolate Peanut Butter Chia Pudding
This chia pudding chocolate peanut butter recipe is the best breakfast meal prep ever.
Ingredients
All you need to make a chia chocolate pudding are:
Chia Seeds – feel free to use black chia seeds or white chia seeds. Both have the same nutrients and properties.
Unsweetened Cocoa Powder
Natural Peanut Butter, or for a low-fat option and a protein boost, you can use powdered peanut butter. Another great option is to use almond butter to boost the healthy fat of your breakfast bowl.
Almond Milk or any non-dairy milk you like, including oat milk, soy milk, or coconut milk.
Maple Syrup or any liquid sweetener you love like agave syrup, coconut nectar, or brown rice syrup.
Vanilla Extract
There are two ways to make peanut butter chocolate chia pudding.
The authentic chia pudding recipe consists of combining all the ingredients, then storing the pudding in the fridge overnight, and serving it the next day.
This option is delicious, but some people don't enjoy the slurpy bits of chia seeds in their pudding.
The alternative is to ground the chia pudding by blending all the ingredients to create a smooth, creamy pudding.
Blending The Pudding
Place all the ingredients in a blender or Mutribullet. Blend them on the high-speed setting until the mixture is smooth and consistent.
Fill a glass mason jar with the pudding mixture and store in the fridge for at least 3 hours or overnight before serving.
Serving
Before serving, add some toppings like:
Chocolate chips
Dark chocolate chunks – pick vegan dark chocolate.
Drizzle of peanut butter
Roasted peanuts or chopped peanuts
Coconut
Fresh berries
Protein Boost
You can boost the protein content of your chia pudding by using:
High-protein dairy-free milk like protein almond milk or soy milk.
Add one or two tablespoons of protein powder – if so, add extra 1/4 cup almond milk to avoid a dry pudding.
Serve with extra protein spread like PB2 peanut butter.
Storage Instructions
Chia pudding must be stored in an airtight glass mason jar in the fridge.
You can keep the pudding fresh for up to 3 days.
Always make sure the lid is sealed to prevent the pudding from drying out and hardening on the top.
If the pudding gets too thick, you can thin it out with extra plant-based milk before serving.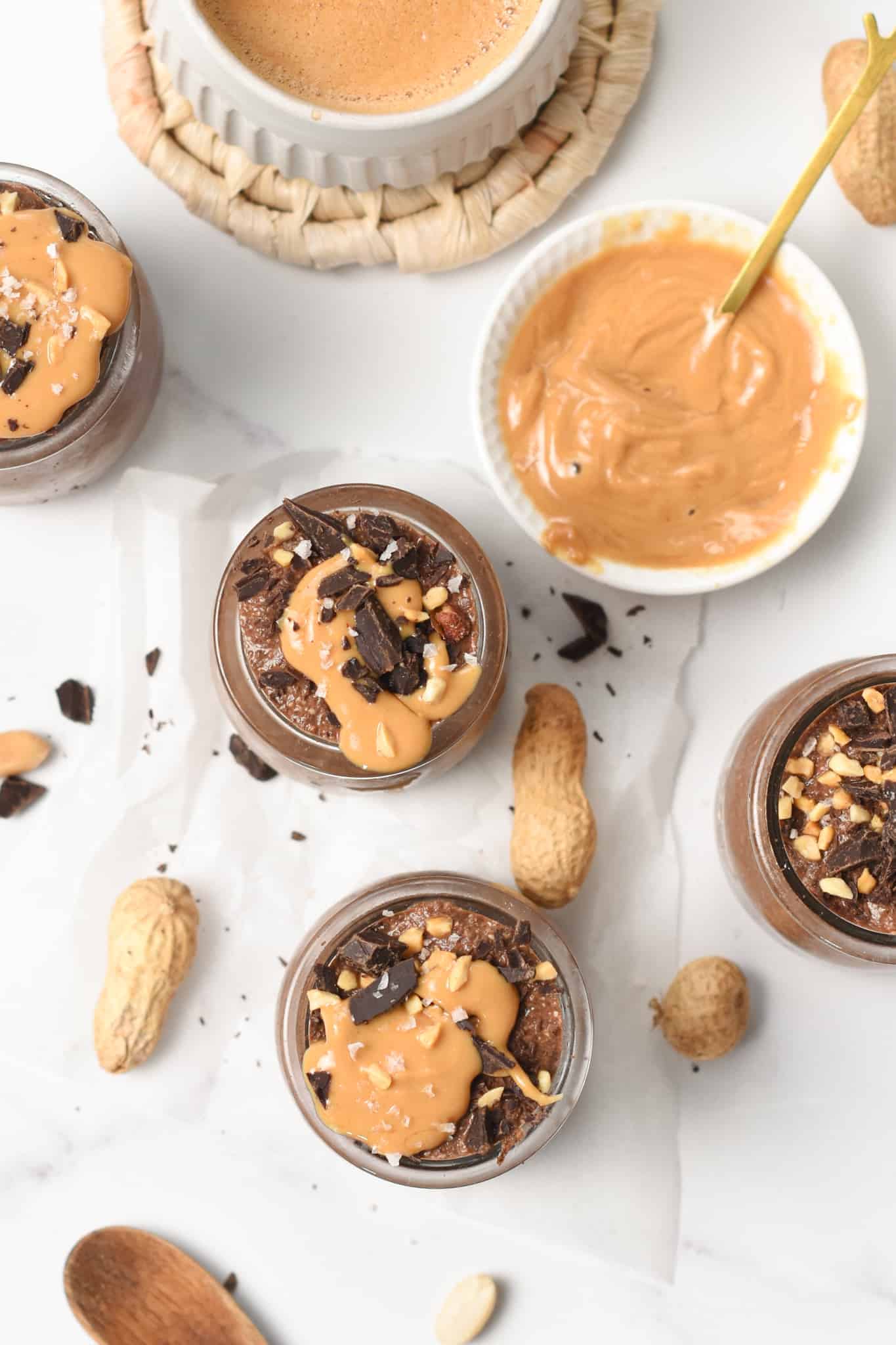 Frequently Asked Questions
Below I listed an answer to your more frequent questions about this chia pudding recipe.
What Does Chocolate Peanut Butter Chia Pudding Taste Like?
If you have never tried chia seed pudding before, you should know that the texture is quite slimy with an earthy flavor.
In fact, chia seeds are high in fiber, and when soaked in milk, they form a slimy gel texture around each seed.
The flavor of chia pudding varies depending on the ingredients you add to it, like vanilla extract, cocoa powder, or nut butter.
It's highly recommended to add flavors to chia pudding, or they are bland.
Does Chia Seed Pudding Have Protein?
Chia seeds are high-protein seeds with 4.7 grams of protein per serving of 2 tablespoons.
As a result, one serving of this chia pudding contains 7 grams of plant-based protein.
What Can I Use Instead Of Chia Seeds?
If you have a chia seed allergy, you can make chia seed-like pudding using basil seeds.
They have the same properties and provide a similar texture.
Is There A Nut-Free Alternative?
You can use coconut milk or oat milk in chia pudding and replace the peanut butter with sunflower seed butter for a nut-free option.
Is Chia Pudding Keto-Friendly?
Yes, chia seeds are low-carb, keto-friendly seeds. Chia puddings are great if you are after a low-carb, sugar-free breakfast.
Make sure you use a keto-friendly sweetener and avoid maple syrup that is high in sugar. Try erythritol or Monk fruit syrup instead.
More Healthy Breakfast Recipes
Chia pudding, overnight oats, or oatmeal are all delicious recipes for a healthy breakfast to start the day with protein, fiber, and healthy slow-release carbs.
Below I listed some more healthy breakfast recipes for you to try.
Did you try this chia chocolate pudding recipe? Share a comment or review below to connect with me,
Carine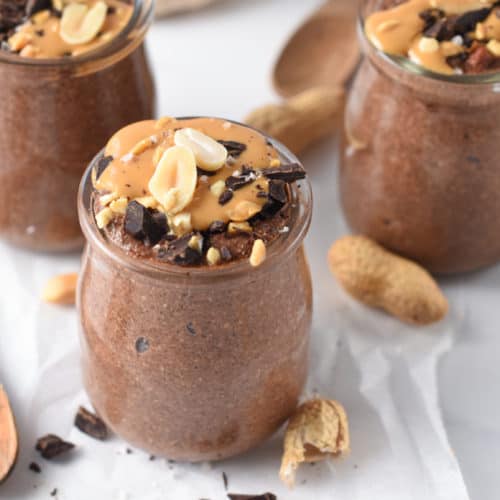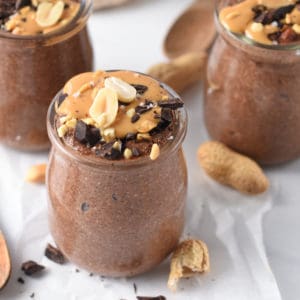 Chocolate Peanut Butter Chia Pudding
This Chocolate Peanut Butter Chia Pudding is a healthy breakfast, packed with fiber, protein, delicious creamy texture, and decadent chocolate peanut butter flavor.
Pin
Print
Review
Servings: 4 servings
Calories: 232.5 kcal
Instructions
In a mixing bowl, add all the ingredients, and stir to combine. Cover the bowl with plastic wrap or a lid and store in the fridge overnight or at least 3 hours until thick and slimy.
Ground version
You can also add all ingredients to a blender, blend until smooth, and store in the fridge in airtight glass mason jars for 3 hours or overnight.

Serve with an extra drizzle of peanut butter, dark chocolate chunks, and peanuts.
Storage
Store in the fridge for up to 3 days in a sealed jar.
Share on Facebook
Pin Recipe
Nutrition
Serving: 1serving | Calories: 232.5kcal | Carbohydrates: 26.9g | Protein: 6.7g | Fat: 12.6g | Saturated Fat: 1.8g | Polyunsaturated Fat: 6.8g | Monounsaturated Fat: 3.4g | Trans Fat: 0.1g | Sodium: 202.9mg | Potassium: 234.3mg | Fiber: 9.5g | Sugar: 13.1g | Vitamin A: 11.5IU | Vitamin C: 0.3mg | Calcium: 314.7mg | Iron: 2.3mg | Magnesium: 107.7mg | Phosphorus: 237.4mg | Zinc: 1.6mg