This Matcha Overnight oat is the best healthy antioxidant-packed breakfast for Matcha lovers. A creamy coconut matcha oat mixture topped with delicious raspberries.
My passion for overnight oat recipes will never stop, especially when it comes to creating healthy flavors.
Matcha is a tasty, healthy addition to your breakfast. If you don't like a matcha latte, try adding matcha into your cookies – like in my almond flour matcha cookies or, better, into your oatmeal to make matcha oatmeal.
However, for summer and hot days, the best is matcha overnight oats. It's cold, perfect for meal prep days of refreshing breakfast packed with the health benefits of Matcha Green tea powder.
Health Benefits of Matcha
Matcha is high in antioxidants and caffeine and often, it's a great swap for coffee in the morning. Also, Matcha contains the amino acid l-theanine, which helps in focus and symptoms of anxiety.
As a result, Greek tea Matcha powder is a healthy addition to your morning, to give you energy, focus and protect your heart with its antioxidants.
How To Make Matcha Overnight Oats
This matcha breakfast is so easy to whip in just a few minutes.
Ingredients
All you need to start meal-prepping matcha green tea overnight oats are:
Old-Fashioned Rolled Oats, quick oats, or steel-cut oats.
Chia Seeds
Unsweetened Coconut Milk or any non-dairy milk you love, but, coconut and matcha are truly delicious together. If you feel like a creamier texture, go for canned coconut milk, it has more fat and calories, but the texture will be like a creamy matcha dessert.
Matcha Powder
Coconut Yogurt or any non-dairy yogurt you love.
Maple Syrup or any liquid sweetener you have on hand.
Vanilla Extract
Preparation
First, make sure you select a high-quality matcha powder, but keep it cheap when it comes to cooking with matcha.
In fact, Matcha powders are classified by grades depending on their color, depth of flavor, and purpose.
Some are better for drinking, such as ceremonial-grade Matcha. They have a deeper flavor, but they are also more expensive and better to use for drinking with a traditional bamboo whisk.
For cooking, you can simply use a culinary grade Matcha. The price is reasonable, and the flavors are great for oats or cookies.
Dissolving Matcha
First, place the Matcha powder in a large bowl, whisk with a small wire whisk or fork to break lumps.
Add one tablespoon of boiled water and cooled to room temperature for one minute. Whisk again to dissolve the powder in the water.
Then, add the remaining ingredients: chia seeds, oats, yogurt, coconut milk, maple syrup, and vanilla extract.
Stir with a silicone spatula until the mixture has a nice green color with no lumps or pieces of matcha powder.
Seal the bowl or container with a lid and refrigerate for about 8 hours or overnight in the refrigerator.
Serving
The next day, serve your vegan matcha overnight oats plain or serve it in layers in glass mason jars with coconut yogurt and fresh berries like raspberries or strawberries.
The best plant-based toppings to marry with Matcha flavors are:
Coconut Flakes or shredded coconut
Coconut Yogurt or dairy-free soy yogurt
Peanut Butter or cashew butter
Sliced Almonds
Red Berries like raspberries
Banana slices or mangoes
Coconut Nectar or maple syrup
Variations
You can make this recipe with added ingredients, or remove the yogurt for simply more coconut milk.
The best add-ons ingredients with Matcha overnight oats are:
1-2 tablespoons of Vanilla protein powder – This thickens the texture of the matcha overnight oat recipe. You may like to add a splash more coconut milk to thin it out.
Dairy-Free White Chocolate Chips – Add up to 3 tablespoons.
Pinch of Salt
Mashed Banana instead of sweetener – add up to 2 tablespoons or the banana taste will be overpowering.
Allergy Swaps
Below are some ingredients substitutions ideas if you need them:
Gluten-Free – Pick gluten-free certified oats.
Plant-Based Milk – Any milk like soy milk, almond milk, coconut milk, or oat milk works.
Coconut-Free – Replace the coconut yogurt with any plant-based yogurt like oat yogurt, and swap coconut milk for soy or oat milk.
Sugar-Free – Skip the sweetener or use a few drops of liquid stevia or a sugar-free liquid syrup made from Monk fruit.
Frequently Asked Questions
Here are my answers to your most common questions about these lovely matcha oats.
Can You Make Matcha Overnight?
You can whisk matcha powder with the dry ingredients of your overnight oats recipe before adding the liquid ingredients.
Don't add more than 1-2 teaspoons of Matcha powder, or the flavors are overpowering.
Does Matcha Dissolve?
Matcha dissolves better with lukewarm water, but it's not impossible to whisk in cold milk with culinary matcha powder.
You can add 1-2 tablespoons of warm water per 1-2 teaspoons of matcha powder and whisk, then add the remaining ingredients to prevent lumps and ensure perfect dilution of the matcha powder.
More Overnight Oat Recipes
If you like this recipe, you'll love my other overnight oats: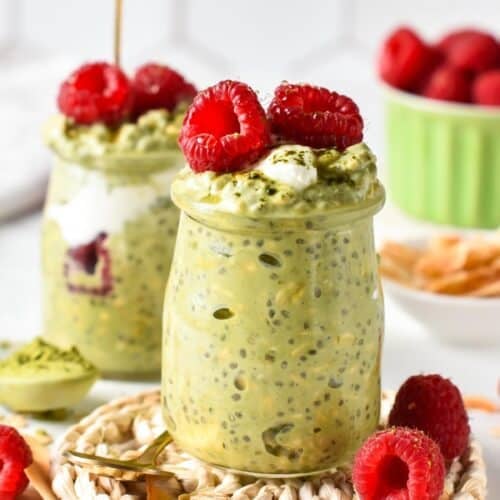 Matcha Overnight Oats
this Matcha Overnight oat is the best healthy antioxidant-packed breakfast for Matcha lovers with delicious creamy coconut matcha flavors.
Pin
Print
Review
Shop My Tools
Instructions
In a large bowl, whisk Matcha powder to break any lumps. Add boiled, cooled water and whisk again to dissolve matcha powder.

Stir in oats, chia seeds, yogurt, coconut milk, maple syrup, and vanilla extract.

Cover the bowl with a lid and store overnight in the fridge.

Serve the next day with coconut yogurt, raspberries, extra maple syrup, and shredded coconut.
Storage
Store for up to 4 days in the fridge in an airtight container. Freeze in airtight jars and thaw in the fridge the day before.
Share on Facebook
Pin Recipe
Nutrition
Serving:
1
serving
|
Calories:
196.5
kcal
|
Carbohydrates:
31
g
|
Protein:
5.1
g
|
Fat:
5.5
g
|
Saturated Fat:
1.4
g
|
Polyunsaturated Fat:
2
g
|
Monounsaturated Fat:
0.6
g
|
Trans Fat:
0.01
g
|
Sodium:
9.6
mg
|
Potassium:
169.2
mg
|
Fiber:
6.3
g
|
Sugar:
11.5
g
|
Vitamin A:
113.1
IU
|
Vitamin B12:
1.4
µg
|
Vitamin C:
8
mg
|
Vitamin D:
30.6
µg
|
Calcium:
299.6
mg
|
Iron:
2.3
mg
|
Magnesium:
69.3
mg
|
Phosphorus:
143.4
mg
|
Zinc:
1.4
mg