Almond Flour Matcha Cookies (Vegan, Gluten-Free)
Soft melt-in-your-mouth Vegan Almond Flour Matcha Cookies made with only 6 simple ingredients.
If you love Matcha powder, these taste like soft Matcha sugar cookies, a healthy vegan gluten-free cookie for snack time. Bonus, these are vegan, gluten-free, and paleo Matcha cookies!
What Are Matcha Cookies?
Matcha cookies are simple buttery plant-based cookies made with matcha powder to give them a striking green color and all the nutrient goodness of matcha.
These healthy vegan Matcha cookies are the easiest cookies to make with only 6 ingredients, no flax eggs, and no vegan butter needed!
How To Make Almond Flour Matcha Cookies
All you need are wholesome plant-based ingredients and 15 minutes.
Ingredients
All you need to make a simple Matcha cookie recipe with almond flour are:
Almond Flour – use ultra-fine almond flour, not almond meal. In fact, almond meal is coarser and darker in color. It makes dry, gritty cookies, so I don't recommend this option.
Maple Syrup or any plant-based refined sugar-free sweetener you love like Monk fruit syrup, agave syrup, or brown rice syrup.
Vanilla Extract – optional
Matcha Green Tea Powder – you can really play with the amount of powder based on your taste. Some people love the intense Matcha flavor in their cookies, and others prefer a light touch.
Baking Powder or baking soda.
Coconut Oil – you can use refined coconut oil to avoid the coconut flavor in your cookies.
Making The Cookie Batter
First, preheat the oven to 325°F (160°C) and prepare a large cookie tray covered with parchment paper. Slightly oil the paper and set it aside.
Then, add all the dry ingredients to a large mixing bowl and whisk the almond flour, Matcha powder, and baking soda until evenly combined.
Then, stir in wet ingredients, including maple syrup, almond milk, vanilla, and coconut oil.
If you love Matcha and chocolate, add up to 1/3 cup dairy-free chocolate chips to the batter.
Matcha powder goes very well with vegan white chocolate chips if you can find some.
Baking The Matcha Cookies
Finally, scoop out about 2 tablespoons of cookie batter and roll in your hand palms to form a ground ball.
Place each cookie ball on the prepared cookie sheet. Then, flatten each cookie dough ball slightly.
You want to keep a little bump in the center of your cookies to keep them moist.
Bake for about 15 minutes or until the sides start to brown.
Cooling Down
Let the matcha cookies cool completely on a cooling rack for about 30 minutes.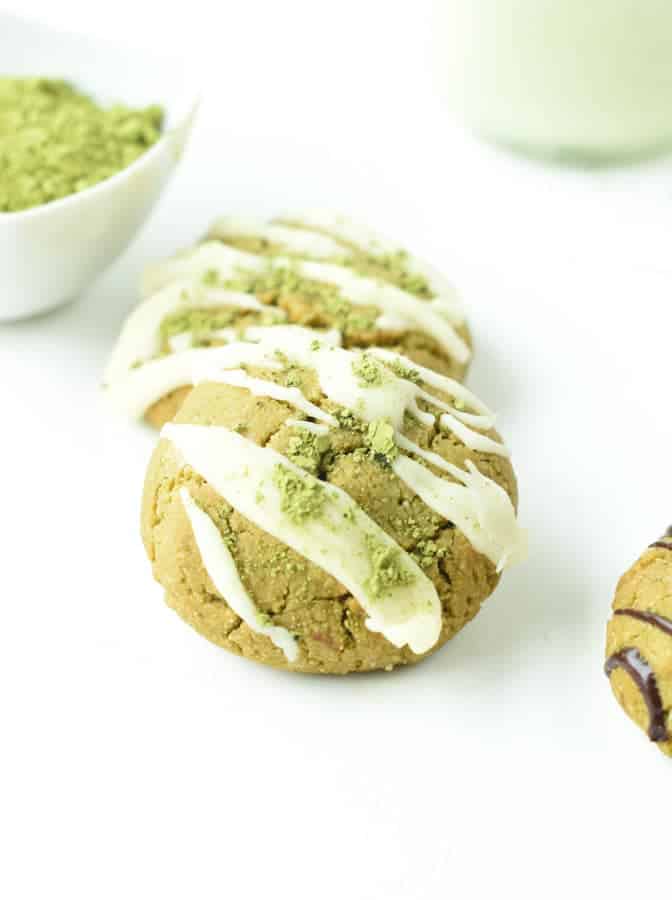 Decorating Vegan Matcha Cookies
Matcha flavor goes very well with white chocolate.
However, most store-bought white chocolate brands are not vegan and contain butter or milk.
Instead, you can make a lovely vegan white chocolate at home by melting 1/4 cup cocoa butter.
Then, stir in 1/3 cup of powdered sweetened and 1 tablespoon of cashew butter.
Then decorate your vegan, gluten-free Matcha cookies with a drizzle of homemade vegan white chocolate if desired.
Storing Almond Flour Matcha Cookies
These vegan Matcha cookies can be stored for up to 5 days in an airtight box in the fridge.
You will be noticed that the cookies get a bit more sticky with time, and that's normal.
You can also freeze these almond flour Matcha cookies in ziplock bags and thaw them at room temperature 3 hours before eating.
Allergy Swaps
This recipe doesn't work with coconut, but you can use oat flour instead of almond flour.
This option provides the same texture.
However, I didn't try all-purpose flour with this recipe. It may work but create a tougher texture.
How Do Matcha Cookies Taste?
These cookies are entirely made of almond flour, so they obviously have a strong almond flavor and a good Matcha green tea flavor.
They are soft, melt-in-your-mouth cookies delicious with a cup of Matcha latte or my Matcha smoothie recipe.
More Vegan Almond Flour Cookie Recipes
I love to bake cookies with almond flour. It makes delicious, healthy vegan, gluten-free cookies to snack on.
Below I listed my other almond flour cookie recipes for you to try.
Made these Matcha cookies with almond flour? Share a comment or review below. I love to hear what you think about my vegan recipes,
Almond Flour Matcha Cookies
An easy 5-ingredient vegan, gluten-free cookies with matcha powder.
Pin
Print
Review
Servings: 12 cookies
Calories: 167 kcal
Instructions
Before starting, keep in mind that these are slightly softer than regular cookies. They are vegan, gluten-free cookies made with almond flour, so they have a strong almond flavor.

Preheat oven to 325°F (160°C). Line a cookie sheet with parchment paper.

In a medium-size mixing bowl, add all the dry ingredients: almond flour, Matcha powder, baking powder, and salt if used.

Combine the ingredients with a spatula first, then stir in the wet ingredients: melted coconut oil and maple syrup until it forms a sticky green dough. Taste the raw dough and if the Matcha flavor is not strong enough for your taste buds, add up to 2 extra teaspoons but watch out. Adding too much extra Matcha dries out the cookies! So I recommend keeping the recipe ratio and add a Matcha flavor boost with a pinch of Matcha powder on the baked cookies.

Slightly grease hands with coconut oil, then scoop the dough – about 2 tablespoons per cookie – and roll into a ball between your hands.

Place each ball onto the lined cookie sheet leaving 1 thumb between each.

Use your hand palm to flatten each cookie slightly, keeping a round bump in the center to keep a moist center and crispy edges.

Bake for 12-15 minutes or until slightly golden on sides and slightly hard on top.

Cool on the cookie sheet for 5 minutes, then transfer to a cooling rack to completely cool down.

Decorate with a drizzle of melted vegan white chocolate and add a pinch of Matcha powder to boost their Matcha flavor.
Storage
Store in the fridge in a sealed container for up to 5 days.
Notes
Flour: you need ultra-fine almond flour for this recipe, not almond meal. Measure the flour packed in the cup. I didn't try the recipe with a different type of flour. Sweeteners: you can replace maple syrup with agave syrup. I didn't try other sweeteners, and I don't recommend sugar-free liquid sweeteners. They are high in fiber and will dry out the dough. Texture: Keep in mind that these are healthy vegan shortbread, and their texture is slightly different and slightly softer in the middle. For a crispier cookie, you can replace 1 tablespoon of maple syrup with 1 tablespoon of water.
Share on Facebook
Pin Recipe
Nutrition
Serving: 1cookie | Calories: 167kcal | Carbohydrates: 9g | Protein: 5g | Fat: 14g | Saturated Fat: 5g | Sodium: 58mg | Potassium: 15mg | Fiber: 2g | Sugar: 5g | Vitamin A: 63IU | Calcium: 51mg | Iron: 1mg