Almond Flour Thumbprint Cookies
These easy almond flour thumbprint cookies are healthy vegan, gluten-free cookies made with almond flour.
They are soft, chewy, moist cookies with a sweet raspberry jam center, dairy-free, and refined sugar-free!
No need for butter and sugar in this recipe, only 8 wholesome ingredients!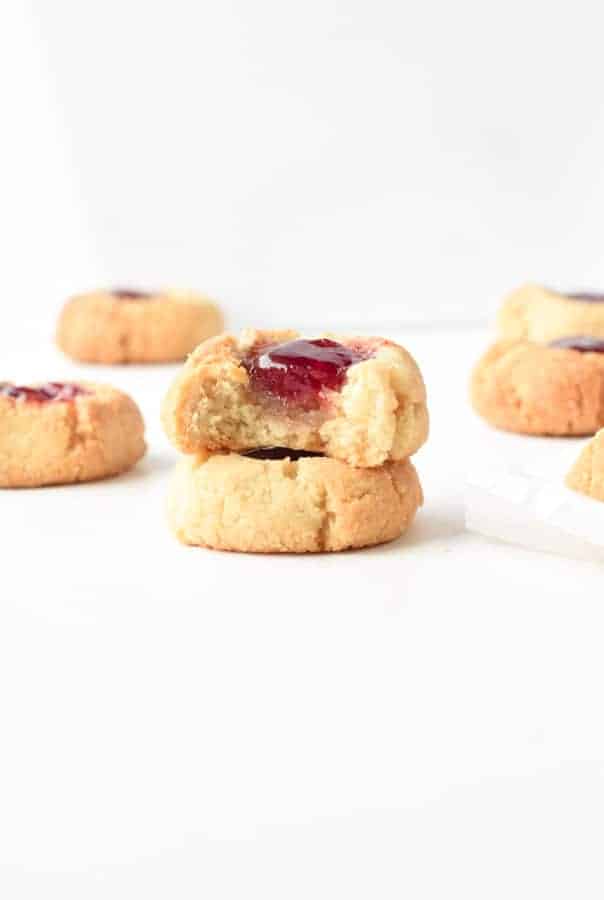 What Are Thumbprint Cookies?
Thumbprint Cookies are classic holiday cookies that have a filling of raspberry jam in the middle.
They are made with a buttery texture and a delicious fruity taste from the jam.
Are Thumbprint Cookies Vegan?
The classic thumbprint cookie recipe is not vegan because it contains butter, egg yolks full eggs, and sometimes honey to sweeten.
For a vegan version, you need a dedicated plant-based thumbprint cookie recipe.
How To Make Almond Flour Thumbprint Cookies
It is very easy to make thumbprint cookies with almond flour.
This is a healthy thumbprint cookie version made with no refined sugar, dairy-free, and gluten-free.
Ingredients
Let's see the ingredients you need to make these delicious vegan Christmas cookies.
Almond Flour – you need ultra-fine blanched almond flour for the best result. I am using ultra-fine almond flour from Bob's red mill. It's a grain-free and gluten-free flour perfect for baking these cookies. Also, note that almond meal will work too, but it is a coarse ground of almonds, making cookies grainy. I don't recommend this option if you expect smooth, soft, white/golden almond flour raspberry thumbprint cookies.
Maple Syrup – or agave syrup, but they will have a sweeter taste.
Melted Coconut Oil – use refined coconut oil if you don't like the flavor of coconut oil. However, don't use other oil. It won't come out great. In fact, coconut oil solidifies under 74°F (23°C) and provides a chewy soft texture to the cookies. Other liquid oils will make the cookie spread, and they won't form up. I didn't try vegan butter in this recipe, so I am unsure how it will come out with it.
Salt
Vanilla Extract – or almond extract to enhance the almond flavor of these cookies.
Baking Powder
Apple Cider Vinegar or lemon juice – the combination of acid ingredients with baking powder gives a little raise to the cookie, just what you need for a soft vegan gluten-free thumbprint cookie.
Making The Thumbprint Cookies With Almond Flour Batter
First, line a baking sheet with parchment paper and preheat the oven to 350°F (180°C).
Then prepare the cookie dough.
Add all the ingredients together into a medium bowl and combine with a spoon.
It means you add: almond flour, baking powder, salt, coconut oil, maple syrup, and vanilla extract, and mix until the cookie dough forms.
The dough is sticky but shouldn't be too wet.
Forming Thumbprint Cookies
Scoop the batter with a measuring spoon. I am using 1/2 tablespoon to make these small healthy thumbprint cookies.
But, if you want to make larger cookies scoop 1 tablespoon of cookie dough.
Then, roll the dough in your hands to form a ball and place each ball onto the cookie sheet.
Press each cookie dough ball in the center with the back of a measuring spoon or your thumb.
If you choose to make small gluten-free almond flour thumbprint cookies like the one in my picture, your thumb will be too large to press the dough.
That's why I recommend using a 1/2 teaspoon measuring spoon to create the 'cave' in the center of each cookie.
Baking Almond Flour Thumbprint Cookies
Fill each cookie with raspberry jam or the jam you love. Almond flour jam thumbprint cookies bake really quickly.
Usually, 12 minutes are enough.
You know they are cooked through when the sides of the cookies are golden brown.
Baking Tips
Almond flour cookies bake faster and brown fast. That's why I recommend watching the oven often between 10 minutes and 14 minutes.
As soon as the cookies' sides are turning golden brown, take out the baking sheet from the oven.
Don't expect the cookies to be hard and crunchy. They will be very soft and firm up after they cool completely.
First, cool the cookies on the cookie sheet for 5 minutes.
Then, gently transfer the cookies onto a cooling rack and wait for 30 minutes to appreciate their texture.
Storage Instructions
These are egg-free thumbprint cookies, and therefore they store very well at room temperature in a sealed jar for 1 week.
Make sure you store your cookies in a dry place. In fact, almond flour absorbs moisture quickly, and the cookies become sticky if stored in a humid area.
Same, if you store these dairy-free thumbprint cookies in the fridge, they tend to soften and get sticky.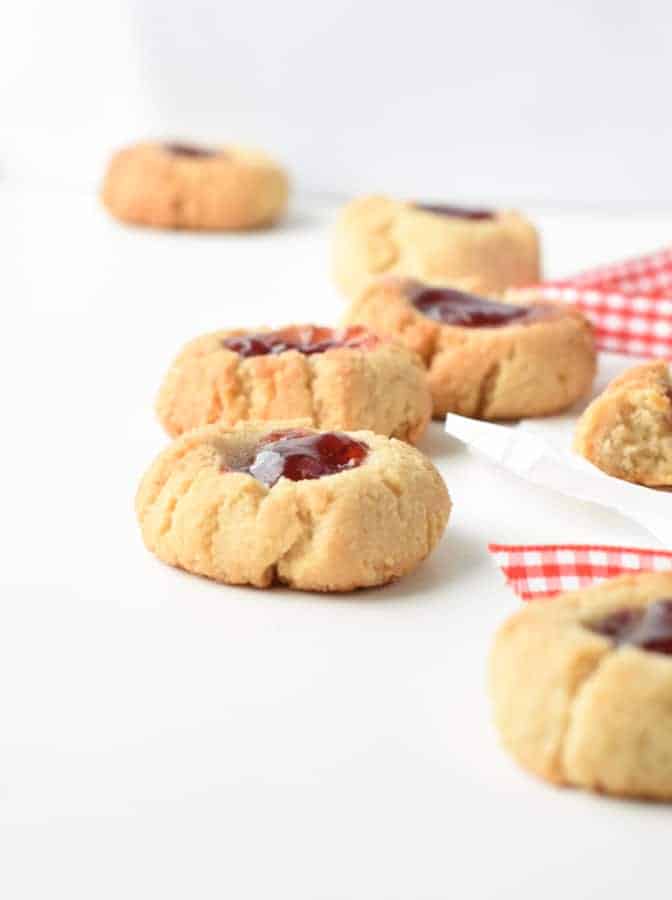 Cookies Filling Options
There is so many delicious filling you can add to these thumbprint cookies. My favorite fillings are below:
Chia seed jam – for a healthy thumbprint cookie recipe, use homemade chia seed jam as a filling. Plus, if you use refined sugar-free chia jam, these will be paleo thumbprint cookies approved too! The best flavors to go with almonds are raspberry, apricot, and strawberry.
Peanut butter and jam – add half peanut butter and half jam to make peanut butter jam thumbprint cookies.
Melted dark chocolate – melt vegan chocolate chips.
Troubleshooting
If it's your first time baking cookies with almond flour, there are a few things that could surprise you.
Below I listed the most common issue you can encounter and how to fix them.
Cookie side cracks – this happens all the time when you press the cookie dough to form the thumbprint shape. If you don't like the cracked aspect, wet your fingers and rub them around the cookie to smooth the surface.
The dough is too moist – it can happen if you used coarse almond flour or almond meal. Add more almond flour 1 tablespoon at a time until the cookie dough is easy to shape into small cookie balls.
Jam fade after baking – depending on the fruits used in your jam, the color may fade in the oven. Add more fresh jam to the thumbprint hole after the cookies cool completely. It will pop out the color on top.
Cookies are browning too fast – tent the cookie tray with a piece of foil halfway through baking or decrease the oven to 325°F (160°C).
More Vegan Gluten-Free Cookies
If you love vegan, gluten-free cookies, I have plenty more recipes for you to try. These cookies are delicious Christmas cookies or simply everyday snacks.
Made these almond thumbprint cookies with almond flour? Share a review below or save it for later on Pinterest.
Almond Flour Thumbprint Cookies
A soft, chewy vegan gluten-free thumbprint cookie recipe made with almond flour and no refined sugar.
Pin
Print
Review
Servings: 32 cookies
Calories: 59 kcal
Instructions
Preheat the oven to 350°F (180°C). Line a cookie sheet with parchment paper. Set aside.

In a large mixing bowl, add all the ingredients: almond flour, melted coconut oil, maple syrup, baking powder, salt, apple cider vinegar, vanilla extract, and almond extract.

Stir with a spoon to form the cookie dough batter. It should be sticky but easy to roll into a cookie ball, not wet or runny – see the picture above in my post. If it is too wet, add more almond flour 1 tablespoon at a time.

To make 32 small thumbprint cookies, scoop 1/2 tablespoon of cookie dough per cookie otherwise, to make 16 large cookies, scoop 1 tablespoon of dough per cookie.

Roll the cookie dough in your hand to form a small cookie dough ball and place the ball on the prepared cookie sheet. Repeat to form 32 cookie balls, leaving a 1-inch (2cm) space between each cookie ball.

For small cookies, place the back of a 1/2 teaspoon measuring spoon in the center of the cookie dough ball. Press gently to form a hole in the center of the cookie, the sides of the cookie may crack slightly, and that's ok. If you made larger cookies, use your thumb to press down each cookie dough ball.

Fill each thumbprint cookie up to the 3/4 of the hole – not up to the top, or it may overflow in the oven.

Bake for 12-14 minutes or until the sides of the cookies are slightly golden brown. They will be soft when you take them out of the oven, and that's fine.

Cool 5 minutes on the cookie sheet, then slide a spatula under each cookie to transfer onto a cooling rack.

If some jam evaporates or fades in color during the baking process, you can add a little more after they completely cool down.
Storage
Store in a dry place, sealed cookie jar at room temperature are the best, for up to 1 week. They can get sticky if stored in a humid place or in the fridge.
Share on Facebook
Pin Recipe
Nutrition
Serving: 1cookie | Calories: 59kcal | Carbohydrates: 3g | Protein: 1g | Fat: 5g | Saturated Fat: 2g | Sodium: 21mg | Potassium: 6mg | Fiber: 1g | Sugar: 1g | Calcium: 19mg | Iron: 1mg