These Quinoa Cookies are easy healthy breakfast cookies with a delicious crispy texture from quinoa.
Plus, they are also egg-free, dairy-free, and high-protein cookies.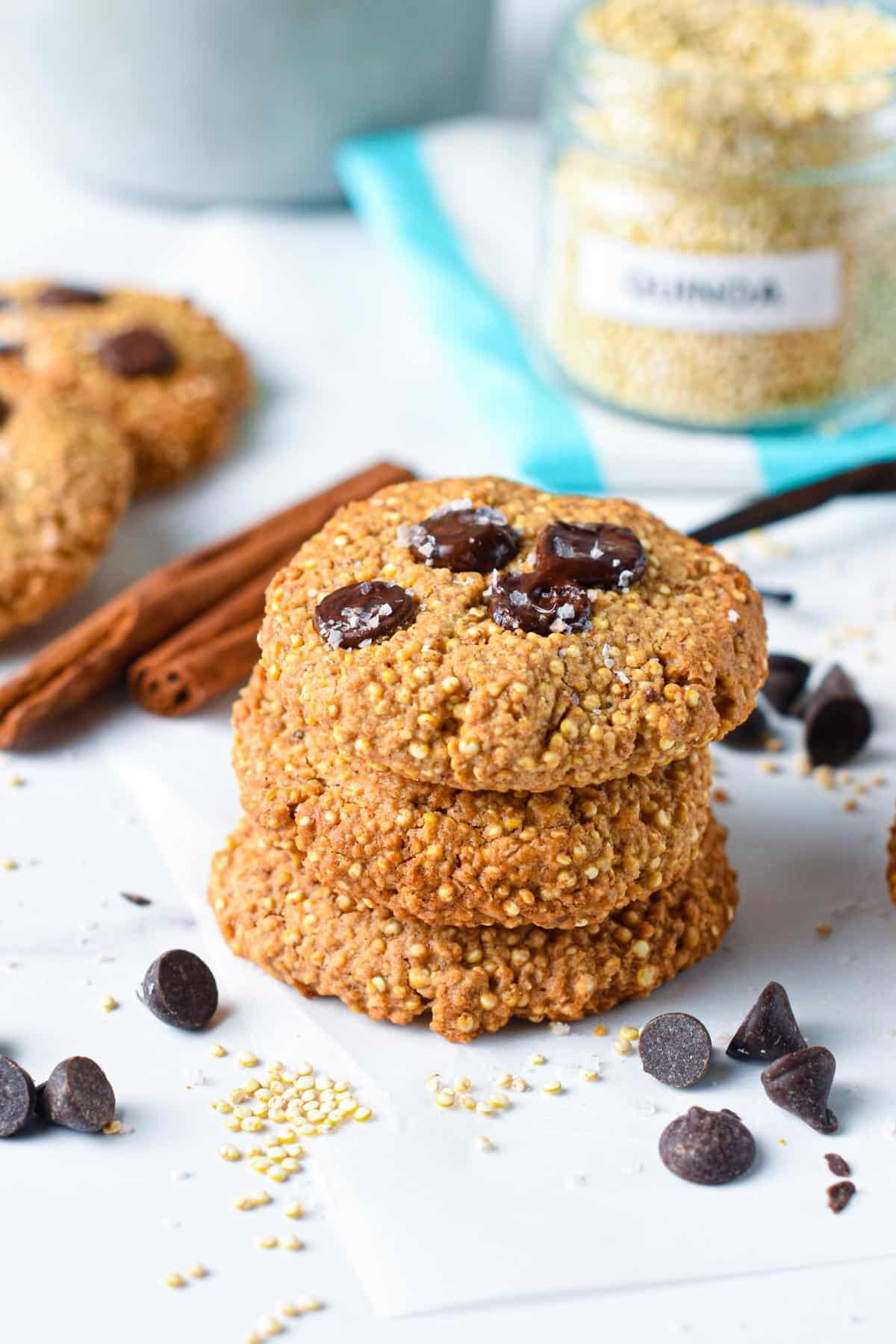 I love making quinoa recipes taste good and better than the classic, bitter quinoa.
Its nutrition profile is fantastic on a vegan diet as it's one of the complete protein sources. It covers all the amino acids your body and brain need to function fully.
Is Quinoa Bitter?
You might have heard that quinoa is bitter or earthy in flavor. Let me prove it wrong! There are many ways of making quinoa taste really good.
You have seen how you can simply rinse quinoa and blend it to make quinoa brownies or quinoa muffins.
Today, I will show you another way to work with raw quinoa, to make it crispy with absolutely zero bitterness.
The trick is to toast it in your pan.
But first, let me share all you need to start this quinoa cookie recipe.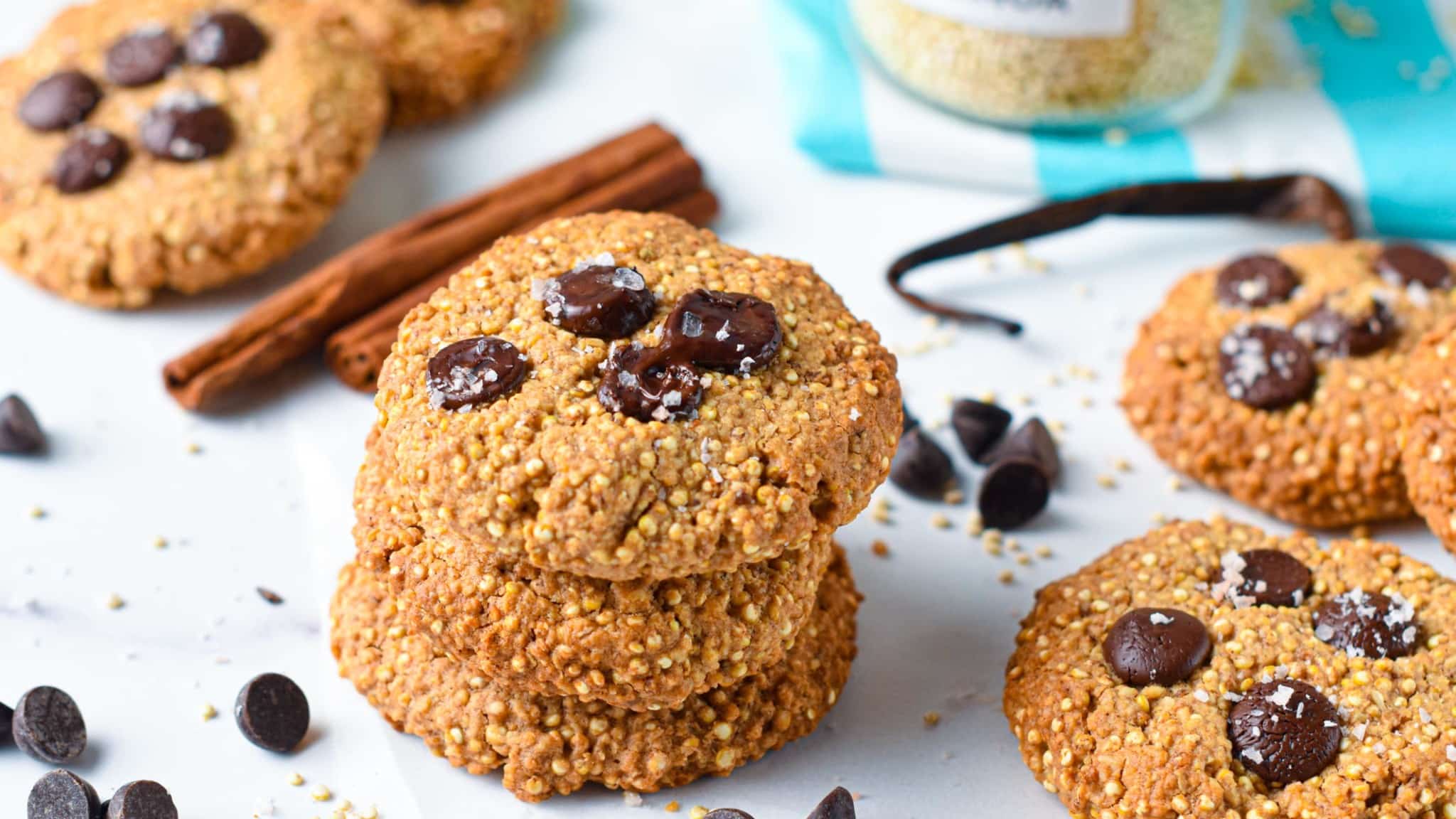 How To Make Quinoa Cookies
There are many ways people make quinoa cookies. Some use leftover quinoa, and others use quinoa flour.
I don't use either of these options because the former makes too-soft and too-moist cookies, and the latter requires quinoa flour which is almost impossible to find in regular stores.
Ingredients
You only need a handful of wholesome ingredients to make these quinoa breakfast cookies.
Raw Quinoa – Any quinoa color works, so you can use red quinoa, white quinoa, or black quinoa.
Oat Flour or almond flour. If you don't have oat flour, you can make your own from rolled oats.
Baking Powder – Or half the baking soda. One teaspoon of baking powder is equivalent to 1/2 teaspoon of baking soda.
Peanut Butter – Use natural peanut butter, almond butter, or even sunflower seed butter.
Maple Syrup – Or any other liquid sweetener such as rice malt syrup, coconut nectar, or agave syrup.
Melted Coconut Oil
Cinnamon
Vanilla Extract – For a perfect taste.
Dark Chocolate Chips – Learn how to find vegan dark chocolate.
Toasting The Quinoa
As mentioned above, the trick to making crispy quinoa cookies from raw quinoa is to toast the quinoa in a saucepan.
First, place the quinoa in a sieve and rinse under cold water. This is a must to remove dust and impurities from quinoa.
Next, melt coconut oil and add the quinoa and a pinch of cinnamon.
Cook for five minutes, stirring every now and then until fragrant and roasted.
Finally, remove from the heat and place the quinoa in a large bowl to let it cool down for 5 minutes while measuring the remaining ingredients.
Making The Cookie Batter
The good part of this recipe is that it's super easy you don't need a blender or a food processor.
In the previous bowl, add oat flour or almond flour for a gluten-free option.
Add peanut butter, maple syrup, melted coconut oil, vanilla extract, and cinnamon.
Stir to bring the ingredients together into a sticky cookie dough.
In the end, fold in chocolate chips or skip it, but chocolate and peanut butter go so well together that I highly recommend adding the chips.
Baking
Line a cookie sheet with lightly oiled parchment paper. Scoop about 2 tablespoons of batter and using greased hands roll into a ball.
Place the cookie dough ball on the baking sheet and slightly flatten down.
Repeat with the remaining batter leaving half thumb space between cookies. they won't expand in the oven, but it makes it easier to release them later
Bake for 12 to 14 minutes or until golden brown on the edge.
They will stay soft at this stage, so don't touch them and let the cookies cool down for 20 to 30 minutes on the sheet.
Then, gently slide a flat tool under the cookies to transfer them to the cooling rack.
Let the cookies cool down and enjoy.
Storage Instructions
You can store the cookies in a sealed jar at room temperature for up to 3 days.
Or pop the jar in the fridge to store for up to 5 days. You can also freeze the cookies and thaw them at room temperature the day before.
Allergy Swaps
You can always adapt my recipes to make them allergy friendly.
Nut-Free – You can replace the peanut butter with sunflower seed butter.
Coconut-Free – You can use melted vegan butter instead of coconut oil.
Oat-Free – You can use almond flour instead, but you will need a little more – see recipe notes below for ratio.
Frequently Asked Questions
Below are the answers to your most frequent questions about this recipe.
Can I Use Quinoa Flakes Instead Of Toasted Quinoa?
No, the texture will be soft and dry as the flakes will soak up the liquid – toasted quinoa doesn't. Also, the cookies won't crisp at all.
Can I Use Brown Sugar?
No, you can't swap a liquid ingredient like maple syrup for a dry ingredient like brown sugar because the batter won't hold together.
You can however replace the maple syrup with another liquid sweetener such as coconut nectar, date syrup, agave, etc.
Can I Add Rolled Oats?
You can add swap some of the quinoa for rolled oats, so if you use only 1/4 cup of quinoa, you can add 2 or 3 tablespoons of rolled oats instead.
But you can't swap oat flour for rolled oats or the batter won't stick together.
Have you tried these quinoa cookies? Share a comment or review below to connect with me.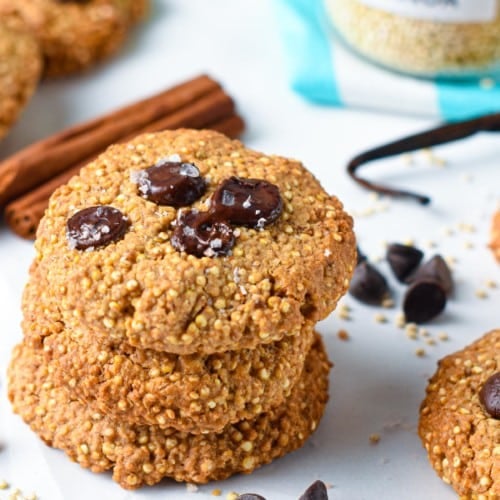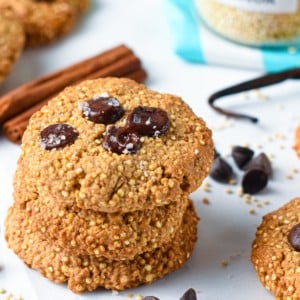 Quinoa Cookies
These Quinoa Cookies are easy healthy breakfast cookies with a delicious crispy texture from quinoa. Plus, they are also egg-free, dairy-free and high in protein.
Pin
Print
Review
Servings: 6 cookies
Calories: 211.2 kcal
Instructions
Preheat the oven to 350°F (180°C). Line a baking sheet with parchment paper and lightly oil the paper with coconut oil. Set it aside.

In a sieve, place the quinoa and rinse under cold water to remove impurities. Set aside in the sieve.

In a non-stick pan warm and melt coconut oil, then add the rinsed quinoa and cinnamon.

Cook the quinoa for 5 minutes, stirring once in a while – not too often or it doesn't have time to toast well. Keep cooking until the quinoa dries out and smells good like roasted cinnamon and grains are golden and crispy. Set aside in a large bowl and cool for 5 minutes.

In the same bowl – with the cooled quinoa – add oat flour, peanut butter, melted coconut oil, cinnamon, vanilla extract, and baking powder.

Stir in chocolate chips – make sure the batter is not warm, or the chips will melt!

Scoop about 2 tablespoons of batter, grease hands with coconut oil, and roll into a ball.

Place each cookie dough ball onto the prepared baking sheet. Press down the balls to flatten.

Bake 12-14 minutes or until the sides of the cookies are golden brown.

Cool down on the baking sheet for 15 minutes – don't touch the cookies they are still soft, and they need to cool down on the baking sheet to firm up.

Slide a flat tool under each cookie and transfer them to a cooling rack.
Storage
Store in a cookie jar at room temperature for up to 3 days or 5 days in the fridge. It can be frozen in sealed bags and thawed at room temperature.
Notes
Note 1: Any nut butter or seed butter works like almond butter or sunflower seed butter. Note 2: Any liquid sweetener can be used including coconut nectar, date syrup, and brown rice syrup. Note 3: Almond flour works as a substitute. You will need 1/2 cup + 2 tablespoons of almond flour.
Share on Facebook
Pin Recipe
Nutrition
Serving: 1cookie | Calories: 211.2kcal | Carbohydrates: 25.1g | Protein: 5.9g | Fat: 10.2g | Saturated Fat: 3.8g | Polyunsaturated Fat: 2.2g | Monounsaturated Fat: 3.4g | Sodium: 85mg | Potassium: 201.8mg | Fiber: 2.2g | Sugar: 7.3g | Vitamin A: 2.5IU | Vitamin C: 0.01mg | Calcium: 49.7mg | Iron: 1.3mg | Magnesium: 62.8mg | Phosphorus: 153.8mg | Zinc: 1.1mg