Protein Cereal Bars (12g Protein, Vegan)
These homemade Vegan Protein Cereal Bars are crunchy, gluten-free peanut butter puffed cereal bars, perfect as a post-workout snack with 12 grams of protein per serving.
They are easy to make with just 5 ingredients and they are also refined sugar-free and packed with fiber, so all good for you.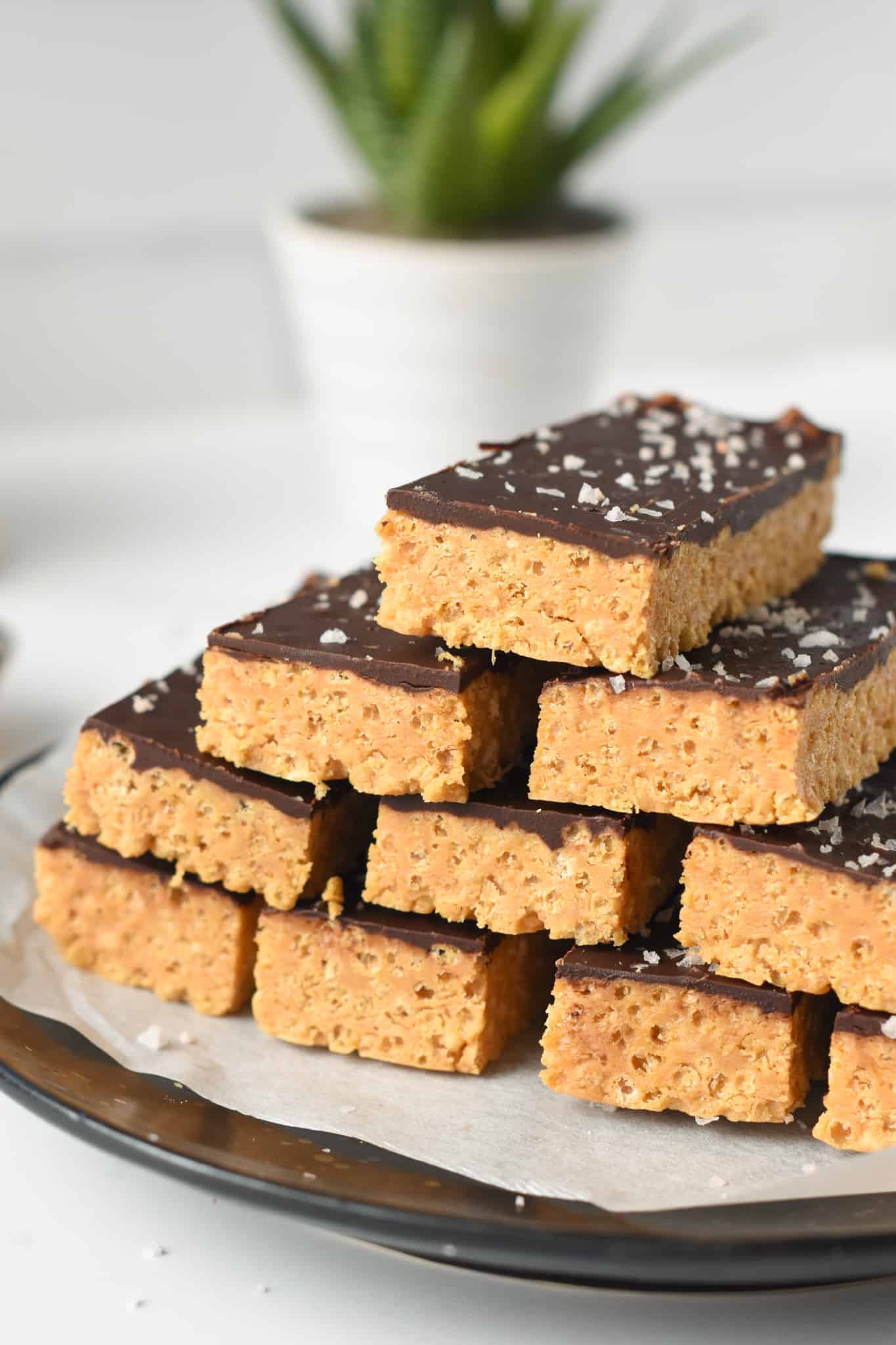 I love making homemade protein bars and balls as a quick post-workout snack. They taste 100 times better than store-bought ones and they are also less expensive.
Also, most store-bought vegan protein bars lack crunchiness. These quinoa puffed protein bars are my go-to crunchy homemade protein bar option!
How To Make Protein Cereal Bars
It's very easy to make crunchy cereal bars with protein powder.
Ingredients
All you need to make these Protein Cereal Bars are:
Protein Powder – we used vegan vanilla protein powder for a milk taste.
High-Protein Puffed Cereals – I chose puffed quinoa.
Peanut Butter – or almond butter or sun butter for a nut-free option.
Maple Syrup – or brown rice syrup for a low-GI option, my favorite for protein bars.
Vanilla Extract – optional if your protein powder already has a strong vanilla flavor.
Dark Chocolate
Coconut Oil
Pinch of Sea Salt
Choosing High-Protein Cereals
There are plenty of options when it comes to puffed cereals.
I don't recommend puffed white rice that is poor in protein. On the other hand, you can try:
Puffed quinoa – quinoa is a complete vegan protein, which means it also contains all the essential amino acids that you need to be in good health.
Brown rice cereals – I also tested this option and it comes out delicious.
Puffed buckwheat – as puffed quinoa, buckwheat is a gluten-free vegan cereal that is high in plant-based proteins.
Puffed spelt
Cheerios – this option adds a lot of sugar to the bar.
Milo Cereals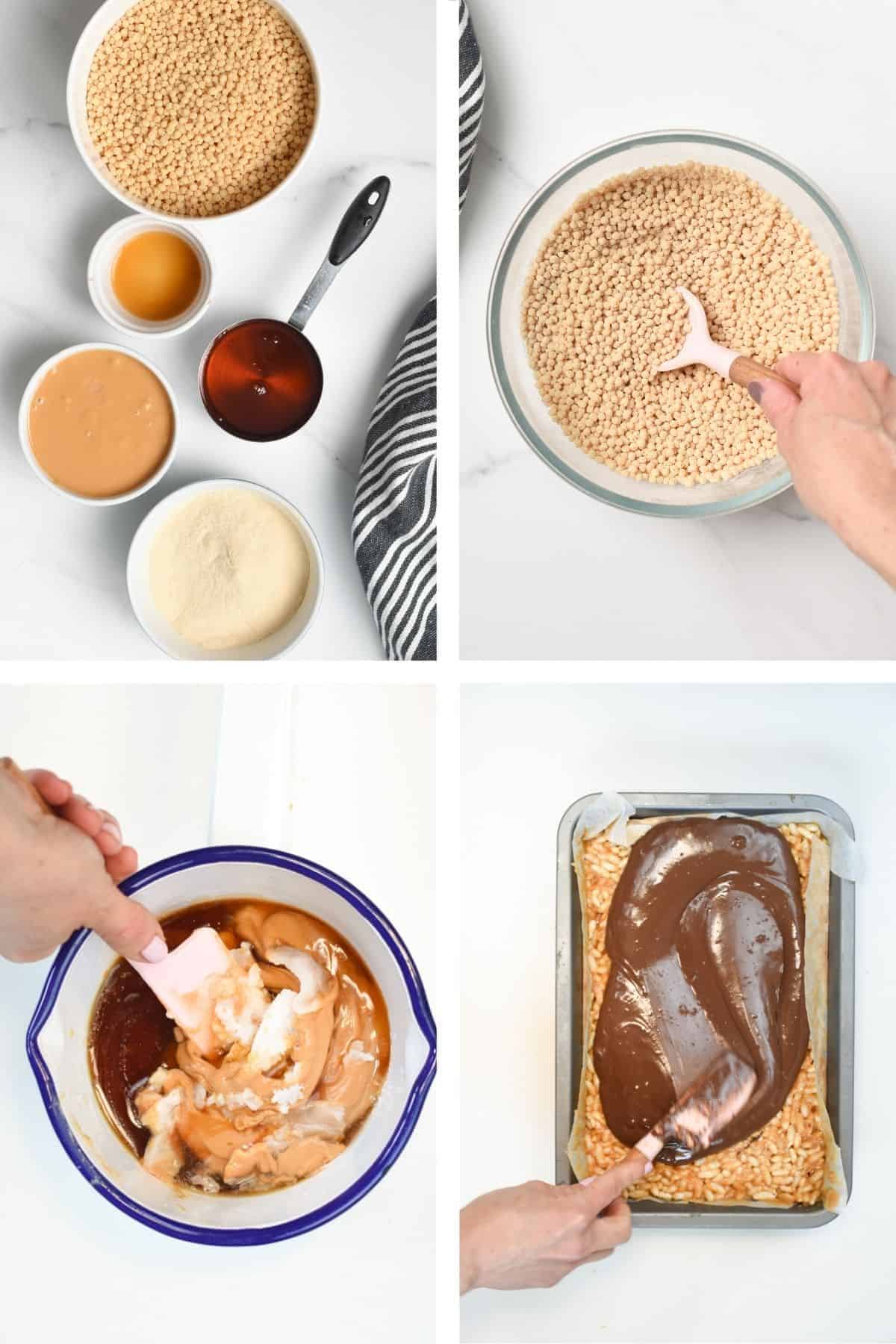 Combining Ingredients
First, in a large bowl, whisk all the dry ingredients together. You want the protein powder to evenly oat the cereals to avoid protein powder lumps in the bars.
Next, in another bowl stir the peanut butter, brown rice syrup, and vanilla extract (if used).
You can microwave the peanut butter mixture for 30 seconds to make it easier to stir together.
Finally, combine the liquid ingredients with the dry ingredients until a thick batter forms.
Making The Protein Bars
Line an 8-inch brownie pan with parchment slightly oiled with coconut oil.
Pour the cereal mixture into the pan and use the back of the silicone spatula to firmly press and compact the mixture into a single even layer.
In another bowl, melt the dark chocolate with coconut oil in a microwave.
Pour the chocolate over the bars and spread it evenly.
Freeze the dish for 12 minutes or refrigerate for 1 hour until the chocolate shell sets and hardens.
Protein Cereal Bars Tips
Sometimes, the batter of your protein bars can be dry and this can be because of the protein powder you used or the creaminess of your nut butter.
In fact, some protein powders are more liquid absorbent than others, and also an old jar of nut butter is dryer.
For best results, use:
Plant-based protein powder made from pea, soy, peanuts, or almonds.
Fresh jar of nut butter
If the bars are too dry or the mixture doesn't come together, add 1-2 teaspoons of melted coconut oil to adjust the texture and make it easy to work with.
Cereal Size
Keep in mind that this recipe works better with small size puffed cereals.
Large puffed cereals are much more difficult to press in and pack into bars.
Storage Instructions
Slice the bar into 8 small protein bars. Each bar can be stored well in an airtight container in the fridge for up to 1 week
These bars hold their shape perfectly at room temperature too and you can bring them in your sports bag, wrapped in a piece of parchment paper.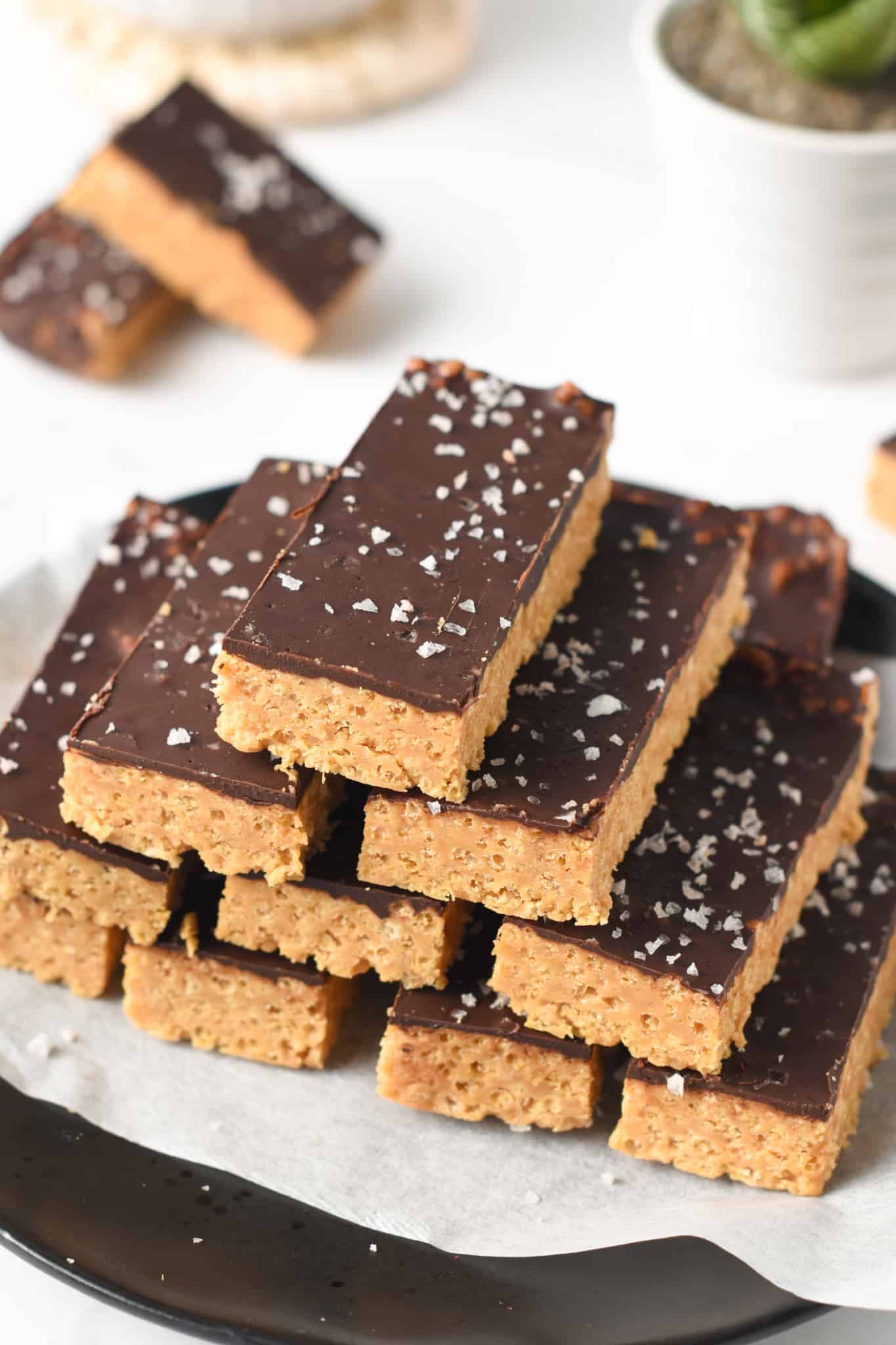 Frequently Asked Questions
Find the answers to the most common questions on these no-bake protein cereal bars.
Can I Use Chocolate Protein Powder?
Sure, you can use any protein flavor in this recipe.
Can I Skip The Protein Powder?
Not really, the bars will be very soft if you do, they won't hold their shape and the protein content will be much lower.
Can I Add Honey?
Honey is not a vegan-friendly ingredient, hence why we use Brown Rice Syrup
Can I Add Chocolate Chips?
Yes, you can add vegan chocolate chips into the batter at the same time you add the puffed cereals. You can also add vegan marshmallows, chia seeds, or raisins to change the taste.
Is Whey Protein Powder Vegan?
No, whey protein powder is made from dairy products, so it's not vegan.
How Many Protein Bars Can I Eat In A Day?
These vegan protein bars are very healthy, but that doesn't mean you can eat the whole batch in a day. Try to limit your intake to 4-5 at the most so you can have a diversified diet.
More Vegan Protein Recipes
Below I listed some more high-protein vegan recipes for you to try.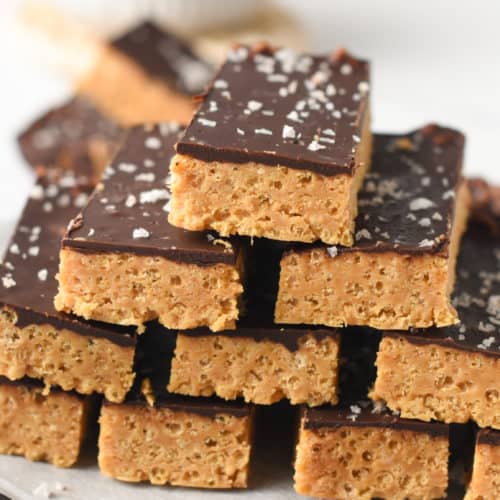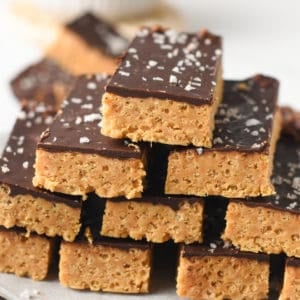 Protein Cereal Bars
This healthy vegan Protein Cereal Bar recipe with 12 grams of protein per serving and no refined sugar for a healthy post-workout snack.
Pin
Print
Review
Instructions
Line an 8-inch square pan and cover with parchment paper. Slightly oil the paper with coconut oil. Set it aside.

In a large mixing bowl, stir the puffed cereals and protein powder until well combined. Set aside.

In another bowl, combine the peanut butter and syrup – microwave for 30 seconds if it's difficult to stir together.

Pour the liquid ingredients onto the cereal bowl and stir to combine. If too dry, add 1-2 teaspoons of melted coconut oil or extra peanut butter.

Press down firmly the cereal mixture into the pan in an even layer using the back of a silicone spoon or lightly oiled hands.

In another bowl, add dark chocolate and coconut oil. Microwave until fully melted and pour over the bar.

Place the baking tray in the fridge until the chocolate layer is firm and hard – you can also freeze it for 10-12 minutes to make this process faster.

Remove from the fridge and pull out the bar from the tray using the hanging pieces of parchment paper on the side.

Cut into 8 bars on a chopping board and store them for up 1 week in the fridge in an airtight container.
Share on Facebook
Pin Recipe
Nutrition
Serving:
1
bar
|
Calories:
287.6
kcal
|
Carbohydrates:
36
g
|
Protein:
12.7
g
|
Fat:
12.5
g
|
Saturated Fat:
3.6
g
|
Polyunsaturated Fat:
2.6
g
|
Monounsaturated Fat:
5.3
g
|
Trans Fat:
0.1
g
|
Cholesterol:
0.2
mg
|
Sodium:
154.3
mg
|
Potassium:
207.7
mg
|
Fiber:
3.8
g
|
Sugar:
15.9
g
|
Vitamin A:
2.1
IU
|
Vitamin B12:
0.1
µg
|
Calcium:
48.5
mg
|
Iron:
2.7
mg
|
Magnesium:
69.9
mg
|
Phosphorus:
206.3
mg
|
Zinc:
1.6
mg