Cookie Dough Protein Bars (10g Protein)
These No-bake Cookie Dough Protein Bars are full of healthy fats, loaded with 10 grams of protein per serving, and have the most delicious peanut butter cup taste!
Bonus, these vegan protein bars are made with natural peanut butter and plant-based protein powder.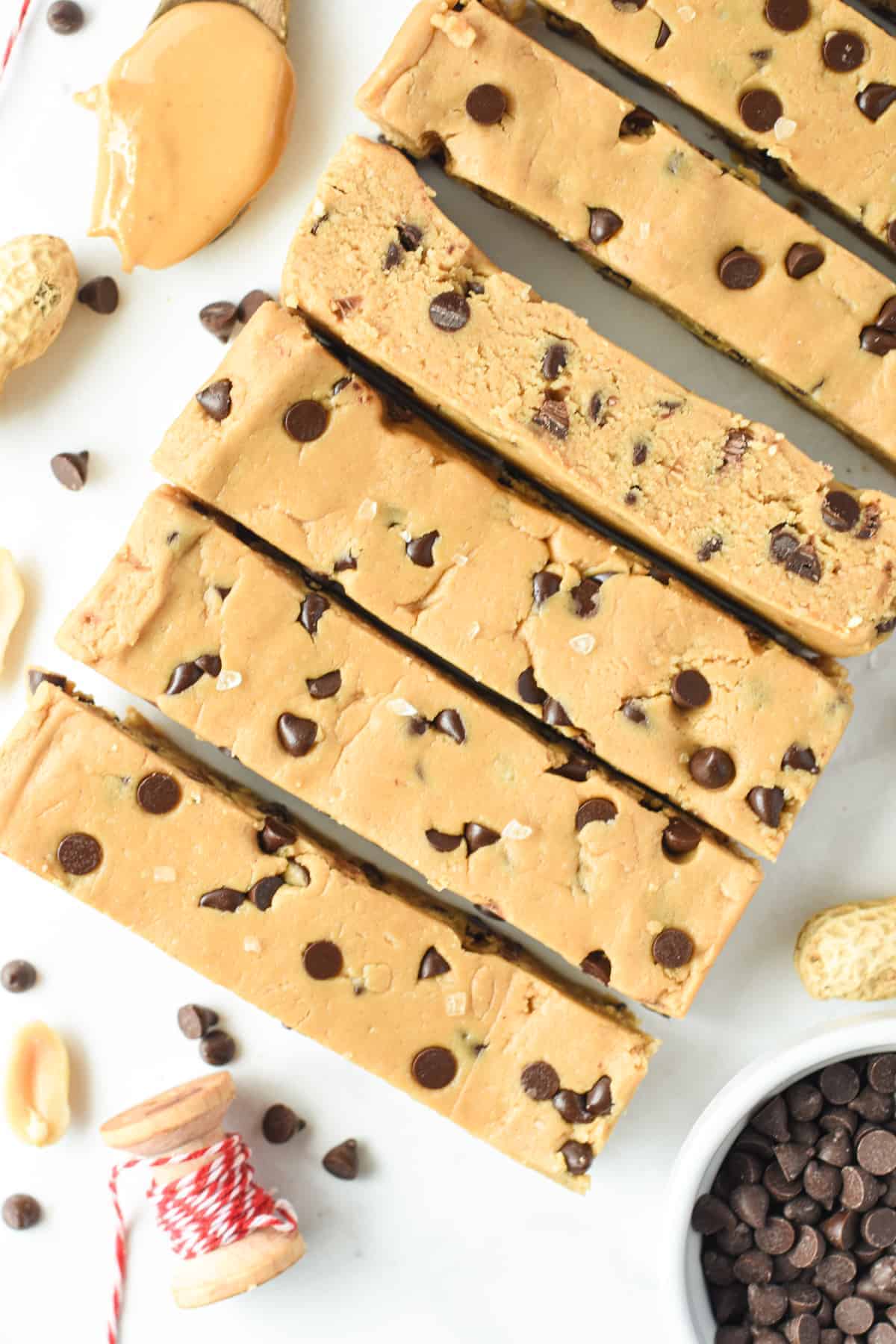 Homemade peanut butter protein bars that are no-bake are the most nutritious, easy post-workout food ever!
All you need to make them are a few ingredients, and you can even cut the gram of sugar per serving, swapping the liquid sweetener for a keto liquid sweetener like monk fruit.
Why You'll Love These Bars
These no-bake protein bars are naturally:
Vegan
Grain-free
Dairy-free
Paleo-friendly using almond butter.
Keto-friendly using Monk fruit liquid sweetener and sugar-free chocolate chips.
How To Make Cookie Dough Protein Bars
These cookie dough protein bars take just 15 minutes to prepare and enjoy!
All you need to make a batch of these delicious protein bars are:
Ingredients
Peanut Butter – Use natural, fresh, and drippy peanut butter or homemade peanut butter. It means that the ingredients listed on the jar should only include peanuts and salt. Don't use peanut butter with added sugar or added oil. Find out how to pick vegan peanut butter.
Maple Syrup – You can use other liquid sweeteners as well. The best vegan liquid sweeteners are agave syrup, coconut nectar, or brown rice syrup for a low-GI option.
Coconut Oil – Or melted cocoa butter or melted vegan butter. Avoid using olive oil or vegetable oils that are not necessarily good for you but also soften the bars and add a strange aftertaste to the recipe.
Vanilla Extract – This is optional since the protein powder is already flavored with vanilla, but I always like to say there's never enough vanilla in recipes!
Plant-based Vanilla Protein Powder – We tried the recipe with vanilla pea protein powder, almond, and peanut powder work as well.
Almond Flour – use ultra-fine golden almond flour for the best texture and color. Almond meal is coarse and makes the bars dark and grainy. It's safe to eat without baking. Another option is to make homemade oat flour in the same amount, but it comes with a slight variation in texture. Oat flour often makes the bars slightly dryer and crumbly.
Coconut Flour – this is a great high-fiber flour to make vegan, gluten-free protein bars. As above, add oat flour as a swap but for a different texture.
Mini Dark Chocolate Chips – feel free to use a sugar-free brand or any chips you love. My recommendation is to use mini chocolate chips because they distribute perfectly into the batter, and you enjoy crunchy bites of chocolate at each bite.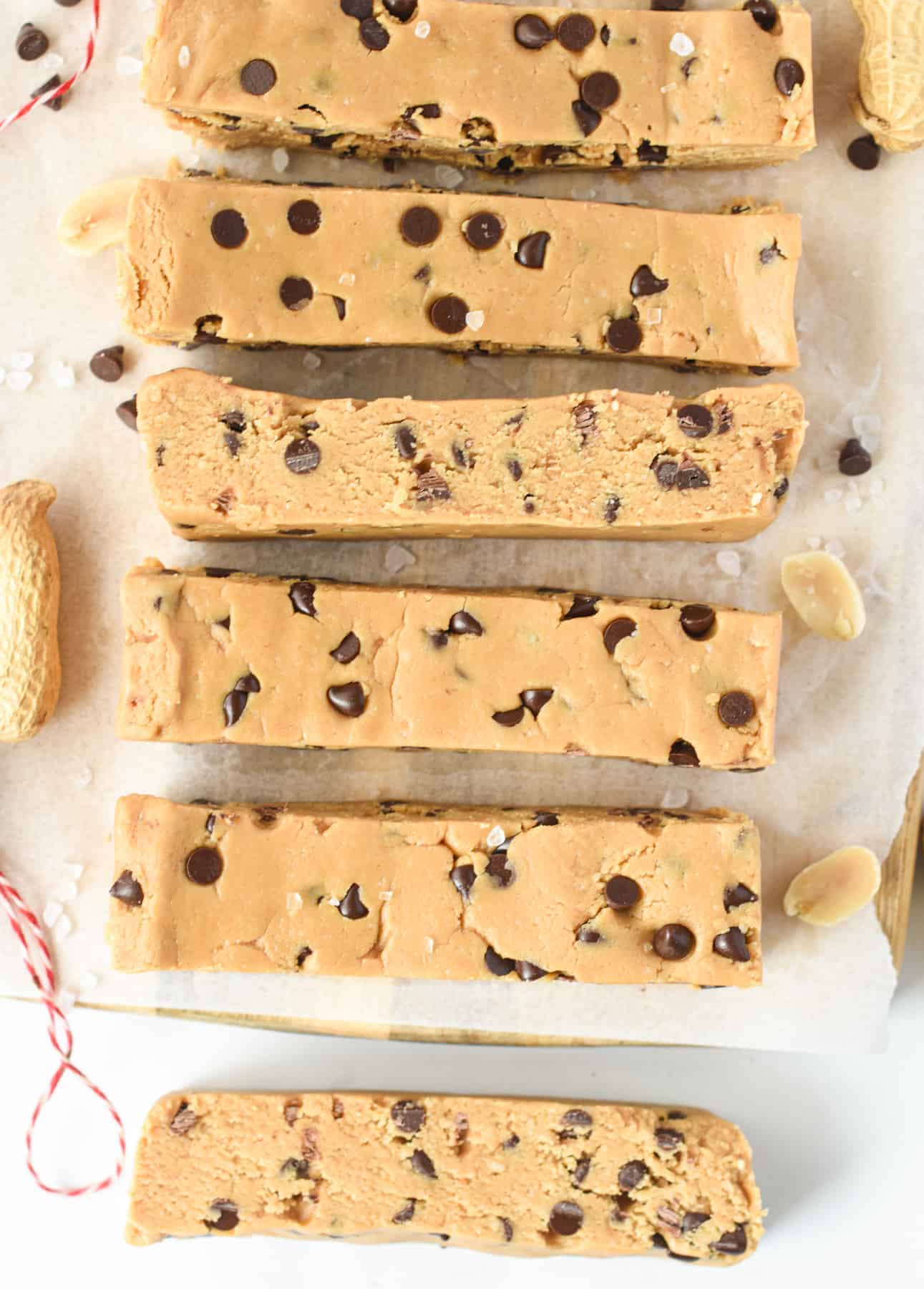 Form the cookie dough batter
There's nothing easier than making homemade protein bars. First, prepare two mixing bowls. In one bowl, whisk all dry ingredients until evenly combined.
In another bowl, stir peanut butter, maple syrup, melted coconut oil, and vanilla until they form a sticky, shiny paste.
Finally, combine the dry ingredients with the wet ingredients and knead by hand to squeeze and bring the ingredients together.
You should be able to form a cookie dough ball. If too dry, add a teaspoon of extra melted coconut, this happens sometimes with some types of protein powder that contain more grams of fiber or protein per serving.
Stir the chocolate chips when the dough is at room temperature, not in contact with hot coconut oil or you end up with melted chocolate in the bar.
Refrigerate
Press the soft protein cookie dough batter into a loaf pan 9 x 5 inches covered with parchment paper slightly oiled with coconut oil.
Finally, refrigerate the pan for 1 hour before slicing. Of course, if you can't wait to eat them, freeze the pan for 10 minutes to set the bar fast.
If you slice the bars into 9 bars as recommended in the recipe card below, each bar gets 10 grams of protein per serving.
To boost the protein per serving even higher, you can either:
Cut into 8 bars – This brings the total to 12 grams of protein per bar.
Use a higher-protein powder.
Add chia seeds or hemp seeds – both are high in plant-based protein and healthy fats.
Storage Instructions
These protein bars can be stored for up to 5 days in an airtight box in the refrigerator.
You can also freeze the recipe for later and thaw the bars one hour before serving at room temperature.
Allergy Swaps
There are always options to adapt this protein bar recipe to your dietary requirements or food allergies.
Nut-free – use sunflower seed butter or tahini instead of peanut butter. Swap the almond flour for oat flour.
Sugar-free keto protein bars – use sugar-free chocolate chips and Monk fruit liquid sweetener.
Coconut allergies – use melted cocoa butter instead of coconut oil and replace the coconut flour with 2-3 times more almond flour or oat flour.
Flavors
You can easily customize these peanut butter protein bars to create a range of different protein bar flavors.
While most dark chocolates are vegan and chips taste amazing, we have more ideas for you to try. Pick one or two of the add-ons below and replace the chocolate chips with some of these to create fun flavors.
Chopped nuts – like almonds, pecans walnuts.
Seeds – hemp seeds, chia seeds, sesame seeds.
Shredded Coconut
Freeze-dried fruits like raspberries or blueberries.
Swap the vanilla extract for natural banana extract, caramel extract, or coconut extract.
More Vegan Protein Recipes
Adding protein powder to your food is a great, natural way to boost your protein intake and enjoy delicious food.
Below are more vegan high-protein recipes for you to try.
Have you made these plant-based protein bars? Share a review or comment below.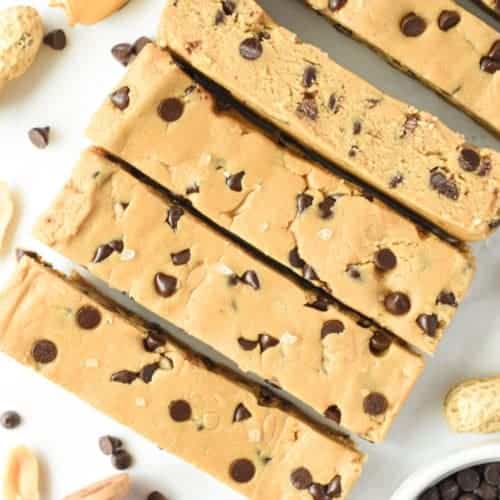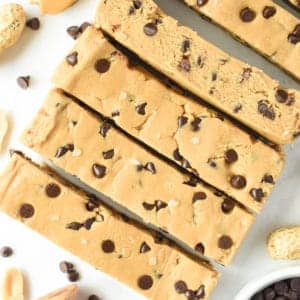 Cookie Dough Protein Bars
An easy homemade Cookie Dough Protein Bars made with peanut butter and plant-based protein powder for a delicious post-workotu protein snack 100% vegan.
Pin
Print
Review
Instructions
Line a 9×5-inch loaf pan with parchment paper lightly oiled with coconut oil. Set aside.

In a mixing bowl, whisk all the dry ingredients: protein powder, almond flour, and coconut flour. Set aside.

In another bowl, stir peanut butter, maple syrup, melted coconut oil, and vanilla until smooth and consistent.

Stir the dry ingredients into the wet ingredients, fold in the chocolate chips halfway and use your hand to squeeze and knead the dough to form a ball. If too dry, add an extra teaspoon of melted coconut – not too hot or it will melt the chips.

Press the dough into the loaf pan and smoothen the top with a spatula.

Refrigerate for 1 hour to set the bar or freeze for 10 minutes to set them fast.
Storage
Cut into 9 bars and store in an airtight container in the fridge for up to 5 days or freeze and thaw 1 hour before eating, at room temperature.
Notes
Note 1: Peanut butter can be replaced with the same amount of fresh, drippy sunflower seed butter, almond butter, or any nut/seed butter you love.
Note 2: You can replace the maple syrup with any liquid sweetener, including sugar-free monk fruit syrup.
Note 3: Pea protein powder works the best in this recipe, but hemp, almond, or peanut protein powder are suitable vegan powder alternatives. We didn't try whey protein powder in this recipe as it's not vegan.
Note 4: Almond flour can be replaced with the same amount of sesame flour for a low-carb option or homemade oat flour.
Note 5: Coconut flour can be replaced with oat flour, but it makes a different result – softer bar texture. You may need 2-3 times more oat flour to balance the coconut flour.
Note 6: Vanilla is optional.
Note 7: Melted vegan butter or melted cocoa butter work as a coconut oil swap. Other oils keep the bar too soft and add an aftertaste.
Share on Facebook
Pin Recipe
Nutrition
Serving:
1
bar
|
Calories:
245.3
kcal
|
Carbohydrates:
16.6
g
|
Protein:
10.7
g
|
Fat:
16.3
g
|
Saturated Fat:
5.4
g
|
Polyunsaturated Fat:
2.8
g
|
Monounsaturated Fat:
4.8
g
|
Cholesterol:
0.1
mg
|
Sodium:
153.1
mg
|
Potassium:
187.9
mg
|
Fiber:
2.5
g
|
Sugar:
10.6
g
|
Vitamin A:
0.6
IU
|
Vitamin B12:
0.1
µg
|
Vitamin C:
0.1
mg
|
Calcium:
53.1
mg
|
Iron:
1.7
mg
|
Magnesium:
34.2
mg
|
Phosphorus:
76.8
mg
|
Zinc:
0.8
mg