These Gluten-Free Protein Bars are easy no-bake peanut butter chocolate protein bars packed with 8.5 grams of protein per serving.
Bonus, these are vegan protein bars made without dairy or eggs.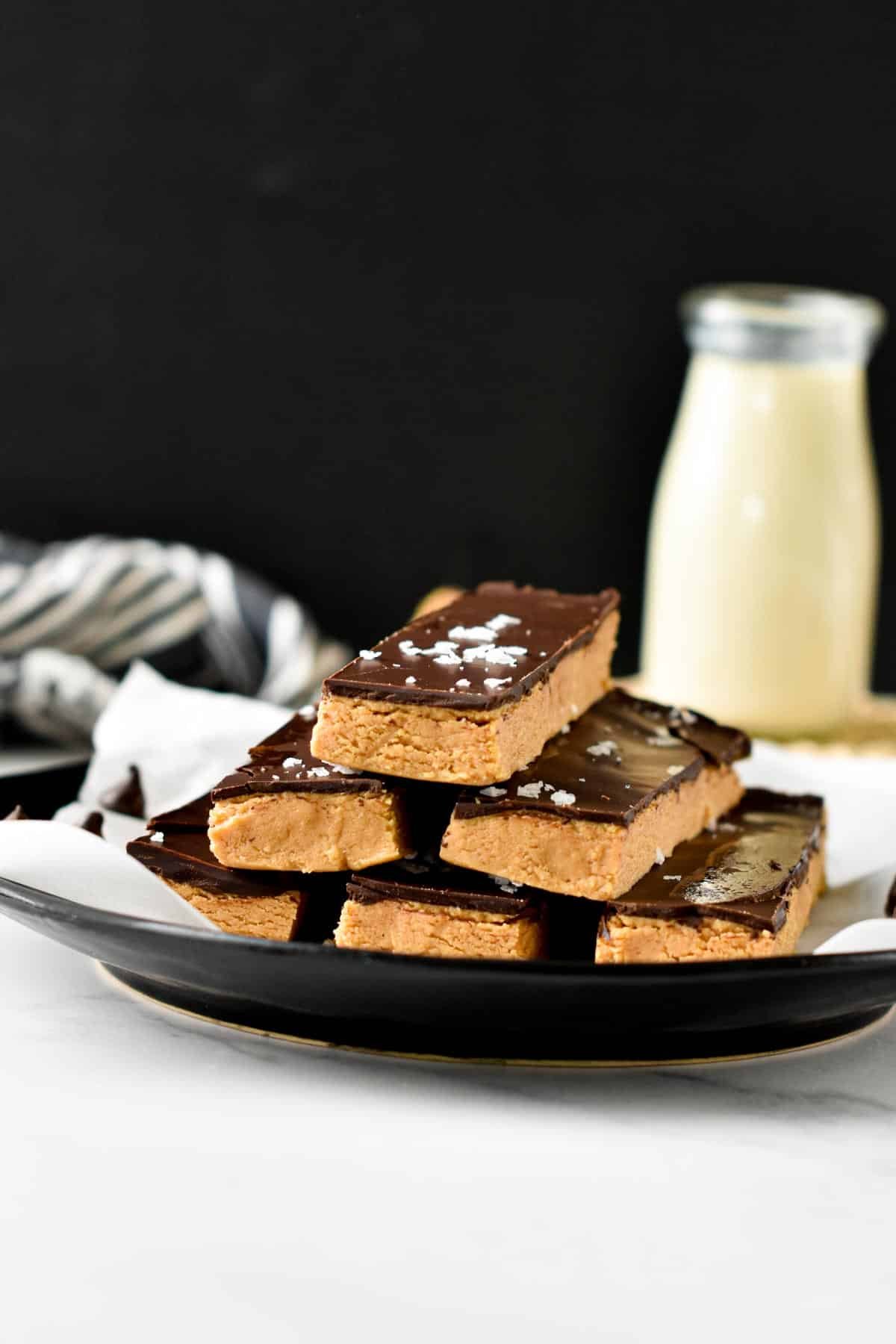 If you are after a high-protein snack bar made with wholesome ingredients, no artificial sweetener, no egg whites, and 100% certified gluten-free ingredients, you have come to the right place.
Let's face it. Most protein bars contain either gluten or animal products.
They are often made from whey protein powder which is not a plant-based protein but comes from animal sources.
Also, most bars contain oats or are not gluten-free certified.
Why You'll Love This Recipe
This is an easy plant-based bar, gluten-free and delicious to pack as a post-workout snack.
These bars are naturally:
Gluten-Free
Dairy-Free
Vegan
Egg-Free
Refined Sugar-Free
No Artificial Flavors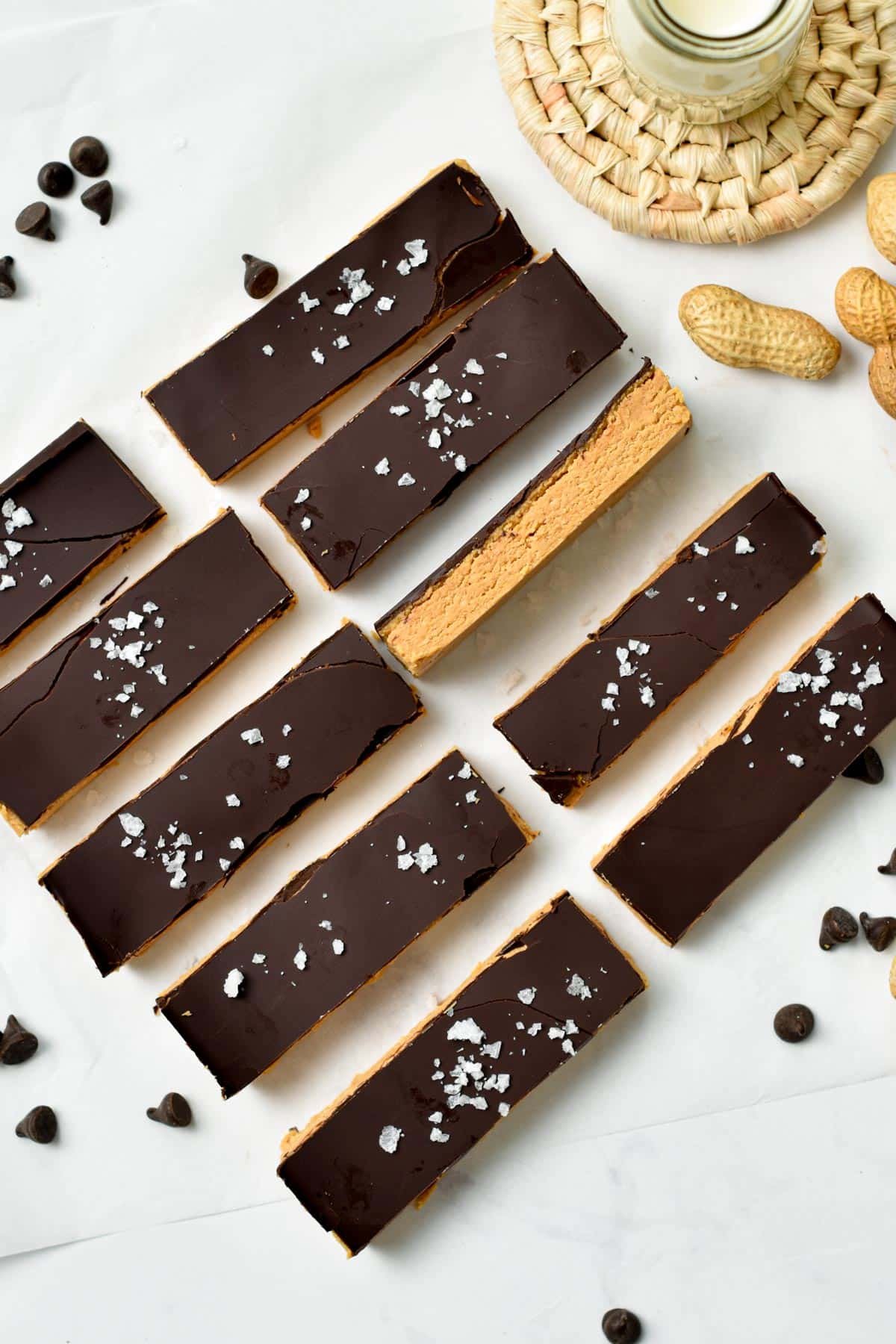 How To Make Gluten-Free Protein Bars
It's super easy to make these protein energy bars using only simple natural ingredients.
Ingredients
All you need to make no-bake proteins bars at home in barely 20 minutes are:
Plant-Based Protein Powder – I am using unflavored pea protein powder for this recipe it means that if your protein powder contains flavors, you may have to skip or reduce vanilla extract to prevent the vanilla flavor from overpowering the bar.
Coconut Flour – It's a naturally low-carb, gluten-free flour that is safe to eat raw and adds fiber and texture to the bars.
Almond Flour – This is another gluten-free low-carb flour, bringing healthy fats and proteins to the bars.
Peanut Butter – Use a fresh jar with drippy peanut butter. If your peanut butter jar has been open a while back and the nut butter has hardened, the bar may come out super dry and crumbly.
Maple Syrup – Or any liquid sweetener you like such as coconut nectar or rice malt syrup.
Vanilla Extract – Skip if your powder is vanilla flavored.
Coconut Oil
Chocolate Coating
To coat the bars, you need 3 ingredients:
Dark Chocolate – 70% cocoa or 85% cocoa to decrease added sugar in the bars.
Coconut Oil
Pinch of Sea Salt on the top to enhance the chocolate flavor of the bars.
Preparing The Dough
In a mixing bowl, combine maple syrup, vanilla extract, and fresh drippy peanut butter.
If the ingredients are a bit dry, or it's cold where you live, microwave the mix for 30 seconds to help them blend together with ease.
Add in the dry ingredients: plant-based protein powder, coconut flour, and almond flour, and stir until everything comes together into a soft dough.
You can use your hand to squeeze the dough, I found it easier to bring the ingredients together this way as the dough harden as it goes.
Adjusting Dough
Depending on your protein powder brand, the protein bar dough can be too soft or too dry.
This is because all protein powders have different amounts of proteins per 100 grams and therefore their absorbency varies.
If too dry, add more melted coconut oil 1 tablespoon at a time.
If the dough is too wet, add more coconut flour, stir in 1 teaspoon at a time up to 4 extra teaspoons or the bar can be very dry.
Making Protein Bars
Line an 8-inch square pan with parchment paper. Slightly oil paper with coconut oil.
Fold in the dough in the pan and press using the back of a measuring cup or silicone spatula to smoothen the top of the bar and pack it into the pan.
Place the pan in the fridge while melting the chocolate for the bar topping.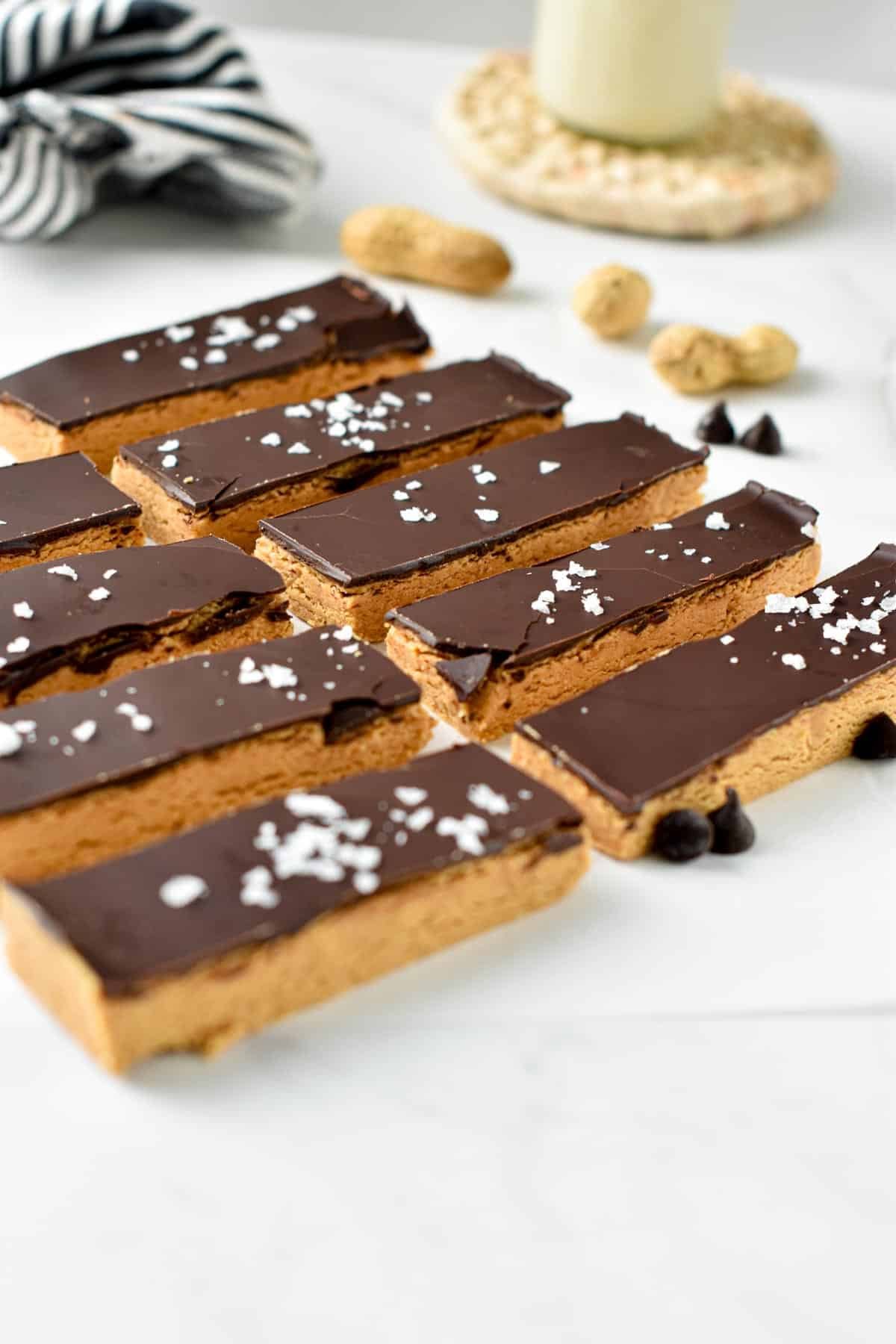 Chocolate Layer
In a microwave-safe glass bowl, add pieces of dark chocolate and coconut oil. Microwave in 30-second bursts, stirring between each until the chocolate is completely melted and shiny.
Then, remove the bar from the fridge and pour the melted chocolate on top of the bar. Tilt the pan in all directions to spread the melted chocolate all over the bar.
Place the pan in the freezer for 10 to 15 minutes to quickly set the chocolate shell or place the pan in the fridge and wait for a few hours.
Cutting Bars
Now, cut the whole bar into 16 rectangles to match the protein content provided in the nutrition panel below.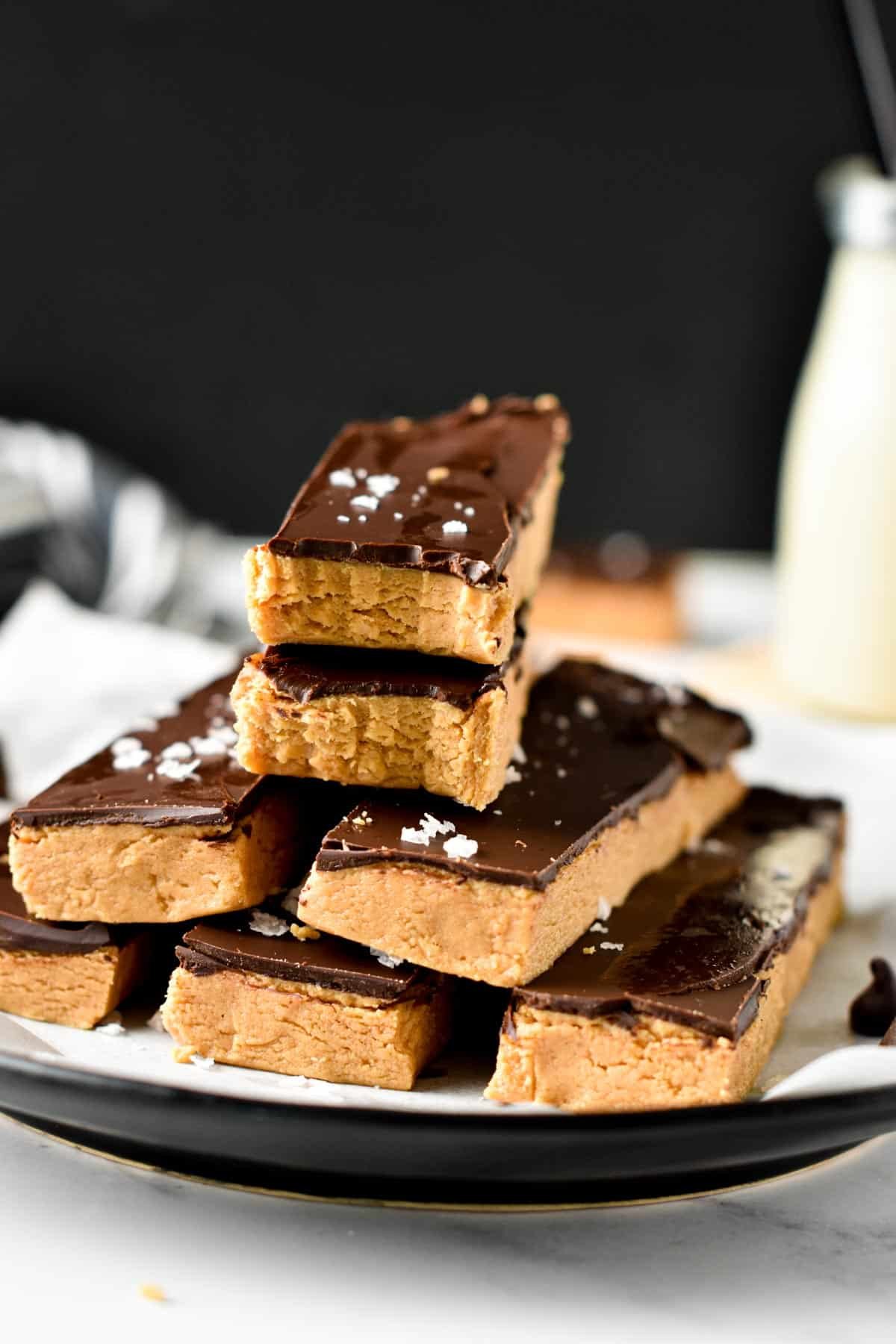 Storing Vegan Protein Bars
These homemade protein bars store well at room temperature for a few hours even on hot days.
However, it's better to store them in the fridge in a sealed box to keep them fresh longer for up to 1 week.
You can absolutely freeze protein bars in zip lock bags and thaw them for 4 to 5 hours before eating, at room temperature.
Allergy Swaps
If you have some allergies to the ingredients used in these gluten-free protein bars, try some of the options below.
Peanut-Free – Replace the peanut butter with fresh sunflower seed butter or almond butter. Almond butter is a bit drier and tends to make the bar dry while sunflower seed butter is a bit bitter. Choose the option that matches your tastebuds and dietary requirement, both options are gluten-free and vegan.
Low-Carb – Coconut flour and almond flour are low-carb, so you can keep these bars low in carbs by using a sugar-free syrup but do not use sugar-free pancake syrup that is mainly made of water. We can't guarantee the texture if you are using sugar-free maple-flavored syrup as they are extremely high in fiber and tend to dry out the bars. You may need to add more coconut oil to balance the texture.
Coconut-Free – You can replace coconut oil with melted cocoa butter. We didn't try other oil, and I believe they would work but add strong flavor to the bars especially olive oil or avocado oil – not recommended.
Frequently Asked Questions
Below are the answers to the most frequent questions about this recipe.
What Are The Gluten-Containing Ingredients In Store Bought Protein Bars?
Most of the time, gluten is present under the name of oats, or some protein bars are manufactured in places that contain gluten and traces can remain in the product.
Can I Replace Coconut Flour With Almond Flour?
You may have great results with only almond flour but you will need way more.
Almond flour contains less fiber than coconut flour, and you most likely will need 4 times more almond flour to compensate for one serving of coconut flour.
So 3 tablespoons of coconut flour may require up to 12 tablespoons of almond flour.
Can I Add Puffed Cereals Or Chocolate Chips In The Bars?
Try my puffed quinoa protein cereal bars or cookie dough protein bars instead.
They have been created to contain these added ingredients, and they are gluten-free.
More Healthy Bar Recipes
If you like healthy bars for a snack or after a workout, you'll love these:
Did you try these gluten-free vegan protein bars? Share a comment or review below.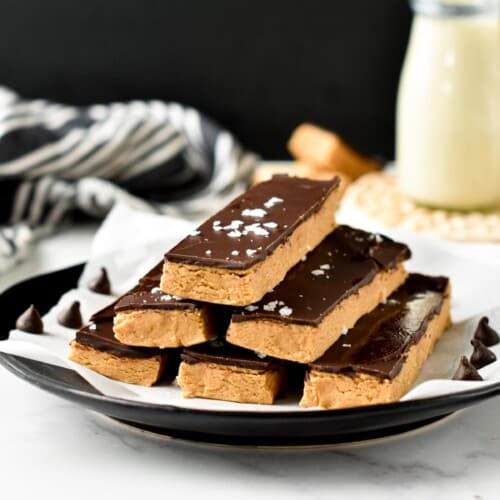 Gluten-Free Protein Bars
These Gluten-Free Protein Bars are easy no-bake peanut butter chocolate protein bars packed with 8.5 grams of protein per serving. Bonus, these are vegan protein bars made without dairy or eggs.
Pin
Print
Review
Servings: 16 bars
Calories: 184.7 kcal
Instructions
Line an 8-inch square pan with parchment paper lightly oiled with coconut oil. Set aside.

In a mixing bowl, whisk all the dry ingredients: protein powder, almond flour, and 3 tablespoons of coconut flour. Set aside.

In another bowl, stir peanut butter, maple syrup, melted coconut oil, and vanilla until smooth and consistent. If your peanut butter is not drippy and smooth, you can microwave the mixture for 30 seconds to make it smooth and easy to stir

Stir the wet ingredients into the dry ingredients and stir with a spatula at first. When the dough is hard to stir, use your hand to squeeze and knead the dough to form a ball. If too dry, add an extra teaspoon of melted coconut. If too wet, add the extra tablespoon of coconut flour.

Press the dough into the pan and smoothen the top with a spatula.

In a small microwave-safe bowl, melt the dark chocolate and coconut oil. Stir until smooth and shiny.

Pour the melted chocolate on top of the bar and tilt the pan to spread the chocolate all over the bar.

Refrigerate for 1 hour to set the chocolate on top of the bar or freeze for 10 minutes to set them fast.
Storage
Cut into 16 bars and store in an airtight container in the fridge for up to 5 days or freeze and thaw 1 hour before eating, at room temperature.
Notes
Note 1: Peanut butter can be replaced with the same amount of fresh, drippy sunflower seed butter, almond butter, or any nut/seed butter you love.
Note 2: You can replace the maple syrup with any liquid sweetener, including sugar-free monk fruit syrup.
Note 3: Pea protein powder works the best in this recipe, but hemp, almond, or peanut protein powder are suitable vegan powder alternatives. We didn't try whey protein powder in this recipe as it's not vegan.
Note 4: Almond flour can be replaced with the same amount of sesame flour for a low-carb option or homemade oat flour.
Note 5: Coconut flour can be replaced with oat flour, but it makes a different result – softer bar texture. You may need 2-3 times more oat flour to balance the coconut flour.
Note 6: Vanilla is optional, especially if your protein powder already has a strong vanilla flavor.
Note 7: Melted vegan butter or melted cocoa butter work as a coconut oil swap. Other oils keep the bar too soft and add an aftertaste.
Share on Facebook
Pin Recipe
Nutrition
Serving: 1bar | Calories: 184.7kcal | Carbohydrates: 13.7g | Protein: 8.5g | Fat: 11.7g | Saturated Fat: 4.5g | Polyunsaturated Fat: 1.6g | Monounsaturated Fat: 3.9g | Sodium: 124.5mg | Potassium: 91.2mg | Fiber: 1.9g | Sugar: 9.3g | Calcium: 23.7mg | Iron: 1.6mg | Magnesium: 22.6mg | Phosphorus: 41mg | Zinc: 0.4mg