No-Bake Granola Bars is an easy recipe for a quick healthy breakfast or healthy snacks.
These Granola bars are soft, chewy with delicious peanut butter and chocolate flavor, and loaded with nourishing plant-based proteins and fiber to keep you full for hours.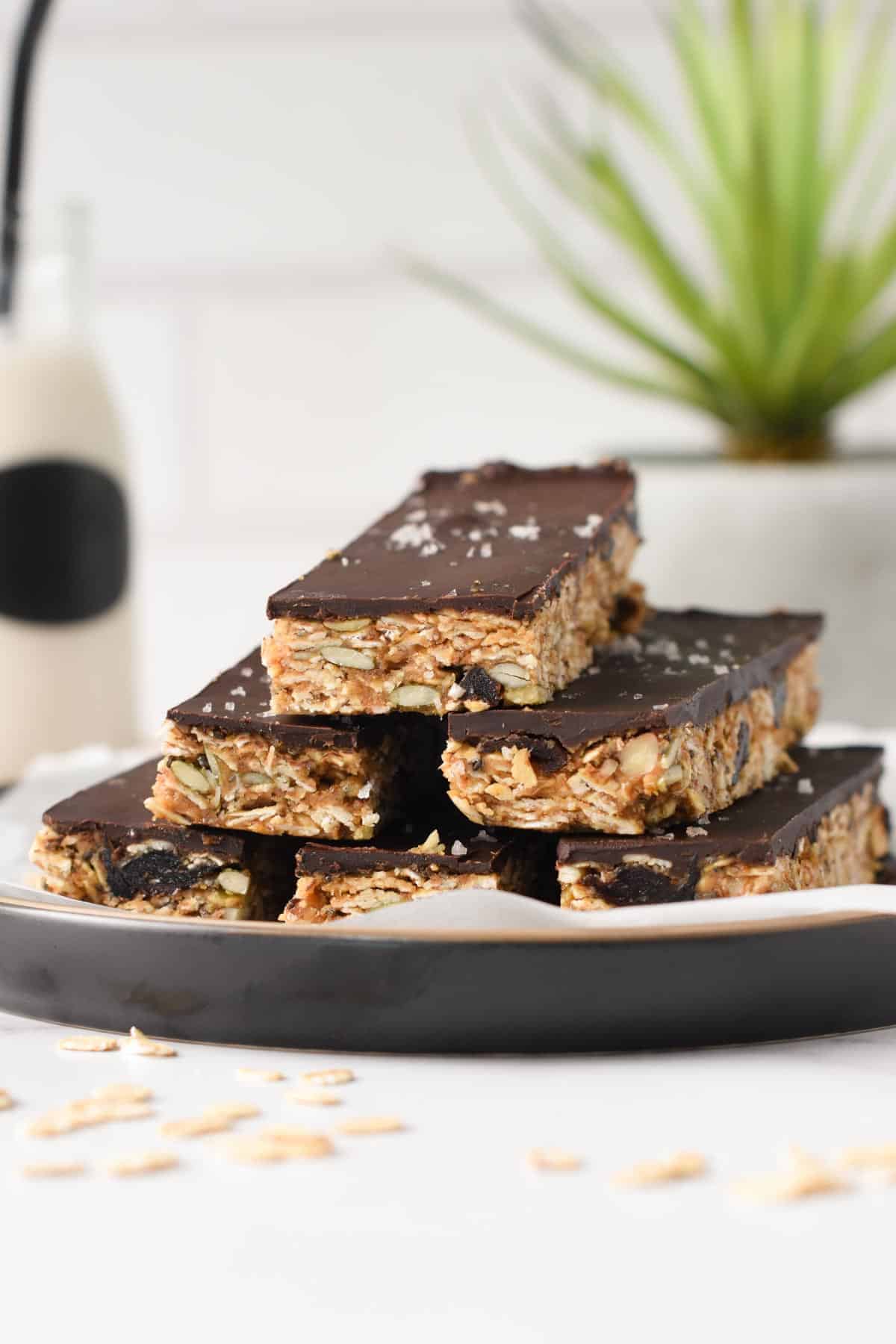 If you love raw baking and no-bake recipes, then try these easy no-bake granola bars. They are perfect for your weekly meal of healthy breakfasts and snacks.
Plus, these easy no-bake vegan granola bars are also naturally:
Gluten-Free
Refined Sugar-free
Nut-free option provided
How To Make Easy No-Bake Granola Bars
There's nothing easier than this healthy granola bar recipe. Let me share with you how to make them.
Ingredients
All you need to make no-bake peanut butter granola bars are less than ten ingredients to make these easy breakfast oatmeal bars.
Rolled oats – or quick oats, but the bar will have less texture with the latter.
Peanut butter or any nut butter you love, including almond butter or sunflower seed butter, for a nut-free option.
Flax meal – it adds texture to the bar and helps them firm up. You can replace flaxseed meal with the same amount of ground chia seed if preferred.
Nuts – I like to finely chop the nuts before adding in the granola bars. The best nuts for granola bars are almonds, pecans, hazelnuts, or walnuts.
Seeds – pumpkin seeds, sunflower seeds, or hemp seeds to boost your protein intake.
Dried fruits – dried cranberries, raisins, or apricot.
Maple syrup or any liquid sweetener you like.
Melted coconut oil – don't replace coconut oil with any other oil, or the bars won't hold. If you don't like coconut oil flavor, use refined coconut oil. It has no taste.
Dry Ingredients
First, stir rolled oats, flaxseed meal, chia seeds, pumpkin seeds, chopped almonds, and dried fruits in a large mixing bowl.
Stir well to combine.
Wet Ingredients
Depending on how soft and drippy your peanut butter is, you have two options.
Option 1: add all the liquid ingredients on top of the dry ingredients – it means you only need to melt the coconut in the microwave or a saucepan.
Option 2: Bring all the wet ingredients in a saucepan: peanut butter, maple, syrup, and coconut oil, and warm over low-medium heat until smooth and melted.
Stir the wet ingredients with the dry ingredients until it forms a sticky batter.
Making The Granola Bars
Line a 9-inch x 9-inch baking pan with parchment paper.
Pour the granola batter into the pan, and using a silicone spatula, press the mixture to form a consistent bar.
You can also place a piece of parchment paper on top of the bar and press with your hand or spatula. This prevents the batter from sticking to your tools or hands.
Freezing
In raw baking, you don't need your oven to set the recipe but your freezer!
Pop the pan with the oat mixture in the freezer while melting the chocolate and coconut oil to form the top layer.
Chocolate Layer
In a microwave-safe bowl, place the chocolate and coconut oil and microwave for about 1 minute until fully melted.
Remove the granola bar from the freezer and pour the melted chocolate over the bar.
Tilt the pan to spread the melted chocolate evenly in the pan.
Freezing Again
Now freeze the bar for 30 minutes. This gives the coconut oil time to harden and the fiber time to bind the ingredients together.
This step is essential to make the cutting easy.
Cutting Into Bars
Remove the pan from the freezer and use the hanging part of parchment paper to pull out the granola bar block from the pan.
Place the bar on a chopping board and, using a sharp knife, cut them into 12 granola bars.
Serving
Serve the bar as a healthy on-the-go breakfast or snack with a pinch of sea salt flakes to enhance the chocolate flavor.
Texture
These no-bake granola bars are very chewy, with a nice crunchy texture from nuts and seeds.
However, they soften fast at room temperature and must be stored in the fridge for the best texture.
Storage Instructions
Store the granola bars in zip-lock bags or an airtight container in the fridge for up to 2 weeks.
You can freeze these bars too for up to 3 months and thaw them in the fridge the day before.
Allergy Swaps
If you have some food allergies, I listed some swaps below to help you make this recipe.
Nut-free – swap the peanut butter with the same amount of sunflower seed butter. Swap the nuts with more seeds or coconut.
Seed-free – you can replace the seeds with more nuts or more dried fruits.
Dried fruit-free– you can replace them with more nuts, seeds, or coconut.
Gluten-free – make sure you are using gluten-free certified rolled oats. The remaining ingredients are naturally gluten-free.
Coconut-free – you can replace coconut oil with melted cocoa butter. However, you can't use vegetable oil, or the granola bars won't firm up.
Frequently Asked Questions
Below I listed the answers to your most common questions about these no-bake granola bars.
Do I have to keep the bars in the freezer?
No, the freezer is used to firm up the bar at first and make it easier to cut into granola bars.
Then, the bars store very well in an airtight container in the fridge.
Can I use other cereals?
Yes, you can swap rolled oats for puffed cereals like puffed rice, puffed quinoa, or amaranth.
Can I add mini chocolate chips?
Yes, you can add between 1/4 cup to 1/3 cup of chocolate chips to the bar without decreasing other ingredients.
However, make sure the batter is not too warm before stirring the chocolate chips in, or they will melt!
If you add chocolate chips, I recommend not adding the chocolate layer on top, or they will be very sweet.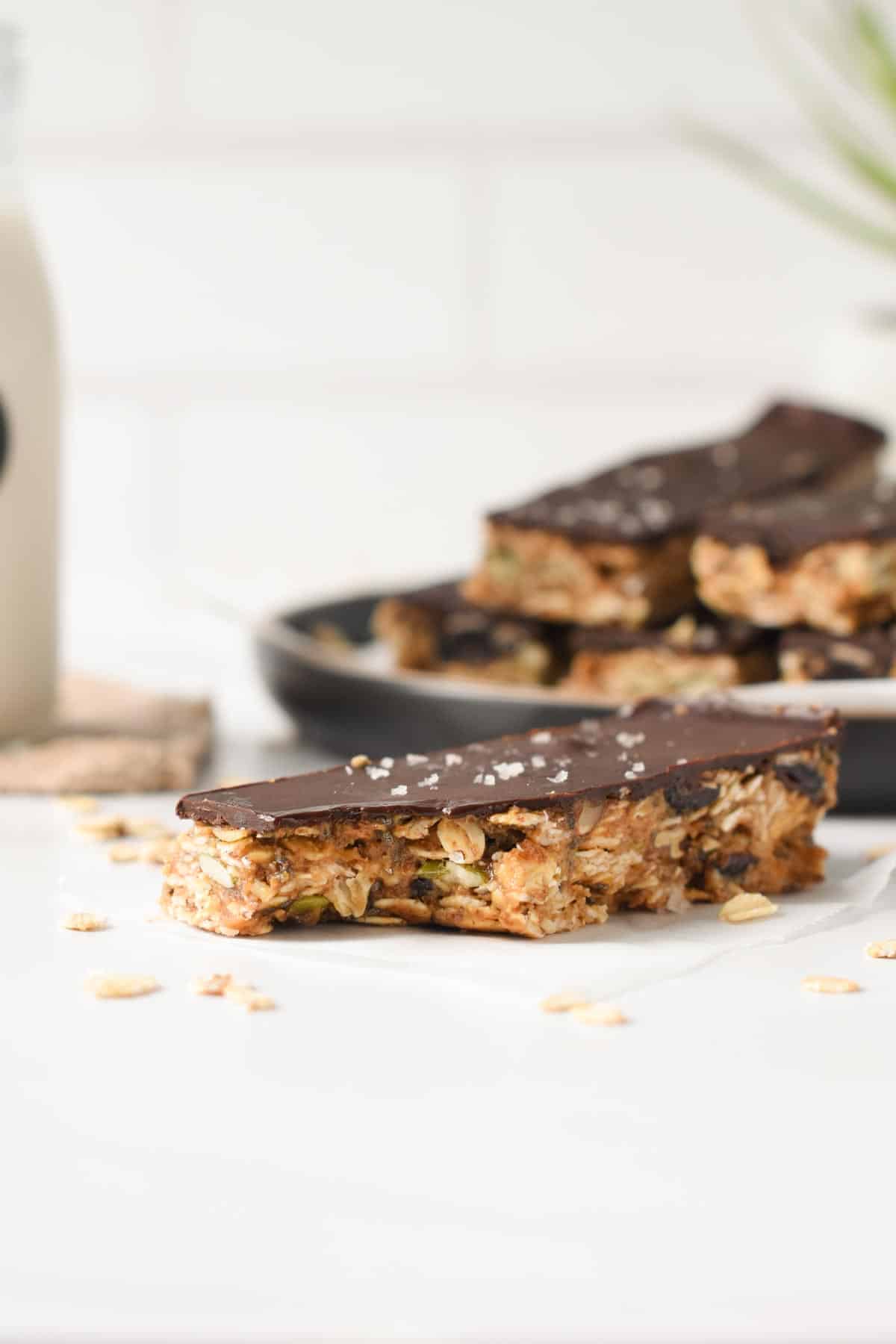 More Healthy Vegan Breakfast Recipes
If you love easy nutritious vegan breakfast recipes, you may also want to try my recipe below.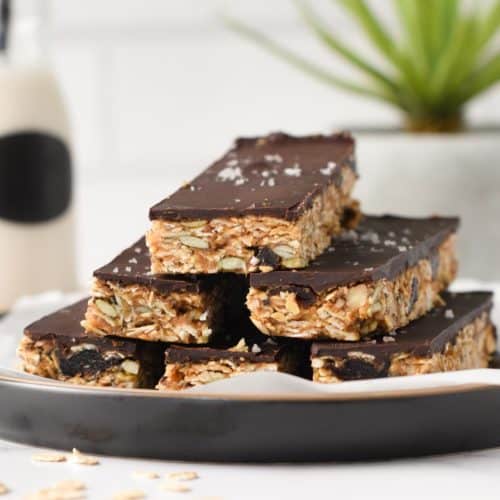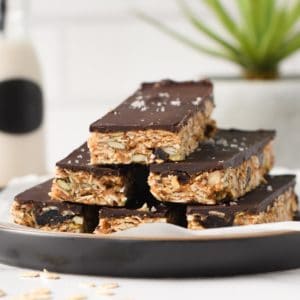 No-bake Granola Bars
These no-bake healthy granola bars are easy one-bowl peanut butter granola bars loaded with nourishing oats and nuts, and ready in 30 minutes.
Pin
Print
Review
Servings:
12
no bake granola bars
Instructions
Line a 9 x 9-inch loaf pan with a piece of parchment paper. Set aside.

In a large mixing bowl, add rolled oats, flaxseed meal, chia seeds, chopped almonds, pumpkin seeds, and cranberries. Give a good stir to combine. Set aside.

In a small saucepan or microwave-safe bowl add peanut butter, maple syrup, and coconut oil. Warm until coconut oil is melted and stir to combine.

Pour the liquid onto the dry ingredients and combine with a spoon until it comes together.

Pour the granola batter into the prepared loaf pan.

Press the granola mixture firmly with the spatula. You should have no air left between the mixture. Place in the freezer while melting the chocolate for the top layer

In a microwave-safe bowl, melt the dark chocolate and coconut oil.

Pour the melted chocolate onto the bar and tilt the pan to spread it evenly onto the granola bar

Return the loaf pan

30 minutes

into the freezer to set the bar.

Lift the granola bar block from the loaf pan pulling the pieces of parchment paper.

Cut the block into 12 granola bars using a sharp knife. You can warm the knife blade under a gas cooktop flame to make it easier to slice.
Storage
Store the bar in the fridge in a zip-lock bag or airtight container for up to 2 weeks.

You can freeze the bars and defrost them for 3 hours before eating. The bars soften quickly at room temperature on hot days. They must be stored in a cool place, preferably in a fridge to keep them firm.
Share on Facebook
Pin Recipe
Nutrition
Serving:
1
bar
|
Calories:
335.5
kcal
|
Carbohydrates:
28.3
g
|
Protein:
8.1
g
|
Fat:
22.9
g
|
Saturated Fat:
8.7
g
|
Polyunsaturated Fat:
5
g
|
Monounsaturated Fat:
7.5
g
|
Trans Fat:
0.1
g
|
Cholesterol:
0.2
mg
|
Sodium:
74.2
mg
|
Potassium:
291.7
mg
|
Fiber:
5.5
g
|
Sugar:
12.8
g
|
Vitamin A:
4.1
IU
|
Vitamin B12:
0.1
µg
|
Vitamin C:
0.1
mg
|
Calcium:
64.8
mg
|
Iron:
2.3
mg
|
Magnesium:
104.6
mg
|
Phosphorus:
206.6
mg
|
Zinc:
1.7
mg