No-Bake Peanut Butter Oatmeal Balls
Healthy snacking has never been so easy with these no-bake peanut butter oatmeal balls!
It's an easy vegan energy ball recipe ready in 30 minutes without a food processor or any fancy tool!
Why You Will Love These No-Bake Oatmeal Energy Balls
This recipe is totally inspired by my 3-ingredient peanut butter oatmeal balls in which I added a few healthy crunchy bits and pieces.
Easy, healthy, no need to bake, and ready in 20 minutes: that's why I love making my own no-bake energy balls. They also taste moister and softer than store-bought energy balls, which are super hard and dry.
These peanut butter oatmeal balls are soft, moist peanut butter oat balls lightly sweetened with vanilla and maple syrup and crunchy bits of dark chocolate chip.
Plus, this healthy snack recipe is so versatile and easy to adapt to create hundreds of flavors. I also forgot to mention that they store very well in the fridge, and they are the best food to meal prep healthy post-workout snacks. You can even double the batch and freeze it for later.
Finally, the combination of peanut butter and oats makes these energy balls the perfect snack to recharge your energy after a workout or fix a sweet craving. Peanut butter adds proteins and oats add slow-release carbs to keep your energy steady.
How To Make No-Bake Oatmeal Balls
There are many ways to make no-bake energy balls with oatmeal.
Ingredients
I have been making no-bake recipes for many years, and I love that they require only a few ingredients to come together.
Old-Fashioned Oats – You can use rolled oats, but you may need to add more since rolled oats are cut finely. Also, the texture will be much different, and softer and the batter will be stickier.
Creamy Peanut Butter – The key to making soft, melt-in-your-mouth, no-bake energy bites is to use a fresh jar of creamy peanut butter. Preferably, choose a brand with no sugar and no added oil to make healthy, no-bake oatmeal balls.
Maple Syrup – You need a liquid sweetener to bind the ingredients together. You can also use agave syrup or brown rice syrup. They are vegan-approved and will make delicious raw vegan energy balls!
Dark Chocolate Chips – Make sure they don't contain added milk to make healthy vegan energy balls.
Seeds, nuts, or dried fruits – Feel free to mix 1/2 cup of any of your favorite chopped nuts, dried fruits, or seeds in this recipe. I love to use a combination of pecan and unsweetened shredded coconut. Other options are chopped almonds, flax seeds, chia seeds, raisins, cranberries, pumpkin seeds, and more.
Vanilla Extract – For the perfect taste. You can also try almond extract.
This is the easiest healthy snacking recipe ever! Follow the easy 4 steps below to make these no-bake peanut butter oatmeal energy balls at home in less than 30 minutes:
Combining Ingredients

Combine all the ingredients into a bowl. You don't need a food processor.
A simple mixing bowl and spatula are enough, while I do love my stand mixer and paddle attachment to work faster.
Expert Tips To Make Energy Balls
The hardest part when it comes to energy ball recipes is to roll the balls. The dough can be too sticky or too dry.
After years of making my own no-bake snacks. I learned that chilling the batter for about 20 minutes makes it easier to handle without falling apart. It gives time to oats to absorb the liquid ingredients and firm up.
Next, scoop a small amount of batter, about one tablespoon, and lightly grease your hands with coconut oil before rolling the energy ball to prevent the batter from sticking to your fingers.
Finally, release the energy balls on a plate covered with parchment paper so they don't stick to your recipient. The best part is that you can eat them immediately to fix your sweet craving quickly.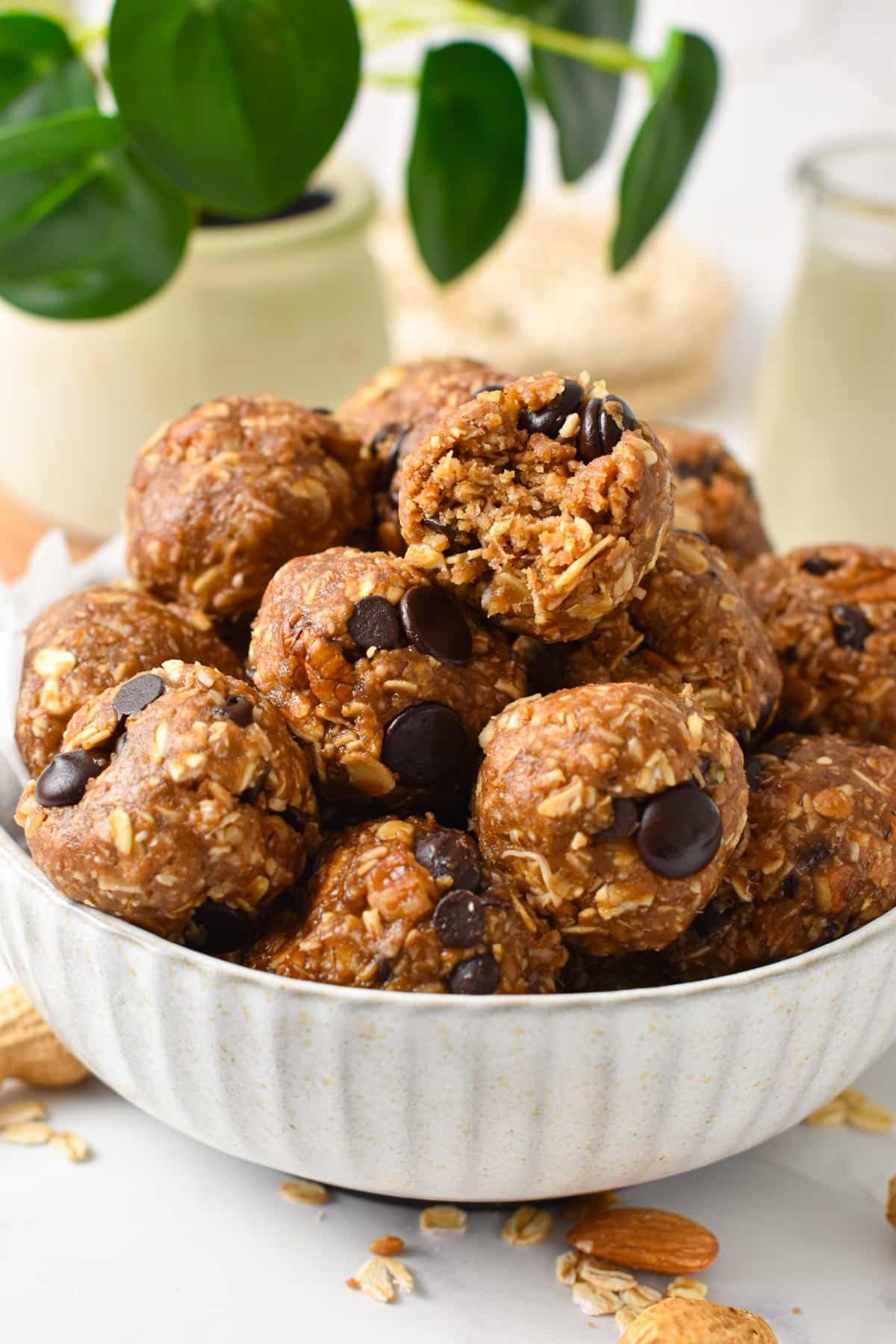 Making No-Bake Oatmeal Balls Without Peanut Butter
If you are allergic to nuts or want a healthier option with less saturated fat, there are plenty of options to replace peanut butter in this recipe.
You can replace peanut butter with the same amount of:
Creamy Almond Butter – it is a healthy nut butter option to decrease the saturated fat in the recipe and make healthy no-bake peanut butter oatmeal balls.
Sunflower Seed Butter – It is a great nut-free option, but it can add a bitter aftertaste if you are not used to it.
Tahini – It's another nut-free option, also known as sesame seed butter, but be aware that it can add a bitter aftertaste to your no-bake energy ball recipe!
Healthy Energy Balls Add-Ons
This no-bake peanut butter oatmeal ball recipe is so versatile.
You can add or change so many ingredients to create different flavors. Below are some of my favorite ideas for you to try:
Protein Balls – Turn this recipe into protein balls using protein peanut butter powder. Make sure you first re-hydrate the powder to get 1 cup, the amount required in the recipe. Then, use it as a peanut butter replacement in the recipe to boost your protein intake.
Ground Flax Seeds – Add 1 tablespoon of ground seeds to boost your healthy fatty acids!
Spices – Add 1/2 teaspoon of ground cinnamon, ginger, pumpkin spices, or any flavor you fancy!
More Vegan Energy Ball Recipes
I love to create energy ball recipes. They are easy, healthy, and perfect to fix a sweet craving with a handful of simple ingredients.
I have a collection of healthy energy balls for you to try: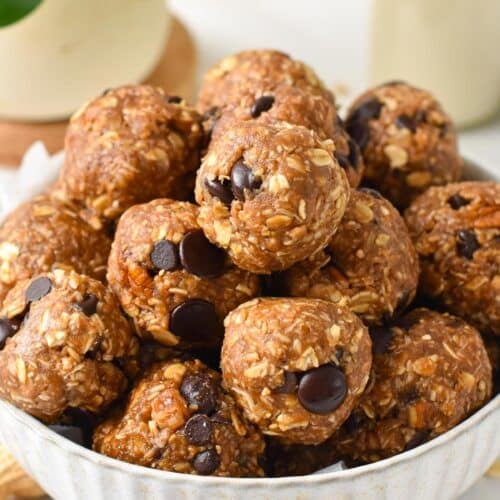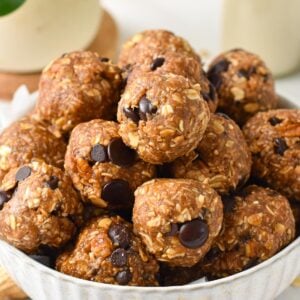 No-Bake Peanut Butter Oatmeal Balls
This easy, healthy, no-bake vegan snack is full of wholesome ingredients to keep your energy levels up all day or refuel after a workout.
Pin
Print
Review
Servings: 24 energy balls
Calories: 154.1 kcal
Instructions
In a large mixing bowl, add all the ingredients in this order: old-fashioned oats, fresh runny peanut butter, maple syrup, vanilla, dark chocolate chips, pecans, coconut, and cinnamon.

Use a spatula or the paddle attachment of your stand mixer to combine all the ingredients until it forms a sticky dough.

Refrigerate for 20 minutes to make it easier to roll into energy bites.

Remove from the fridge, and slightly wet your hands with water before shaping each energy ball to prevent the batter from sticking to your hands. Scoop out about one tablespoon of dough and roll with your hands to shape energy balls.

Place each energy ball onto a plate covered with parchment paper.
Notes
The nutrition panel uses 1/2 cup of vegan dark chocolate chips + 1/2 cup of pumpkin seeds.
How do you store no-bake energy balls?
Fridge: these no-bake peanut butter energy balls store very well, too, for up to 3 weeks in the fridge.
Freezer: you can freeze these energy balls and thaw them at room temperature for 3 hours before snacking!
Can I double the batch?
Yes, if you really love this energy bite recipe, double the batch, play with the added ingredients to create different flavors, and freeze for later!
Allergy Swaps
Nut-Free – You can replace peanut butter with tahini or sunflower seed butter. Also, swap pecans with sunflower seeds, hemp seeds, or dried fruits.
Gluten-Free – Use a gluten-free certified oat brand.
Share on Facebook
Pin Recipe
Nutrition
Serving: 1ball | Calories: 154.1kcal | Carbohydrates: 14.6g | Protein: 4.5g | Fat: 9g | Saturated Fat: 2.3g | Polyunsaturated Fat: 1.6g | Monounsaturated Fat: 3.4g | Trans Fat: 0.001g | Cholesterol: 0.1mg | Sodium: 72.2mg | Potassium: 132.7mg | Fiber: 2.1g | Sugar: 6.2g | Vitamin A: 1.5IU | Vitamin B12: 0.01µg | Vitamin C: 0.001mg | Calcium: 19.9mg | Iron: 1mg | Magnesium: 39.6mg | Phosphorus: 82.3mg | Zinc: 0.7mg