These vegan protein balls are healthy no-bake peanut butter bliss balls made with plant-based ingredients and packed with 7 grams of proteins each.
Plus, these healthy energy balls recipe is easy to make in less than 20 minutes and meal prep post-workout snacks.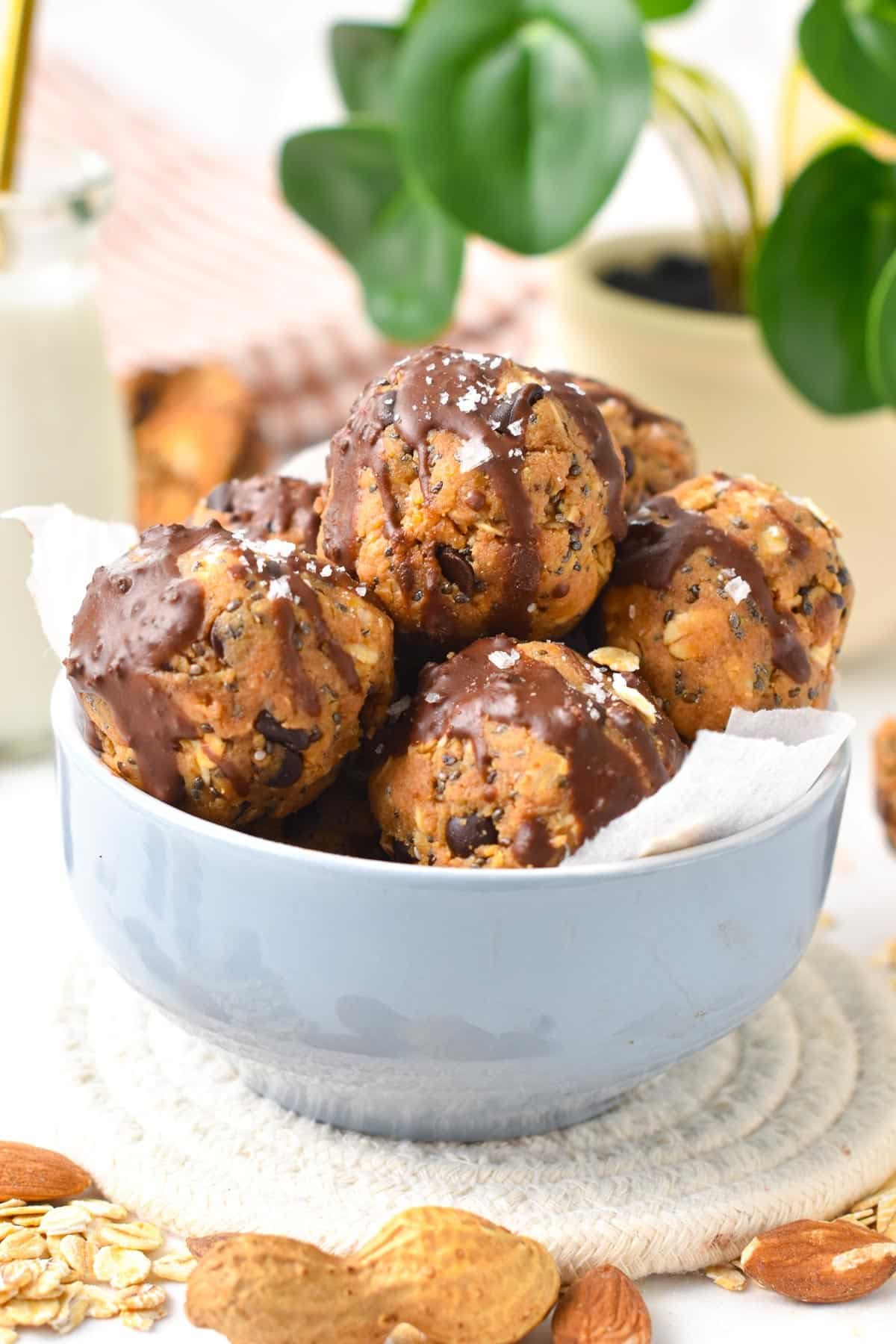 What Are Vegan Protein Balls?
Vegan Protein Balls are easy, healthy snacks made with nut butter and loaded with high-protein vegan ingredients, including ground flax seeds, chia seeds, and protein powder. They are free from honey or whey protein powder – ingredients are not vegan and often found in regular protein ball recipes.
They are the best vegan energy balls post-workout to refuel your body with plant-based proteins and fix a sweet craving.
How To Make Vegan Protein Balls
It takes less than 30 minutes to make these energy balls with simple ingredients. They are super easy to make on a Sunday and store in the fridge to meal prep a week of healthy protein snacks.
Ingredients
All you need to make no-bake protein energy balls are a few ingredients: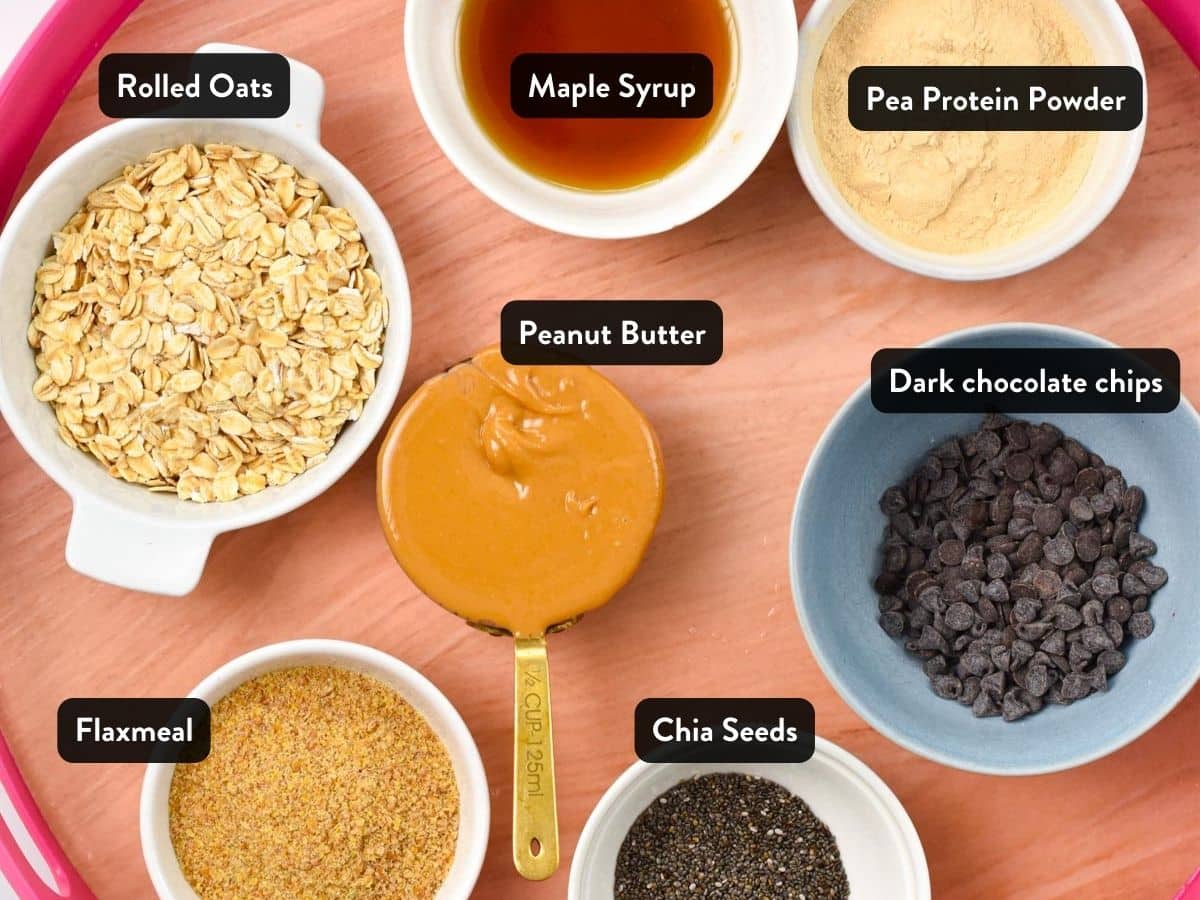 Peanut Butter – You can use almond butter or sunflower seed butter to decrease the saturated fat and increase the protein naturally.
Maple Syrup or any liquid sweetener you have on hand like rice syrup, coconut nectar, or agave syrup.
Vegan Vanilla Protein Powder – There are many options to choose from. Pea protein, brown rice protein powder, or peanut protein powder. All these options are great, but I recommend pea protein powder to ensure the best texture and flavor in this no-bake protein balls recipe.
Flaxseed Meal
Chia Seeds
Dark Chocolate Chips
Pinch of Salt – optional
Old-Fashioned Rolled Oats – Pick a certified gluten-free oat brand.
Preparation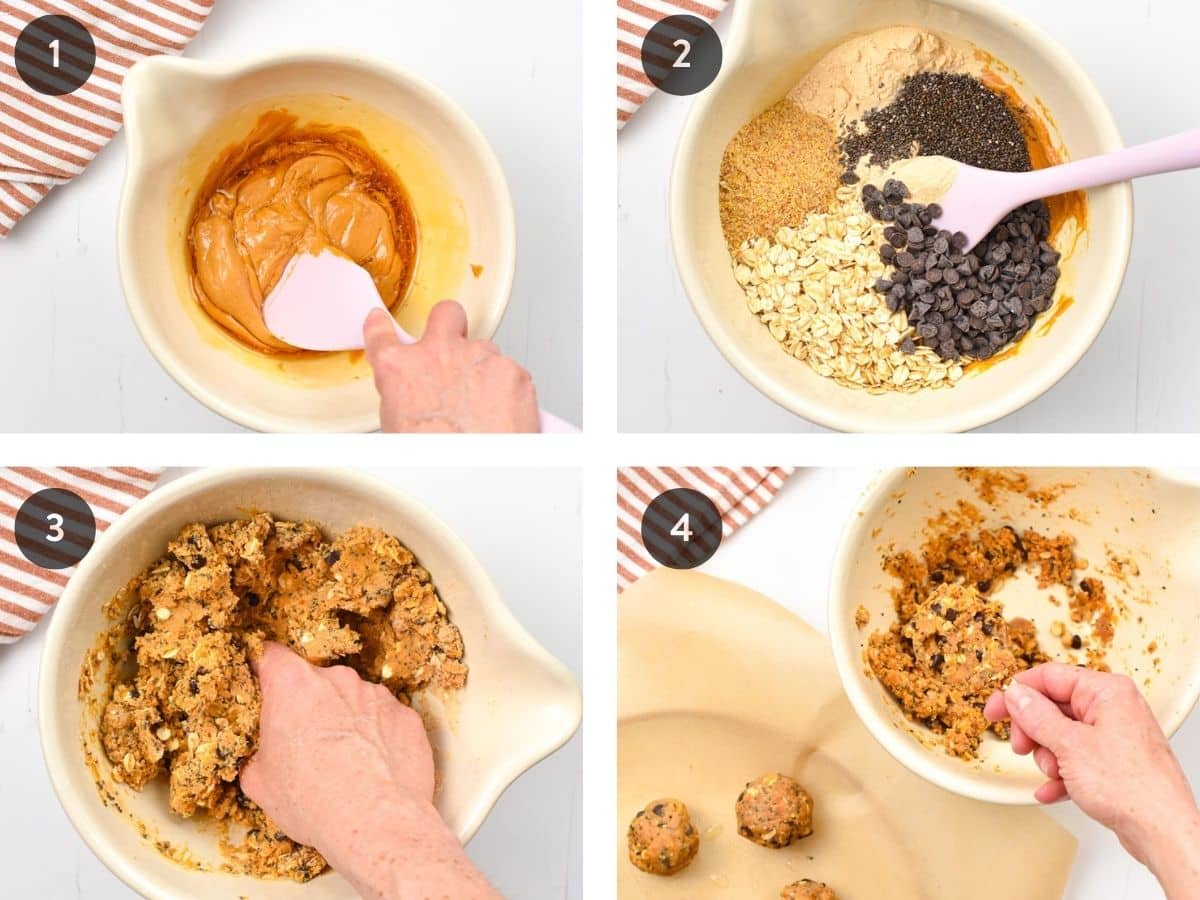 In a large mixing bowl, add the peanut butter or nut butter you love with maple syrup. Stir both ingredients together until smooth then add the remaining ingredients.
Stir the pea protein powder, flaxseed meal, chia seeds, oats, and chocolate chips until well incorporated in the batter.
Depending on the vegan protein powder you use, you may need to stir in one or two tablespoons of plant-based milk to bring the ingredients together. On the other hand, if the dough is too wet, you can stir in a bit more protein powder or extra flaxseed meal to dry out the energy balls batter.
Line a plate or baking sheet with parchment paper. Scoop out about 1 1/2 tablespoons of protein ball batter and roll into a ball between your hands. If sticky, wet your hand a little, or grease hands with coconut oil before rolling.
Release each protein balls on the prepared plate. Repeat the steps above until all the vegan protein ball recipe is formed into balls.
If you like, drizzle some melted dark chocolate on top of the energy balls.
Variations
You can use this vegan protein balls recipe and swap some of the ingredients to create different protein balls flavors.
Chocolate Protein Balls – Use vegan chocolate protein powder.
Cinnamon Protein Balls – Replace the chocolate chips with dried raisins, or any dried fruits like cranberries or chopped dates. Add a teaspoon of ground cinnamon in the batter.
Sugar-Free Protein Balls – Use sugar-free dark chocolate chips and sugar-free monk fruit syrup instead of maple syrup.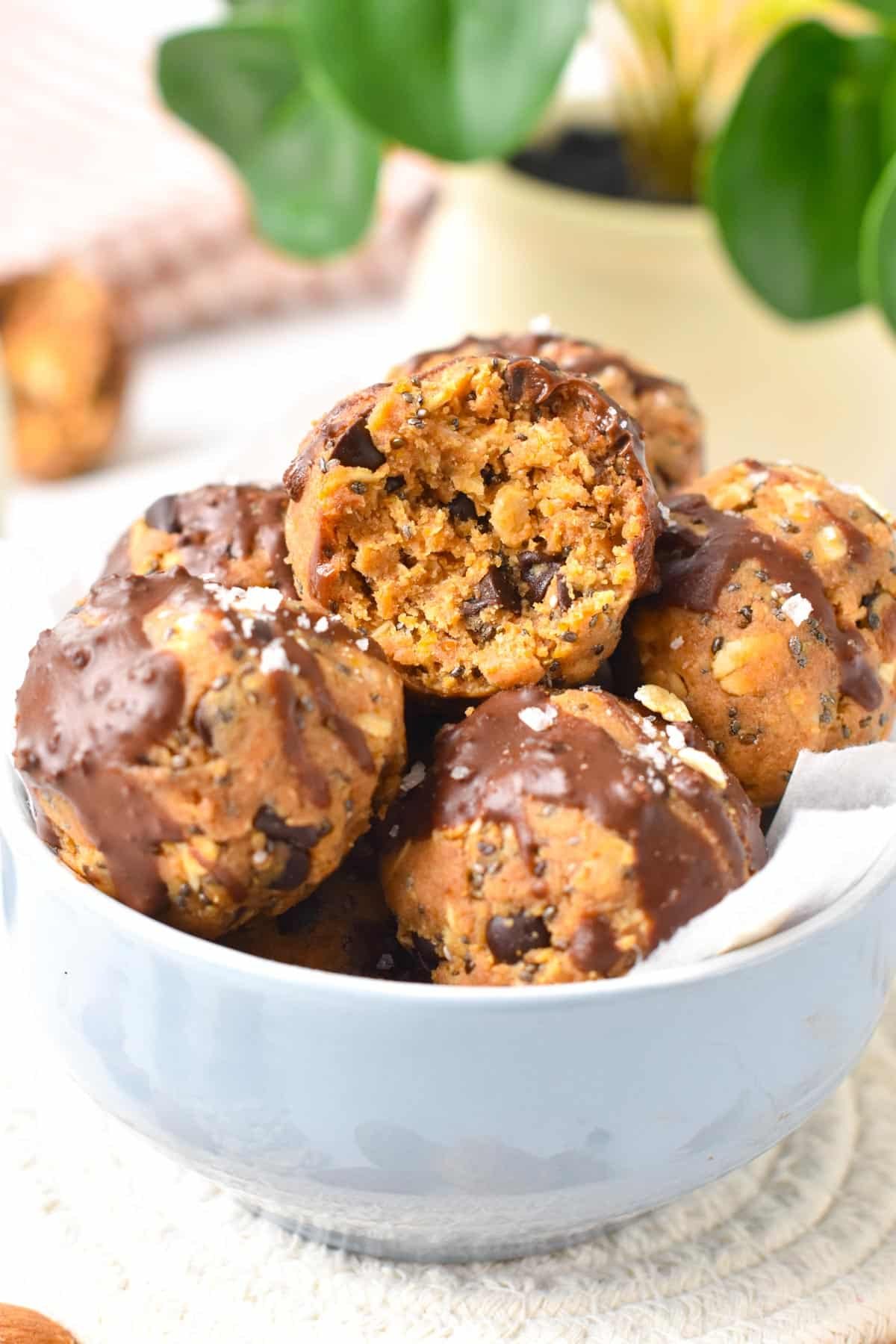 Allergy Swaps
If you have allergies to the ingredients in this protein ball recipe, you can make the following swaps:
Peanut Butter – You can replace the peanut butter with almond butter, cashew butter, or sunflower seed butter if you have nut allergies.
Sweetener – Any liquid sweetener would do. So you can use coconut nectar, maple syrup, or sugar-free maple syrup for a sugar-free option.
Pea Protein Powder – You can use your favorite plant-based protein powder, including almond-based protein powder, peanut-based protein powder, or rice protein powder.
Gluten-Free – Use a gluten-free certified oats brand.
Chia-Seed Free – Replace by hemp heart or sunflower seeds.
Storage Instructions
You can store these vegan protein balls in the fridge for up to 2 weeks in an airtight box.
They can also be frozen in freezer bags for up to one month. Thaw them in the fridge overnight.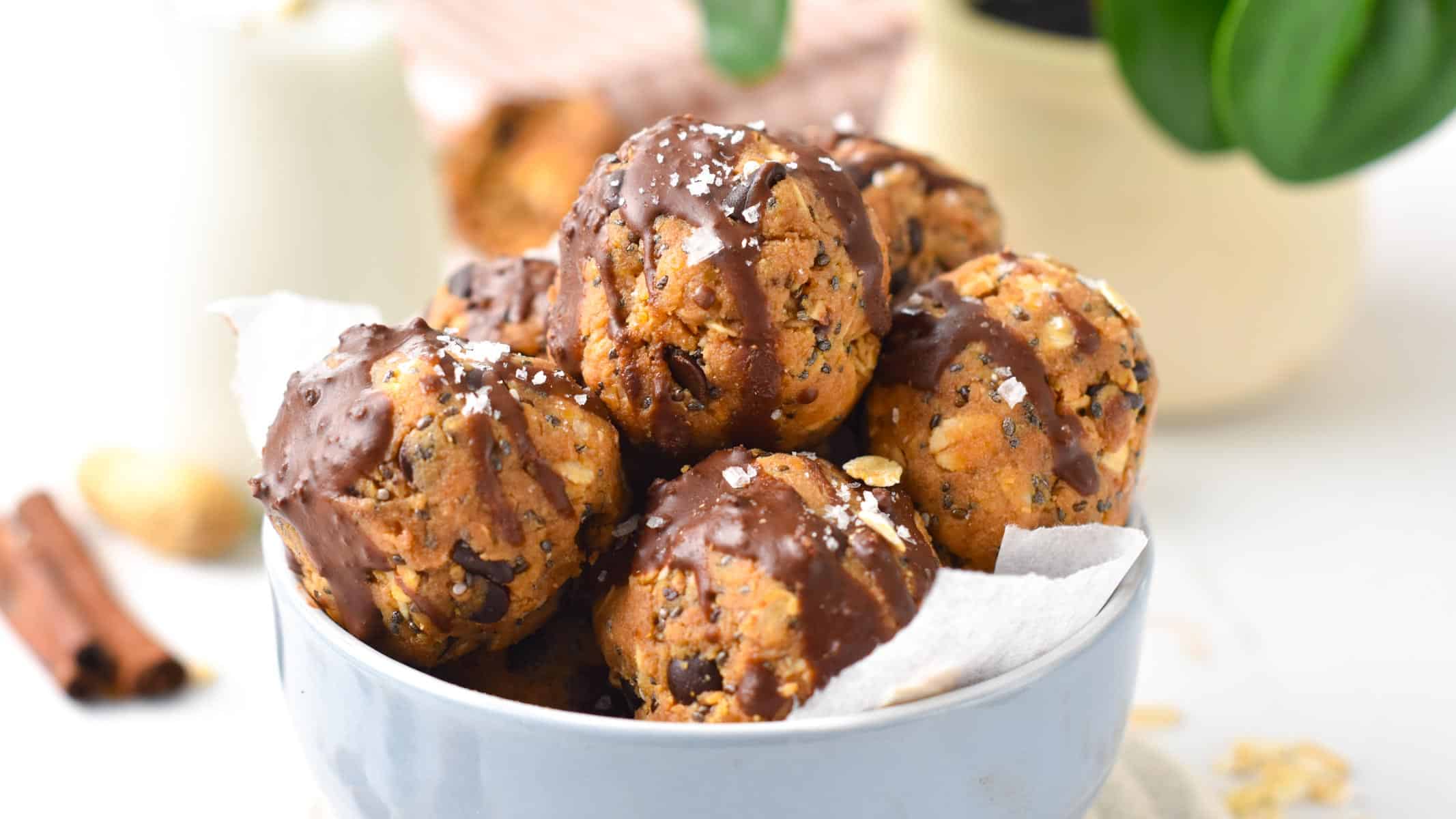 More Vegan Post-Workout Snacks
Vegan post-workout snacks must be high in protein and complex carbs to repair muscles after endurance activities and replenish the glycogen stores (source).
Other no-bake recipes that can be added to your post-workout routines are: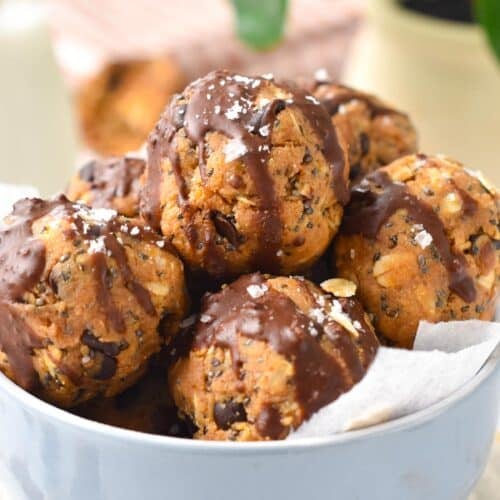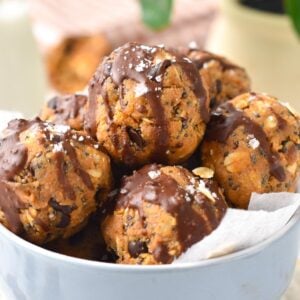 Vegan Protein Balls
These Vegan Protein Balls are healthy, no-bake peanut butter balls made with plant-based pea protein powder and seeds.
Pin
Print
Review
Servings: 10 protein balls
Calories: 162.7 kcal
Instructions
In a large mixing bowl, combine fresh, runny peanut butter and maple syrup. If your peanut butter is not runny, warm the mixture under bain-marie (hot bath) while you stir to help the ingredients come together.

Stir in the rest of the ingredients: flaxseed meal, pea protein powder, chia seeds, and oats.

If the dough is too dry, this may happen depending on the brand of pea protein powder you are using. Then, add a tablespoon of unsweetened almond milk.

Shape 10 protein balls and place each ball on a plate covered with parchment paper.

Drizzle melted chocolate on top of each ball.

Refrigerate 15 minutes to firm up.
Storage
Store in the fridge for up to 2 weeks in an airtight box.
Notes
Peanut Butter Swap: You can use fresh, runny almond butter instead of peanut butter.
Share on Facebook
Pin Recipe
Nutrition
Serving: 1ball | Calories: 162.7kcal | Carbohydrates: 13.5g | Protein: 7.2g | Fat: 9.7g | Saturated Fat: 1.7g | Polyunsaturated Fat: 3.4g | Monounsaturated Fat: 3.8g | Trans Fat: 0.003g | Cholesterol: 0.01mg | Sodium: 95.9mg | Potassium: 150.5mg | Fiber: 3g | Sugar: 6.4g | Vitamin A: 1.4IU | Vitamin B12: 0.001µg | Vitamin C: 0.1mg | Calcium: 46.8mg | Iron: 1.6mg | Magnesium: 53.7mg | Phosphorus: 107.8mg | Zinc: 0.8mg