Banana Protein Pancakes (No Eggs, 6g Protein)
These 4-Ingredient Banana Protein Pancakes are the most delicious high-protein pancakes to start the day.
Bonus, they are egg-free, dairy-free, and, of course, vegan-approved.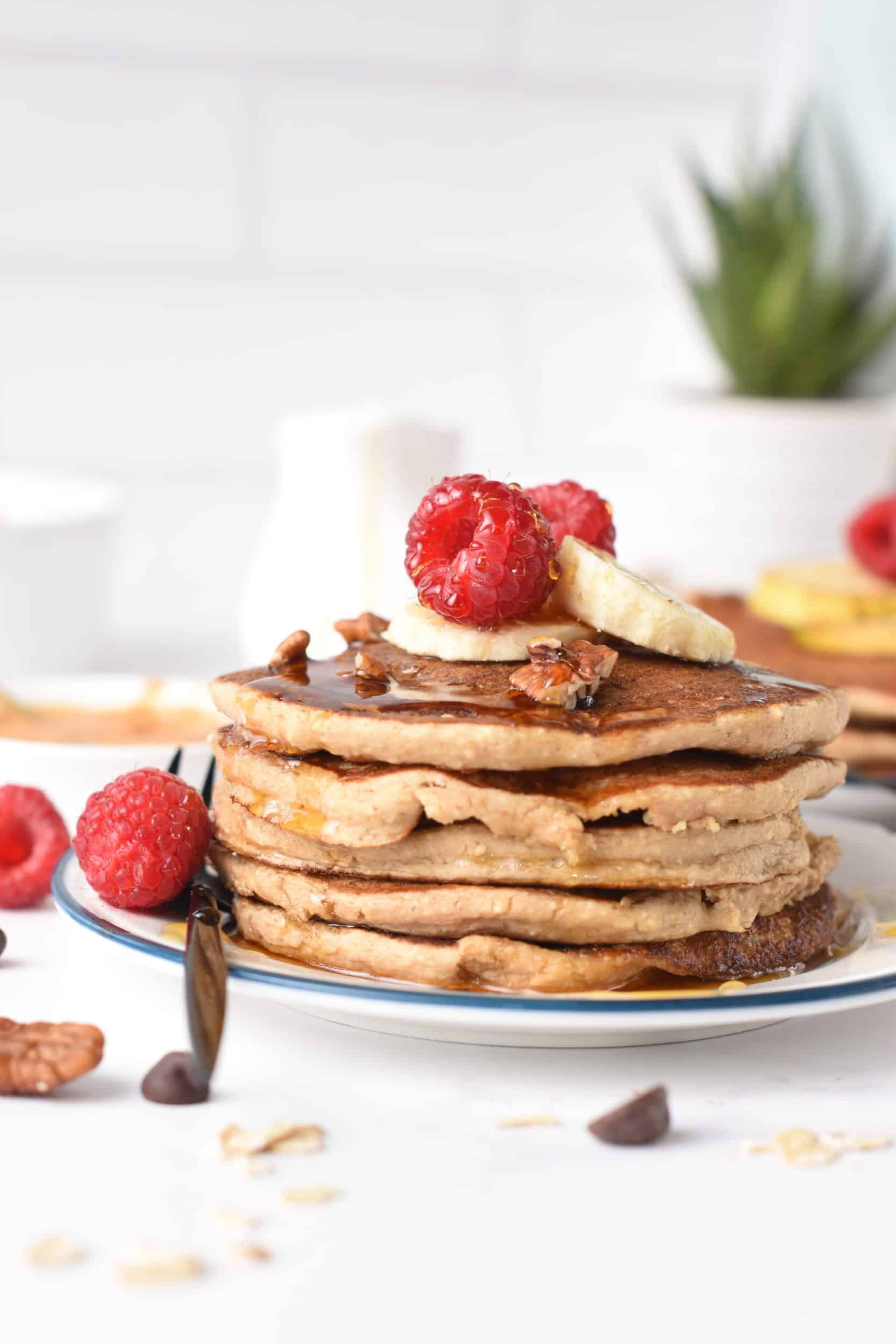 If you are after a quick and easy protein-packed breakfast recipe, these blender banana pancakes are for you!
Why You'll Love These Pancakes
The great thing with these pancakes is that you don't need egg white or egg yolks to boost your pancake protein profile.
All you need are natural plant-based ingredients.
In fact, these protein banana pancakes are packed with plant-based proteins and naturally:
Flourless
Dairy-free
Egg-free
Vegan
With no added sugar as bananas do contain natural sugar from fructose.
How To Make Banana Protein Pancakes
All you need are four simple ingredients to make tasty banana pancakes with protein powder.
Ingredients
Old fashioned oats – feel free to use a gluten-free certified brand if desired.
Ripe bananas – the ripest the sweetest the pancakes will be.
Unsweetened almond milk or any non-dairy milk you like including soy milk, and coconut milk.
Vanilla protein powder – I tested the recipe with pea protein powder or peanut protein powder, both provide similar results.
Blending
I recommend using a large blender jug for this recipe.
In the pictures below you can see that I also tested the recipe with a Nutribullet but the container is quite small to blend perfectly the amount of ingredients required by this banana pancake recipe.
Place all the banana protein pancakes ingredients in the high-speed blender, the order doesn't matter.
You may have to stop the blender and scrape down the side of the bowl a few times to bring all ingredients together.
Or if you have a tamper attachment with the blender, you can use this option instead.
Then, blend on high speed until a thick creamy banana mixture.
Add-Ons
Now feel free to stir in some of the optional ingredients below to boos the flavor or fluffiness of the Banana Protein Pancakes.
1/2 teaspoon of baking powder for fluffier pancakes.
1 teaspoon of vanilla extract
1 teaspoon of ground cinnamon
1-2 teaspoons of maple syrup
1-2 tablespoons of dark chocolate chips
Cooking
On medium-high heat, warm a non-stick crepe pan or pancake griddle.
Slightly oil the surface with oil cooking spray or rub coconut oil on the surface using a piece of absorbent paper.
Scoop about 3 tablespoons of batter per pancake and cook for 2-3 minutes on one side.
These pancakes are not fluffy, so they won't form bubbles on the surface. You know they are ready to flip when the sides are dryer and set,
Slide a spatula under the pancake and flip it to the other side. Cook for an extra minute or until golden brown.
Cool the pancake down for a few minutes on a rack while cooking the remaining batter.
Serving
You can serve these vegan banana protein pancakes with delicious protein toppings like:
High-protein yogurt like soy yogurt.
Peanut butter
Almond butter
I personally love to serve them with extra banana slices, chopped pecans, berries, and maple syrup.
Other toppings ideas are:
Berries – Blueberries, raspberries
Banana slices
Maple syrup
Chopped nuts – peanut, pecan, or walnuts for a banana bread pancake flavor.
Texture
These banana pancakes are not fluffy pancakes, they are more dense and rich with a delicious banana oat flavor that reminds banana bread.
Storage Instructions
These banana protein pancakes are perfect for meal prep.
You can cook the pancakes 1 or 2 days before and store them in the fridge in an airtight container.
Another option is to freeze the pancakes in zip-lock bags and thaw them in the fridge the day before serving.
To rewarm pancakes, place them on a hot pancake griddle or in a sandwich press.
Frequently Asked Questions
Below I listed your most frequent questions about this pancake recipe.
Can I Skip The Protein Powder?
Yes, you can make my 3-ingredient banana oat pancake recipe, it has no protein powder.
However, the recipe will be low in protein as the protein powder is the key to boosting protein in pancake recipes.
Can I Use Oat Flour?
You can make the recipe without a blender if you already have homemade oat flour at home.
You will need about 1/4 cup extra oat flour to reach the same texture.
Can I Use Whey Protein Powder?
We don't use animal products in our recipes so even if I think whey protein powder could work, I didn't try this option and encourage you to try plant-based protein powder that is packed with the same amount of plant proteins.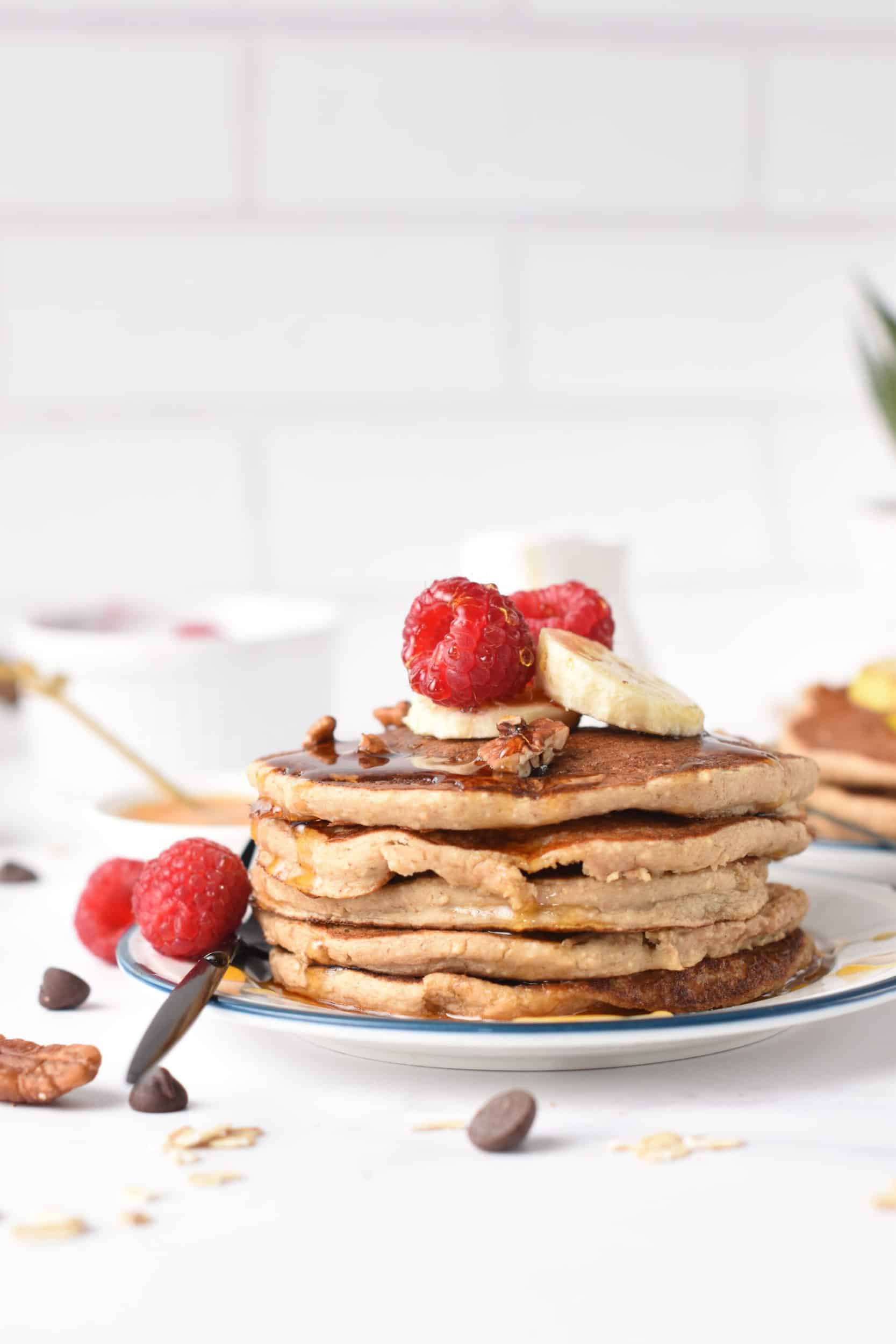 More Protein Breakfast Recipes
Below I listed some more breakfast ideas using protein powder in pancakes or breakfast baked goods.
Have you made these protein banana pancakes? Share a comment or review below to connect with me.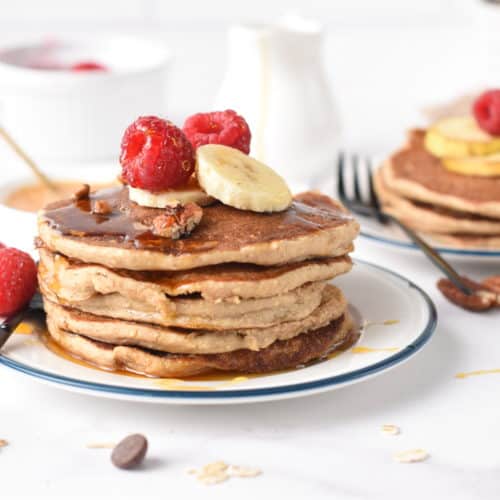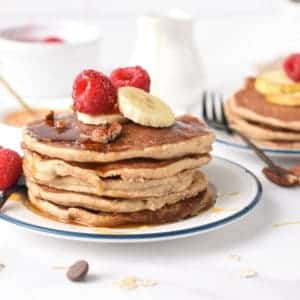 Banana Protein Pancakes
These easy 4-Ingredient Banana Protein Pancakes are the most delicious high-protein pancakes to start the day. Bonus, they are egg-free, dairy-free and vegan approved.
Pin
Print
Review
Servings: 10 pancakes
Calories: 86 kcal
Instructions
Before you start, weigh the peeled ripe banana if you can. It's important to use the same amount, or the batter can be too dry or too wet.

In a high-speed blender, add rolled oats, almond milk, ripe banana, and protein powder.

Blend until smooth. The batter should be quite thick. If too runny, add 1-2 tablespoons more oats and blend to incorporate. If too dry and the blade can't process the ingredients, add 1-2 tablespoons of almond milk.

Stir in any of the optional ingredients for a boost of flavor.

Warm a pancake griddle over medium-high heat. Slightly grease the griddle with coconut oil and scoop out 3 tablespoons of batter per pancake.

Cook for 2-3 minutes on one side until it has set and starts to dry out.

Flip on the other side and cook for an extra 1-2 minutes until cooked through.

Cool on a cooling rack while cooking the remaining batter.

Serve with banana slices, pecans, berries, and a drizzle of maple syrup.
Storage
Store in an airtight container in the fridge for up to 3 days or freeze and thaw in the fridge the day before.
Share on Facebook
Pin Recipe
Nutrition
Serving: 1pancake | Calories: 86kcal | Carbohydrates: 12.7g | Protein: 5.8g | Fat: 1.5g | Saturated Fat: 0.1g | Polyunsaturated Fat: 0.5g | Monounsaturated Fat: 0.4g | Sodium: 153.5mg | Potassium: 86.2mg | Fiber: 1.5g | Sugar: 3.5g | Vitamin A: 8.9IU | Vitamin C: 1.2mg | Calcium: 78.4mg | Iron: 1.6mg | Magnesium: 17.8mg | Phosphorus: 53.3mg | Zinc: 0.4mg