Protein Shake Recipes (3 Ways, 27g Proteins)
These three Protein Shake Recipes are the best high-protein post-workout drinks to build muscles, refresh and feel full for hours.
These shake recipes are also dairy-free, vegan-friendly, and with low-carb options.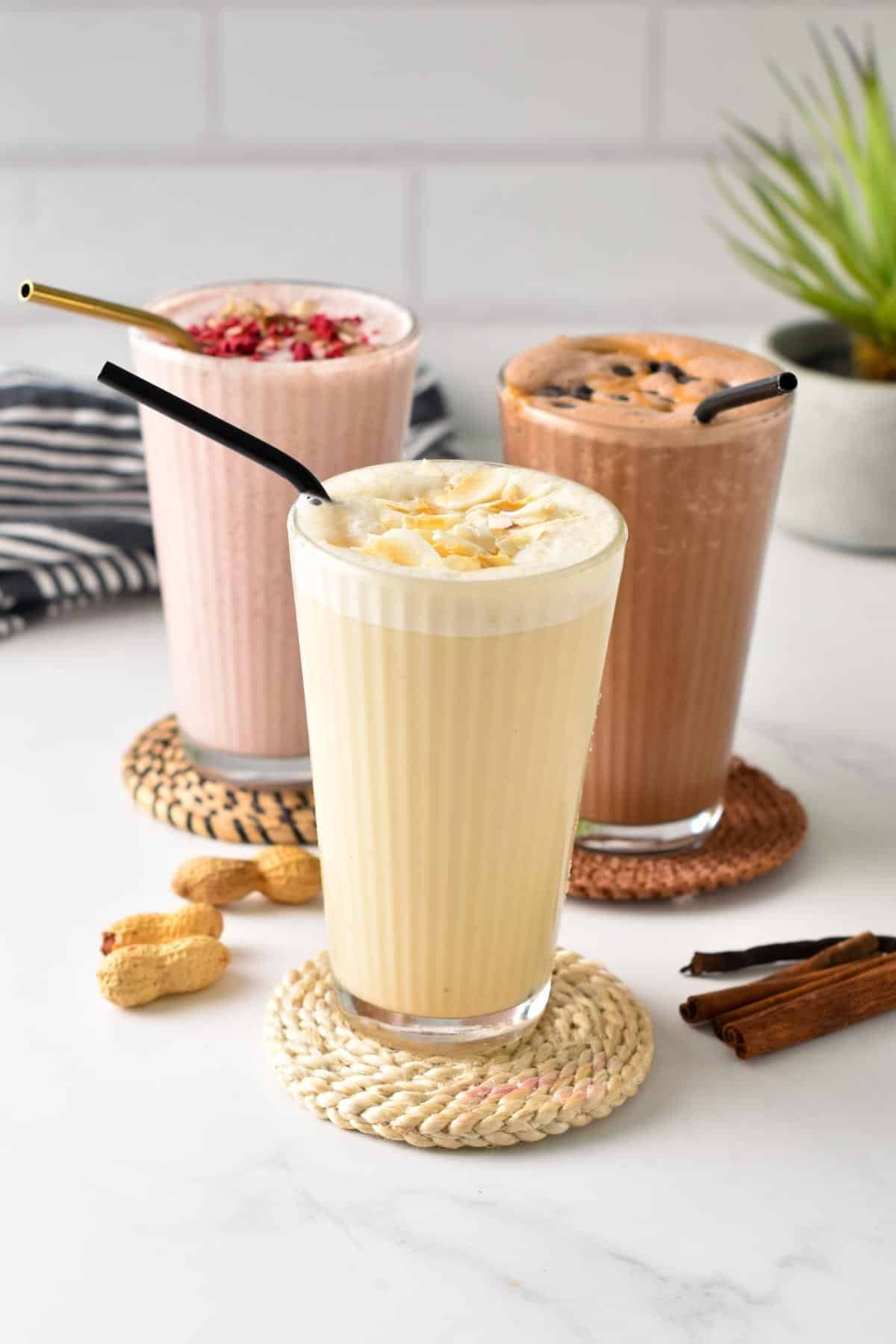 This is for everyone who likes to drink protein shakes after a morning workout. I love them because they are hydrating, fulling, and help with muscle gain.
It's a complete liquid breakfast that ticks all the nutritional boxes.
How To Make These Protein Shake Recipes
There's more than one way to make a protein shake. We are all different when it comes to flavors, texture, or diet.
Some people like thick shakes and others like low-carb keto protein shakes made without sugar or protein shakes without bananas.
So below are four easy and fun protein shake flavors to try during the week.
But before sharing the protein shake flavors, let's see the 4 ingredients you always need to make any protein shake taste good.
3-Ingredient Protein Shakes
Whether you like banana, coffee, chocolate, or fruity flavors, there are always three base ingredients you need in a protein shake recipe:
Protein Powder – Read the section below to pick the best protein powder.
Liquid – 99% of protein shakes are made from milk. Most of the time, plant-based milk, like almond milk because it is low-calorie and mild in flavor. But feel free to cut a part of the milk to add any liquid that will flavor the shake, such as coffee, natural fruit juice, or tea.
Frozen Fruits or Vegetables – Adding frozen fruits or frozen vegetable thickens the shake and adds nutrients and vitamins.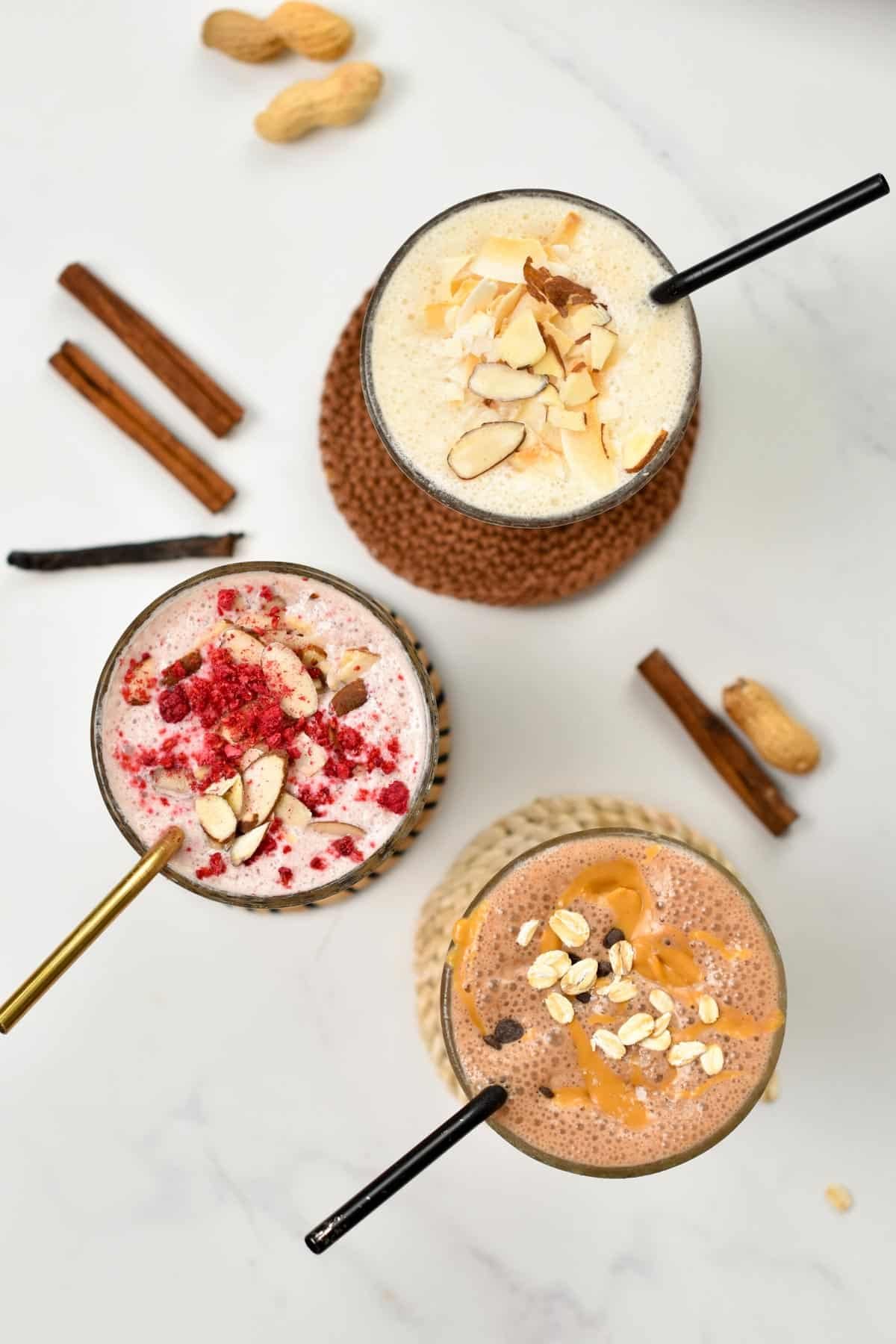 How To Thicken Protein Shakes
There are many ingredients you can add to thicken your protein shake, should you find it too runny.
Add between 1/4 cup and 1/2 cup of the following.
Plant-Based Yogurt
Nuts and Seeds – such as flaxseeds, chia seeds, or cashews.
Frozen Vegetables – like cauliflower rice or zucchini, which don't bring a strong taste.
Frozen Bananas
Ice Cubes – For an extra-frothy texture and no flavor.
Pro Tips For Choosing The Best Protein Powder
There's a wide variety of protein powders available on the market, and I've tried so many of them that I've become an expert at picking the right one.
Picking the right one is a matter of following three simple rules.
Rule #1: Clean Ingredients
Avoid protein powders containing artificial sweeteners (Acesulfame K, Aspartame, etc.) or strange ingredients that can upset your stomach like maltodextrin.
Rule #2: Flavors
There are many protein powder flavors from vanilla to chocolate and caramel or coffee.
Pick a flavor that you love. If unsure, always start by picking a neutral flavor like vanilla protein powder.
This flavor goes with any protein shake recipe compared to a chocolate protein powder, that sometimes doesn't marry well with berries.
Rule #3: Keep It Plant-Based
Studies show that consuming plant-based protein powder made from pea protein, soy protein, or hemp protein brings the same body composition outcomes.
Muscle gain or lean muscle growth is the same as whey protein. So there are no scientific reasons to pick whey protein powder over plant-based alternatives.
Whey powder and casein powder are often heavier on the stomach. Keep it good for the planet, and choose plant-based protein powder.
Flavoring
Finally add some flavors by adding:
Cocoa Powder
Vanilla Extract
Peanut Butter
Frozen Strawberries
Cinnamon
3 Ways To Make Protein Shakes At Home
There are three types of protein shake recipes depending on the time of the day and goals you want to achieve.
Protein shakes are made by throwing all the ingredients in the blender and blending until smooth. There's no order of importance. It's easy as that.
Breakfast Protein Shakes
A breakfast protein shake is a fulfilling on-the-go liquid breakfast. As a result, it contains extra ingredients to bring slow-release carbs, fiber, and healthy fats that keep you full.
Ingredients For Breakfast Shakes
Protein Powder of Choice
High-Protein Milk – soy milk or oat milk
Rolled Oats or quinoa flakes or cereals
Nut Butter
Seeds like Flaxseeds or chia seeds
Coffee if you want a coffee protein shake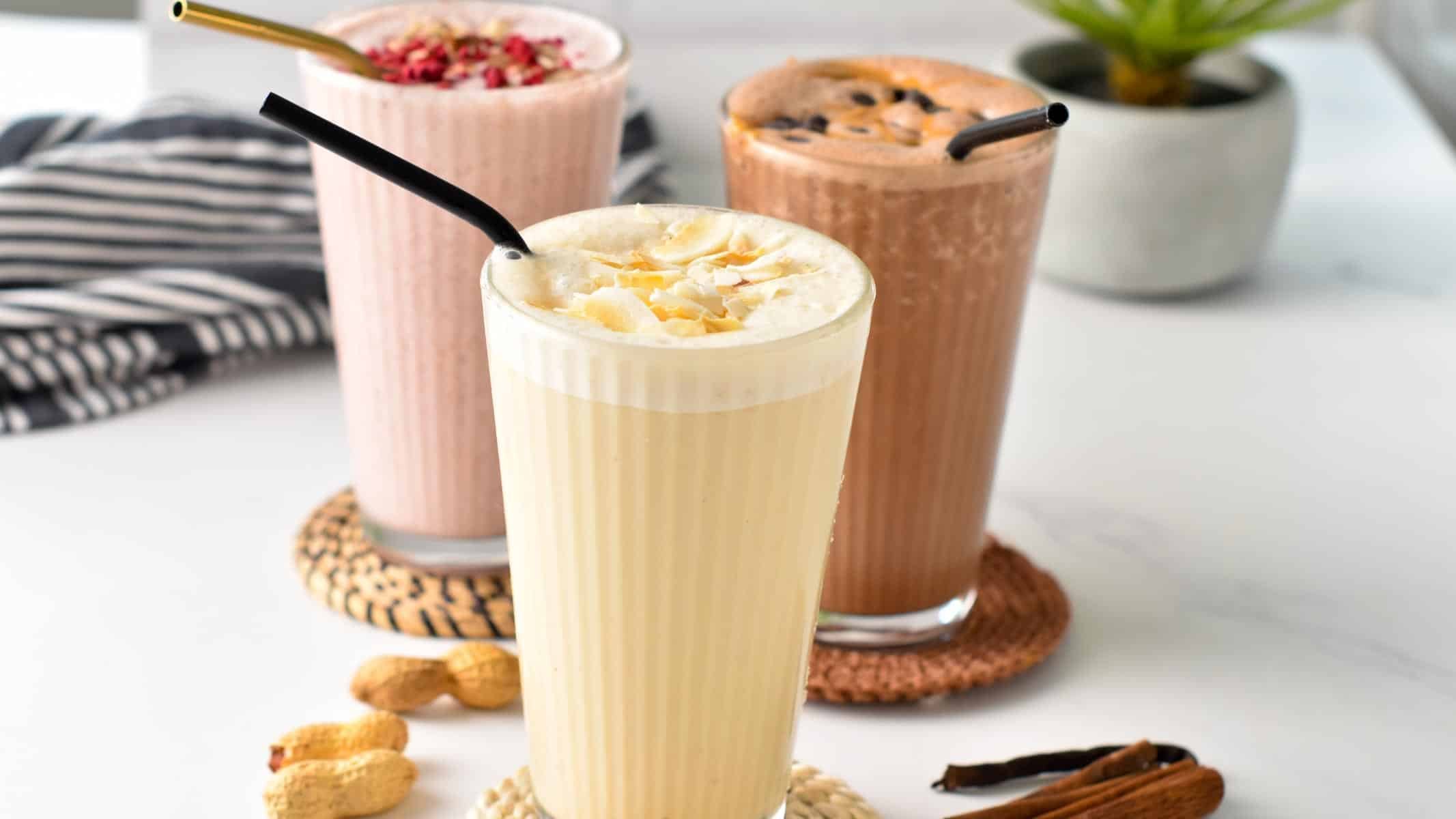 Protein Shakes For Weight-Loss
If you drink protein shakes to help with weight-loss, you should focus on low-calorie shakes using ingredients with a good carb to protein ratio.
Avoid peanut butter and instead, use high-protein plant-based Greek yogurt.
This is a great thick and creamy addition to shakes that contains fewer calories than almond butter or nut butters in general.
Ingredients
Low-Calorie Milk like unsweetened almond milk or unsweetened coconut milk.
Protein Powder
Low-Sugar Fruits like raspberries or strawberries instead of bananas.
Oats or chia seeds to add fiber that keeps you full.
Low-Carb Keto Protein Shake
If you don't like sugar or if you have diabetes and you are looking for a tasty low-carb protein shake, you should avoid added sugar.
It means you should skip the banana, maple syrup, or sweetened protein powder.
Ingredients
Low-Carb Protein Powder – Pick a powder sweetened with erythritol or stevia.
Unsweetened Almond Milk
Low-Carb Fruits or veggies, like raspberries, frozen cauliflower, or frozen zucchini. These vegetables add a creamy texture to the shake and contain minimal carbs.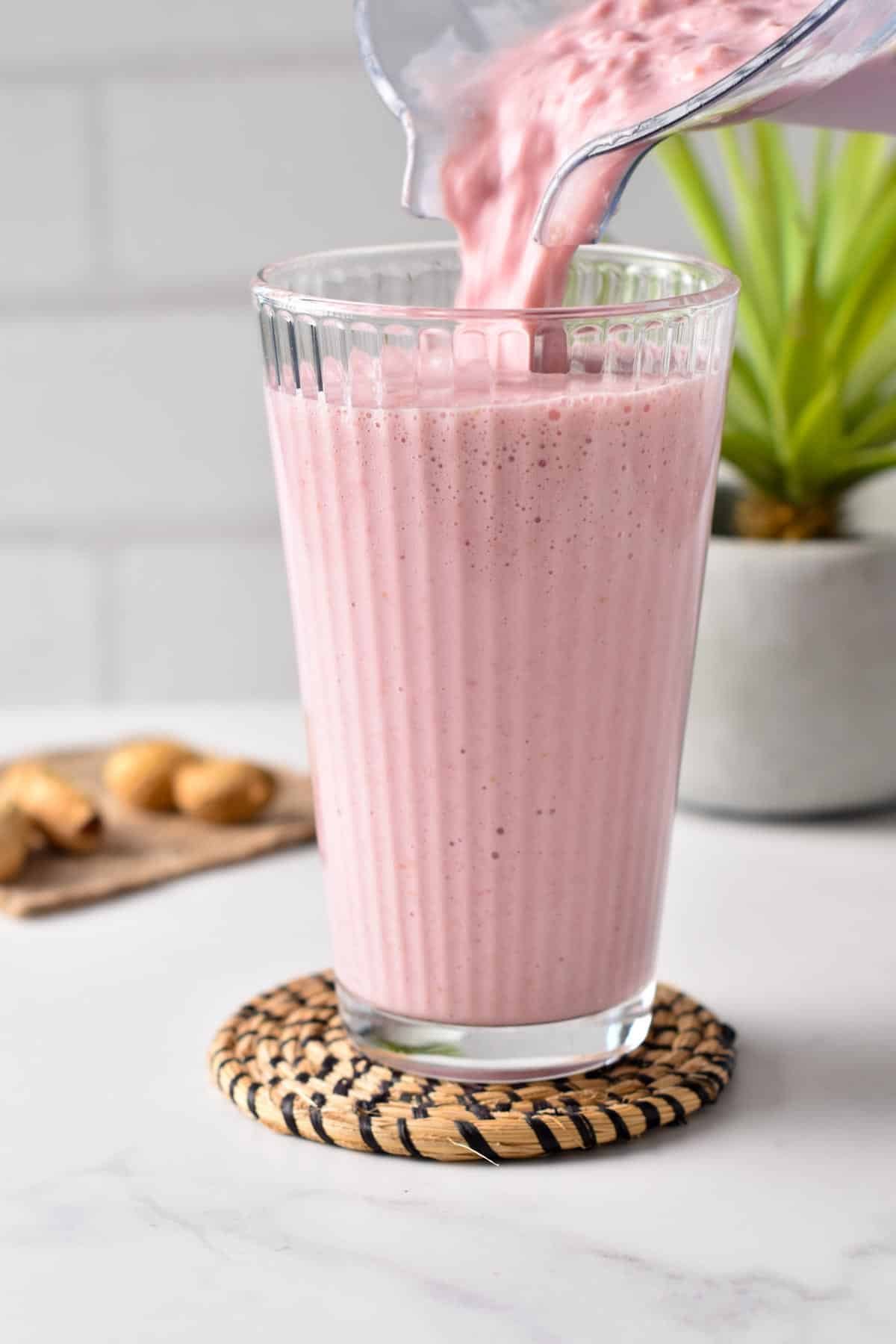 Frequently Asked Questions
Should I Drink Protein Shakes On Rest Days?
Yes, you can drink protein shakes anytime, even if you don't work out.
Clean protein powders contain high-quality complete proteins that help you reach your daily protein goals and not only rebuild muscles after a workout.
As a result, drinking protein shakes can help you fix a sweet craving during the day or enjoy a sweet drink before bed.
Should I Drink Protein Shakes Before Or After A Workout?
It has often been recommended to consume protein shakes after a workout to help muscle recovery.
However, studies have shown that the time you drink protein shakes, or eat high-protein food like protein bars, doesn't matter.
It brings the same body composition and strength changes, regardless of when it is consumed.
In fact, what matters to grow muscle is the total amount of protein you eat daily.
As long as this goal is reached, it results in muscle hypertrophy regardless of how long after or before a workout you consumed the protein.
When Should I Drink Protein Shakes?
You can drink protein shakes any time during the day.
It's a very fulfilling breakfast or a healthy sweet snack to stop sweet cravings.
But the time of the day won't impact body composition and lean muscle growth, so feel free to consume protein shakes when you feel like it.
How Many Protein Shakes Should I Eat A Day?
There's no on-size-fits-all answer. What matters to maintain a healthy body composition is to reach your protein goals eating a variety of proteins.
So considering this, you shouldn't use more than two scoops of protein powder per day to keep space for beans, pulses, and other high-protein vegan recipes.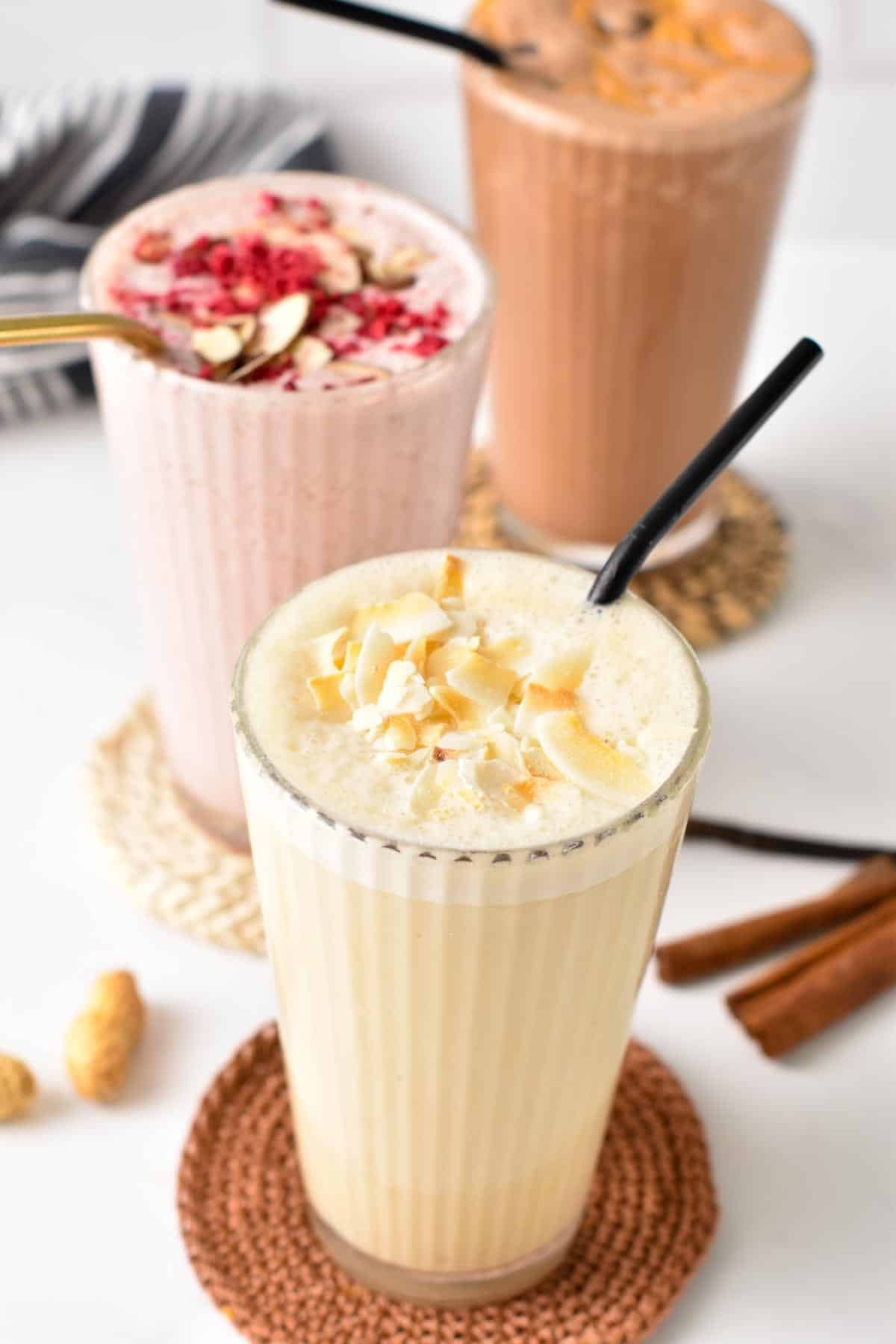 More Protein Recipes
Below are some more high protein recipes for you to try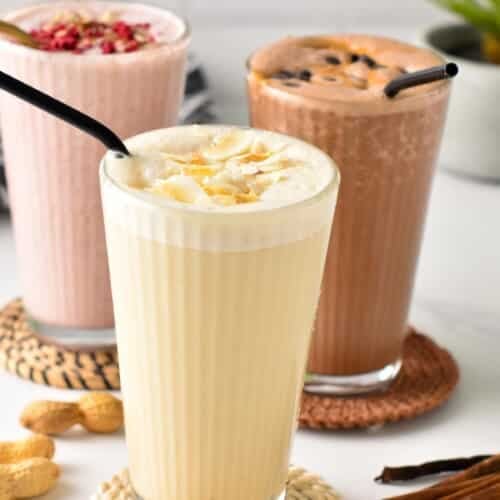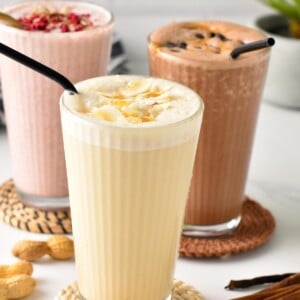 Protein Shake Recipes
These Protein Shake Recipes are the best high-protein post-workout drink to build body muscles, refresh, and feel full for hours. Plus, all these shake recipes are also dairy-free, and vegan-friendly with low-carb options.
Pin
Print
Review
Servings: 1 shake
Calories: 218.7 kcal
Ingredients
Basic Ingredients
1 scoop Protein Powder - (equivalent 40g/1.4oz), vanilla or chocolate
½ small Frozen Fruits - like frozen banana, frozen cauliflower or frozen zucchini
1 cup Unsweetened Almond Milk - or soy milk for boost of protein
1/2-3/4 cup Ice Cubes
Instructions
In a blender, add all the ingredients: protein powder, frozen fruits or frozen vegetables, milk of choice, and 1/2 cup ice cubes.

Blend on the high-speed setting until creamy and smooth.
Adjust to taste
Add more ice cubes, 2-3 at a time, for a frothier texture, or more almond milk, 2-3 tablespoons at once, for a runnier shake. Always blend at high speed for 20 seconds after any adjustment you make.

You can also add nut butter, cinnamon, cocoa powder, or oats for fiber and flavors.
3 Flavoring Ideas
Chocolate Protein Shake: add chocolate protein powder, frozen banana, and almond milk. Optional: oats, peanut butter, and cinnamon.

Strawberry Protein Shake: add vanilla protein powder, frozen strawberries, and almond milk. Optional: oats and cashew butter.

Keto Protein Shake: Use Protein powder (vanilla or chocolate), frozen zucchini, and almond milk. Optional: flaxseed meal, almond butter, sugar-free maple syrup, and unsweetened cocoa powder.
Share on Facebook
Pin Recipe
Nutrition
Serving: 1shake | Calories: 218.7kcal | Carbohydrates: 16.7g | Protein: 27.3g | Fat: 7.1g | Saturated Fat: 0.5g | Polyunsaturated Fat: 4g | Monounsaturated Fat: 2.2g | Sodium: 635mg | Potassium: 262mg | Fiber: 5.7g | Sugar: 6.5g | Vitamin A: 32.3IU | Vitamin C: 4.4mg | Calcium: 377.3mg | Iron: 4.9mg | Magnesium: 54mg | Phosphorus: 288.9mg | Zinc: 1.6mg