This homemade high-protein granola recipe is the easiest high-protein breakfast cereal you will ever make!
They are crunchy, sweet, naturally vegan, nut-free, and refined sugar-free.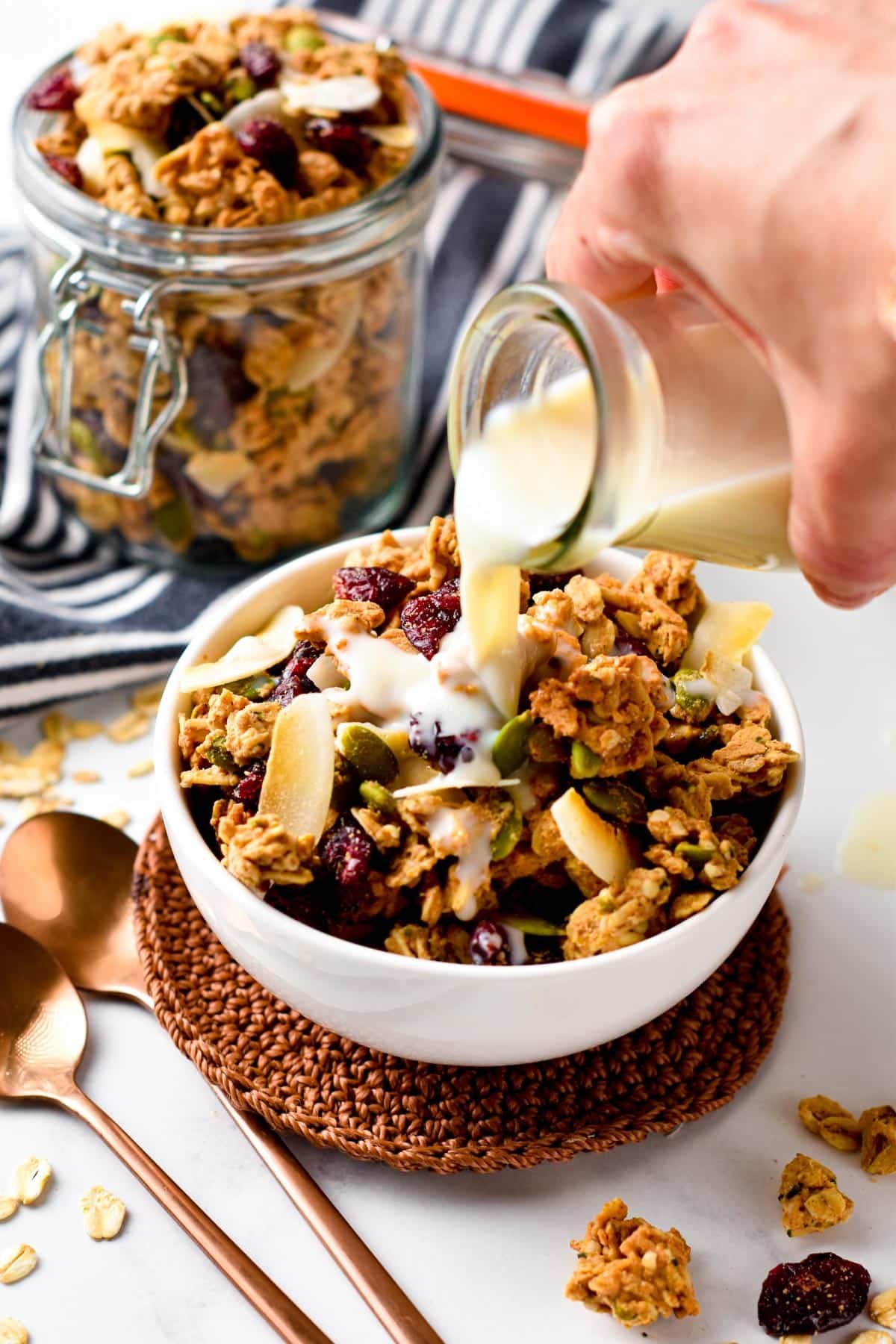 I am passionate about preparing my own breakfast, especially homemade granola. It's not only tasty but so much tastier and healthier.
Unfortunately, most store-bought granola recipes contain added sugar like liquid fructose or additives that your body doesn't need.
Also, when it comes to proteins, it's challenging to find high-protein granola at the grocery store.
Most of them contain barely 5 grams of protein per serving. So let me introduce you to this delicious crunchy granola with protein powder and its 10.7 grams of protein per serving.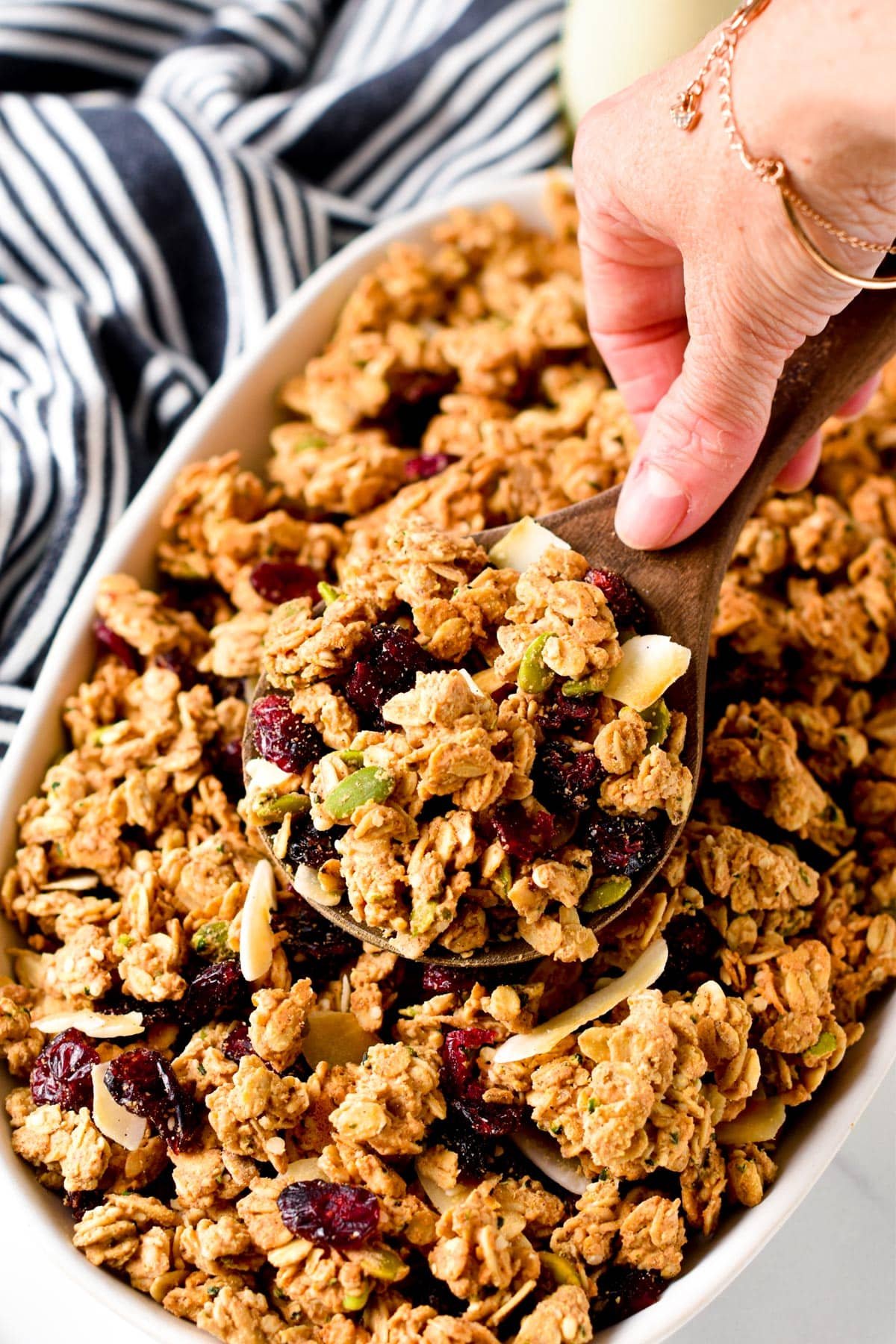 How To Make High-Protein Granola
This high-protein granola recipe is a healthy alternative to commercial granola but made from a few simple ingredients.
Ingredients
All you need to make this homemade protein granola with protein powder are:
Old-Fashioned Rolled Oats
Vanilla Protein Powder – I am using plant-based protein powder made from almond protein powder made from clean, wholesome ingredients with no refined sugar.
Maple Syrup – You can also use brown rice syrup, coconut nectar, or agave syrup. Any liquid sweetener you like will work well.
Peanut Butter – You can also use almond butter or tahini if nut allergy.
Avocado Oil – You can also use olive oil or melted coconut oil.
Cinnamon
Hemp Seeds – These are super high in proteins and therefore the best seeds to add to any breakfast to naturally boost proteins.
Dried Cranberries or dried fruits you like.
Pumpkin Seeds or chopped almonds.
Coconut Flakes or any other seeds or nuts you like.
Preparation
First, add all the dry ingredients to a large mixing bowl: oats, protein powder, cinnamon, hemp seeds, your favorite nuts or seeds (I used pumpkin seeds), and coconut flakes.
Stir to combine.
In another bowl, add nut butter, oil, and maple syrup. Microwave it for 30 seconds and stir to combine.
You can also add these ingredients to a non-stick saucepan, bring it over low heat and stir until smooth and evenly combined.
Pour the liquid ingredients on top of the dry ingredients.
Next, use a wooden spoon or silicone spatula to stir and coat the dry ingredients with the liquid ingredients.
If it's too hard to combine, add a bit more oil, one tablespoon at a time, or more maple syrup.
Depending on the protein powder you use, the absorbency can vary, meaning you may need more liquid.
Baking The Granola
Preheat the oven to 300°F (150°C). Line a large baking sheet with parchment paper. Then, spread the granola in a single layer on the sheet.
Bake on the center rack of the oven for about 15 to 18 minutes, shaking the granola halfway with a wooden spoon.
Cooling Down
Remove the granola from the oven and let it cool at room temperature for a few hours. If you love granola clusters, it's preferable not to touch the granola as it cools down.
The granola crisps up as it cools and forms lovely clusters.
Then, after 1 hour or so, use your hands to gently grab and move the granola and break clusters.
Adding Dry Fruits
When the granola recipe has reached room temperature, stir in any of the below:
Dark Chocolate Chips
Dry Fruits
Storage Instructions
This high-protein granola can be stored well in a sealed glass container in the pantry for up to 1 month.
You can also store the granola in zip-lock bags or airtight boxes and freeze it for later. Always thaw granola at room temperature.
Serving
This granola is delicious for breakfast served with some of the below high-protein combination:
Allergy Swaps
Below are some substitution suggestions to make it suitable for any food allergy.
Nut-Free – Replace the peanut butter with tahini – sesame butter – or sunflower seed butter.
Oil-Free – Skip the avocado oil and use more peanut butter. Or, if you don't mind your granola a bit softer and less crunchy, replace the oil with the same amount of unsweetened applesauce or mashed bananas.
Gluten-Free – Some oat brands are certified gluten-free. Make sure your protein powder is wheat-free as well.
Seed-Free – Replace the seeds with chopped almonds, walnuts, or dried fruits.
Sugar-Free – You can use sugar-free maple-flavored syrup for this recipe. Skip the dry fruits or use no-sugar-added dried cranberries if you don't mind their bitterness.
Coconut-Free – Swap the coconut flakes for nuts or seeds.
Frequently Asked Questions
Below are my answers to your common questions about making protein powder granola.
Can I Use Any Kind Of Protein Powder?
Yes, the recipe works with all types of protein powder, like peanut, almond, soy, or hemp powder.
You can also play with protein powder flavor to create a range of granola flavors using chocolate or strawberry protein powder, for example
Can I Double The Recipe?
You can double up this recipe, but you may need two large baking sheets to bake the granola batch.
Always ensure the granola is spread in a single layer, or it won't get crunchy and stay moist.
Does This Granola Create Granola Clusters?
To form clusters from any granola recipes, make sure you don't swap any ingredients. Then, let the recipe cool completely on the baking sheet without touching.
As the ingredients cool down, they stick together forming clusters.
How Can I Add More Protein?
To increase protein in your granola recipe, replace some of the nuts and seeds with high-protein ingredients like more hemp seeds, quinoa, or soy textured protein.
Make sure you bake these extra ingredients along with oats.
Finally, the best way to increase the proteins in your breakfast bowl is to serve 1/3 cup of protein granola on top of a protein fluff for a 40-gram-protein breakfast.
More Granola Recipes
Below I listed some more granola recipes for you to try.
More High-Protein Recipes
If you love protein breakfast recipes, find some inspirations for you to try next below.
Have you baked a batch of this homemade protein powder granola recipe? Share a comment or review below.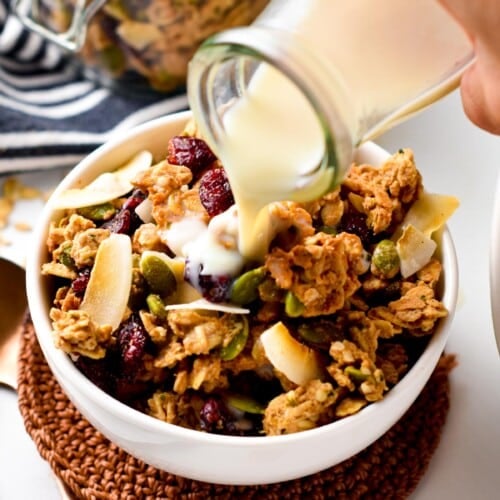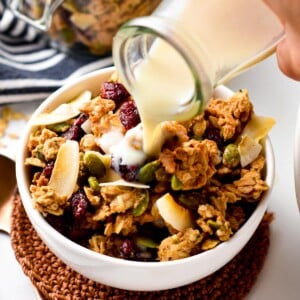 High-Protein Granola
This homemade high-protein granola recipe is an easy high-protein breakfast cereal! It makes crunchy and sweet clusters that are also naturally vegan, nut-free, and refined sugar-free.
Pin
Print
Review
Servings:
8
servings (1/3 cup each)
Shop My Tools
Instructions
Preheat the oven to 300°F (150°C). Line a large baking sheet with parchment paper. Set aside.

In a large mixing bowl, stir oats, protein powder, cinnamon, hemp seeds, and pumpkin seeds. Set aside.

In another bowl, add avocado oil, maple syrup, and peanut butter. Microwave for 20-30 seconds or until it's easy to stir the ingredients together into a smooth mixture.

Pour the liquid ingredients onto the dry ingredients and stir to coat very well. It's getting difficult to stir as you go, but keep stirring until no powder can be seen and all ingredients are coated with the liquids. If too dry, you can add an extra tablespoon of oil or maple syrup.

Spread the granola onto the prepared baking sheet into a single layer.

Bake for 15-18 minutes, shaking halfway.

Remove from the oven when the granola is fragrant and golden brown.

Cool completely, on the tray, without touching at all, so it crisps up and forms lovely clusters.

Stir in coconut flakes and dried cranberries.
Storage
Store in a glass mason jar in the pantry up to 1 month.
Share on Facebook
Pin Recipe
Nutrition
Serving:
1
serving (1/3 cup)
|
Calories:
316.3
kcal
|
Carbohydrates:
28
g
|
Protein:
10.7
g
|
Fat:
18.5
g
|
Saturated Fat:
3.8
g
|
Polyunsaturated Fat:
5.6
g
|
Monounsaturated Fat:
8.1
g
|
Trans Fat:
0.001
g
|
Sodium:
38.2
mg
|
Potassium:
183.1
mg
|
Fiber:
4.7
g
|
Sugar:
9.8
g
|
Vitamin A:
35.3
IU
|
Vitamin C:
0.5
mg
|
Calcium:
47.2
mg
|
Iron:
2.7
mg
|
Magnesium:
59
mg
|
Phosphorus:
211.2
mg
|
Zinc:
1.3
mg