This Nut-Free Granola recipe is the best breakfast cereal recipe if you have nut allergies.
It's packed with whole grains, and it's also dairy-free, egg-free, and refined sugar-free. Plus, it is super simple to whip up in less than 10 minutes.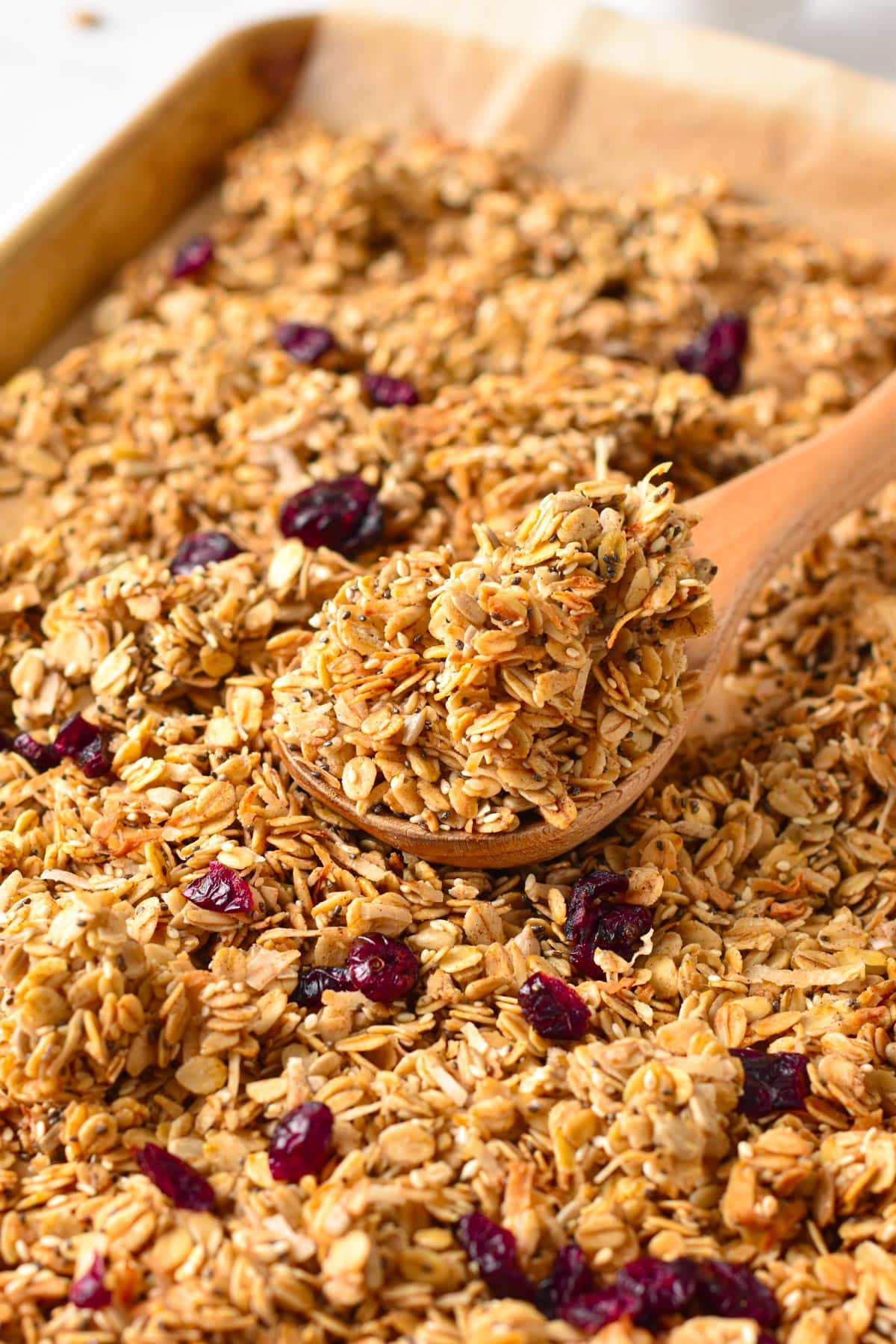 I have loved making my own granola recipe for years now. But, recently I have had a nut allergy, especially an allergy to peanuts and almonds.
Unfortunately, most store-bought granola recipes are not allergy-friendly. They contain nuts or nut butter in most types.
While I am still baking with these nut butter for my family's breakfasts, I also started designing more nut-free recipes for myself, starting with my nut-free energy balls.
How To Make Nut-Free Granola
This nut-free granola combines all the healthy ingredients you need to start the day with energy from healthy fats in seeds to wholegrain oats.
Ingredients
All you need to make the most delicious granola recipe without nuts are: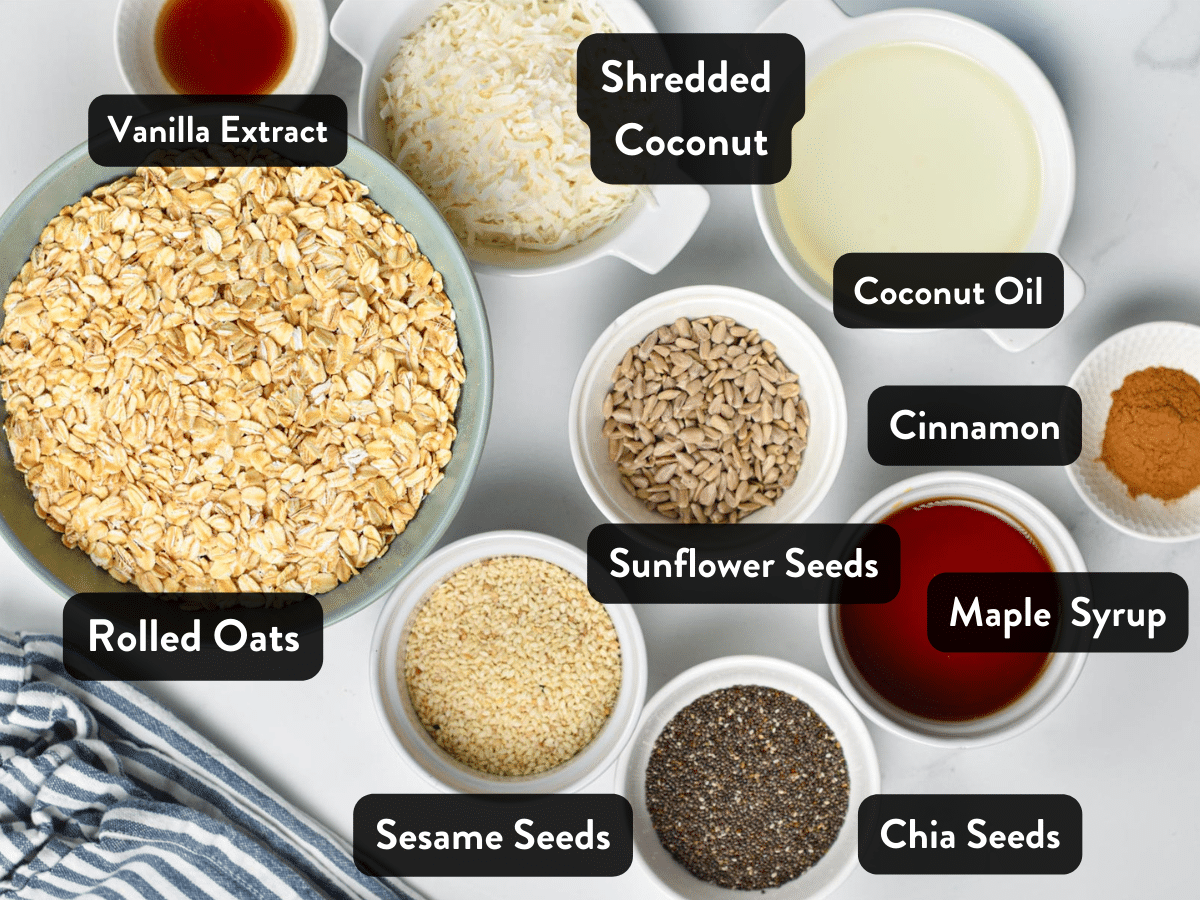 Old-Fashioned Rolled Oats – Or quick oats or a combination of both. Note that steel-cut oats work as well.
Maple Syrup or any liquid sweetener you love like agave syrup or coconut nectar.
Melted Coconut Oil, light olive oil, or avocado oil.
Vanilla Extract
Cinnamon
Sesame Seeds, hemp heart, or pumpkin seeds also known as pepitas.
Sunflower Seeds
Unsweetened Shredded Coconut or coconut flakes
Chia Seeds or flaxseeds
Pinch of Salt – optional
Preparation
Preheat the oven to 320°F (160°C). Line a large baking sheet with parchment paper and lightly oil the sheet with cooking oil spray. Set aside.

Combining Dry Ingredients
In a large bowl, stir all the dry ingredients: oats, seeds, coconut, and cinnamon.
Adding Wet Ingredients
Add the wet ingredients: maple syrup, melted coconut oil, and vanilla extract. Stir both ingredients with a spatula, to coat the dry ingredients evenly with the wet ingredients.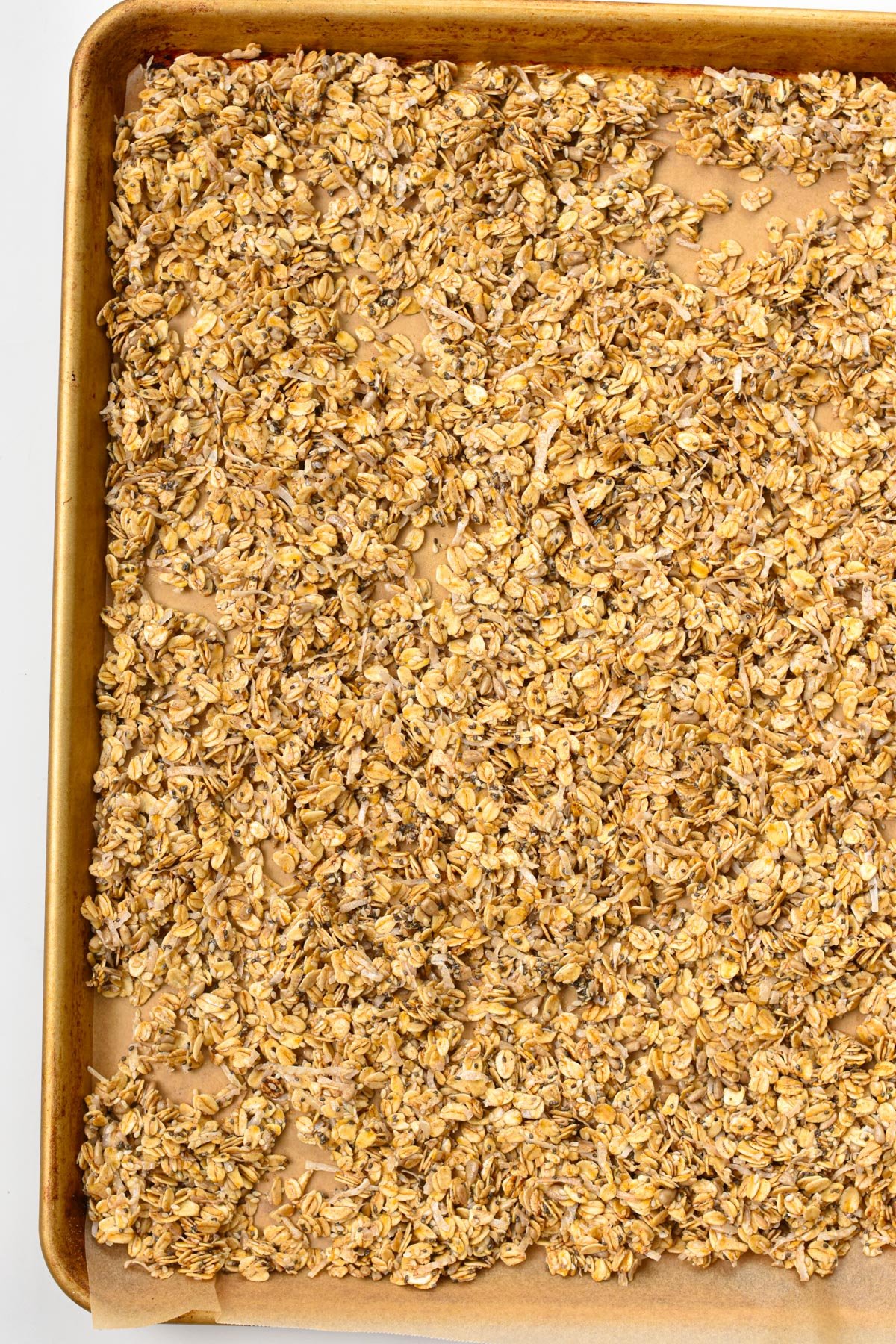 Cooking The Granola
Pour the ingredients onto the prepared baking sheet. Spread into a single even layer.
Bake in the center rack of the oven until the granola mixture is lightly golden and roasted.
Remove from the oven, don't touch the granola at all as it firm up and forms cluster as the granola cool completely.
Flavor Variations
You can use this basic granola recipe to create a range of granola flavors. For example you can try adding some of the below ingredients to make the flavors below.
Chocolate nut-free granola – stir in 2 tablespoons of unsweetened cocoa powder with the dry ingredients. After, it cools down, astir in 1/2 cup dark chocolate chips
Pumpkin spices nut-free granola mix – replace cinnamon by pumpkin pie spices and stir in finely chopped dried dates in the cooled mixture. You can also swap 2 tablespoons of the coconut oil by pumpkin puree
Protein granola without nuts – stir in 1/4 cup pea protein powder and 3 tablespoons sunflower seed butter or tahini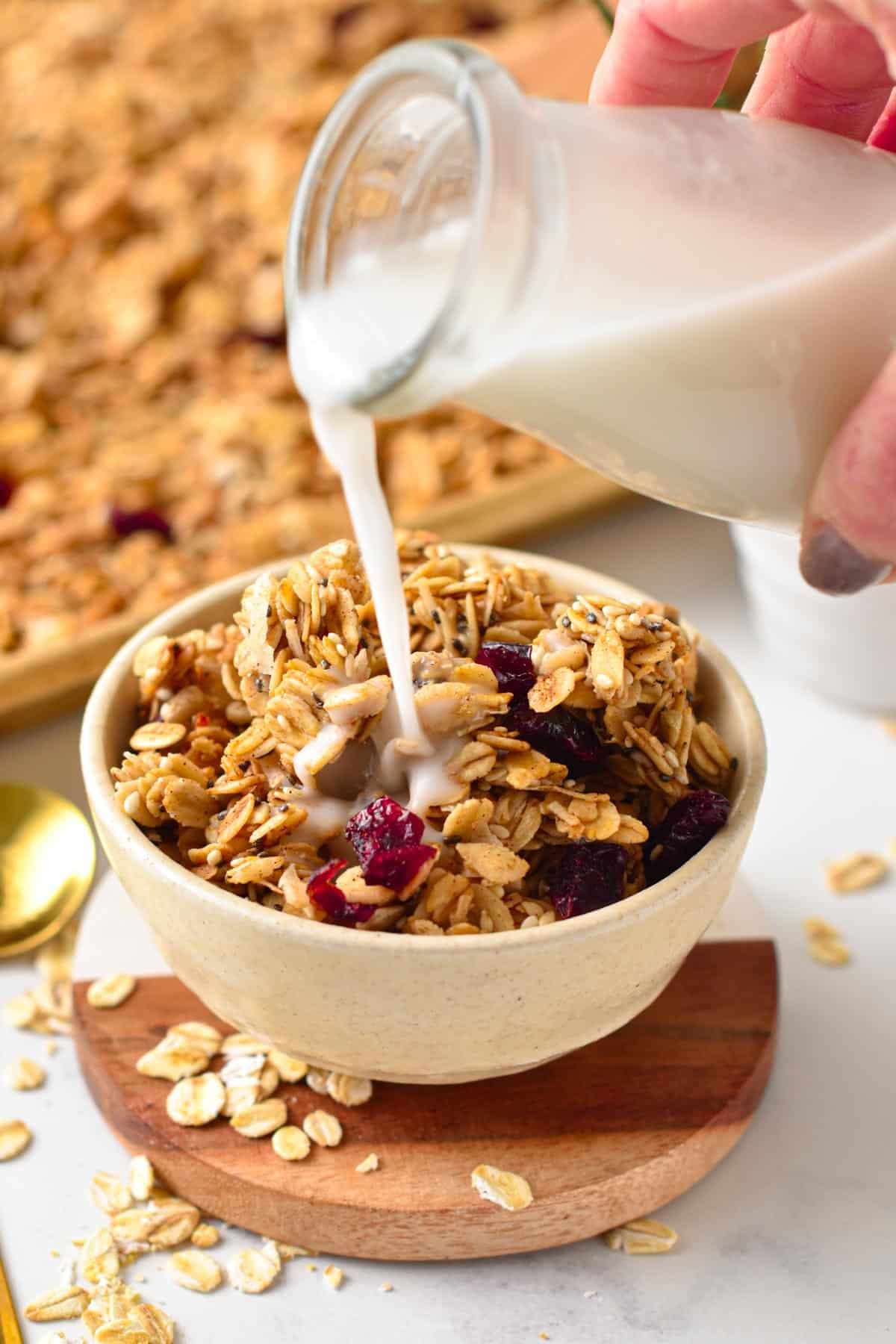 Serving granola
This granola recipe is great for breakfast or snack. Serve 1/4 cup to 1/3 cup with:
Plant-based yogurt
Plant-based milk, like coconut milk or oat milk.
Fresh fruits like banana slices, strawberries, or blueberries.
On top of chocolate bark or a date bark to remove the nuts.
Add-Ons
When the granola is completely cool, stir in some of your favorite dried fruits or chocolate to boost the taste and texture of the recipe.
The best add-ons to your homemade granola mix are:
Dried cranberries
Dark chocolate chips
Dried apricot – chopped
Dried dates – chopped
Dried raisins
Storage Instructions
Store the granola recipe in an airtight glass mason jar for up to one month in the pantry.
Freeze the granola recipe in vacuumed sealed zip-lock bags for up to three months. Thaw at room temperature before serving.
Allergy Swaps
If you have some food allergies, try the options below.
Gluten-Free – Use a certified gluten-free oat brand.
Seed-Free – Swap the seeds for more oats or more shredded coconut.
Coconut-Free – Use avocado oil, and replace shredded coconut with more oats or more seeds.
Frequently Asked Questions
Below are some answers to your most common questions about this recipe.
Does nut-free granola exist?
Yes, some granola brands doesn't includes nuts but there's only a few. Most granola contains tree nuts either almonds, peanuts or cashews.
Does granola contain nuts?
Yes, 99% of granola brands include a type of nuts like almonds, peanuts, or cashews.
Is granola vegan?
Not all granola are vegan as some brands contain honey
What are the list of tree nuts?
The most common tree nuts used in baking are almonds, cashews, hazelnuts, pecans, pistachios, and macadamia nuts.
More Granola Recipes
If you like this recipe, you'll love these other granola recipes: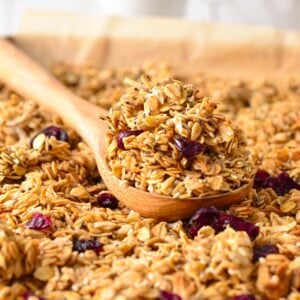 Nut Free Granola
This nut-free granola recipe is the best breakfast cereal recipe if you have nut allergies. It's packed with whole grains, and it's also dairy-free, egg-free, and refined sugar-free.
Pin
Print
Review
Servings:
16
servings (1/4 cup)
Shop My Tools
Instructions
Preheat the oven to (320°F) 160°C. Line a large baking sheet with parchment paper. Set it aside.

In a large mixing bowl, whisk all the dry ingredients: oats, sunflower seeds, sesame seeds, shredded coconut, cinnamon, and salt if used.

Add in the maple syrup and melted coconut oil.

Toss the dry ingredients with the wet ingredients.

Lay the granola mixture in an even single layer on the prepared baking sheet.

Bake for 15-17 minutes or until just golden brown.

Remove from the oven, don't touch the granola, and cool completely on the baking sheet at room temperature.

When it's fully cool, stir in dried fruits or chocolate chips.
Storage
Store in an airtight container in the pantry for up to 3 months.
Share on Facebook
Pin Recipe
Nutrition
Serving:
1
serving (1/4 cup)
|
Calories:
169.4
kcal
|
Carbohydrates:
20
g
|
Protein:
3.2
g
|
Fat:
9.2
g
|
Saturated Fat:
5.1
g
|
Polyunsaturated Fat:
1.8
g
|
Monounsaturated Fat:
1.5
g
|
Trans Fat:
0.002
g
|
Sodium:
9.7
mg
|
Potassium:
112.3
mg
|
Fiber:
2.8
g
|
Sugar:
7.3
g
|
Vitamin A:
2.4
IU
|
Vitamin C:
0.1
mg
|
Calcium:
51.1
mg
|
Iron:
1.3
mg
|
Magnesium:
44.1
mg
|
Phosphorus:
107.1
mg
|
Zinc:
1
mg