This Healthy Chocolate Granola recipe is a one-pan granola recipe perfect for the meal prep of weeks of healthy breakfast.
It has a lovely crunch from the oats, seeds, and nuts clusters with the most delicious chocolate flavor.
Oat lovers, you must try this homemade chocolate granola recipe for breakfast.
This is the best alternative to my Peanut Butter Granola Recipe and my High Protein Granola, and it is perfect for chocolate lovers in the morning.
It's as nourishing as a protein powder oatmeal or chocolate peanut butter overnight oats but better if you are after a crunchy oat breakfast bowl.
What's Chocolate Granola?
Chocolate granola is a healthy breakfast cereal mix made from oats, cocoa powder, nuts, and seeds.
It's crunchy with a delicious toasted oat flavor and packed with fiber and protein to keep you full in the morning.
Is Granola Vegan?
Granola is not always vegan!
While Granola is vegan most of the time, there are some exceptions for recipes calling for added honey or milk powder.
Always check the ingredient list to make sure the granola is not sweetened with honey or contains milk powder if the granola mix contains chocolate chips, this is probably the case!
How To Make Chocolate Granola
Chocolate granola is super easy to make in one pan and takes under 30 minutes to make from start to finish.
Ingredients
All you need to make a granola chocolate recipe are:
Old-Fashioned Rolled Oats – Use gluten-free certified oats for a gluten-free granola recipe.
Almonds – Use chopped almonds or any nuts you love like hazelnuts, pecans, or walnuts. All these options taste great with chocolate.
Pumpkin Seeds
Sunflower Seeds
Cinnamon
Unsweetened Cocoa Powder
Maple Syrup – I prefer classic organic maple syrup, but any other liquid sweetener you like such as rice malt syrup or coconut nectar.
Vanilla Extract
Melted Dark Chocolate or dark chocolate chips – I used 85% chocolate to keep the added sugar low. Learn how to find accidentally vegan dark chocolate.
Homemade Granola Mixture
First, preheat the oven to 325°F (160°C). Line a large baking sheet with oiled parchment paper. Set it aside.
Next, in a large bowl, add all the dry ingredients: oats, chopped nuts, sunflower seeds, pumpkin seeds, cinnamon, and cocoa powder. Stir well to combine. Set aside.
In a microwave-safe bowl or non-stick pan, add the dark chocolate chunks and coconut oil.
Warm over medium heat, stirring often until fully combined.
You can also microwave it for 1 minute, stir and repeat until both ingredients are melted and combined together.
Pour the melted chocolate mixture and maple syrup on top of the first bowl.
Stir the oat mixture to evenly cover the dry ingredients with the liquid ingredients.
Line a large baking sheet with parchment appear. Slightly oil paper with olive oil or coconut oil.
Spread the chocolate granola in a single layer over the baking sheet.
Place the baking sheet in the oven and bake for 20 minutes, stirring halfway until the granola is toasted and fragrant.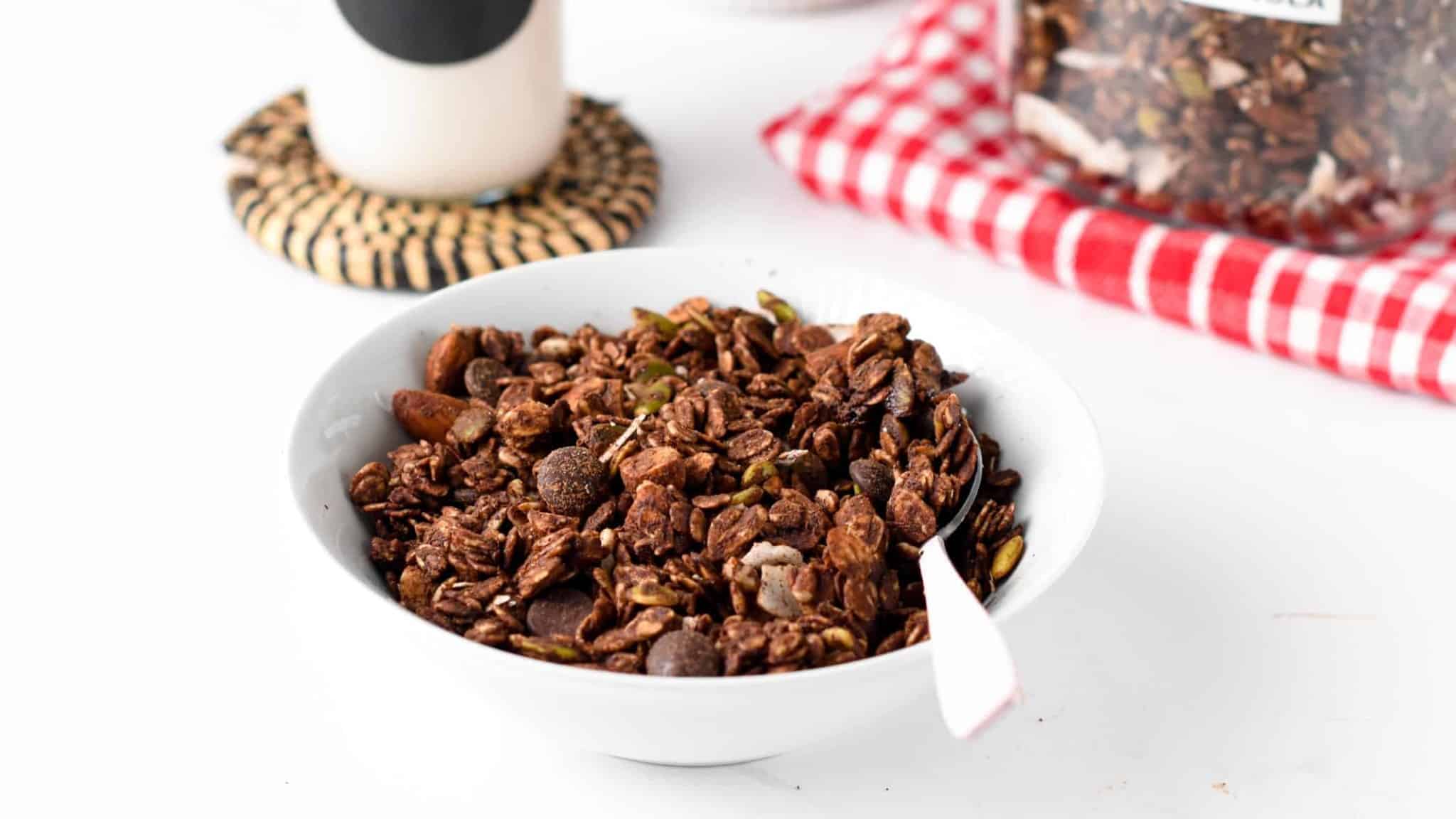 Granola Clusters
To form granola clusters, let the granola cool completely for 1 hour on the baking sheet at room temperature without touching the cereals.
After that time, gently stir the granola by hand and bring it into a large cluster to make the chocolate granola recipe fit a glass mason jar for storage.
Serving
Serve this healthy granola recipe as a healthy breakfast or snack with some:
Dairy-free milk like almond milk, oat milk, and peanut butter.
Vegan yogurt
Berries
Sliced banana
A Drizzle of nut butter like peanut butter or almond butter.
A few tablespoons of Banana Syrup.
Add-Ons
You can add more flavor to this recipe by adding some of the below ingredients after baking:
Grated orange zest for a holiday season Christmas granola recipe.
Dark chocolate chips – wait until the recipe is fully cooled before stirring 1/3 cup of chocolate chips. You can also add cocoa nibs.
Dried fruits like chopped dried apricot, dried cranberries, raisins, or dates.
Freeze-dried fruits like freeze-dried raspberries or strawberries.
Coconut flakes or shredded coconut.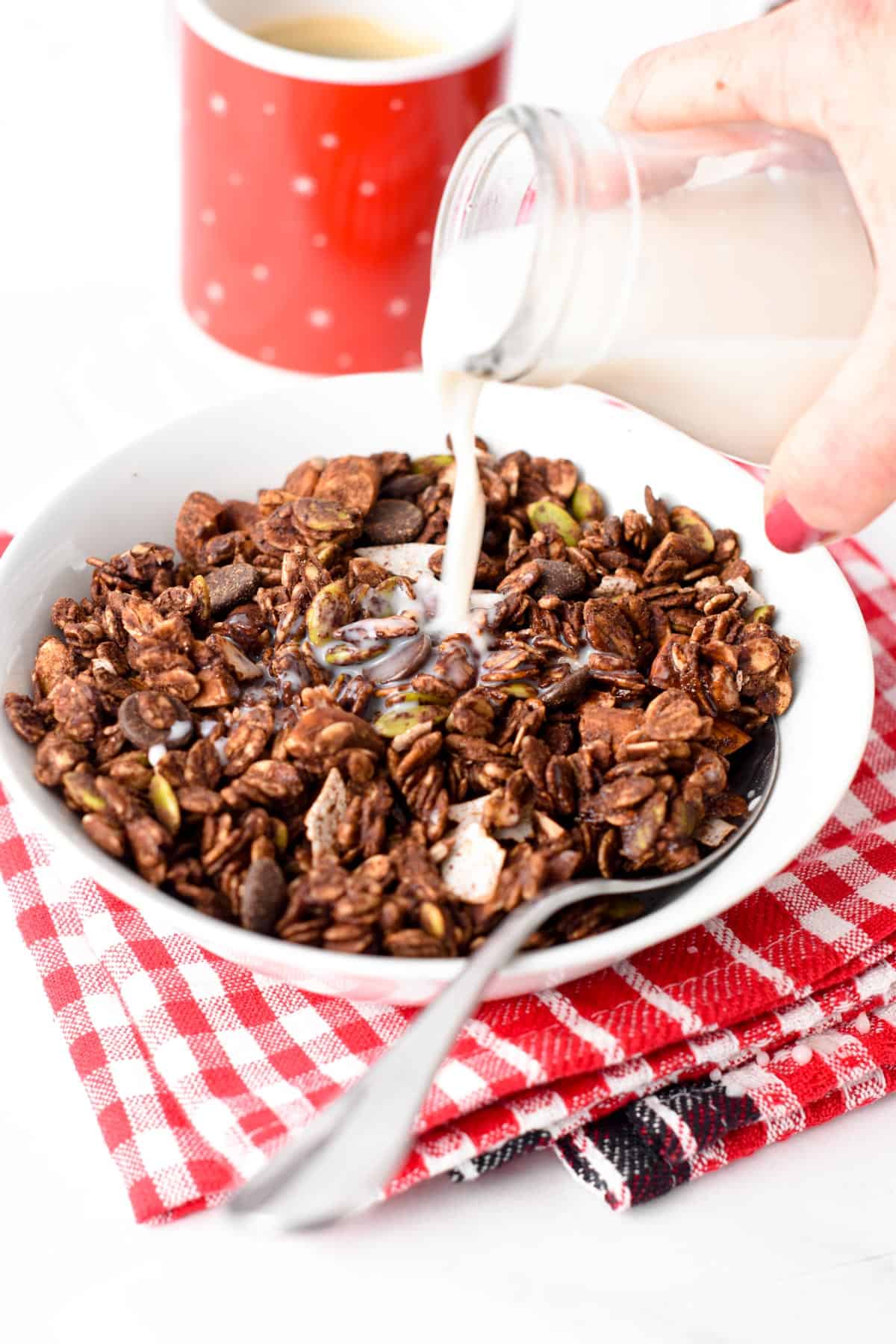 Storage Instructions
This dark chocolate granola recipe can be stored for up to 2 weeks in an air-sealed glass jar placed in the pantry at room temperature.
You can also freeze the chocolate granola if your batch is too large to eat within that timeframe. Thaw it at room temperature.
Allergy Swaps
You can adapt this recipe to your food allergies.
Nut-Free – replace the chopped nuts with more seeds or hemp seeds for a protein boost.
Seed-Free – replace the seeds with chopped nuts or simply more oats.
Frequently Asked Questions
Below I listed the answer to your most current questions about this homemade chocolate granola recipe.
Can I Add Protein To Chocolate Granola?
You can boost the nutrition profile of your homemade granola recipe by adding high plant-based protein seeds like chia seeds, flax seeds, or hemp seeds.
You can swap the pumpkin seeds and sunflower seeds for the previous seeds option. You can't add protein powder into a granola recipe or it would dry out the mixture and change the texture.
However, you can serve your granola on top of a strawberry banana smoothie bowl or my cinnamon roll protein shake.
Can I Swap Liquid Sweetener For Sugar?
Yes, you can replace the maple syrup with sugar, coconut sugar, or brown sugar.
However, you will have to melt the sugar with the chocolate chips and coconut oil before adding it to the recipe.
Can I Skip The Salt?
Yes, you can decrease the sodium in the recipe and skip the sea salt. Salt is only used to enhance the chocolate flavor of the recipe.
More Vegan Breakfast Recipes
If you like vegan breakfast recipes, you'll love these: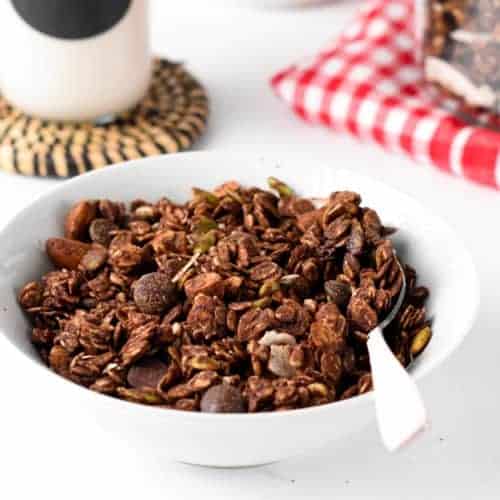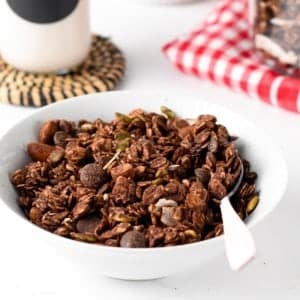 Chocolate Granola
This easy Chocolate Granola recipe to meal prep weeks of breakfast and start the day packed with protein, slow carb, and a delicious chocolate flavor.
Pin
Print
Review
Save
Saved Recipes
Servings:
15
servings (1/3 cup)
Shop My Tools
Instructions
Preheat the oven to 320°F (160°C). Line a large baking sheet with lightly oiled parchment paper. Set aside

In a large mixing bowl, stir all dry ingredients: oats, almonds, pumpkin seeds, sunflower seeds, cinnamon, cocoa powder, and salt. Set aside.

In a saucepan, over medium heat, heat the coconut oil and chocolate chips. Heat and stir until all ingredients are melted and combined. Don't simmer or boil. Gently melt chocolate and coconut oil into the syrup. You can also microwave both ingredients in a microwave-safe bowl until melted.

Pour the melted chocolate, maple syrup, and vanilla extract onto the bowl of dry ingredients, and stir to coat all the dry ingredients with the chocolate mixture.

Transfer the chocolate granola onto a baking tray, in a single layer.

Bake 15 minutes – 18 minutes or until fragrant, and golden. Stir the granola halfway to roast evenly, or keep it like this to form granola clusters.

Cool down on the tray at room temperature without stirring to form granola clusters and before transferring into a storage jar.

When totally cool down, stir in coconut flakes or extra chocolate chips if desired.
Storage
Store in the pantry in a sealed jar for up to 2 weeks.
Share on Facebook
Pin Recipe
Nutrition
Serving:
1
serving (1/3 cup)
|
Calories:
209.1
kcal
|
Carbohydrates:
20.3
g
|
Protein:
5.2
g
|
Fat:
12.8
g
|
Saturated Fat:
5
g
|
Polyunsaturated Fat:
2.5
g
|
Monounsaturated Fat:
4.2
g
|
Trans Fat:
0.1
g
|
Cholesterol:
0.2
mg
|
Sodium:
3.8
mg
|
Potassium:
217.3
mg
|
Fiber:
3.7
g
|
Sugar:
6.7
g
|
Vitamin A:
5.8
IU
|
Vitamin B12:
0.1
µg
|
Vitamin C:
0.1
mg
|
Calcium:
39.5
mg
|
Iron:
2.3
mg
|
Magnesium:
82.9
mg
|
Phosphorus:
165.4
mg
|
Zinc:
1.4
mg