Protein Overnight Oats with Protein Powder
These overnight oats with protein powder are a healthy plant-based breakfast recipe that is easy to make ahead of and meal prep for 4 days of high-protein breakfast.
Bonus, this Protein Overnight Oats recipe is also vegan, gluten-free, and contains 18 grams of plant-based proteins per serving.
Why You Will Love These Protein Overnight Oats
An Overnight oat recipe is a healthy breakfast, a cold oatmeal recipe that doesn't require cooking the oats and therefore makes oats easier to digest.
This vegan breakfast recipe is also:
Easy way to make ahead in large batches
Loaded With Protein
Easy, healthy, and nourishing
Perfect as a post-workout recovery breakfast
Ingredients For Overnight Oats With Protein Powder
This healthy overnight oats recipe with protein powder is the easiest way to quickly add a lot of proteins to your overnight oat recipe.
The choice of your ingredients matters when it comes to adding protein powder to overnight oats. In fact, protein powder soaks a lot of liquid in the recipe, and if you use different ingredients, the result can be very gummy to very dry.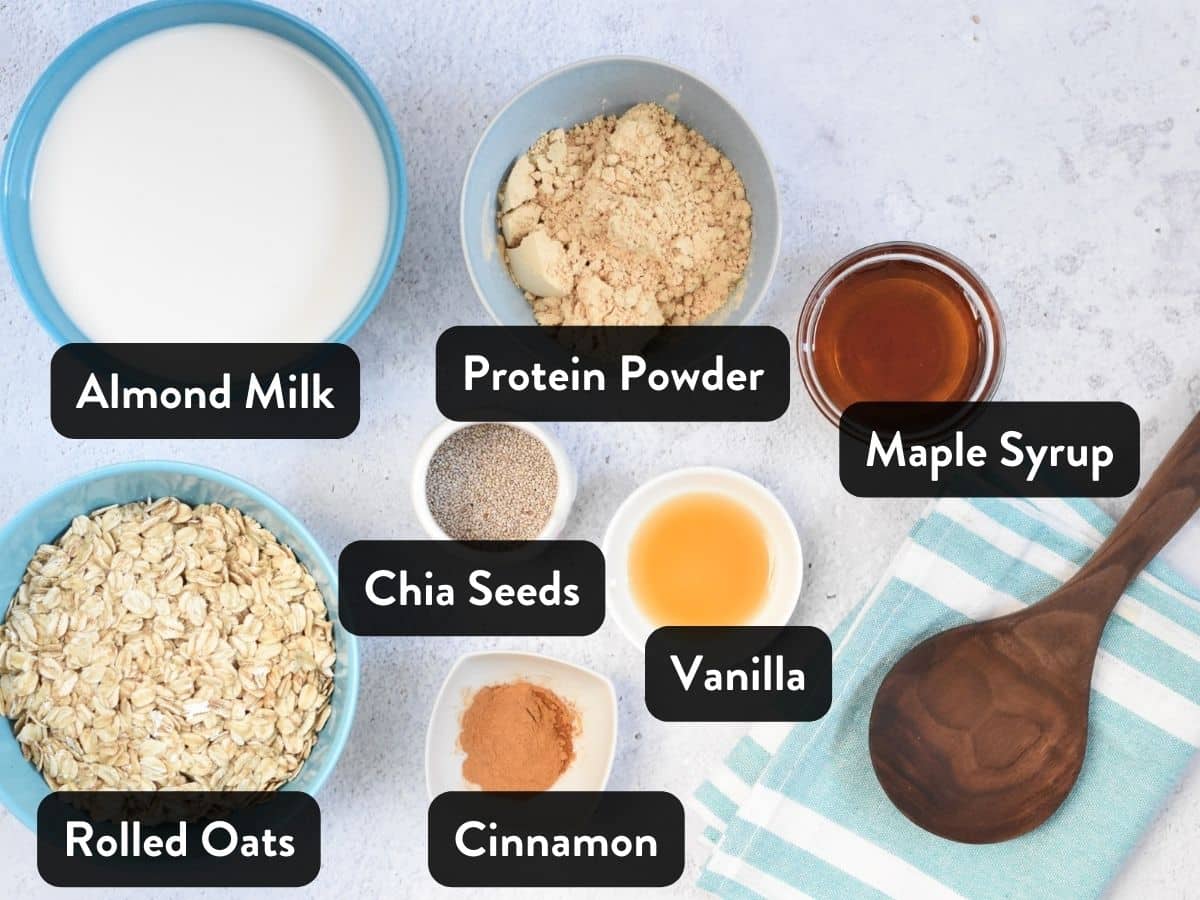 Old-Fashioned Rolled Oats – This is the coarse version of oats, and it doesn't absorb liquid as much as quick oats. That's why it's the best choice for protein overnight oats, as this adds texture and keeps the oatmeal creamy and smooth.
Chia Seeds – If you don't like chia seeds, you can use a flax meal instead, but keep in mind that flax meal adds a slightly bitter flavor to the mixture, so it's not our favorite choice. Removing the chia seeds from overnight oats loosens up the texture and turns the mixture liquid.
Unsweetened Almond Milk is the best choice since it's low in calories and light in flavor. But if you are after more proteins, try soy milk or oat milk for a nut-free option.
Sweetener of Choice – We use maple syrup, but any liquid sweetener like agave syrup or sugar-free erythritol works as well. If you use a crystal sweetener, it won't dissolve as well.
Vanilla Extract is my go-to boost of flavor for this recipe, but, almond extract is delicious. You can totally leave out vanilla extract if your protein powder has a strong vanilla flavor.
Cinnamon – This is optional, but this adds a delicious flavor to the recipe and it can be replaced with pumpkin pie spices for a high-protein fall oatmeal recipe.
Protein Powder of Choice – We used vanilla peanut protein powder made from peanuts, but any vanilla plant-based protein powder works well including hemp protein powder or pea protein powder. We didn't try whey protein powder, but you should expect similar results.
Making Protein Overnight Oats
Here are my tips and tricks to add protein to overnight oats and still make this recipe ultra tasty, creamy, smooth, and packed with flavors.
Step 1: Bring Dry Overnight Oat Ingredients Together
First, in a large mixing bowl or airtight container, add all the dry ingredients including rolled oats, chia seeds, protein powder, and cinnamon.
Step 2: Stir Liquid Ingredients To Dry Ingredients
Stir well to distribute the dry ingredients. Then, stir in almond milk, vanilla extract, and the sweetener you love.
Feel free to skip the sweetener if you don't have a sweet tooth or if your protein powder is already very sweet.
Step 3: Soaking Protein Overnight Oats
Seal the mixing bowl with a silicone lid and place it in the fridge overnight or at least 3 hours. Protein powder absorbs liquid very fast, and you don't need to soak protein overnight oats as long as traditional overnight oat recipes.
We recommend giving a quick stir in the mixture 1 hour after being placed in the fridge to prevent the chia seeds from migrating to the bottom of the bowl.
Step 4: Serving The Next Day
The next day, serve the overnight oats recipe in glass mason jars, with layers of plant-based yogurt to add proteins, berries, or nuts.
Tips For Even More Protein
Many of you don't like protein powder flavor or simply don't have protein powder at home. The great news is that you can make protein overnight oats without protein powder. I like protein powder recipes because it's the easiest way to add loads of protein to a recipe with just a small amount of protein powder.
But, if you don't enjoy protein powder flavor, or you don't have any at home, you can make overnight oats without protein powder. To do so, replace a part of the plant-based milk with the same amount of:
High-Protein Yogurt – Plain soy yogurt is a great option. Replace up to 1/2 cup of the plant-based milk with this to keep a nice smooth and creamy texture.
Store-Bought Ready-Made Protein Shakes – These are already flavored and sweetened. It means you must remove the vanilla and sweetener for this recipe or the result will be too sweet.
Nut Butter – Add up to 1/4 cup almond butter or peanut butter powder to the recipe to boost the protein content without protein powder.
High-Protein Seeds – Stir in 1/4 cup of hemp seeds. This is the highest protein seed available on the market, and it's the best to add protein to recipes without using any protein powder.
Best Toppings
Protein overnight oats are very blend served by themselves and it taste even better served in small jars, with layers of other ingredients, including:
Fruits – Berries like raspberries, blueberries, or chopped apples and banana slices. Feel free to stir fresh or frozen berries in overnight oats. You can also stir the berries in the entire batch before soaking the oats overnight.
Nuts – The best nuts are chopped pecans, almonds, or hazelnuts. They stay very crunchy even if soaked in the mixture, and they boost the protein content of your breakfast.
Seeds – As mentioned before, hemp seeds are the best boost of plant-based protein.
Peanut Butter or almond butter or high-protein options, and they add a creamy nutty flavor to the recipe.
Chocolate Chips – You can use sugar-free dark chocolate chips to keep the recipe healthy and sugar-free.
Melted Dark Chocolate – Drizzle some melted 70% cocoa chocolate to turn this breakfast into an indulgent dessert flavor.
Best Flavoring Options
The possibilities are endless, and you can add some ingredients to this vanilla overnight oats with protein powder mixture to create a range of breakfast flavors. For example, try the options below:
Biscoff Protein Overnight Oats – Stir 1 1/2 tablespoons of Biscoff spread with the liquid ingredients and skip the sweetener.
Chocolate Protein Overnight Oats – Use chocolate protein powder, and add 1 tablespoon of unsweetened cocoa powder to the dry ingredients.
Pumpkin Pie Protein Overnight Oats – Add 1/4 cup of pumpkin puree, decrease plant-based milk by the same amount, and add 1 teaspoon of pumpkin pie spice.
Damien's Take On These Protein Overnight Oats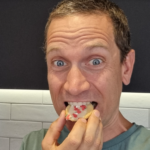 I love overnight oats recipes, and not just for breakfast.
This recipe is particularly delicious – the layers of banana, chocolate, and oats make it particularly flavorsome.
This is my go-to snack after a long summer workout as it blends protein with a cold a refreshing taste.
Frequently Asked Questions
Which Protein Powder Can I Use?
You can use any vegan protein powder in these overnight oats with almond milk.
Plant-based protein powders are highly recommended, like pea protein powder, almond protein powder, or peanut protein powder.
You can use vanilla-flavored powder or even chocolate protein powder in this recipe to make chocolate overnights oats.
Can I Skip The Chia Seeds?
No, you can't make overnights oats without chia seeds, or the texture will be runny.
In fact, you need high-fiber seeds like chia seeds or flaxseed meal to add a jelly-like texture to the overnight oats. You can use white chia seeds or black chia seeds in this recipe.
Other options are to swap the 2 tablespoons of chia seeds with 2 tablespoons of flaxseed meal or 1 tablespoon of whole psyllium husk.
Are Protein Overnight Oats Healthy?
Yes, overnight oats are one the most healthy breakfast with a high nutrients profile, including:
High fiber – chia seeds and oats are high in fiber, and one serving of overnights oats contains 6 grams of fiber.
High protein – these overnight oats are made with protein powder, so it's one of the highest protein breakfasts with 18 grams of protein per serving.
High nutrient profile – raw breakfasts are uncooked, which preserves all the vitamins and nutrients from grains and seeds.
Low GI – these overnights oats with protein powder are high in fiber and low in carbs keeping your blood sugar level stable for longer. Plus, if you don't add the sweetener, one serving only contains 20 grams of net carbs and 200 kcal!
Can I Use Instant Oats?
You can replace old-fashioned oats with instant oats, but you may have to add more instant oats to achieve the same creamy texture.
In fact, instant oats contain less fiber, and it's less liquid absorbent than rolled oats.
As a result, if you swap one for the other, the texture of your overnight oats with protein powder can be very liquid.
More Overnight Oat Recipes
Do you love overnight oats? You may also like these healthy plant-based recipes: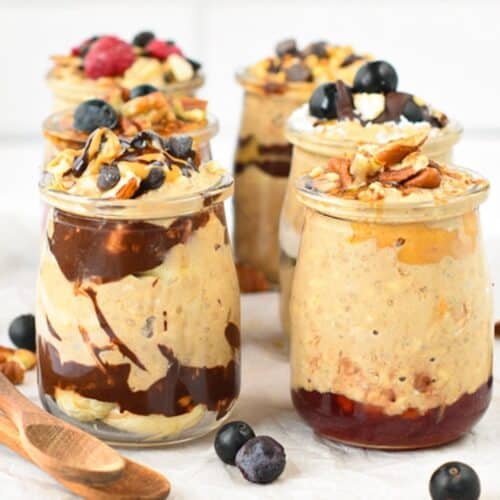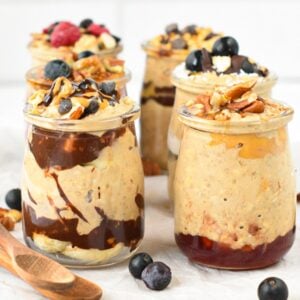 Overnight Oats with Protein Powder
These overnight oats with protein powder are a healthy plant-based breakfast recipe that is easy to make ahead of and meal prep for 4 days of high-protein breakfast.
Pin
Print
Review
Servings: 4 jars
Calories: 243.7 kcal
Instructions
In a large mixing bowl, add old-fashioned rolled oats, chia seeds, protein powder, and cinnamon. Stir to distribute evenly.

Stir in almond milk, maple syrup, and vanilla extract. Seal the bowl with a lid, refrigerate overnight. I recommend stirring the mixture 1 hour after you pop it in the fridge. This prevents the chia seeds from sinking to the bottom of the bowl.

The next day, serve in small serving jars with peanut butter, dairy-free yogurt, fresh berries, and nuts.
Notes
Note 1: This recipe doesn't work with steel-cut oats. You must use old-fashioned rolled oats or quick oats. Nut-Free: To remove the nuts, use oat milk or soy milk and a nut-free protein powder like pea protein. Gluten-Free: Use gluten-free certified oats for this oatmeal recipe. How long to store protein overnight oats? You can store the recipe for up to 4-5 days in the fridge, in an airtight glass container. The texture gets thicker and dryer after a few days, and you can thin out the recipe by adding a splash of extra milk. Can I freeze protein oats? Yes, you can freeze this recipe in a small container, seal it with a lid, and freeze for up to 1 month. Thaw in the fridge the day before.
Share on Facebook
Pin Recipe
Nutrition
Serving: 1jar (3/4 cup) | Calories: 243.7kcal | Carbohydrates: 32g | Protein: 17.8g | Fat: 5.8g | Saturated Fat: 0.6g | Polyunsaturated Fat: 3.1g | Monounsaturated Fat: 1.6g | Trans Fat: 0.01g | Sodium: 317.1mg | Potassium: 172.8mg | Fiber: 6.6g | Sugar: 6.6g | Vitamin A: 4.7IU | Vitamin C: 0.1mg | Calcium: 246.4mg | Iron: 4mg | Magnesium: 70.4mg | Phosphorus: 293mg | Zinc: 2.1mg