Protein Powder Mug Cake (16g Protein, No Sugar, No Eggs)
This 90-second Single-serve Chocolate Protein Powder Mug Cake recipe is the best post-workout breakfast or snack with 16 grams of protein per serving and only 160 calories.
Bonus, this is also a vegan protein mug cake made without eggs or dairy.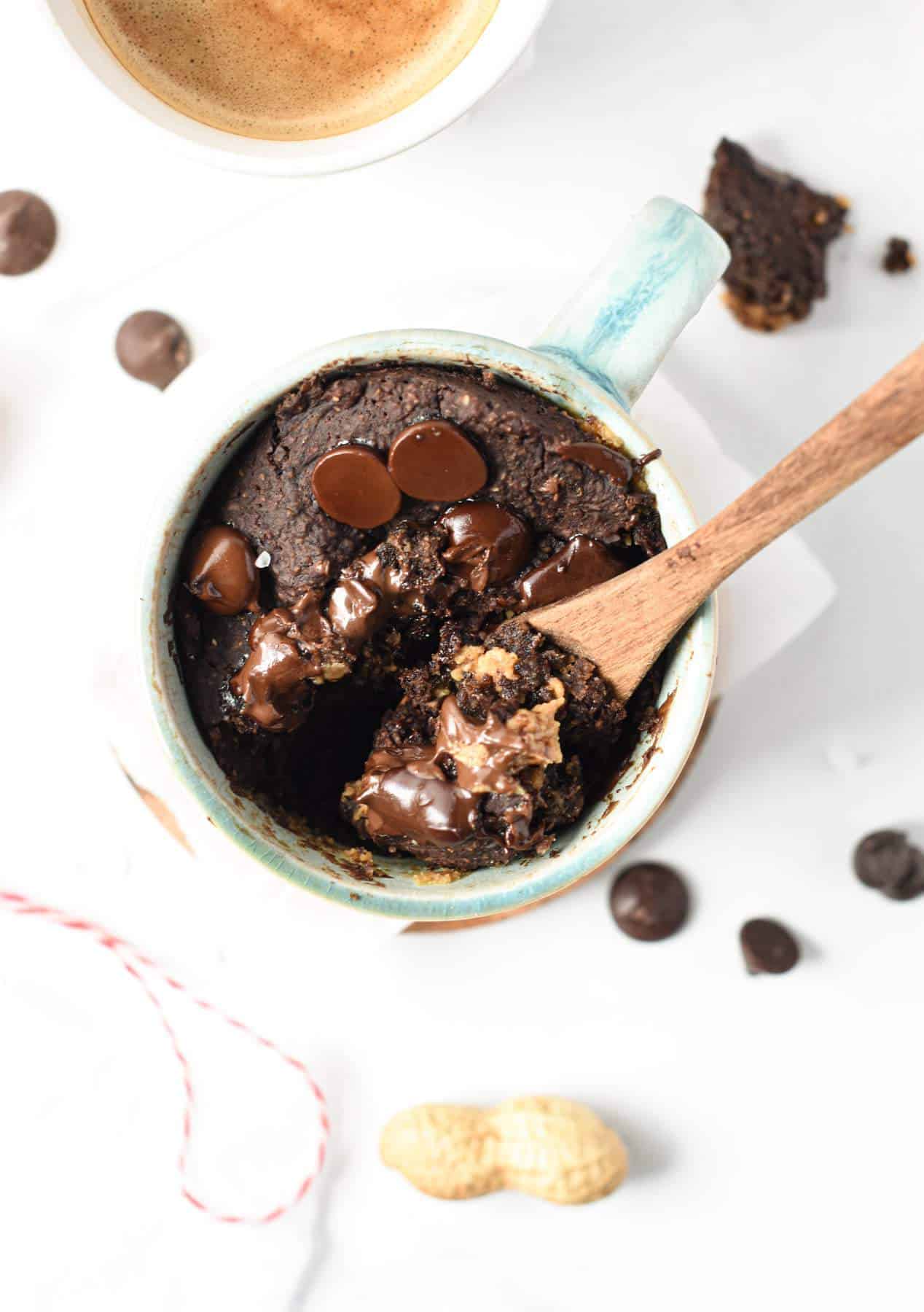 What's A Protein Powder Mug Cake?
A Protein Mug Cake is a single-serving cake made in under 5 minutes using a microwave.
It's loaded with protein powder to make a great post-workout snack.
How To Make Mug Cake With Protein Powder
A mug cake with protein powder is a single-serve protein cake baked in the microwave for 90 seconds.
It's a quick and healthy way to fix a cake craving in the morning after a workout or in the afternoon.
To make a delicious mug cake with protein powder, the main important thing is to use a protein powder that you already know and enjoy its flavor!
Choice of protein powder
We tested this recipe with plant-based protein powder only, including:
Pea protein powder
Almond protein powder
Peanut protein powder
The texture of the mug cake differs based on the protein powder you use, as some are more liquid absorbent than others.
So when cooking with protein powder, whether you are making this vegan protein mug cake or my protein overnight oats recipe, always adjust the recipe if you use a different kind of protein powder.
Ingredients
You only need 6 ingredients to make this protein powder mug cake recipe, and the key to success is to measure your ingredients with regular measuring spoons.
We don't recommend using the scoop provided with your protein powder because they all have different volumes and result in inaccurate measurements.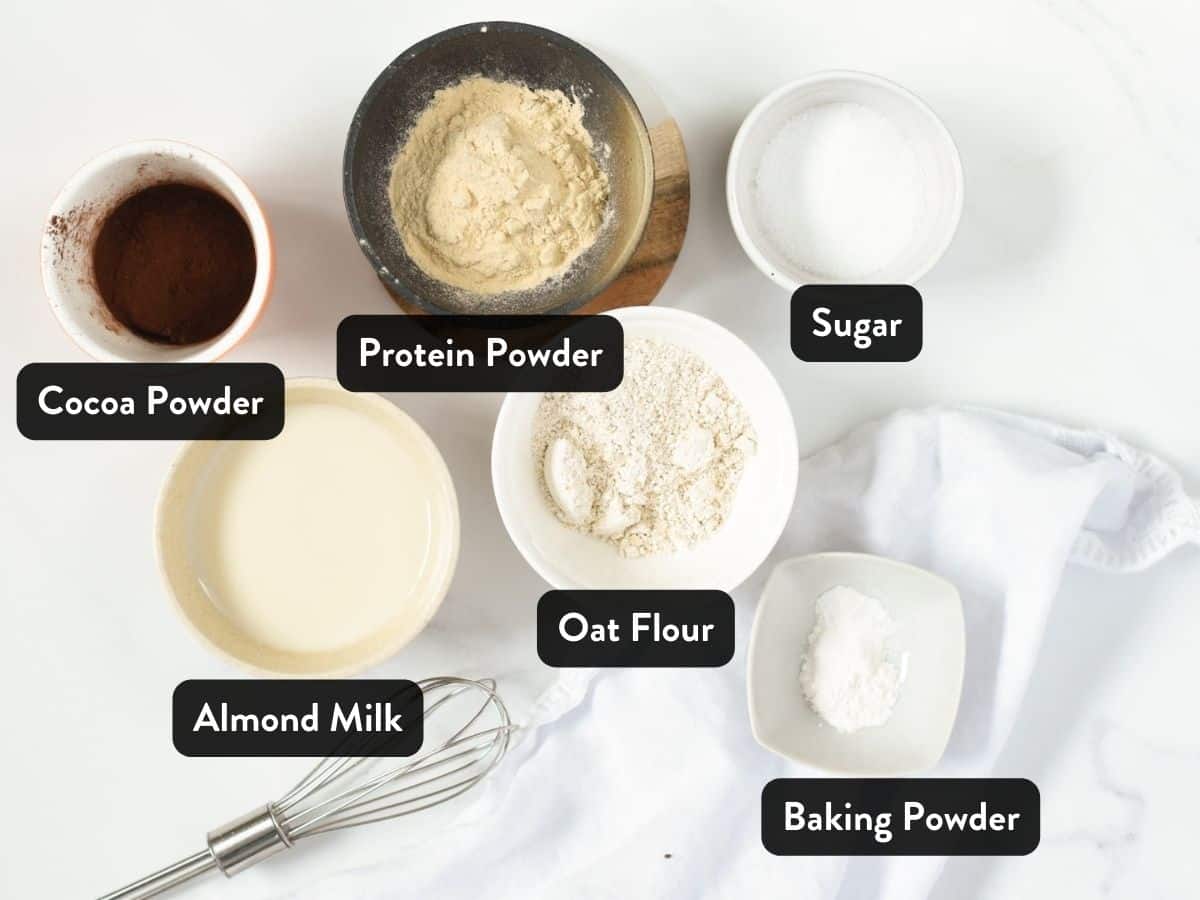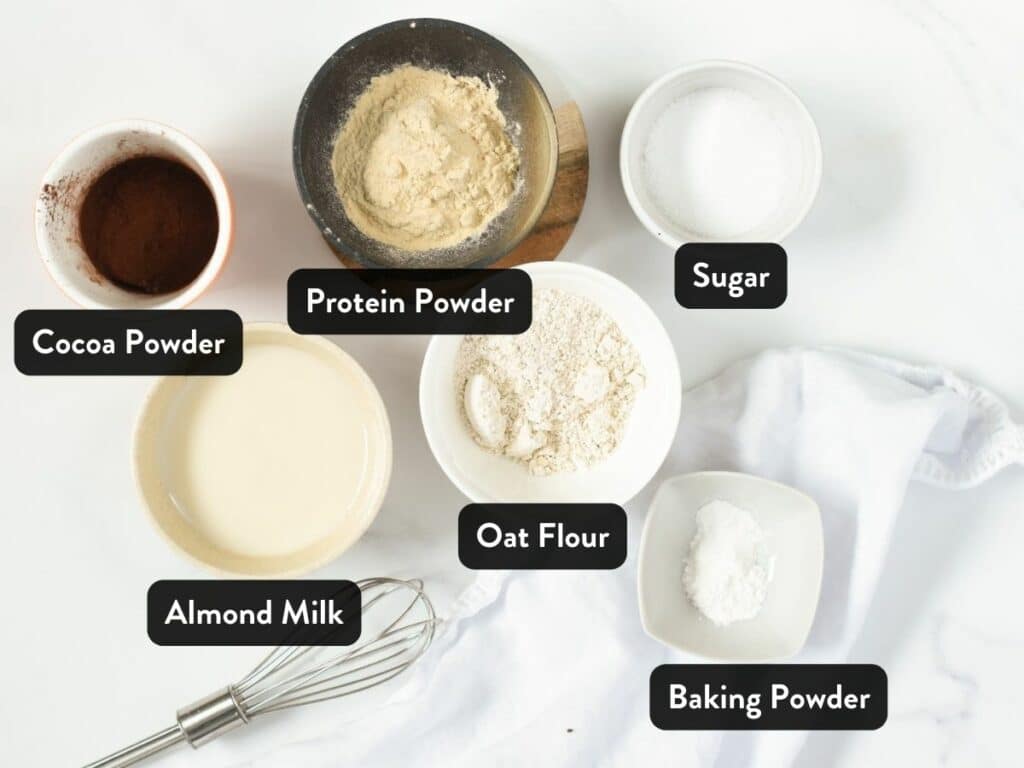 All you need for this chocolate protein mug cake are:
Plant-based Vanilla Protein Powder – you can use vanilla, coconut, or chocolate flavor. This is up to your taste but plant-based, pea protein powder provides the best cake texture. We didn't try the recipe with animal-based protein powders, like whey protein powder which usually requires more liquid to achieve the same baking texture.
Unsweetened cocoa powder
Crystal sweetener – to keep this recipe low in calories and sugar but still satisfying to your sweet tooth, we recommend using sugar-free crystal sweeteners like erythritol. But coconut sugar or table sugar would also work just fine. Avoid liquid sweeteners like maple syrup. They make protein mug cakes very dense and chewy.
Oat flour – Oats are another great source of plant-based protein in your vegan protein mug cake, and you can make homemade oat flour in a minute. Other options for a keto protein mug cake are to use keto flour, like 1 tablespoon of coconut flour instead of the 3 tablespoons of oat flour.
Almond milk or any non-dairy milk you have at home like oat milk, soy milk, or coconut milk.
Baking powder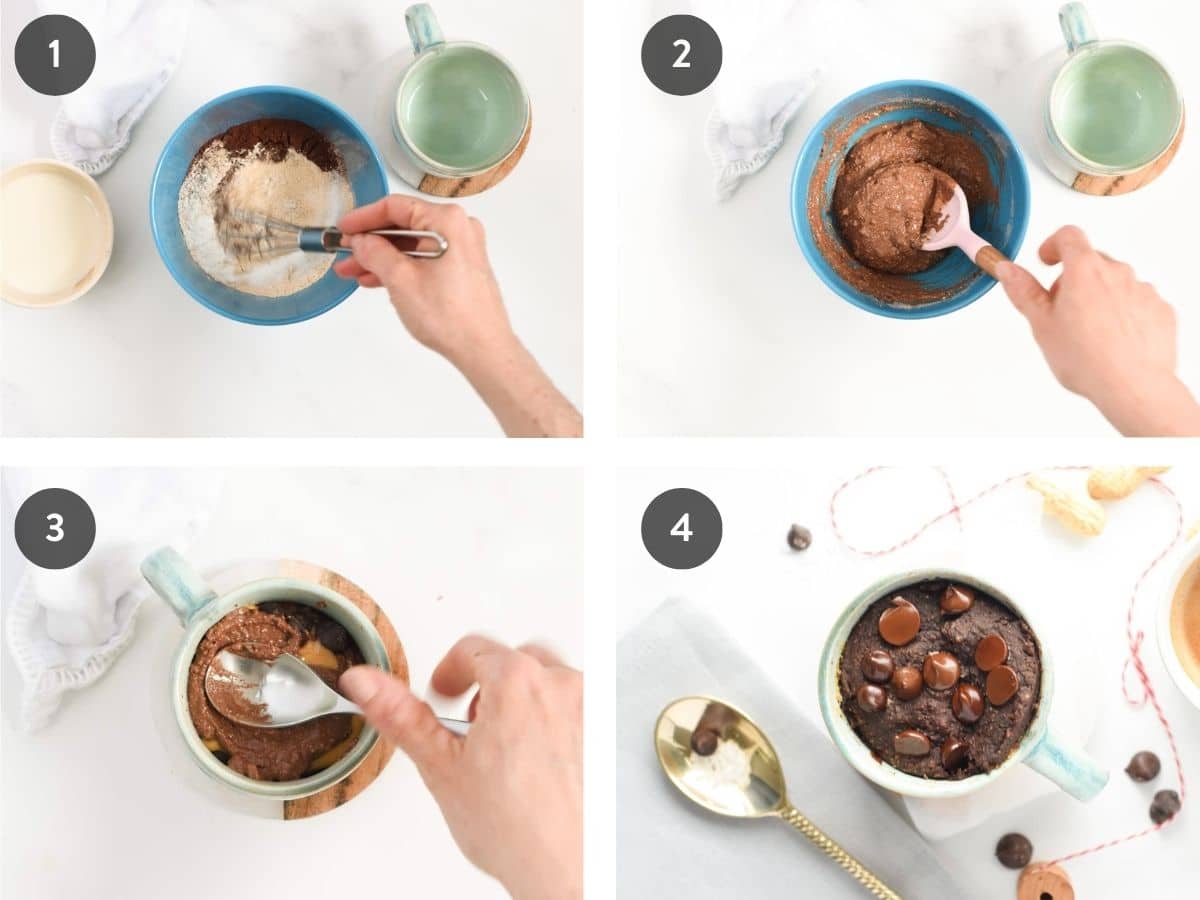 Combining Dry Ingredients
In a microwave-safe tall mug of at least 250 ml (1 cup) volume, stir all the dry ingredients together until well combined, and no lumps of protein powder show.
Adding Milk
Stir in the almond milk until the batter is smooth, slightly thick, but still liquid like a chocolate cake batter. Note, if you are using coconut flour, the batter will be extremely thick and packed.
Adding Chocolate Chips
You can stir chocolate chips in the batter at this time if desired.
Baking In Microwave
Microwave in the center of the microwave at 900W for 90 seconds or stop after the cake rises in the mug.
Keep microwaving by extra 10-second bursts until the center is set, not gooey or liquid.
Wait 30 seconds or so before eating as the mug cake is very hot.
Sprinkle dark chocolate chips on top if you like. They melt on top of the hot cake in the mug and taste delicious.
Serving Ideas
This protein mug cake recipe is delicious plain or topped with:
Extra chocolate chips.
Drizzle nut butter like peanut butter or almond butter.
Chopped nuts
Unsweetened whipped coconut cream for a dessert-like snack.
Ice cream
Allergy Swaps
This protein powder mug cake recipe is naturally:
Dairy-free
Egg-free
Sugar-free
But if you have other dietary requirements, I listed some options below:
Keto Protein Mug Cake Option: Use your favorite keto protein powder, use 1 tablespoon of coconut flour instead of oat flour, and erythritol as a sweetener.
Gluten-free option: Swap oat flour for certified gluten-free oat flour or use 1 tablespoon of coconut flour.
Cocoa Allergy: You can skip the unsweetened cocoa powder and make a vanilla protein mug cake with this recipe. Add 1 tablespoon of extra oat flour to the recipe to replace the cocoa powder and use vanilla protein powder.
Oven Baking Protein Mug Cake
If you don't have a microwave, you can bake this protein mug cake in a lightly greased oven-proof ramekin for 12 to 18 minutes at 350°F (180°C).
Keep in mind that protein cakes baked in the oven tend to be denser and packed but still delicious.
Detailed Recipe Video
You can follow my detailed video to learn how to make this protein mug cake.
More High-Protein Recipes
I love creating high-protein recipes to fuel up. Below, I listed more easy healthy high-protein recipes for you to try:
More Mug Cake Recipes
If you like mug cakes, you'll love these: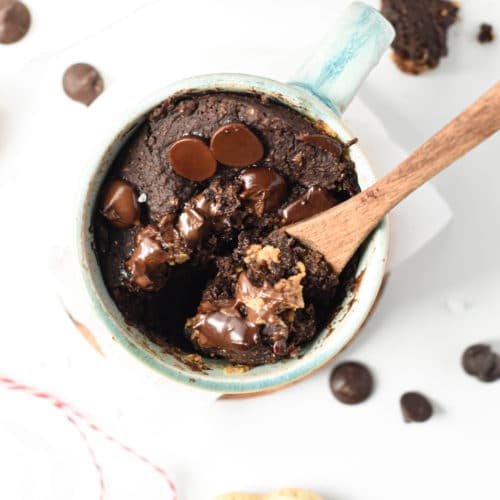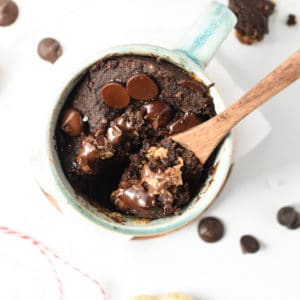 Protein Powder Mug Cake
An easy chocolate Protein Powder mug cake with no eggs or dairy, 100% vegan for a protein-loaded snack or breakfast.
Pin
Print
Review
Shop My Tools
Instructions
In a microwave-safe coffee mug (minimum size 1 cup/250ml), whisk together the dry ingredients: oat flour, protein powder, sweetener, cocoa powder, and baking powder.

Whisk in almond milk until a batter forms and stir the vegan dark chocolate chips if desired, or keep the batter plain.

Sprinkle a few extra chocolate chips on top if desired.

Microwave on high power (800W) for about 90 seconds or stop the microwave 10 seconds after you see the cake rising to its maximum height. Remove from the microwave carefully, it is hot, and check the texture. It should be moist and soft and the top should deflate. If it is not cooked to your liking after that time, return to the microwave and cook again by 10-second bursts until done – no more than 90 seconds in total. Note that the longer you microwave the mug cake, the denser it will be.

Serve the Protein Mug Cake immediately.
Baking option
Preheat oven to 350°F (180°C).

Grease an oven-proof ramekin with oil, add the cake batter and bake for 12-18 minutes until cooked through.

Serve immediately with toppings of your choice.
Notes
Note 1: You can replace oat flour with the same amount of or all-purpose flour. For a keto protein mug cake, use 1 tablespoon of coconut flour to replace oat flour, the batter will be very thick, and the mug cake will be denser. Note 2: This recipe has been tested with pea protein powder and almond protein powder. Results will vary with other types of protein powder. Note 3: All crystal sweeteners work, including sugar, coconut sugar, date sugar, or sugar-free allulose/erythritol for a keto option. Note 4: If you use sweetened cocoa powder, the batter won't set as fast in the microwave (microwave for an additional 10-20 seconds), and you won't need the added sweetener in the recipe. Note 5: Any non-dairy milk can be used in the recipe, including packaged coconut milk, soy milk, oat milk. Baking: You can bake this mug cake at 350°F (180°C)for about 12-18 minutes in an oven-proof ramekin until set in the center.
Share on Facebook
Pin Recipe
Nutrition
Serving:
1
mug cake
|
Calories:
159.8
kcal
|
Carbohydrates:
17.2
g
|
Protein:
14.9
g
|
Fat:
4
g
|
Saturated Fat:
0.5
g
|
Polyunsaturated Fat:
1.1
g
|
Monounsaturated Fat:
1.1
g
|
Sodium:
447.9
mg
|
Potassium:
114.4
mg
|
Fiber:
2.3
g
|
Sugar:
0.3
g
|
Calcium:
216.5
mg
|
Iron:
4.3
mg
|
Magnesium:
42.9
mg
|
Phosphorus:
160.2
mg
|
Zinc:
0.9
mg