Vanilla Overnight Oats with 15g Protein!
An easy, flavorsome Vanilla Overnight Oats with 15 grams of plant-based protein per serving for a delicious healthy breakfast.
Plus, this vegan overnight oats recipe is 100% dairy-free.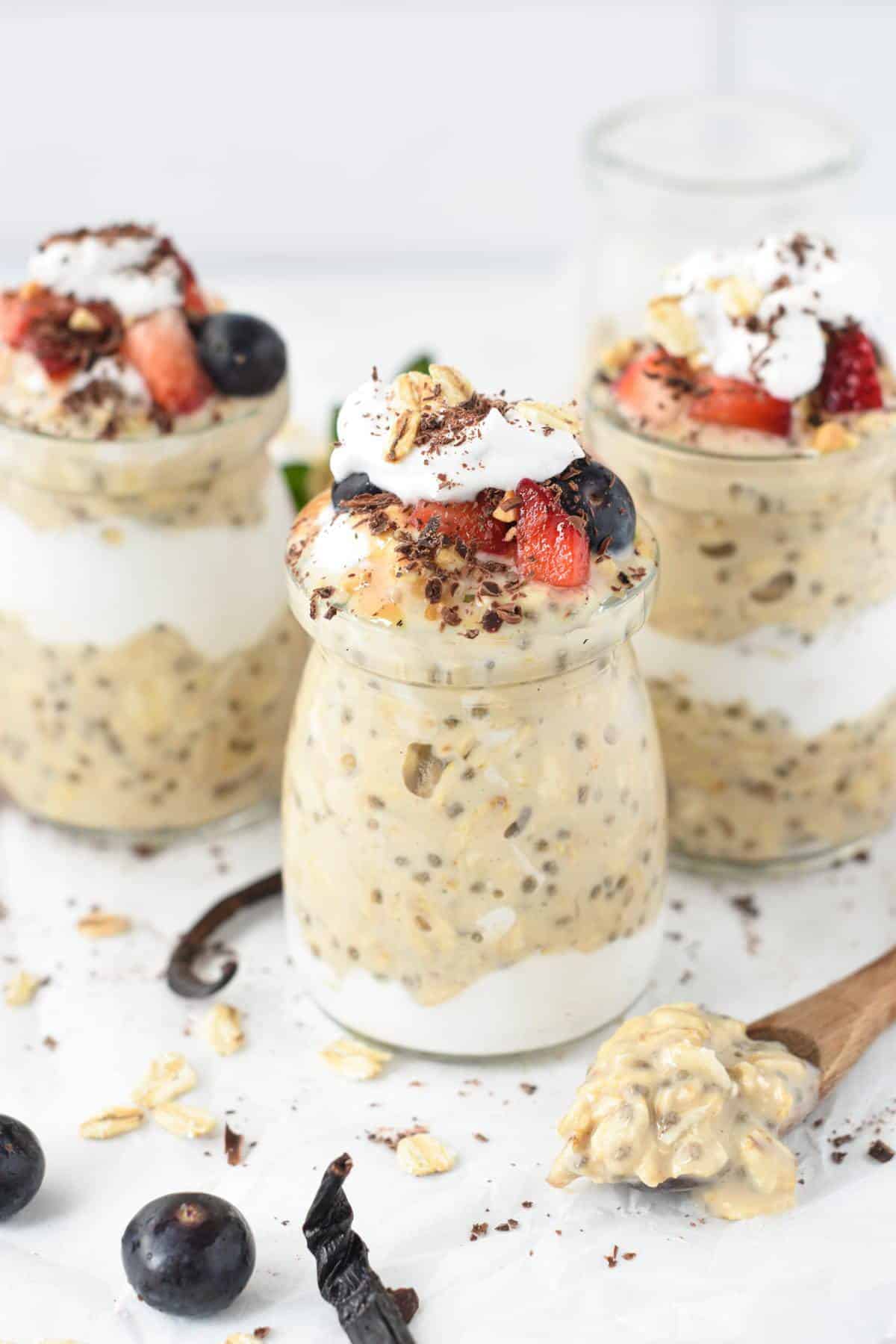 In the overnight oats recipe series, this super-creamy, protein overnight oats with vanilla flavor is a must!
How To Make Vanilla Overnight Oats
All you need to make a vanilla overnight oats recipe are a few simple ingredients. Let's see how to start!
Ingredients
The ingredients you need are:
Old-fashioned rolled oats – or gluten-free certified oats if needed. The only options that won't be suitable here are steel-cut oats or instant oats. The first ones are way too hard. They won't soften in the milk and yogurt. Then, instant oats have less fiber and won't absorb the liquid as much, resulting in a runny mixture. So, for the best results, always use old-fashioned rolled oats.
Chia Seeds – chia seeds are a superfood full of vitamins and nutrients.
Almond Milk or any non-dairy milk you love – it can be oat milk, soy milk, or coconut milk.
Maple Syrup – use maple syrup or any liquid sweetener you love. For a low-GI option, go for coconut nectar or brown rice syrup. For a sugar-free option, choose liquid stevia drops, or a pinch of erythritol works as well.
Vanilla Extract
Vanilla Protein Powder – we used pea protein powder with vanilla flavor. Other plant-based protein options are peanut powder or almond powder, or hemp powder.
Preparation
In a mason jar or small mixing bowl, add the dry ingredients and give a good stir to evenly combine rolled oats, chia seeds, and protein powder.
Next, pour the liquid ingredients over the dry ingredients: almond milk, vanilla extract, and maple syrup.
Close the jar and shake vigorously until everything comes together.
If you used a bowl, simply whisk until you have combined all the ingredients.
Leave overnight in the fridge, making sure the container is sealed, either with a lid or plastic wrap.
Assembling
This is the best healthy breakfast recipe to meal prep a week of easy breakfast, and there are so many ways to assemble this recipe that you will never get bored with it.
Some of the best ways to serve vanilla overnight oats are in layers with:
Yogurt
Fresh fruits – mostly berries, like blueberries or raspberries.
Peanut butter
Nuts and seeds to add some crunch – chopped peanuts, sliced almonds, or unsweetened coconut taste amazing.

Storage Instructions
These overnight oats with vanilla store very well in the fridge in an airtight container. You can keep them tasty and fresh for up to 4 days and serve them every morning.
Another option to make it last longer is to freeze vanilla overnight oats in an airtight container.
Thaw them in the fridge the day before eating.
Cold or warm
That's totally up to you to serve these vanilla overnight oats hot, lukewarm, or cold!
Any option tastes good, but keep in mind that if you warm it up, it will thicken slightly.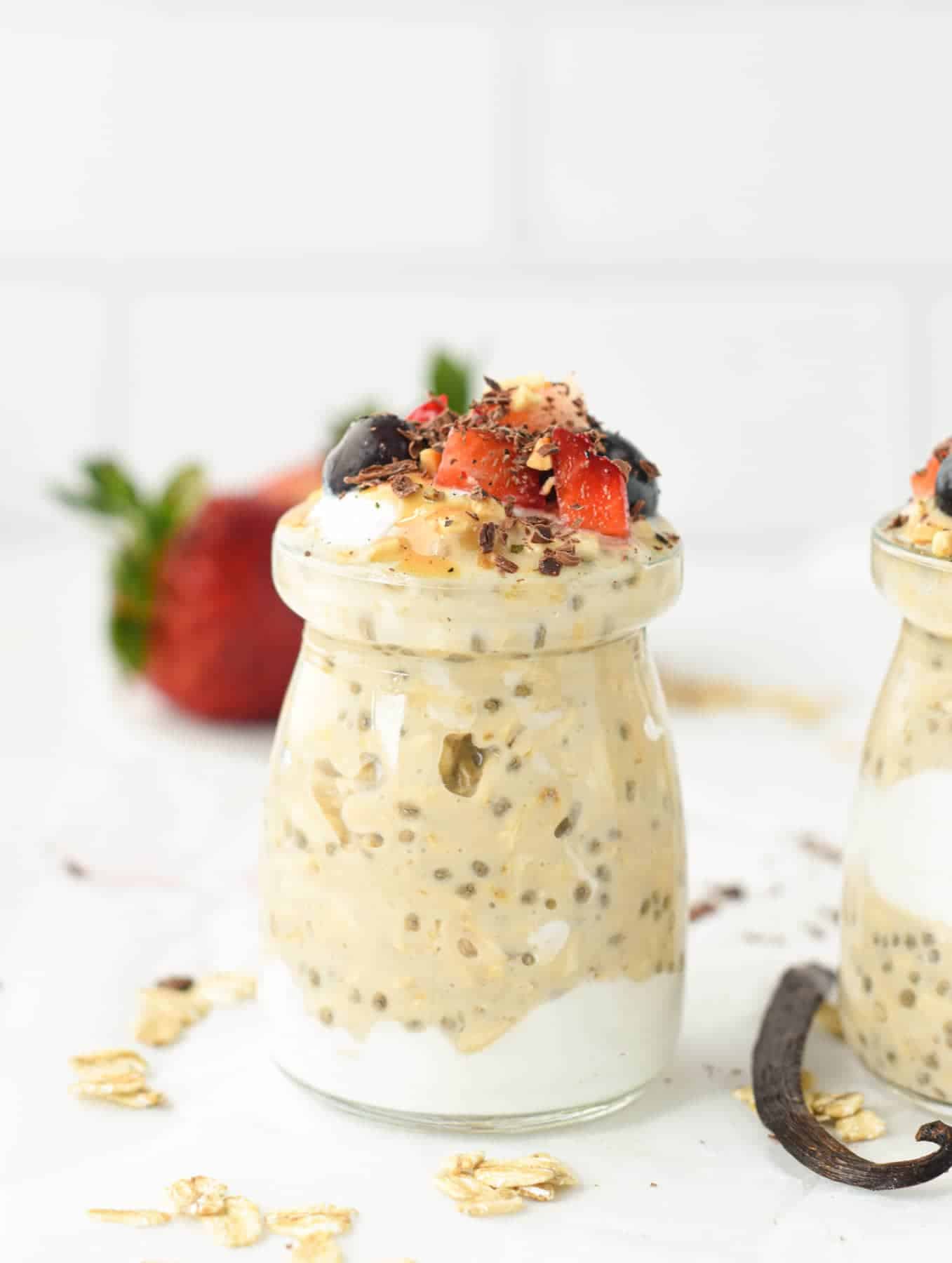 Can I Do It Without Protein Powder?
If you don't have protein powder, or you prefer to make this recipe with milk and Greek yogurt, follow my strawberry and cream overnight oat recipe and skip the fruits.
It has the most delicious vanilla flavor, just lower in protein.
Troubleshooting
Sometimes even the simplest recipes don't turn out the way you expected, so below, I listed some troubleshoot overnight oats tips for you.
#Tip 1: Stir the mix 2 to 3 hours after it has been placed in the fridge.
In fact, chia seeds sometimes gravitate to the bottom of the bowl and form lumps.
So instead of placing the recipe in the refrigerator overnight, stop the soaking process after a few hours, stirring everything well.
This prevents any seed packet or overnight oats from becoming too runny.
#Tip 2: Adjust the texture – if you skip the protein powder in this recipe, you will have to add more fiber to balance the texture.
For example, you can add 1 tablespoon of chia seed instead of 2 teaspoons or use 1 cup of rolled oats instead of 3/4 cup of oats.
But, the easiest would be to use my easy 3-ingredient overnight recipe instead.
#Tip 3: Thin it out – the most common issue with overnight oats is the texture you achieve the next day.
Most of the time, they get too thick, especially when protein powder is involved in the mix because protein soaks up most of the liquid.
So don't be afraid to thin out the recipe by adding more almond milk until it reaches your favorite consistency.
Finally, if you accidentally added too much milk, give a quick warm-up to the recipe to evaporate the liquid and reactivate the fiber.

More Overnight Oats Recipes
If you love overnight oats recipes, I have plenty of others flavors and options for you to try. Pick some of the below and enjoy a healthy oatmeal breakfast.
Have you made these Vanilla Overnight Oats? Share a review or comment below to let me know how it went!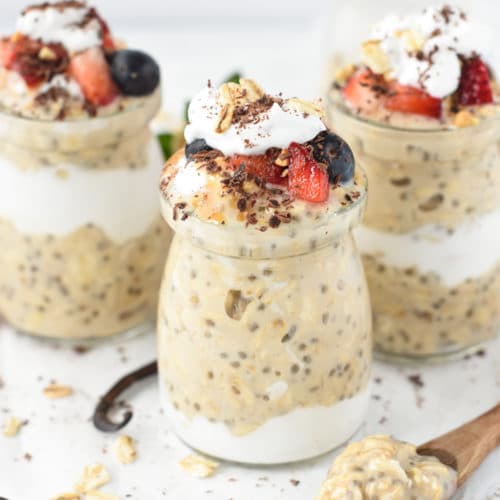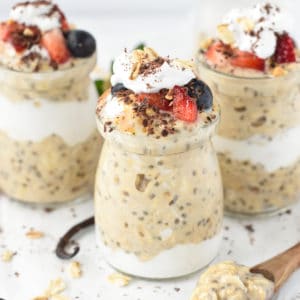 Vanilla Overnight Oats
An easy, healthy vegan-friendly Vanilla Overnight Oats recipe for a healthy protein breakfast.
Pin
Print
Review
Instructions
First, make sure you weigh the protein powder. If you add too much, it can dry out the recipe, so you will have to add more milk the next day to thin it out.

In a large bowl, combine the dry ingredients: rolled oats, chia seeds, and protein powder.

Stir in unsweetened almond milk, maple syrup, and vanilla extract. Stir until evenly combined.

Wrap the top of the bowl with plastic wrap or a silicone lid. Set in the fridge overnight.
Serving ideas
Serve the next day, cold or lukewarm, with layers of Greek Coconut Yogurt, fresh fruits, sliced almonds, or banana slices. If it has thickened too much, thin out with a splash of almond milk.
Storage
Store leftover in glass mason jars in the fridge for up to 4 days.
Share on Facebook
Pin Recipe
Nutrition
Serving:
1
serving (half the batch)
|
Calories:
239.6
kcal
|
Carbohydrates:
32.7
g
|
Protein:
14.9
g
|
Fat:
5.7
g
|
Saturated Fat:
0.9
g
|
Polyunsaturated Fat:
2.4
g
|
Monounsaturated Fat:
1.4
g
|
Trans Fat:
0.1
g
|
Cholesterol:
30.8
mg
|
Sodium:
204.4
mg
|
Potassium:
211.8
mg
|
Fiber:
4.8
g
|
Sugar:
7.3
g
|
Vitamin A:
2.2
IU
|
Vitamin C:
0.1
mg
|
Calcium:
279
mg
|
Iron:
1.6
mg
|
Magnesium:
63.7
mg
|
Phosphorus:
197.5
mg
|
Zinc:
1.4
mg