These Blended Overnight Oats are an easy healthy breakfast to meal prep delicious creamy oatmeal bowls.
Plus, this recipe is vegan, dairy-free, and high-protein for a fulfilling breakfast.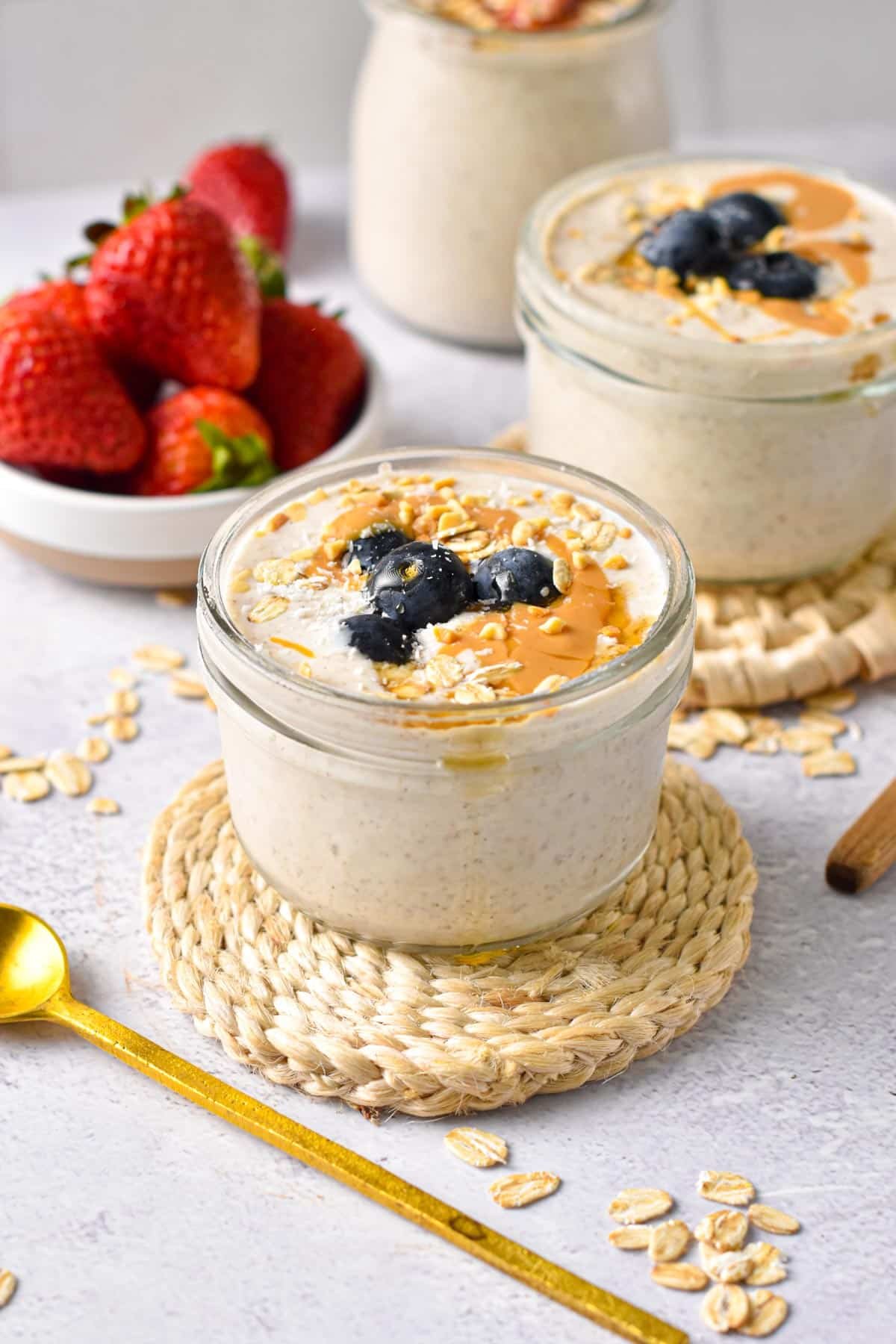 If you are not a big fan of the texture of my overnight oats recipe, try to blend it, and you will be surprised by its creamy texture! It tastes like dessert or oatmeal pudding.
Of course, there are few tips and tricks to make it even more delicious and avoid runny or watery blended oats.
Let me share my tips below.
What Are Blended Oats?
Blended oats are a cold breakfast bowl made with the same ingredients as overnight oats but blended in the blender to create a creamy texture.
It's perfect for people who don't like the chunky texture of overnight oat recipes, for babies, or simply for a new oatmeal breakfast texture.
How To Make Blended Overnight Oats
It takes under 5 minutes to make blended overnight oats, and the good thing about it is that you can store and meal prep a week of breakfast with this recipe.
Ingredients
All you need to make overnight blended oats are the same ingredients as in a classic overnight oat recipe
Old-Fashioned Oats – You can also use quick oats if preferred. Don't use steel-cut oats.
Non-Dairy Milk of Choice – Play with flavors by changing the milk. Use coconut milk for tropical flavors or unsweetened almond milk to keep it neutral.
Plant-Based Greek Yogurt – This adds proteins and a creamy texture to the recipe. You can pick flavored yogurt, like mango yogurt and coconut yogurt. It will taste like my mango overnight oats.
Maple Syrup or any sweetener you love, even granulated sugar or coconut sugar, if preferred.
Chia Seeds
Vanilla Extract
Blending
As the recipe name suggests, this is a blended oat recipe, so all you have to do is to bring all the ingredients in the blender and blend on the high-speed setting.
Next, blend for 20 seconds until the texture is smooth and creamy. It will look very liquid, and that's normal. The blended oats firm up in the fridge.
Reserving Overnight
Pour the blended oats mixture in 3 sealed glass mason jars and close their lids tightly.
Keep the blended oats in the fridge overnight until thick.
Adjusting
The next day, taste and adjust the recipe by adding more sweetener or more almond milk if too thick.
We all have different tastes when it comes to blended oats. Some people love it packed and thick. Others like it runny and creamy like puddings.
It's always better to start with less milk and add more just before serving. It incorporates very well the next day, and it's much easier to achieve the best texture this way.
Serving
Like overnight oats, you can serve this recipe with any fruits, nuts, seeds, or toppings you love, including:
Crushed Peanuts
Sliced Almond
Blueberries
Strawberries
Raspberries
Peanut Butter
Chocolate Chips
Feel free to add these on top of the bowl or stir in the berries in the mix.
Allergy Swaps
You can make this recipe even more allergy-friendly by changing or selecting ingredients with the suggestions below.
Gluten-Free – Pick gluten-free certified oats. All the other ingredients are naturally gluten-free.
Dairy-Free – All plant-based milk and yogurt are dairy-free and work in this recipe.
Nut-Free – You don't have to use nut-based milk. Try hemp milk, oat milk, rice milk, or soy milk for a boost of protein.
Yogurt-Free – You can skip the yogurt and add more milk instead.
Chia Seed-Free – You can't remove the chia seeds without adding something else or the result will be very runny. Instead, use the same amount of flaxseed meal or 1/4 cup of extra oats.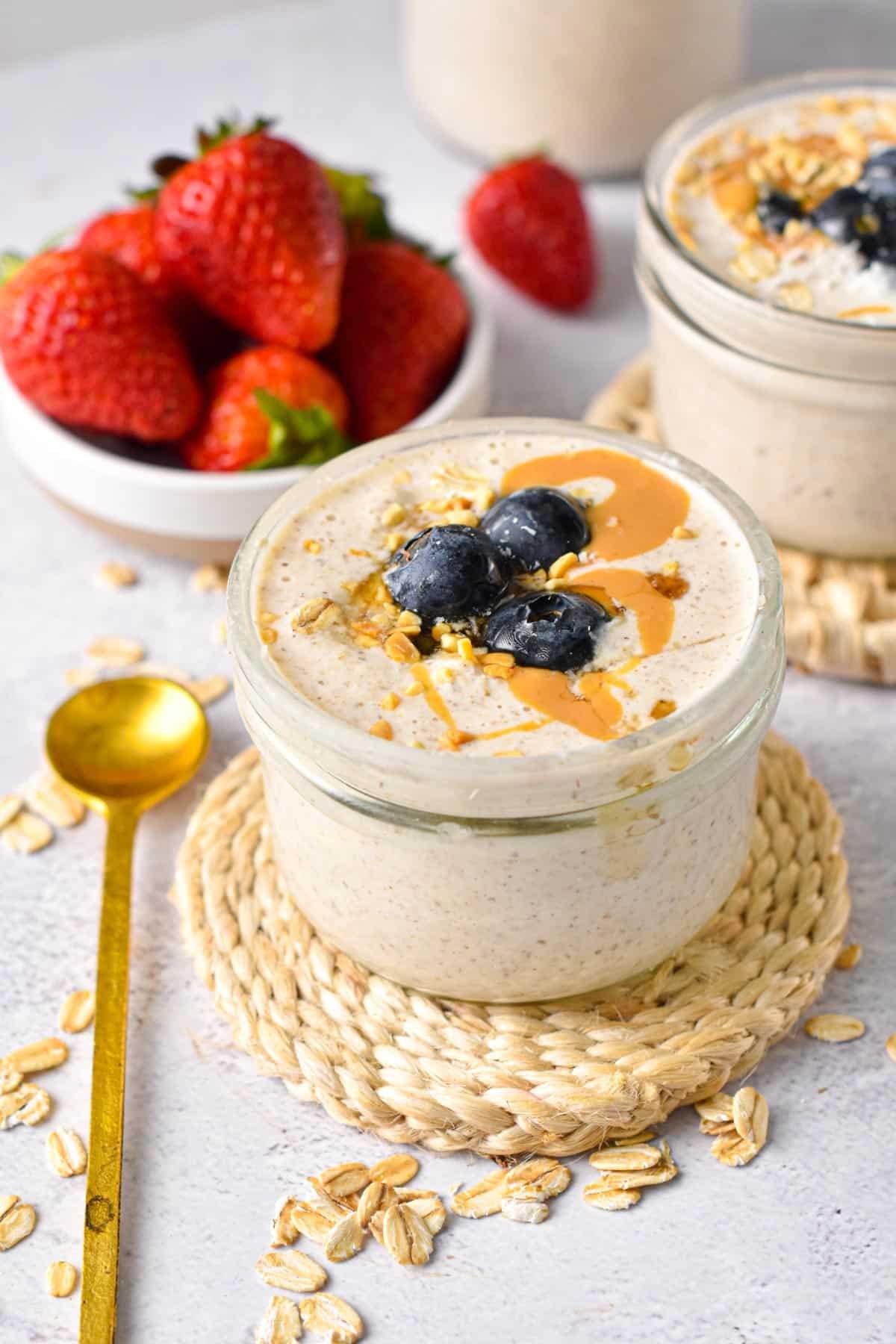 Frequently Asked Questions
Below are my answers to the most common questions about this breakfast recipe.
Can I Add Protein Powder?
Absolutely, like in protein overnight oats, you can add protein powder to blended oats.
However, protein powder is highly liquid absorbent, so it will thicken the mixture.
As a result, start by adding only a small amount of protein powder, like two tablespoons, and then add more milk the next day to thin out the mixture.
How Can I Fix Runny Oats?
If you add too much milk, or don't blend the mixture long enough, it can become runny like a thick smoothie.
To fix that, stir in an extra tablespoon of chia seeds or 1/4 cup of oat flour to the mixture and let them soak the liquid in the fridge for 20 minutes.
Can I Add Nut Butter?
You can flavor the blended oats with 1 or 2 tablespoons of peanut butter or almond butter. Add this to the blender with the other ingredients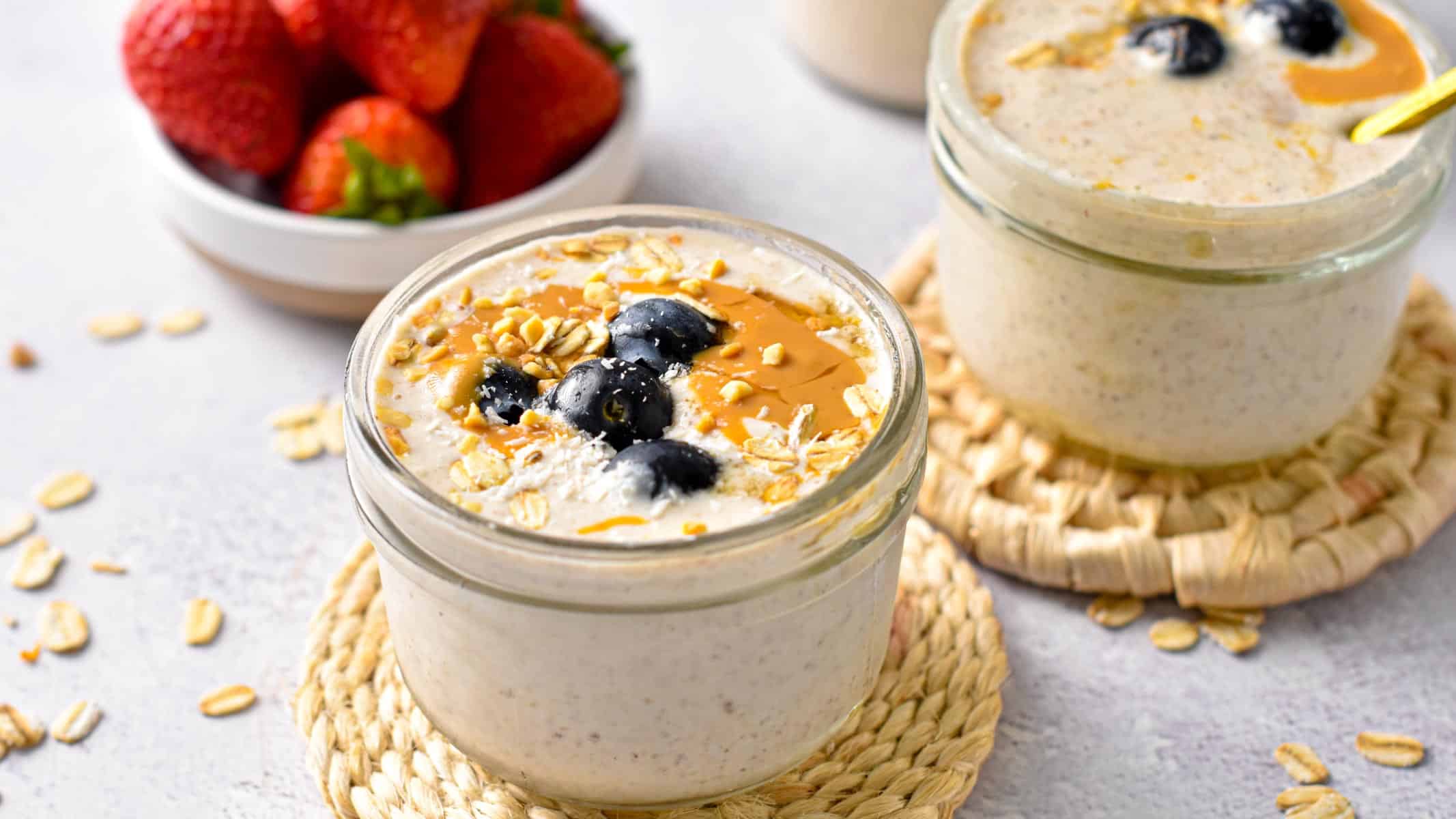 More Overnight Oat Recipes
Below are more healthy breakfast with oats for you to try.
Have you tried blended oats for breakfast? Share a comment or review below to connect with me, and let me know how you made yours.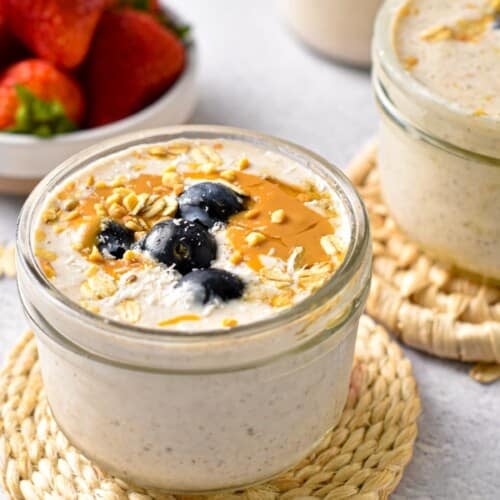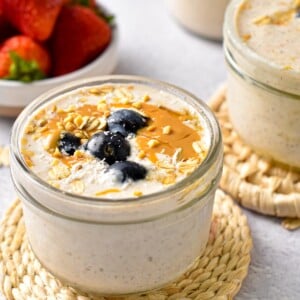 Blended Overnight Oats
This Blended Overnight Oats recipe is an easy, healthy, make-ahead breakfast packed with fiber and protein.
Pin
Print
Review
Servings: 3 servings
Calories: 200.8 kcal
Instructions
In a blender, add all the ingredients, starting with the minimum amount of almond milk. We all have different tastes. I like mine runny, like a thick smoothie, but some like it thicker. It's always better to make the blended oats too thick and thin out the next day by adding more milk.

Blend on the high-speed setting, speed 10 of a Vitamix blender, for 20 to 30 seconds or until smooth and creamy. It should be thicker than smooth but still easy to pour into bowls. If too thick and difficult to blend, add more milk gradually, up to 1/4-1/3 cup extra. The mixture thickens in the fridge overnight.

Pour the mixture into three sealed glass mason jars. Close the lid and refrigerate overnight.

The next day, open the jar, stir and taste. Adjust with sweetener or add a splash more milk if too thick to your liking. Stir well to incorporate.

Serve with a drizzle of peanut butter, desiccated coconut, crushed peanuts, and berries.
Storage
Store for up to 3 days in a sealed jar in the fridge.
Notes
Note 1: Quick oats also work. Note 2: Any non-dairy milk works, like soy milk, oat milk, or coconut milk. Note 3: You can use any sweetener, including sugar-free syrup. Note 4: If you add protein powder, you will need more milk, or the texture will be too thick.
Share on Facebook
Pin Recipe
Nutrition
Serving: 1serving | Calories: 200.8kcal | Carbohydrates: 31.2g | Protein: 8.8g | Fat: 4.6g | Saturated Fat: 1.3g | Polyunsaturated Fat: 1.6g | Monounsaturated Fat: 1g | Trans Fat: 0.01g | Cholesterol: 5.3mg | Sodium: 66mg | Potassium: 209mg | Fiber: 4.2g | Sugar: 10.2g | Vitamin A: 43.1IU | Vitamin B12: 0.1µg | Vitamin C: 0.3mg | Vitamin D: 0.04µg | Calcium: 107.9mg | Iron: 2.3mg | Magnesium: 58.5mg | Phosphorus: 184mg | Zinc: 1.5mg