Peanut Butter Overnight Oats
This easy, healthy Peanut Butter Overnight Oats recipe has delicious creamy peanut butter flavors and is high in plant-based protein.
Bonus, this creamy overnight oats recipe is also dairy-free and vegan.
What Are Peanut Butter Overnight Oats?
Peanut Butter Overnight Oats are a variation of my classic base overnight oats recipe that is loaded with peanut butter for an extra-creamy texture.
Like all overnight oats recipes, this peanut butter version is made by soaking oats overnight in a mixture of plant-based milk.
Make this overnight oatmeal the night before and wake up to a tasty and nutritious breakfast without the hassle of cooking in the morning!
Why You'll Love This Recipe
This peanut butter overnight oats recipe is delicious and you'll love it because it is:
Extra Creamy
Just 10 Minutes of Preparation
Dairy-Free
Vegan
Gluten-Free
How To Make Peanut Butter Overnight Oats
Making overnight oatmeal is one of the easiest ways of having a healthy, sweet, nutrient-loaded breakfast.
While they have to soak for a few hours, overnight oats are really simple to make.
Ingredients
Old-Fashioned Rolled Oats – Classic rolled oats are the best kind of oats to use for overnight oats. Steel-cut oats, quick oats, or instant oats would not give you the right texture. I love to have a container of oats in my pantry because there are so many recipes with oats.
Chia Seeds – Chia seeds are a superfood that is loaded with nutrients, vitamins, and minerals. I love to make recipes with chia seeds for breakfasts or snacks.
Almond Milk – Almond milk is my favorite option as it has a very mild taste. I prefer to use unsweetened almond milk, but you can use vanilla almond milk. You can also use any plant-based milk such as cashew milk, oat milk, coconut milk, or soy milk.
Peanut Butter – It's crucial to use natural peanut butter. It's a vegan ingredient because natural peanut butter is made from only peanuts. Use a brand new jar so your butter is very creamy and runny.
Maple Syrup – Any liquid sweetener would work in this overnight oats recipe but I prefer to use classic maple syrup over coconut nectar or rice malt syrup.
Cinnamon – For a touch of spicy flavors.
Vanilla Extract – While vanilla extract is optional, I wouldn't skip it as it contributes to the delicious taste of these oats.
Making The Oats
To make the oat mixture the day before, start by combining the dry ingredient in a mixing bowl.
Pour the plant-based milk, maple syrup, vanilla extract, and cinnamon and stir the mixture until there's no more lump and it's evenly distributed.
Adjust the texture to make sure it's quite moist. Pour a few more tablespoons of almond milk if necessary.
Wrap the mixing bowl with some plastic wrapping and reserve it in the fridge until the next morning.
Serving
My favorite way of making peanut butter overnight oats is by alternating layers of oats with layers of fresh ingredients.
Prepare the yogurt layer by stirring Greek-style almond yogurt with vanilla protein powder and a touch of almond milk.
Place a few tablespoons of overnight oats in a jar and add a layer of yogurt mixture on top of it.
Keep adding layers until you reach the top of the jar, then drizzle some fresh natural peanut butter and chopped peanuts.
Add-Ons
For even more taste, you can add the following ingredients when serving your oatmeal:
Dark Chocolate Chips
Fresh Berries like strawberries, raspberries, or blueberries.
Banana Slices – or for an even better banana taste, try my Banana Bread Overnight Oats.
Cocoa Powder – Adding cocoa powder to the dry ingredients before soaking turns this recipe into delicious chocolate peanut butter overnight oats.
Dry Fruits such as dried cranberries, raisins, or chunks of dried apricots.
Storage Instructions
You can store these peanut butter overnight oats in airtight 8-ounce glass mason jars for up to 4 days in the refrigerator, so it's a great recipe to meal prep your week of breakfasts or snack options.
They can also be frozen for up to 3 months in the freezer for later. Thaw the jar in the fridge the day before serving.
Allergy Swaps
If you are allergic to some of the ingredients, you can make the following substitutions:
Peanut Butter – Replace the peanut butter with any other nut butter such as almond butter or cashew butter or with sunflower seed butter.
Almond Milk – Swap the almond milk with any other plant-based milk such as coconut milk, cashew milk, or oat milk.
Maple Syrup – Any liquid sweetener works in this recipe, so you can use coconut nectar, rice malt syrup, vegan honey, or even simple syrup.
Gluten-Free – To make this oatmeal gluten-free, make sure to use certified gluten-free oats.
Frequently Asked Questions
Can I Make Warm Overnight Oats?
Yes, you can warm up these overnight oats just before serving them. Pop them in the microwave for 30-45 seconds.
My recommendation is to eat them cold though, it tastes better in my opinion.
Can I Add Greek Yogurt?
Yes, you can add any plant-based Greek yogurt to the liquid ingredients.
You would have to add slightly less milk if you do so.
Is Oats With Peanut Butter Healthy?
Oats are rich in vitamins and minerals, including Vitamin B1, B5, Iron, Selenium, Magnesium, Zinc, Phosphorus, Copper, and Manganese. It's also loaded with fiber and protein.
Adding natural peanut butter brings Vitamin E, Vitamin B3, B6, and omega-6 fatty acids.
As a result, peanut butter complements oats very well for a great nutritional profile.
Are Overnight Oats Healthier Than Regular Oatmeal?
Regular oatmeal is most of the time made with instant oats which are more processed than rolled oats.
On top of that, overnight oats are soaked overnight which protects their nutritional profile while the heating needed for regular oatmeal degrades many of the nutrients.
Is It Okay To Have Overnight Oats Every Day?
Overnight oats are safe to eat every day, but it's always a good practice to vary the food you consume.
Can I Boost The Protein In Overnight Oats?
This peanut butter overnight oats recipe can be made with more protein powder to boost the protein content.
I recommend using peanut protein powder.
More Overnight Oats Recipes
If you like overnight oats and oatmeal recipes, we've got you covered with these other healthy breakfast ideas: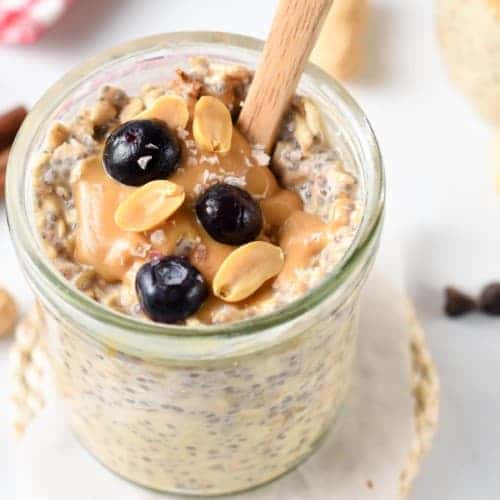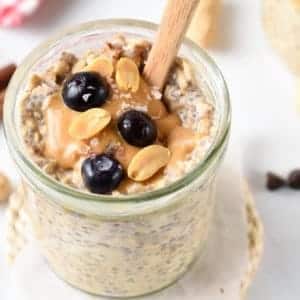 Peanut Butter Overnight Oats
This easy, healthy Peanut Butter Overnight Oats recipe has delicious creamy peanut butter flavors.
Pin
Print
Review
Servings: 4 servings
Calories: 265 kcal
Ingredients
Topping
½ cup Yogurt - we used dairy-free coconut Greek Style yogurt
2 tablespoons Peanut Butter Protein Powder
1 tablespoon Peanut Butter (Unsalted) - to drizzle
3-4 Blueberries
2-3 tablespoons Toasted Chopped Peanuts
Instructions
In a large mixing bowl, combine the dry ingredients: rolled oats and chia seeds.

Stir in the almond milk, maple syrup, vanilla extract, and cinnamon. Stir until evenly distributed. It shouldn't be too dry, if so, stir in an extra 2-3 tablespoons of almond milk.

Cover the bowl with a piece of plastic wrap and refrigerate overnight.
Serving
Store in airtight 8-ounce glass mason jars for up to 4 days or freeze for later. Thaw in the fridge the day before serving.

The next day, prepare the yogurt layer: stir the yogurt and vanilla protein powder adding some almond milk if too thick to your liking. Set aside.

Serve the overnight oats in a tall jar arranging overnight oats, yogurt mixture, blueberries, a drizzle of peanut butter, and toasted peanuts.
Share on Facebook
Pin Recipe
Nutrition
Serving: 1serving | Calories: 265kcal | Carbohydrates: 36.7g | Protein: 13.6g | Fat: 8.1g | Saturated Fat: 0.9g | Polyunsaturated Fat: 4.6g | Monounsaturated Fat: 1.4g | Trans Fat: 0.1g | Cholesterol: 7.1mg | Sodium: 127.6mg | Potassium: 385.6mg | Fiber: 6.3g | Sugar: 12.4g | Vitamin A: 52.2IU | Vitamin B12: 0.2µg | Vitamin C: 7.1mg | Vitamin D: 0.2µg | Calcium: 193.6mg | Iron: 2.5mg | Magnesium: 77.3mg | Phosphorus: 208.6mg | Zinc: 1.4mg