Tiramisu Overnight Oats (Healthy, Dairy-Free)
These Tiramisu Overnight Oats are a creamy chocolate overnight oats recipe with a touch of coffee and yogurt vanilla cream layers.
It tastes like your favorite Tiramisu dessert but much healthier, full of fiber and plant-based proteins from oats.
We love desserts for breakfast, and overnight oats recipes are perfect for it!
Last time we shared our strawberry cheesecake overnight oats, protein overnight oats, and pumpkin pie overnight oats version.
Now, let's share an overnight oats recipe for chocolate and coffee lovers!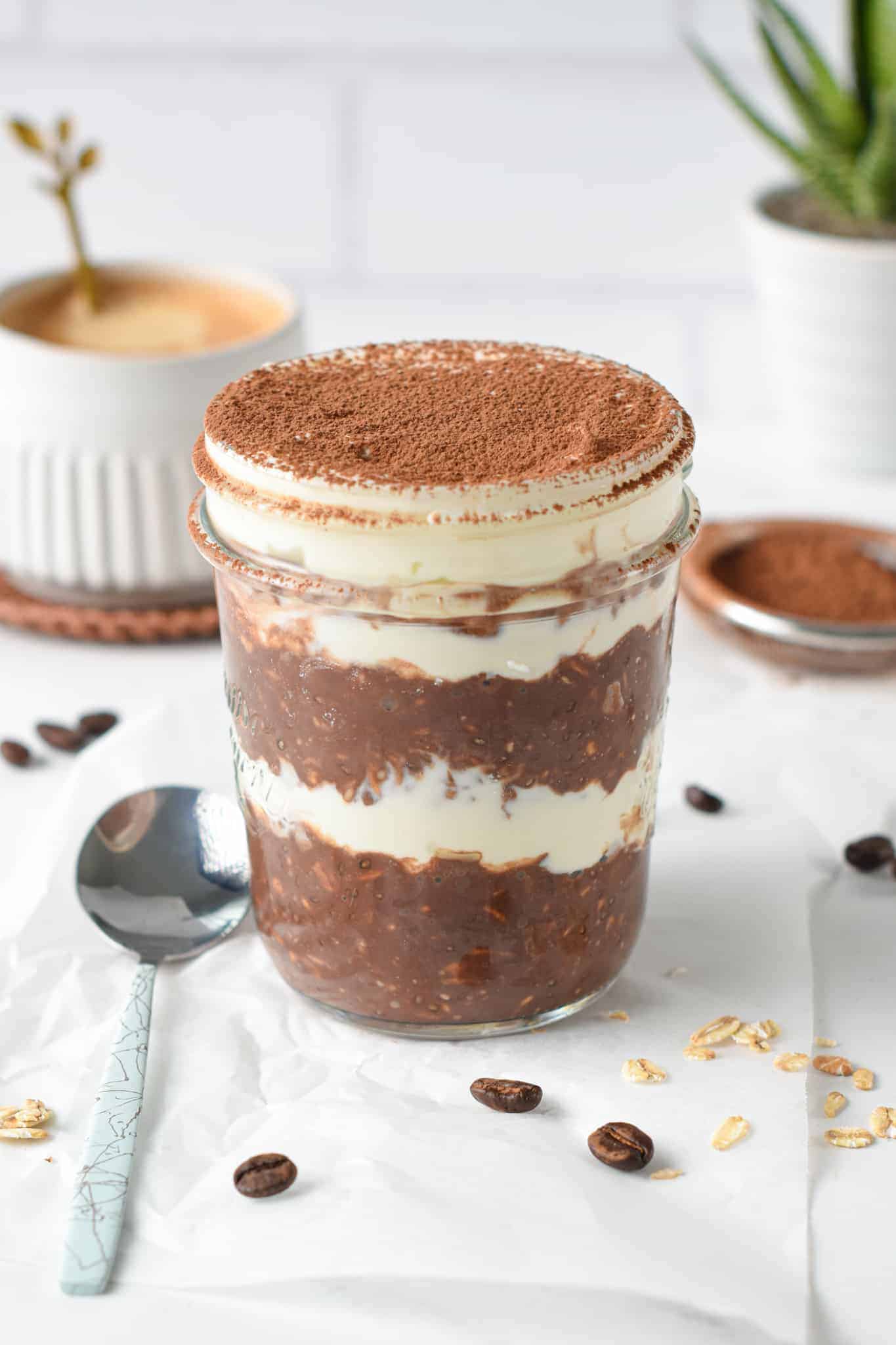 How To Make Tiramisu Overnight Oats
It's very easy to make overnight oats and to make a tiramisu-style version, you need:
Ingredients
Old-fashioned rolled oats or quick oats.
Chia seeds – black or white chia seeds work.
Unsweetened cocoa powder
Salt
Freshly brewed coffee – at room temperature or lukewarm. You can also use instant coffee and rehydrate two teaspoons in 1/2 cup of lukewarm water to stir in the oat mixture.
Vanilla extract
Unsweetened almond milk or any non-dairy milk you like, including oat milk, coconut milk, or peanut milk.
Maple syrup or any liquid sweetener you like.
Vanilla Mascarpone Layer
To make healthy tiramisu overnight oats, you choose to make a high-protein dairy-free mascarpone layer.
The ingredients we used are:
Dairy-free Greek yogurt – you can use soy Greek-style yogurt to boost the protein or coconut yogurt for a creamier, thicker texture.
Vanilla protein powder
Maple syrup
Soaking Overnight
First, in a large airtight container, stir all the dry ingredients: old-fashioned oats, chia seeds, unsweetened cocoa powder, and salt.
Now, stir in the liquid ingredients: brewed coffee – it's fine if it's lukewarm, almond milk, and maple syrup.
Stir until all ingredients are evenly combined, and the oats are fully coated with the liquids.
Close the container's lid and place it in the fridge overnight or for at least 5 hours.
Serving
On the day, prepare the healthy mascarpone layer.
In a mixing bowl, whisk yogurt of choice, vanilla protein powder, and maple syrup. Add a bit more yogurt or almond milk to thin out if too thick.
Now, remove the overnight oats from the fridge and assemble the jar.
Coffee Overnight Oats Jars
To make a tiramisu jar, start by adding a layer of chocolate coffee overnight oats, then top with 2-3 tablespoons of protein vanilla yogurt mixture.
Repeat these steps until you reach the top of the jar, finishing with a thick layer of the yogurt mixture.
Sieve unsweetened cocoa powder on top of the jar and enjoy immediately.
This recipe serves two jars, and you can make the jars ahead up to 2 days before.
Cover the top of the glass mason jar with a lid or piece of plastic wrap to keep the overnight oats moist and creamy.
Storage Instructions
You can store overnight oats in the fridge for up to 3 days in an airtight container if not combined with yogurt.
You can freeze overnight oats and thaw them in the fridge the day before.
Protein Add-Ons
You can up the proteins in this recipe by adding some of the below ingredients to the recipe.
Stir two tablespoons with the liquid ingredients of:
Protein powder
Almond butter
Yogurt
Peanut butter
Hemp seeds
Allergy Swaps
This overnight oats recipe is naturally:
If you have some food allergies, you can adapt this recipe by replacing some main ingredients.
For example,
Gluten-free – use a gluten-free certified oats brand.
Sugar-free – you can replace maple syrup with sugar-free liquid sweetener made of Monk fruit, a few stevia drops, erythritol, or xylitol.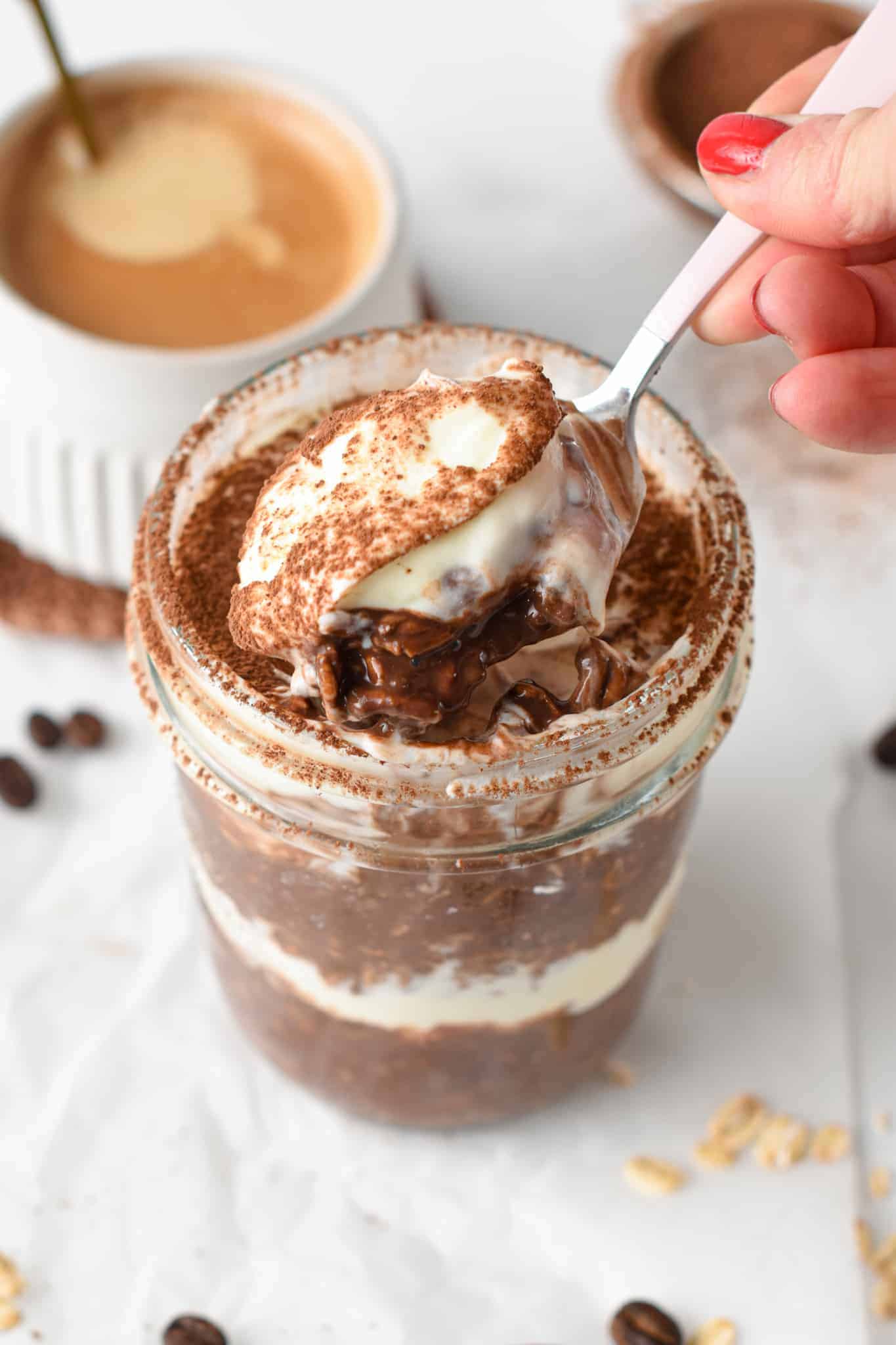 Taste And Texture
This overnight oat recipe is for chocolate and coffee lovers. The chocolate coffee layer is creamy, with a light coffee flavor and balanced by a thick creamy vanilla yogurt layer.
If you want to add some crunch or a biscuit flavor, you can crumble some Biscoffs between each layer or some of my shortbread cookies.
Frequently Asked Questions
Can I Skip The Cocoa Powder?
Sure, you can make a vanilla tiramisu layer using this recipe. To do so, skip the unsweetened cocoa powder and instead add the same amount of vanilla pea protein powder.
This up the protein of the recipe as well.
Are Overnight Oats Healthy?
Absolutely! Overnight oats provide a healthy portion of protein and fiber.
But this Tiramisu Overnight Oats recipe is also a good source of micronutrients like Vitamin C, Vitamin A, Calcium, Potassium, Iron, Magnesium, and Phosphorus!
Can I Use Quick Oats?
Quick Oats can be used interchangeably.
More Overnight Oats Recipes
Below I listed some more overnight oats recipe flavors for you to try.
Have you made this coffee overnight oats recipe? Share a comment or review below to connect with me,
Tiramisu Overnight Oats
Bring a vegan dessert for breakfast with this Chocolate Tiramisu Overnight Oats recipe!
Pin
Print
Review
Servings: 2 servings
Calories: 398.8 kcal
Instructions
In a mixing bowl, add old-fashioned rolled oats, chia seeds, cocoa powder, salt. sweetener, almond milk, and coffee.

Whisk for 1-2 minutes or until fully combined. You can also place the ingredients in a glass mason jar, shake vigorously, and form a consistent chocolate mixture. It won't be thick, and that's normal.

Taste the mixture and adjust sweetener, adding more now or later as a topping.

Cover the bowl with a lid or close the jar, and place it in the fridge overnight.
Serving
The next day, prepare the yogurt vanilla cream by stirring the yogurt, protein powder, and maple syrup together. If too thick, add more yogurt or some almond milk

Serve the overnight oats in layers in a tall glass mason jar. Alternate overnight oats and yogurt layer, finishing with a yogurt later on top.

In the end, dust unsweetened cocoa powder on top and enjoy.
Storage
Storage leftover in the fridge in an airtight container for up to 3 days.
Share on Facebook
Pin Recipe
Nutrition
Serving: 1serving | Calories: 398.8kcal | Carbohydrates: 66.3g | Protein: 16g | Fat: 9g | Saturated Fat: 1.5g | Polyunsaturated Fat: 3g | Monounsaturated Fat: 1.9g | Trans Fat: 0.1g | Sodium: 210.7mg | Potassium: 384.8mg | Fiber: 9.4g | Sugar: 24.9g | Vitamin A: 3.2IU | Vitamin C: 15.1mg | Vitamin D: 1.5µg | Calcium: 368.8mg | Iron: 4.5mg | Magnesium: 121.7mg | Phosphorus: 274.6mg | Zinc: 2.5mg