This Diabetic Overnight oat is a low-carb version of the classic overnight oat recipe using hemp heart and oat to boost protein, and healthy fats and cut down on carbs.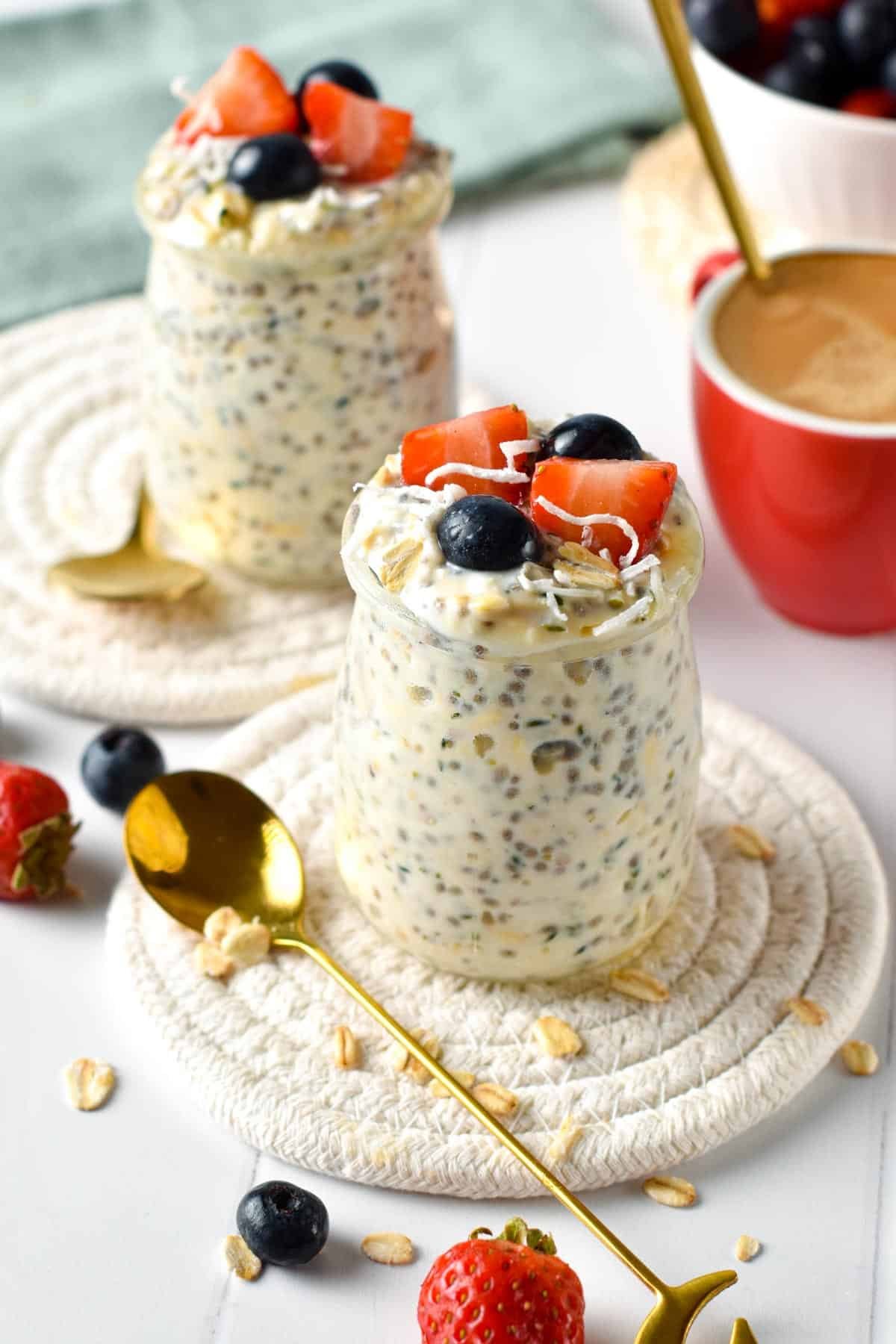 What Are Diabetic Overnight Oats?
A regular overnight oat recipe contains about 33 grams of carbs, including 6 grams of fiber.
While 27 grams of net carbs are not much for anyone not following any particular diet, this is a bit too much for someone with a blood sugar issue.
This recipe is for anyone with diabetes who loves the overnight oats. It's made with a small amount of oat, for flavor, but way fewer carbs.
With only 11 grams of net carbs per serving, these overnight oats are made with many seeds.
The seeds are low in carbs, high in protein, and high in healthy omega-3 and 6 fatty acids. Therefore, they add texture and healthy nutrients and decrease the total carbs.
So if you are looking for a delicious low-carb breakfast with oat flavor but less carbs, this is for you.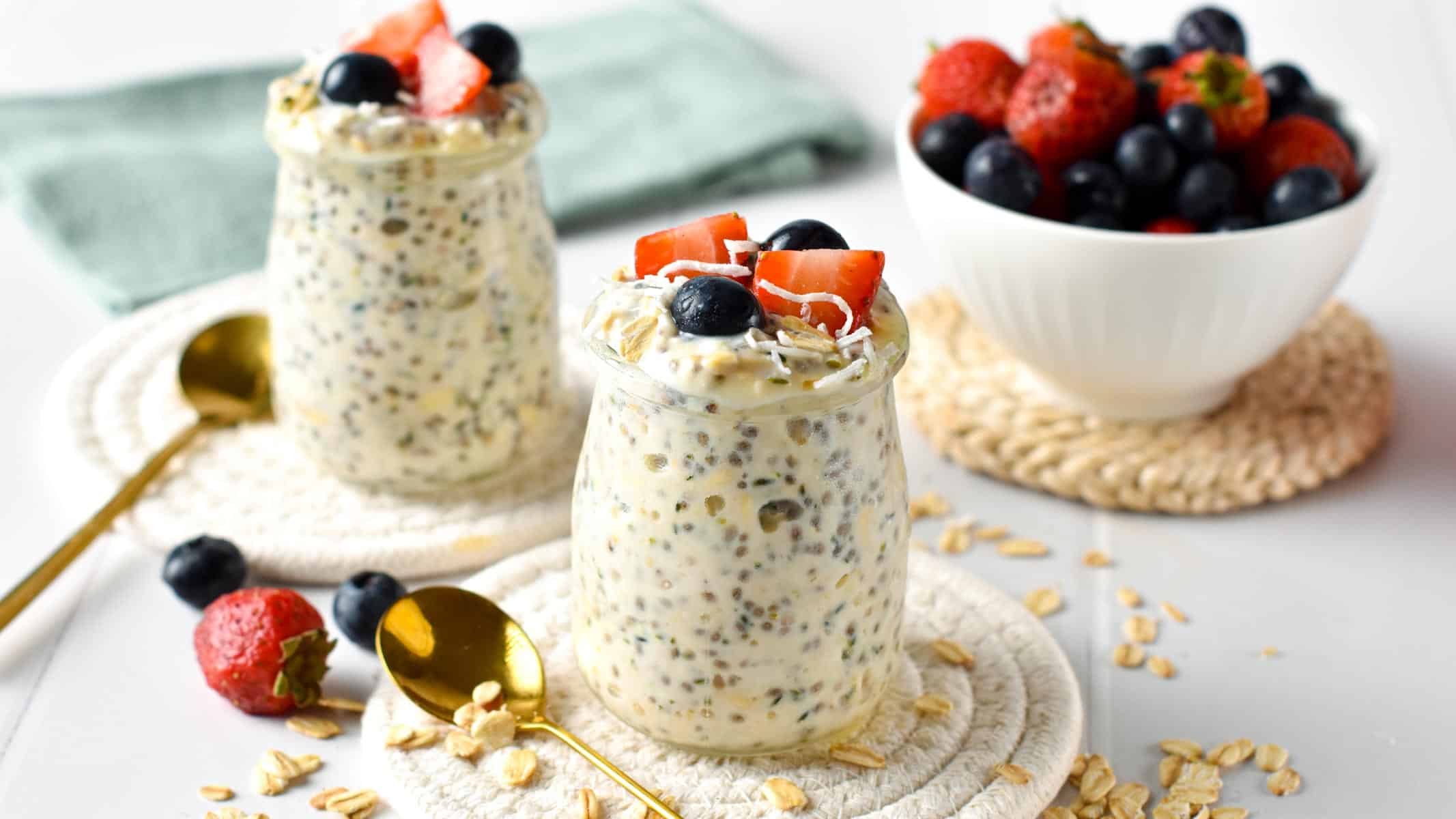 How To Make Diabetic Overnight Oats
Rolled oats are a healthy wholegrain cereal packed with fiber but still high in carbohydrates for people with diabetes.
It's a great cereal to mix with seeds for a diabetic breakfast as long as you don't overdo it.
Ingredients
Here is my technique to enjoy oats in the morning but keep the carbs low:
Hemp Seeds are one of the best seeds for people with diabetes because it's made of healthy fat and protein. It keeps you full for hours and adds the same texture as the steel-cut oats in this recipe.
Chia Seeds – They are very low in net carbs, packed with fiber, and very filling.
Shredded Coconut – Low-carb and full of flavor, it addd texture to the low-carb overnight oats.
Old-Fashioned Oats – We will use a small amount of oats for flavor and texture, but keep it small to keep the net carbs under control.
Sugar-Free Crystal Sweetener – We recommend a sweetener with zero carbs and zero calories, like allulose, erythritol, or a few drops of vanilla stevia drops.
Vanilla Extract
Unsweetened Almond Milk
Low-Carb Plain Plant-Based Yogurt of Choice – Plain coconut yogurt is packed with fat, your primary fuel source on a low-carb diet. It's a great way to add creaminess to the recipe with less carbs than other yogurt.
Cinnamon
Preparation
Add the dry ingredients in a large glass container: hemp heart, oats, shredded coconut, sugar-free sweetener, and chia seeds, and stir to combine.
Next, add coconut yogurt, almond milk, and vanilla extract.
Stir to combine evenly. Close the container with a lid and refrigerate overnight.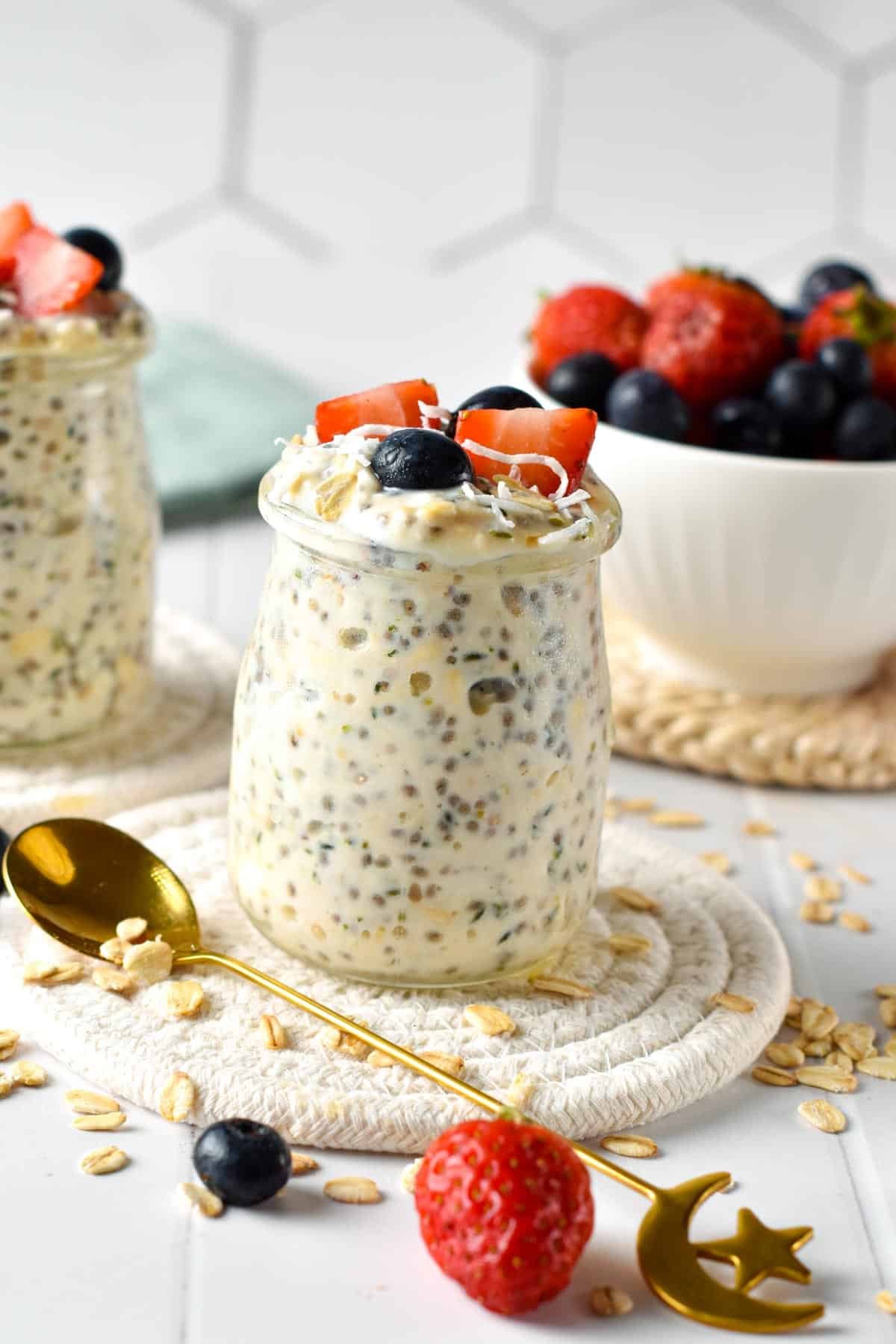 Serving
The next day, divide the batch in half and place it in two glass mason jars.
Feel free to serve this recipe plain or to add to each jar some of the low-carb toppings below:
Almond Butter – This adds protein, creaminess, and flavor to the top of the jar. Almond butter has fewer carbohydrates than peanut butter and is a better choice in diabetic breakfast recipes.
Low-Carb Berries – Add 2 or 3 berries for sweetness on top of the jar, like raspberries, blueberries, or strawberries.
Low-Carb Yogurt
Nuts – Add walnuts, pecans, or sliced almonds.
Chopped Peanuts
Seeds – Sunflower seeds, pumpkin seeds, or hemp hearts.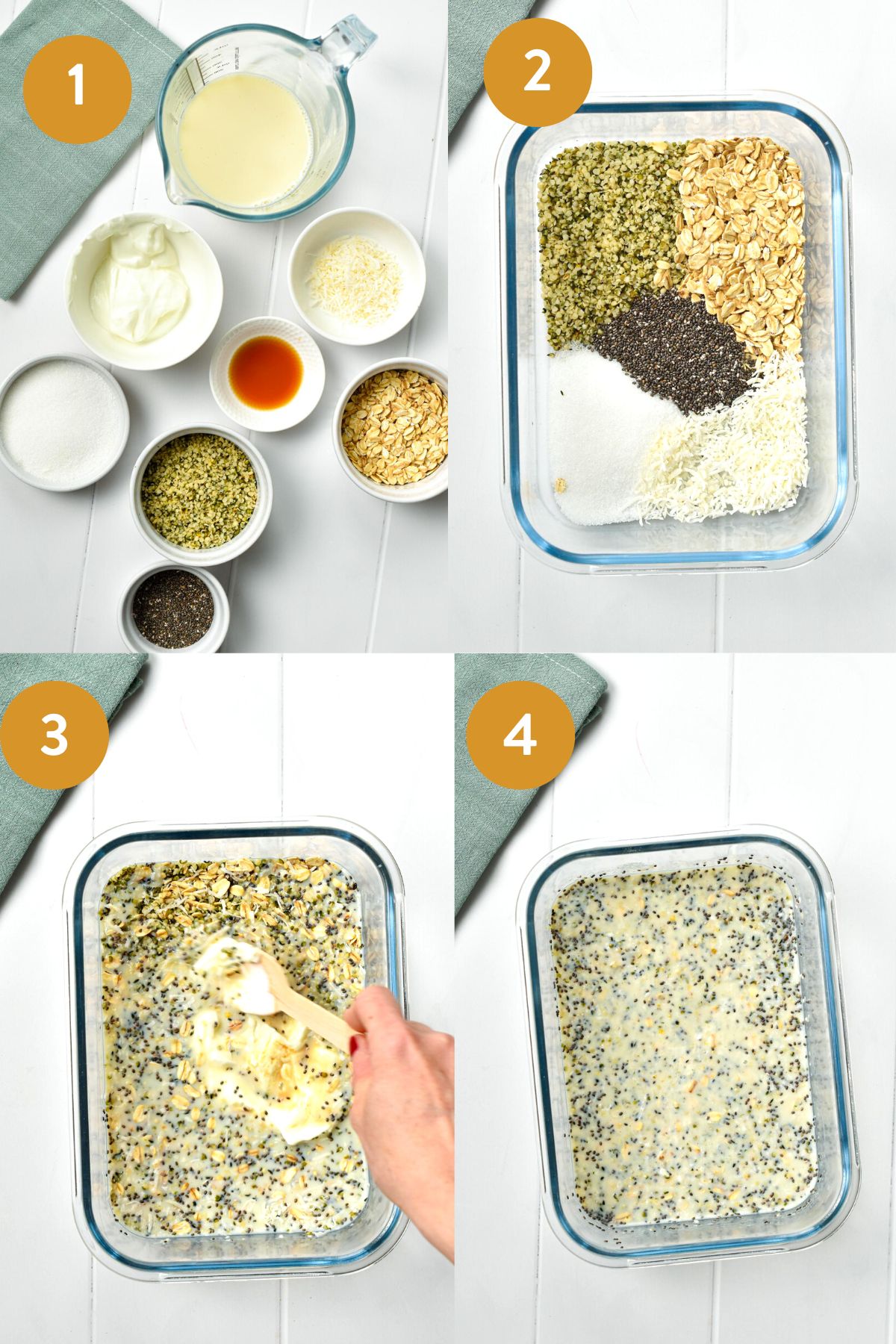 Storage Instructions
These diabetic overnight oats are perfect for meal-prepped days of breakfast. You can double or triple the recipe and store it in glass mason jars for up to 3 days in the fridge.
You can freeze your breakfast for up to 1 month in a freezer box. Thaw in the fridge the day before.
Allergy Swaps
Below are some ingredient substitution ideas if you need them.
Nut-Free – You can use unsweetened cashew milk, hemp milk, or coconut milk. Both are low-carb. Avoid soy milk and oat milk that contains more carbs per serving. Top the jar with sunflower seed butter instead of almond butter.
Coconut-Free – Use low-carb yogurt made of soy or almond and replace the shredded coconut with sliced almonds or sunflower seeds.
Gluten-Free – Use gluten-free certified oats.
Oats-Free – To decrease carbs even more, replace all the oats with hemp seeds.
Frequently Asked Questions
Here are my answers to your most typical questions about this diabetes-friendly overnight oats.
Are Overnight Oats For Diabetics?
Not really. With over 33 grams of carbohydrates per serving, overnight oats are high in carbs for diabetics in the morning.
Even if they contain a decent amount of fiber, the total net carbs are still not recommended to keep your blood sugar level steady.
However, you can make diabetes-friendly overnight oats by cutting on oats and using hemp seeds in the mix instead.
Do Oats Spike Blood Sugar?
A small amount of oats are ok, but remember that even if oats are very healthy wholegrain, it contains 24 grams of net carbs per 1/2 cup.
Depending on your diabetes type, health background, and the other meals you have during the day, it can spike your blood sugar more or less.
Can A Diabetic Eat Oatmeal Every Morning?
A regular oatmeal of 1/2 cup of oats with no added sugar contains 24 grams of net carbs.
If you can fit oatmeal within your carb limit per day, then it's a healthy addition to your breakfast. Avoid ready-made oatmeal made with added sugar.
More Diabetes-Friendly Recipes
If you need other recipes like this one, try my other healthy diabetes-friendly recipes.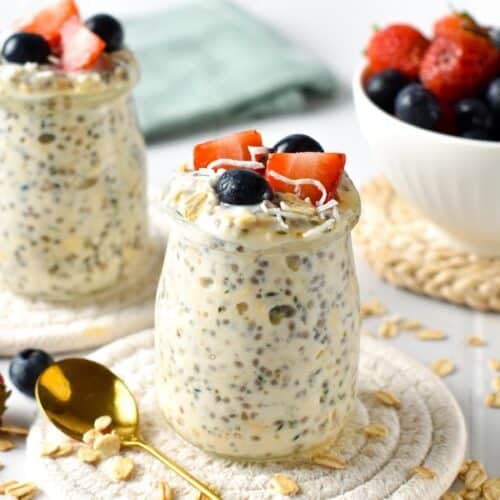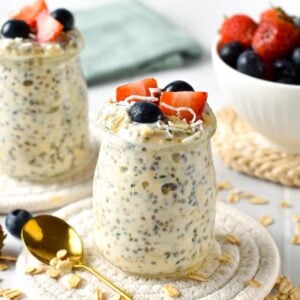 Diabetic Overnight Oats
This Diabetic Overnight Oats is a low-carb version of the classic overnight oat recipe using hemp heart and oat to boost protein, and healthy fats and cut down carbs. on
Pin
Print
Review
Servings: 2 servings
Calories: 319.8 kcal
Ingredients
To serve
1 tablespoon Almond Butter
2-3 Low-Carb Berries - raspberries, blueberries or strawberries
Instructions
In a large bowl, stir hemp heart, chia seed, coconut, cinnamon, and oats.

Add almond milk, vanilla, yogurt, and almond butter and whisk to combine all the ingredients.

Cover the bowl with a lid and refrigerate overnight or for at least 6 hours.

The next day, serve in a glass mason jar with a dollop of plain yogurt on top, a drizzle of peanut butter or almond butter, and low-carb fruits like raspberries or blueberries.
Notes
Note: this recipe contains 4 times less oats than classic overnight oats. if this raises your blood sugar level too much, decrease oats to 1 or 2 tablespoons and replace them with one extra tablespoon of chia seed. Disclaimer – we are not doctors and we can't recommend or ensure that this recipe is suitable for you as diabetes is different for everyone. Always ask your health specialist before trying a recipe if you have any doubt.
Share on Facebook
Pin Recipe
Nutrition
Serving: 1serving | Calories: 319.8kcal | Carbohydrates: 16.1g | Protein: 14.6g | Fat: 22.2g | Saturated Fat: 3.6g | Polyunsaturated Fat: 12.3g | Monounsaturated Fat: 5.1g | Trans Fat: 0.01g | Sodium: 129.2mg | Potassium: 140.2mg | Fiber: 5.6g | Sugar: 2.6g | Vitamin A: 132.8IU | Vitamin C: 3.9mg | Vitamin D: 0.4µg | Calcium: 256.2mg | Iron: 4.7mg | Magnesium: 58.5mg | Phosphorus: 417.7mg | Zinc: 0.9mg