Gluten-Free Vegan Keto Bread Recipe
This easy gluten-free, vegan bread recipe is a simple and delicious bread loaf made with no yeast or bread machine!
Plus, this is a low-carb keto bread recipe with only 2.2 grams of net carbs per slice!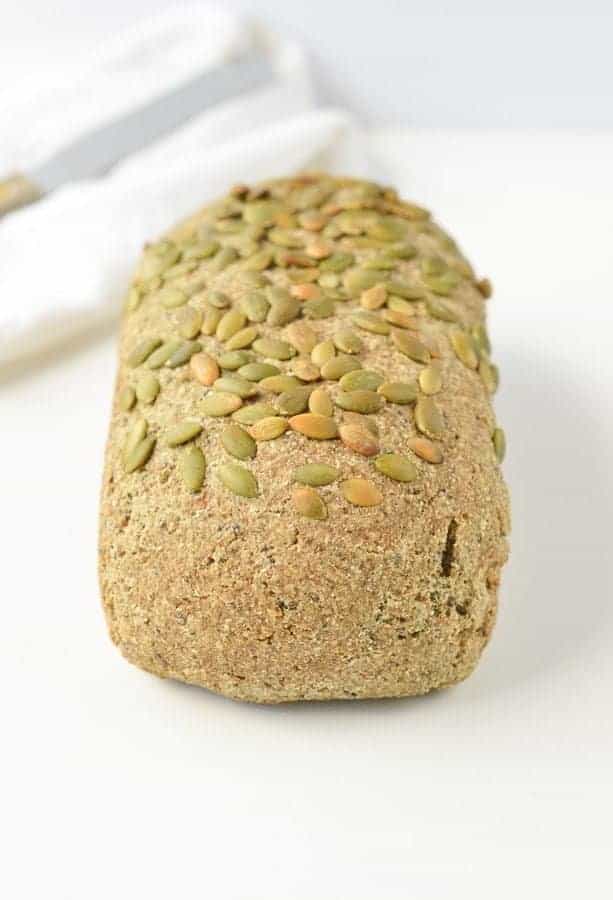 Are All Gluten-Free Bread Vegan?
You will be surprised to hear that most gluten-free bread recipes use eggs or milk.
Also, while some brands make gluten-free vegan bread recipes, they tend to use high starchy flour that makes the bread hard to digest and triggers carb cravings.
How To Make Gluten-Free Vegan Keto Bread
This gluten-free, vegan bread recipe is delicious, fulfilling low-carb bread recipe using only nourishing low-carb flour.
It is a delicious, dense bread similar to German whole grain bread.
Ingredients
So keep reading to check the ingredients you need to make this easy yeast-free gluten-free keto bread recipe.
Almond flour – use fine blanched almond flour for the best result.
Pumpkin flour -also known as pumpkin seed meal. If you can't find this in your local supermarket, you can order it online or simply make yours at home. Add 3 cups of pumpkin seeds into a blender and blend until a powder forms. Don't over-blend, or it will turn into pumpkin butter.
Coconut flour
Ground psyllium husk – this is basically 100 % natural fiber. It is a crucial ingredient in this recipe to hold the low-carb gluten-free flour together. Don't skip or replace.
Chia seeds – black or white whole chia seeds.
Apple cider vinegar – you can use any acid like lemon juice or vinegar of your choice. This helps activate the baking powder as the recipe doesn't contain gluten.
Baking powder
Salt
Is Vegan Keto Bread Good For You?
Many people who start the vegan diet overeat carbs to feel full. Consequently, they miss important nutrients from nuts and seeds.
That is with this in mind that I created this bread—a delicious dense bread containing enough fiber and protein to feel full.
Indeed, after only 2 slices, you will feel satisfied and load your body with important nutrients.
In fact, did you know that one serving of pumpkin flour (30 grams) covers 23% of your iron RDI?
It also contains 7 grams of protein and only 3 grams of net carbs. This said, you now understand why this keto vegan bread is good for you.
Calories And Fat
You probably wonder if this vegan, gluten-free bread recipe is high in fat or calories. Of course, as it is a keto vegan bread, it can be seen as high in fat.
Surprisingly, it contains only 117 kcal per slice and 7.8 grams of fat. This is close to any regular wheat bread from the store!
Also, keep in mind that the fat in this keto bread recipe is the 'good' one.
All the fat in this bread comes from nuts, seeds, and olive oil. It means it brings all the powerful omega 3 and 6 you need.
Serving Keto Gluten-Free Bread
This is a very dense bread, better toasted. I recommend slicing thinly, toasting within minutes, and spreading peanut butter and raspberry chia seed jam on top.
Otherwise, use it as a sandwich bread with mashed avocado and raw vegetables of your choice.
More Vegan Keto Recipes
This blog is about vegan recipes, but I like to share some vegan keto recipes as we are all keen to eat fewer carbs.
If you enjoy eating vegan keto recipes from time to time, this is what I suggest you try.
If you have tried this bread recipe, don't forget to share a picture with me on Instagram!
Your friend, Carine
Vegan Gluten-Free Keto bread
Vegan Gluten-free bread recipe with nourishing seeds and nuts, 100% keto-approved with only 2.2 grams of net carbs per slice.
Pin
Print
Review
Ingredients
Liquid ingredients
2

tablespoons

Grape Seed Oil

-

or olive oil, almond oil

1

teaspoon

Apple Cider Vinegar -

or lemon juice

2

cups

Water

-

lukewarm 40°C (105°F) , think hot bath temperature
Instructions
Preheat the oven to 400°F (200°C), preferably on fan-bake mode.

Line a 9-inch x 5-inch loaf pan with a piece of parchment paper. Lightly oil the paper to make sure the bread doesn't stick to the pan. Set aside.

Measure all the dry ingredients carefully, weigh them for precision as the flours are high in fiber, and missing some will result in wet bread.

In a large mixing bowl, whisk all the dry ingredients together. It shouldn't take more than

30 seconds

.

Stir in the liquid ingredients, make sure the water is lukewarm. If too cold, the flours won't activate as well and as fast. Think hot bath temperature, around 40°C/105°F.

Stir with a spatula first, then knead the dough with your hands for about

1-2 minutes

until it comes together as a ball. The dough is slightly sticky, which is normal, but you should easily form a dough ball. If the dough sticks to your hands after

2 minutes

kneading the dough, it means you need more husk. Adjust by sprinkling more husk, 1 teaspoon at a time, knead again

1 minute

. You can also oil (or wet) your hands slightly to prevent the dough from sticking to your fingers.

Form a lovely round cylinder shape, don't flatten the top, or the bread will be very dense. The bread won't rise or expand, shape the bread as you want it to look when out of the oven.

Wet your hands with water and massage the top of the bread to smoothen any cracks.

Sprinkle some pumpkin seeds on top of the bread and slightly press to stick to the bread's top.

Bake for

50 minutes

, adding a piece of foil on top of the loaf pan after 30 minutes to ensure that the bread cooks perfectly inside and the top doesn't burn.

After 50 minutes, insert a skewer in the middle of the bread. If it comes out clean or with a few crumbs, it is ready. Otherwise, keep baking for 10 more minutes up to 70 minutes max. Check the baking every 10 minutes after 50 minutes.

Cool on rack for

3 hours

before slicing.
How to eat?
This is a dense bread-like German whole grain bread, it can be a bit moist in the center, and some people may prefer to toast each slice before eating.

Use as a sandwich bread or toast for breakfast with your favorite spread like peanut butter and chia seed raspberry jam.
Storage
Store up to 1 week in the pantry, wrap the bread in a clean kitchen towel, and slice when needed to keep the loaf fresh.

Freeze sliced in an airtight box or zip lock bags. Defrost in a toaster or at room temperature for 2 hours, then toast.
Notes
Net carbs per slice: 2.2 g
How to make pumpkin flour?
Add 3 cups pumpkin seeds into a blender and blend on high speed for 1 minute. Stop before it turns into butter. You should have fine pumpkin flour, not coarse. Store leftover flour in a glass mason jar for 2 months.
Nut-free option
Replace almond flour with gluten-free oat flour, use the same amount, note that the bread won't be keto-friendly anymore.
Share on Facebook
Pin Recipe
Nutrition
Serving:
1
slice
|
Calories:
117
kcal
|
Carbohydrates:
4.3
g
|
Protein:
3.9
g
|
Fat:
7.8
g
|
Fiber:
2.1
g
|
Sugar:
0.4
g
|
Iron:
6
mg