Healthy Rice Crispy Treats (Vegan Easter Nests)
These cute and Healthy Rice Crispy Treats are cereal nests made with no marshmallows or refined sugar!
Bonus, these cute no-bake treats are also vegan and gluten-free.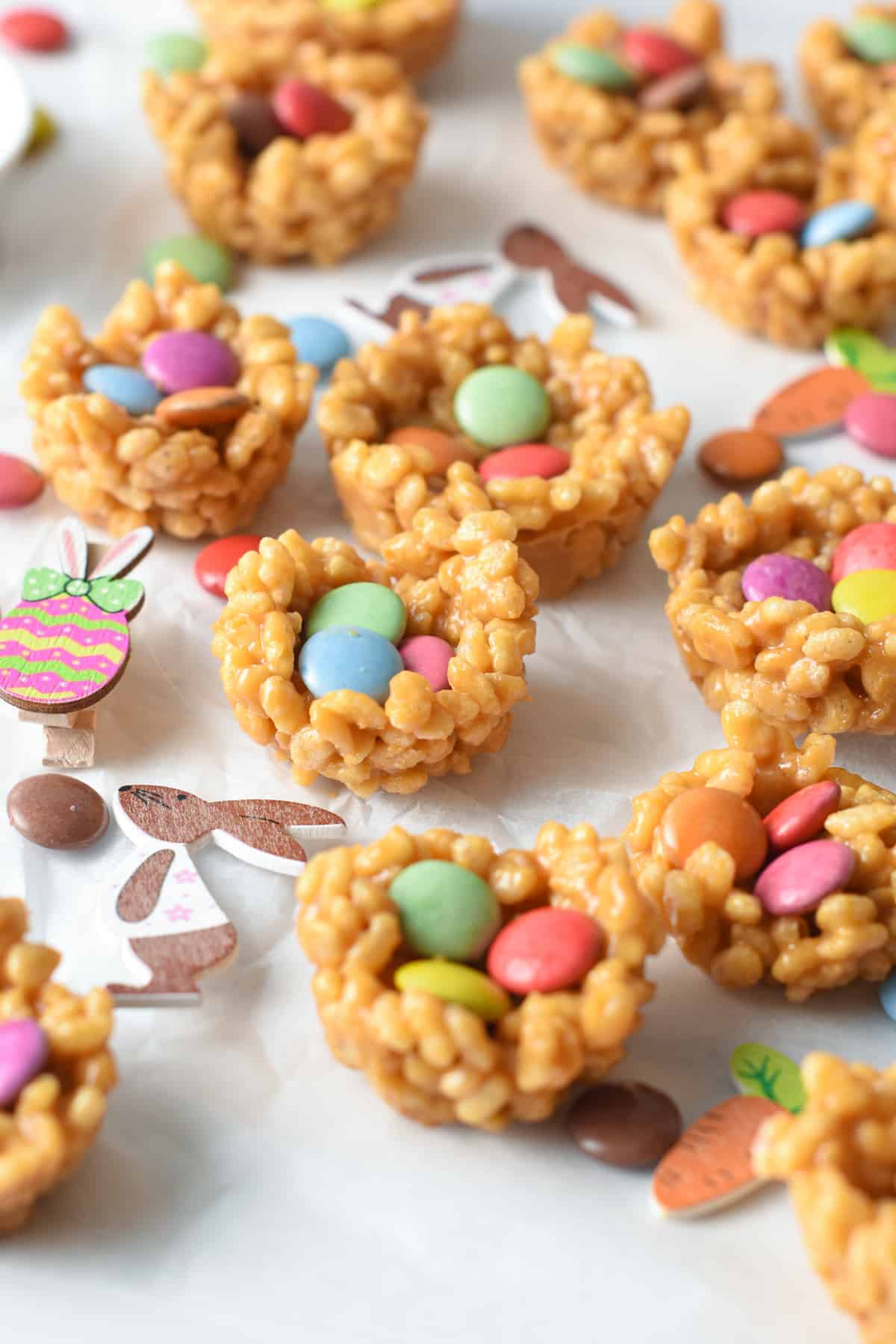 These healthy rice crispy treats are a marshmallow-free version of my classic Vegan Rice Crispy Treats Recipe.
How To Make Healthy Rice Crispy Treats
Most classic Easter Nest recipes call for butter and marshmallows. Both are not vegan-friendly and not really healthy either.
So here I am sharing a healthy twist to the classic Rice Krispie Easter treat that kids will love.
Ingredients
Puffed Rice Cereals – read the paragraph above to learn how to choose vegan Rice Krispies for vegan dessert recipes.
Peanut Butter – pick the most natural, unrefined peanut butter made only from peanuts.
Coconut Oil
Vanilla Extract
Vegan-Colored Chocolate Candies or vegan jelly beans, and they look like mini eggs.
Making The Batter
First, line a mini muffin pan with cupcake paper liner or if you are using a silicone mold, simply add cooking spray. Set aside.
In a saucepan, over low heat, stir the peanut butter, coconut oil, vanilla extract, and maple syrup until completely melted.
You can also melt it in the microwave, but it tastes better in a saucepan.
Remove from heat when it's just melted, don't bring it to a boil.
In a large mixing bowl, add puffed rice cereals and pour the peanut butter mixture on top.
Using a silicone or wooden tool, stir the ingredients until the puffed rice is fully covered by the mixture.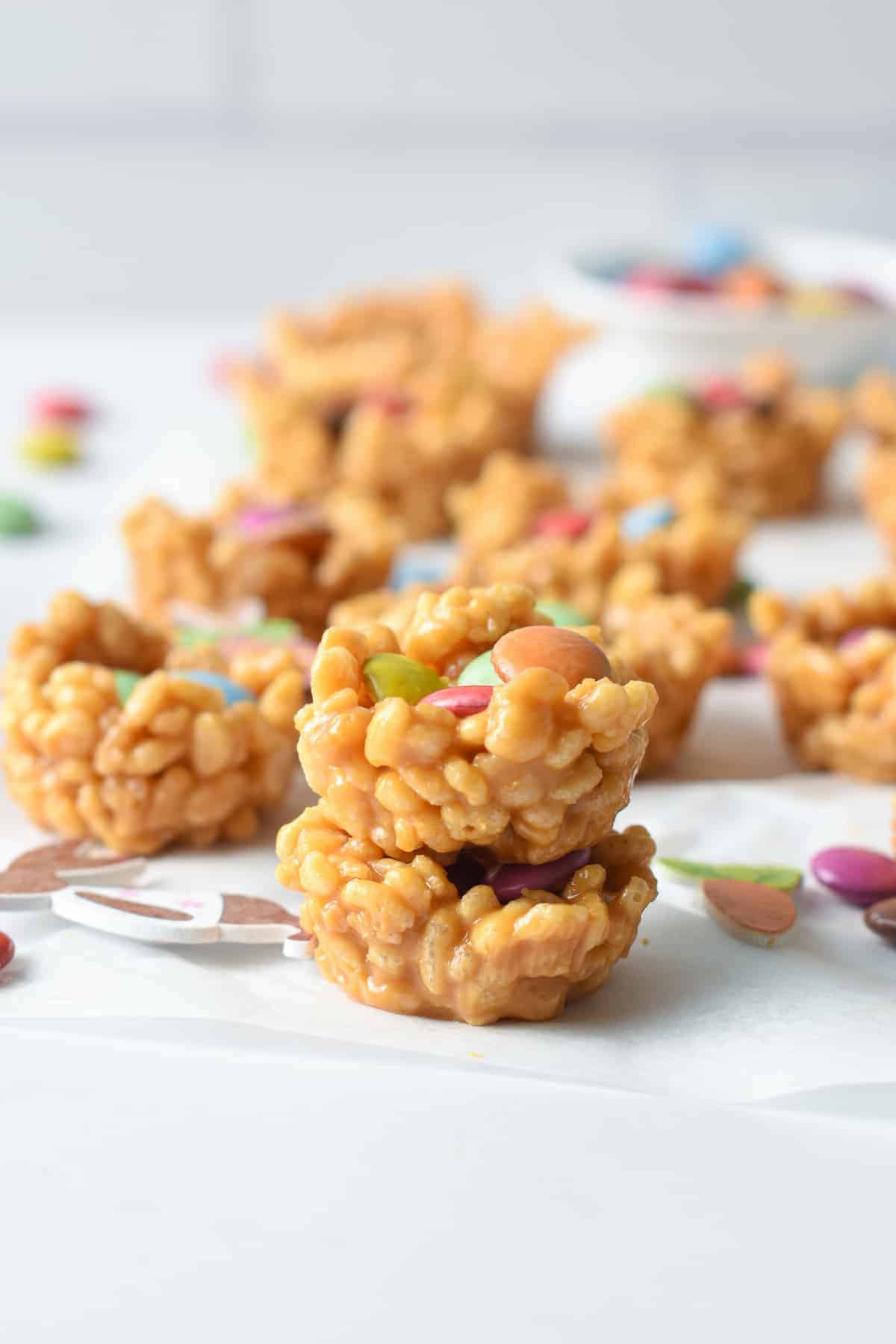 Forming The Nests
Transfer about 1-2 teaspoons of mixture into each muffin hole.
Press very well using the back of a teaspoon or a chopstick to pack the rice into the cupcake liner.
Decorating
Shape a depression in the center of the mixture to form a nest mixture and add any candies or mini eggs chocolate you like.
To find vegan candy eggs, read below or check out the recipe card for an option.
You can also add some edible grass for a true nest look.
Freezing
Place the muffin tin in the freezer to set the nest hard. It takes about 10 to 15 minutes to do so.
Then, serve immediately and store in the fridge to keep the treats hard and crunchy.
Storage
You can store these easter desserts for up to a week in the fridge.
Frequently Asked Questions
How Long Do Rice Crispy Treats Last?
These no-bake desserts last up to 1 week in an airtight container in the fridge.
The treats soften quickly at room temperature after 5 minutes, so it's important to store them in the fridge.
After one week, the rice softens and gets mushy, so don't store for longer than that or freeze them for up to 3 months and thaw at room temperature before serving.
Can I Color The Nests?
Yes, you can add a few drops of liquid food coloring to the peanut butter batter.
Flashy colors pop out better, like green food coloring or red food coloring.
However, since the peanut butter is already brown in color, the nest won't be as vibrant in color.
Which Vegan Candies Can I Add To The Nest?
There are many vegan chocolate eggs options to put candies on your plant-based nests, I've picked one of them in the recipe card.
However, some chocolate candies are not vegan, for example:
– M&M's: not vegan
– Smarties: not vegan
If you are not after a chocolate candy, Skittles are vegan-friendly, or you can use vegan jelly beans.
Are These No-Bake Nests Healthy?
Yes, one of these nests only contains:
– 82 calories
– 5.9 grams of carbohydrates
– 6 grams of healthy fat
– 2.2 grams of protein
And it's a source of essential minerals:
– Calcium: 8.8mg
– Phosphorus: 33mg
– Potassium: 62.4mg
Are Rice Krispies Vegan?
In this recipe, we use cereals made from crisped rice or puffed rice, so you might be wondering if Kellog's Rice Krispies are vegan.
Unfortunately, they are not vegan.
Kellog's Rice Krispies are made with one ingredient that is animal-sourced: Vitamin D3.
Vitamin D3 used in food manufacturing can have two sources. It can either come from lichen, where it is vegan, or from sheep wool.
Kellog's uses the latter in their recipe, making Rice Krispies not strictly vegan.
Now, some vegans do eat these rice cereals because they consider Vitamin D3 to be a byproduct of wool manufacturing.
Interestingly Vitamin D is one of the easiest vitamins to get for us as all it takes is to be exposed to sunlight for 10 to 30 minutes a day for our skin to synthesize it.
More Kid Vegan Recipes
If you enjoy simple vegan recipes made for kids like this one, you'll love these: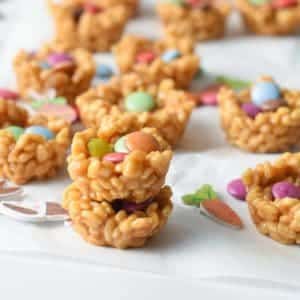 Healthy Rice Crispy Treats
These cute, healthy Vegan Rice Crispy treats are mini cereal nests made with no marshmallows or refined sugar! Bonus, these cute Easter treats are also vegan and gluten-free.
Pin
Print
Review
Servings: 16 mini nests
Calories: 82.2 kcal
Instructions
Line a 12-holes mini muffin pan with cupcake liners. Set aside.

In a medium-size saucepan, add fresh runny peanut butter, maple syrup, coconut oil, salt, and vanilla. Bring under low/medium heat, stir and cook until it melts and comes together into a thick creamy paste. It takes just 1 minute, don't overcook it, or it sticks to the pan. You can also microwave the mixture in a microwave-safe bowl in 30-second bursts stirring between each burst in the microwave until creamy.

Place the rice crispy cereals into a large mixing bowl and pour the peanut butter mixture on top.

Combine with a spoon until all the cereals are coated. If you used smaller puffed cereals like puffed amaranth, you might want to add 1/2 cup puffed cereals, adjust to taste.

Pour about 1-2 teaspoons into each cupcake hole. Press firmly to stick the rice together and shape a sort of depression in the center to make space for the candies and mimic a nest shape.

Add 3-4 candies to each nest.

Place the baking pan in the freezer to set the nest – about 10-15 minutes.
Storage
This recipe must be stored in the fridge or freezer. It softens quickly at room temperature. Keep for up to 1 week in the fridge in an airtight box.
Share on Facebook
Pin Recipe
Nutrition
Serving: 1nest | Calories: 82.2kcal | Carbohydrates: 5.9g | Protein: 2.2g | Fat: 6g | Saturated Fat: 2g | Polyunsaturated Fat: 1.2g | Monounsaturated Fat: 2.4g | Sodium: 76.4mg | Potassium: 62.4mg | Fiber: 0.5g | Sugar: 3.2g | Calcium: 8.8mg | Iron: 0.2mg | Magnesium: 16.9mg | Phosphorus: 33.1mg | Zinc: 0.3mg