Green Smoothie for Kids with 2 hidden Veggies!
A healthy green smoothie for kids packed with plant-based nutrients and perfect for a healthy vegan kid breakfast.
Plus, this kid green smoothie is dairy-free and approved for vegan children!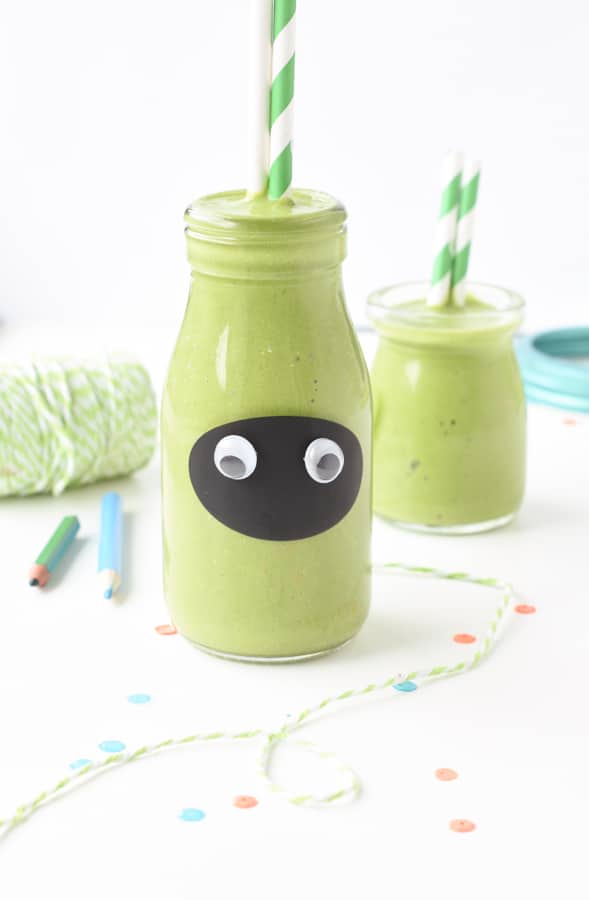 How To Make A Healthy Green Smoothie For Kids
It's easy to make a healthy smoothie. But to make the best green smoothie for kids, you need to think like a kid!
Kids love sweet flavors, but we don't want to give them added sugar on a smoothie, or it won't be healthy.
The key to making a thick smoothie that is naturally sweet is to use frozen mango and bananas.
The combination of both fruits is the perfect way to make a kid-friendly flavorsome smoothie with the best texture.
Ingredients for a perfect green smoothie
This green monster smoothie for kids contains many fruits and veggies to bring the energy they need for the day.
Gather all the ingredients in the jug of a high-speed blender, starting with the almond milk. In fact, it's much easier to blend all your ingredients, starting with the liquid.
So all you need to make this simple kid smoothie are:
Almond milk – you can use any milk your kid love, but almond milk has no flavor, and it's light to digest, so it's my preference for smoothies. Soy milk or oat milk are healthy options too, but they make smoothies a bit heavier, and kids feel full very quickly with these options.
Banana – small or medium, the bigger, the creamier and sweeter the smoothie will be. Bananas also add a good bunch of vitamin B6, magnesium, and fiber to the drink.
Frozen mango – adding 1/2 cup of frozen fruits in a smoothie is the key to making it super creamy and thick-like shakes. Kids love mango, and this is a magic ingredient that adds a delicious tropical flavor to the drink while adding lots of vitamins C and vitamins A to the drink.
Avocado – it's another great veggie to hide in your kid's smoothie to add healthy fat and potassium. It also adds a creamy texture without adding more fruits. Make sure you are using a ripe avocado with green flesh. No black or brown spots on the flesh or the smoothie can be bitter.
Spinach or kale – fresh baby spinach blend much better than any other leafy greens like kale. That's why I recommend this option to add nutrients from vegetables without adding any weird texture or flavor that kids won't love.
Peanut butter – or any nut butter or seed butter you love, including almond butter and sunflower seed butter. Note that almond butter darkens the drink, and sunflower seed butter is slightly bitter, so you may have to adjust the smoothie's sweetness to cover it for picky kids.
Rolled oats – this adds slow-carbs, fibers, and plant-based protein to keep their tummy full and have the energy for the day. Oats also add a lovely creamy texture to smoothies.
Vanilla extract
Storing Leftover Smoothies
This recipe serves 2 smoothies for kids from 3-5 years old or one smoothie for big kids 8-12 years old.
This smoothie can't be frozen because it already contains frozen fruits. However, for small kids, you can store the smoothie in reusable pouches and keep it in the fridge for a few hours.
I don't like to keep smoothies with avocado for too long because their color and flavor alter with time.
If you plan on making this recipe ahead, swap the avocado for frozen bananas, It will balance the creaminess lost by the avocado, but it will store much longer – about 1 day in the fridge.
Kids Smoothie Add-Ons
You can boost the proteins in the smoothie by adding 1-2 teaspoons of:
hemp seeds
chia seeds
protein powder for kids – some made of pea protein have a delicious vanilla flavor that kids love.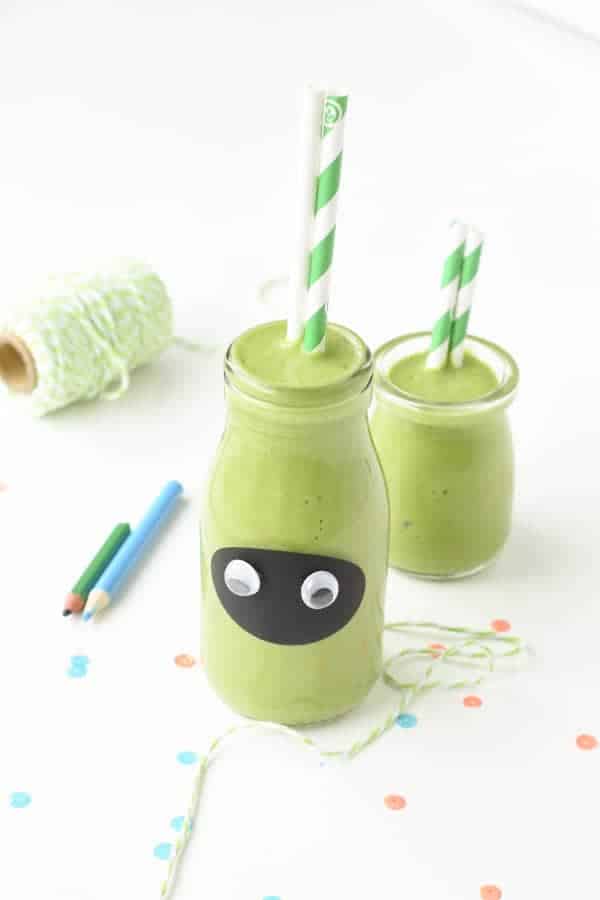 Frequently Asked Questions
Can I use frozen bananas?
Yes, you can use frozen bananas in this recipe, but the smoothie will be much thicker.
You may have to add more almond milk to balance the texture or decrease the number of frozen mangos.
How does it taste?
This smoothie doesn't taste like spinach at all if it is what you are scared of! It has a delicious, sweet tropical flavor from bananas and mango.
The texture is thick, fresh, and creamy like a shake with vibrant green color.
If your kids are unsure about drinking green food, tell them it's a monster smoothie and stick googly eyes on their glass, success guaranteed!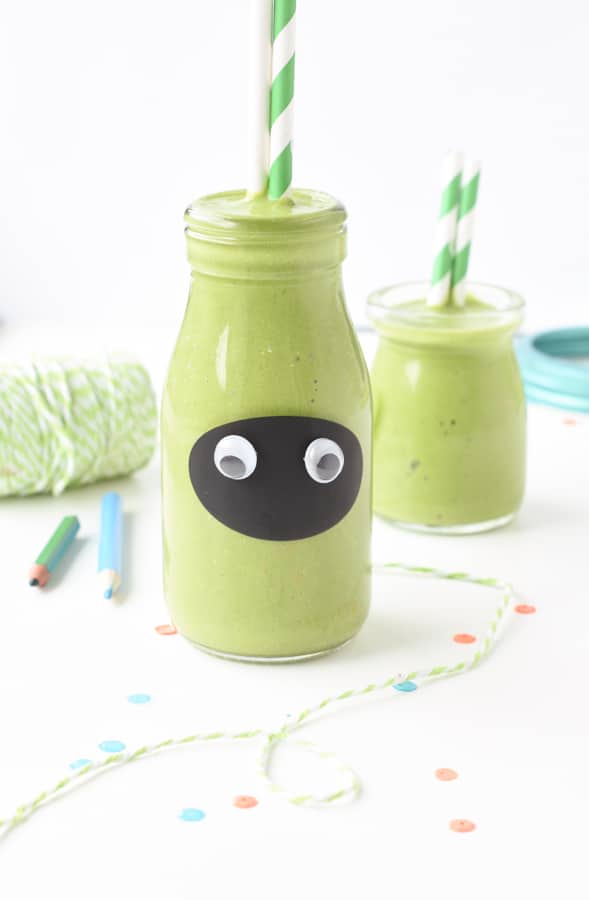 More Vegan Smoothie Recipes
If you like easy vegan smoothies, you'll love these:
Have you made this kid smoothie recipe? Share a comment or review below! I love to know that my recipes encourage kids to eat their greens!
Have fun with this recipe,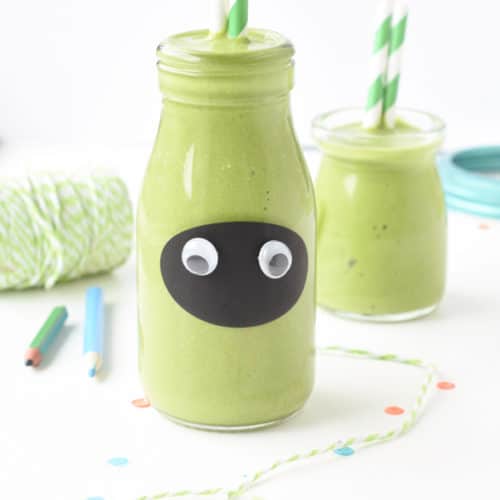 Green Smoothie for Kids
A healthy green smoothie for kids of any age packed with nutrients and delicious sweet tropical flavors from bananas and mangos.
Pin
Print
Review
Servings: 2 medium smoothies
Calories: 112.7 kcal
Ingredients
Optional – adjust sweetness
1-2 teaspoons Maple Syrup - or 1-2 drops natural stevia
Instructions
In the jug of a high-speed blender, add all the ingredients above in the order listed.

Blend on high speed until smooth and creamy. Taste and adjust thickness and sweetness. For a frothier smoothie, add few ice cubes. For a thin smoothie, add a splash of almond milk. For sweetness, add a few drops of stevia or 1-2 teaspoons of maple syrup. Blend after each adjustment and serve immediately.
Notes
Gluten-free option: replace rolled oats with a gluten-free cereal like millet flakes.
Share on Facebook
Pin Recipe
Nutrition
Serving: 1smoothie | Calories: 112.7kcal | Carbohydrates: 13.3g | Protein: 3.6g | Fat: 5.6g | Saturated Fat: 0.9g | Polyunsaturated Fat: 1.8g | Monounsaturated Fat: 2.6g | Sodium: 171.5mg | Potassium: 227.5mg | Fiber: 2.1g | Sugar: 8.8g | Vitamin A: 1853.4IU | Vitamin C: 19.3mg | Calcium: 140.9mg | Iron: 0.8mg | Magnesium: 33.5mg | Phosphorus: 54.3mg | Zinc: 0.5mg