Spinach Pineapple Banana Smoothie
This Spinach Pineapple Banana Smoothie is a delicious easy green smoothie packed with tropical flavors and nutrients from spinach.
Plus, this creamy green smoothie is ready in 5 minutes, naturally sweetened with fruits, dairy-free and vegan.
I have such a true love for smoothie recipes. They are so filling refreshing, and easy to make on hot summer days.
Plus, adding greens to a smoothie is one mighty trick to deal with kids growing up and becoming picky on eating leafy veggies like spinach.
The great thing about spinach in smoothies is that it's tasteless while adding nutrients from vitamin C, iron, and magnesium. This is a powerful combo to feel energized, focused, and calm.
So let's see how to create and thick and creamy green spinach pineapple banana smoothie.
How To Make Spinach Pineapple Banana Smoothie
As this smoothie name states, you need just three plants and a splash of plant-based milk.
Ingredients
All you need to make a delicious pineapple green smoothie recipe are:
Frozen Pineapple – Frozen ingredients are the key to creating a creamy smoothie. Plus, pineapple is an excellent addition to a smoothie because it contains bromelain, a natural anti-inflammatory that may relieve people with pain from sports injuries or swelling.
Frozen Bananas – If you use frozen ripe bananas, you definitely don't need any sweetener. The riper the banana, the less you need to add any sweetener. I generally skip the sweetener in my banana smoothie, but then it's really up to you.
Baby Spinach Leaves – Spinach contains a lot of lutein and beta carotene. Both are great anti-oxidants to prevent illness and cells oxydation.
Coconut Milk or any dairy-free milk you love, like almond milk or oat milk. I do love packaged coconut milk for tropical smoothie flavors like this pineapple spinach smoothie recipe.
Then, depending on your tastebuds, feel free to add some of the ingredients below:
Ice Cubes for a frothier texture
Maple Syrup, agave syrup, or any sweetener you love to boost the sweetness of your pineapple smoothie.
Vanilla Extract
Chia Seeds or ground flax seeds – Add 1-2 teaspoons to boost healthy omega fatty acids s and increase the fiber.
Protein Powder – You can add up to a scoop of vanilla plant-based protein powder. If you do, you need to add more non-dairy milk or the texture will be off and too thick.
Oats – For a green breakfast smoothie, add up to 3 tablespoons of wholegrain cereals in the blender like wholegrain oats, Weet-bix, puffed quinoa, or wheat.
Preparation
In a high-speed blender, add all the ingredients: spinach, coconut milk, banana, and pineapple. Blend on high speed until smooth.
Taste and adjust by adding some of the optional ingredients listed above to achieve any texture or taste you are missing.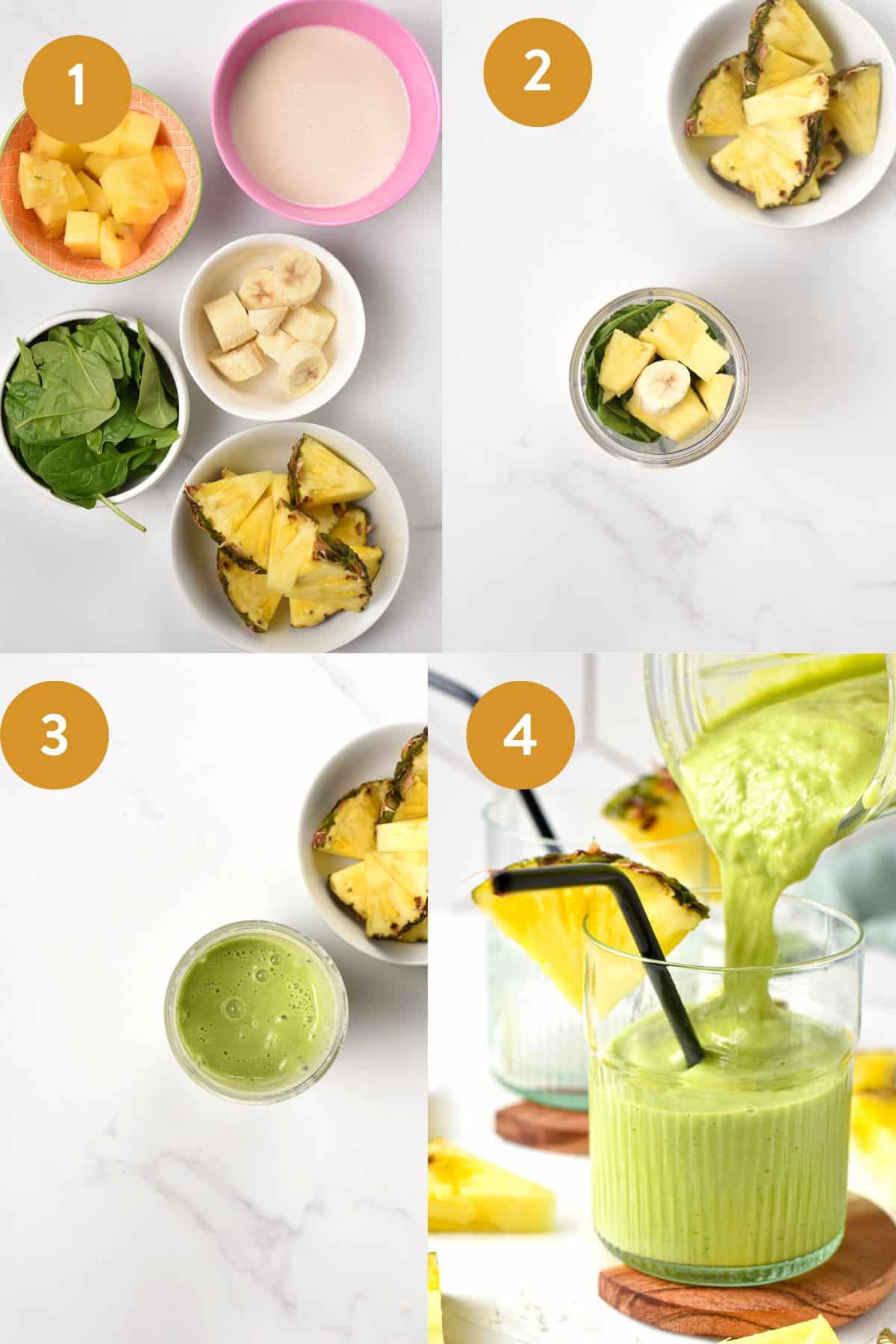 Serving
Serve the green pineapple spinach smoothie immediately with some of the below toppings:
A drizzle of nut-butter like peanut butter, cashew butter, or almond butter.
Shredded coconut
Extra frozen fruit pieces
Slices almonds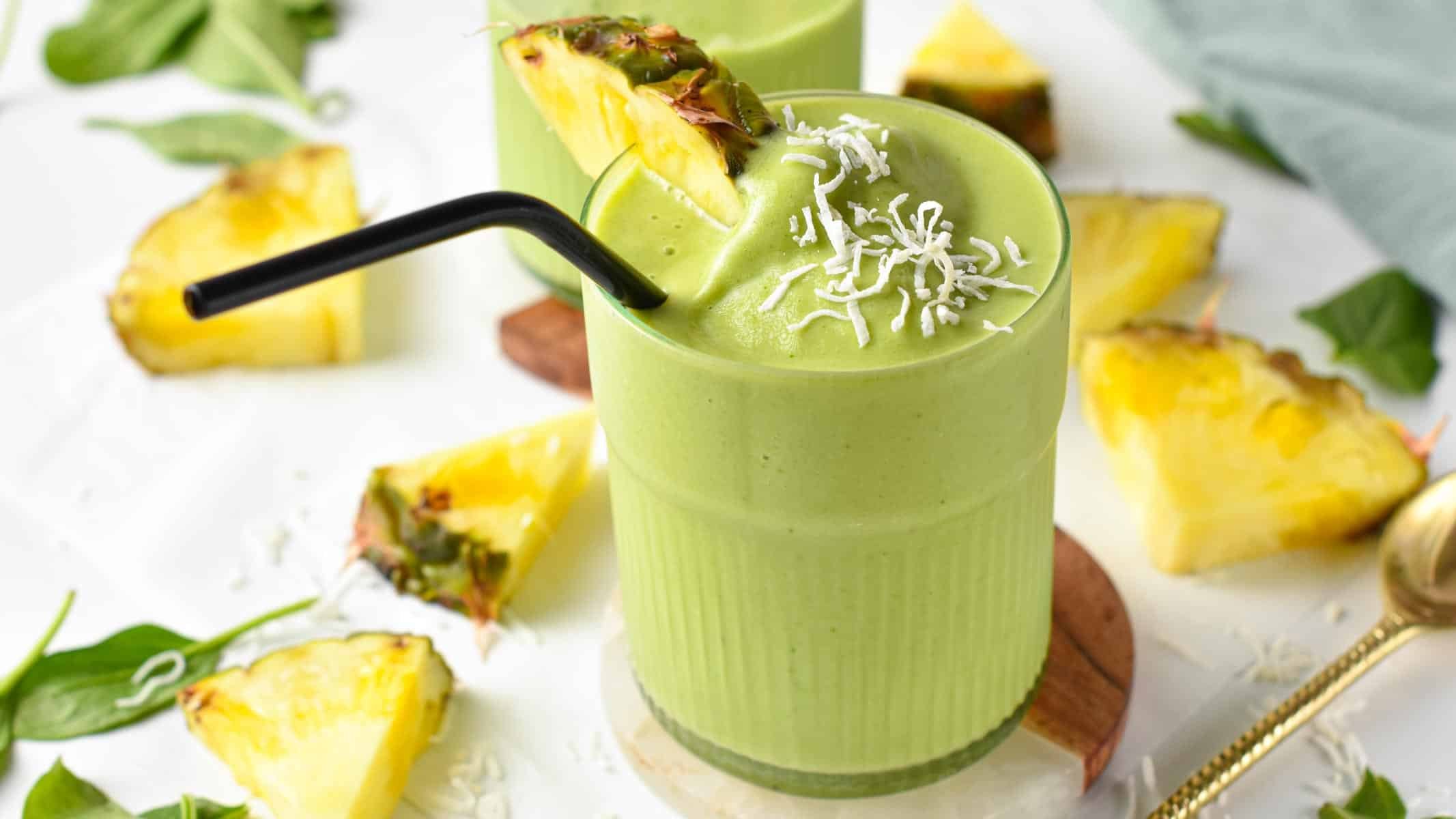 Allergy Swaps
If you have some allergies try the option below.
Banana-Free – You can swap the frozen bananas for frozen mango chunks or two tablespoons of cashews.
Coconut-Free – Try soy milk or almond milk.
Frequently Asked Questions
Here are my answers to your most common questions about this pineapple spinach banana smoothie.
What Are The Benefits Of Spinach Pineapple Juice?
Pineapple has strong anti-inflammatory properties from bromelain and spinach is recognized as a strong antioxidants.
Both together, spinach and pineapple strengthen your body health reducing join inflammation and cells oxidation.
When Should I Drink Spinach Smoothie?
Spinach is packed with vitamin C. Therefore it's a great smoothie to add to your breakfast instead of orange juice. Or, it's a great energy booster if you have energy drops in the afternoon.
More Smoothie Recipes
Below are some other delicious smoothie recipes for you to try.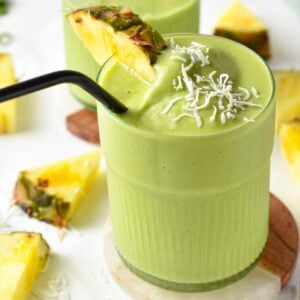 Spinach Pineapple Banana Smoothie
This Spinach Pineapple Banana Smoothie is a delicious easy green smoothie packed with tropical flavors.
Pin
Print
Review
Instructions
Add all the smoothie ingredients to the jug of a blender.

Blend on the high-speed setting until smooth. You can thin out the smoothie by adding a splash more milk or water.
Share on Facebook
Pin Recipe
Nutrition
Serving:
1
smoothie
|
Calories:
268.7
kcal
|
Carbohydrates:
59
g
|
Protein:
3.1
g
|
Fat:
5.1
g
|
Saturated Fat:
4.1
g
|
Polyunsaturated Fat:
0.2
g
|
Monounsaturated Fat:
0.1
g
|
Sodium:
26.8
mg
|
Potassium:
754.2
mg
|
Fiber:
7.1
g
|
Sugar:
39.6
g
|
Vitamin A:
2997.4
IU
|
Vitamin B12:
3
µg
|
Vitamin C:
115.8
mg
|
Vitamin D:
118
µg
|
Calcium:
159.7
mg
|
Iron:
1.7
mg
|
Magnesium:
115
mg
|
Phosphorus:
53.4
mg
|
Zinc:
1.1
mg