This blue spirulina smoothie is a creamy and smooth anti-oxidant smoothie with a vibrant blue lagoon color.
Plus, the smoothie is also dairy-free and vegan-friendly.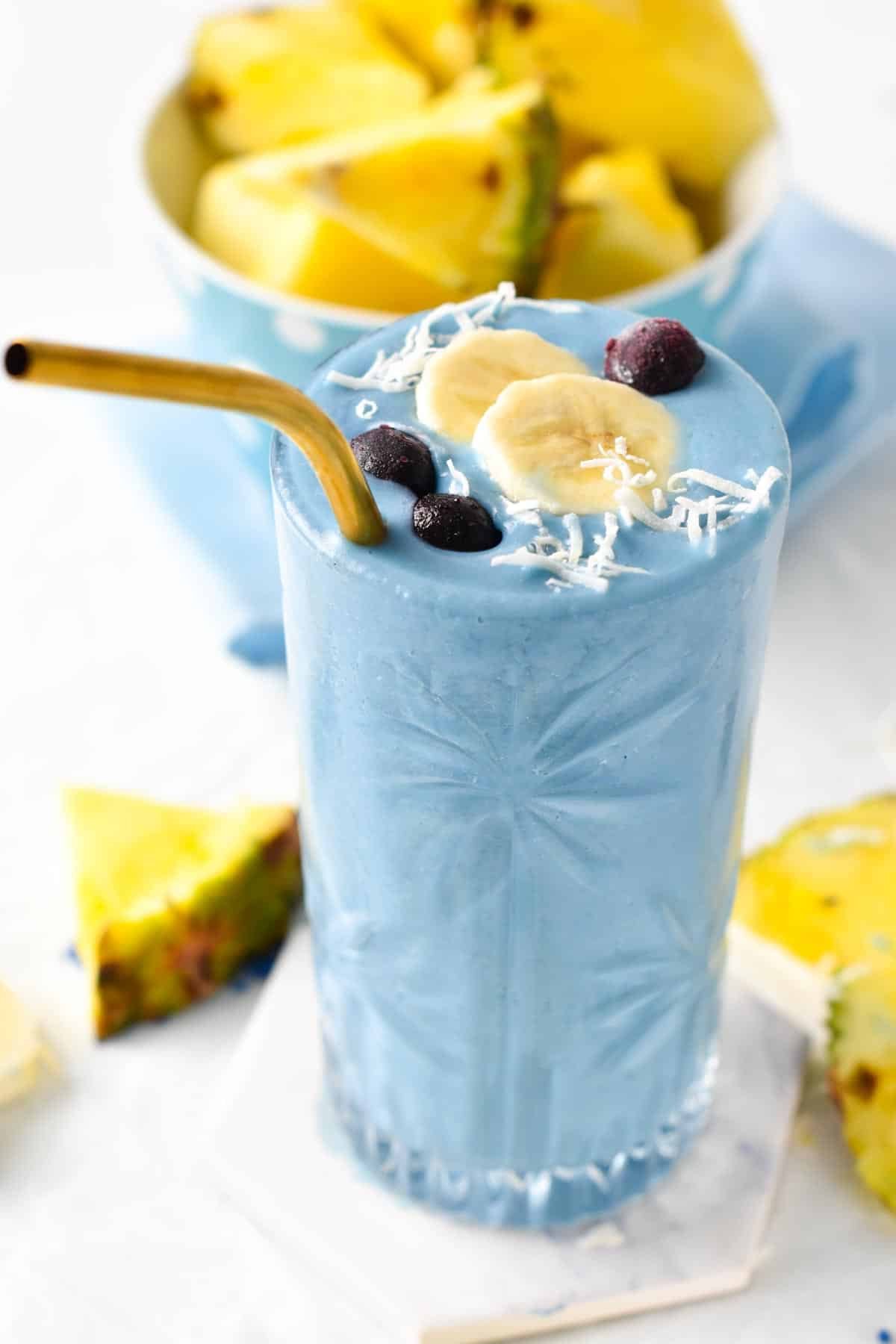 The blue spirulina contains phycocyanin pigment extracted from green spirulina. Phycocyanin is a plant pigment that gives a blue color to spirulina.
It's also a powerful anti-oxidant, also acting as a cholesterol-lowering agent.
Compared to green spirulina, which has more nutritious properties, blue spirulina powder doesn't have seaweed aftertaste and makes it a fantastic anti-oxidant booster in smoothies
So if you are after a healthy smoothie to boost your immune system while serving a fun blue-colored drink, this is the recipe you need.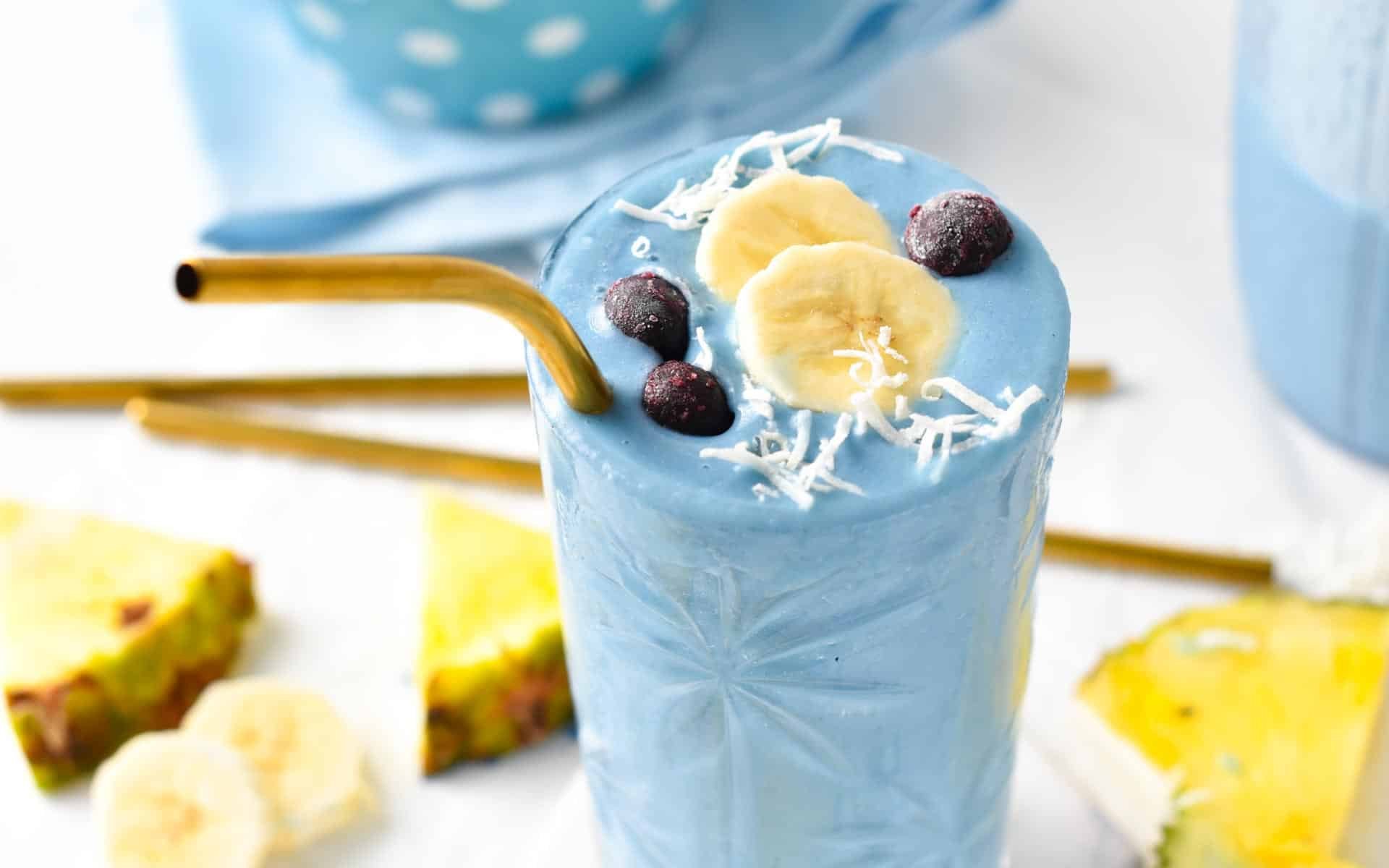 How To Make Blue Spirulina Smoothie
Blue spirulina powder has no flavor, so it can basically be added to any smoothie recipe. However, to keep its vibrant blue color, it's better to select light color fruits.
Ingredients
As a result, the best combination of fruit to make a thick Blue Spirulina Smoothie are:
Frozen Banana – The riper the banana, the sweeter the smoothie. Make sure your bananas don't show too many dark spots on their flesh before freezing them to keep the smoothie color light blue.
Frozen Pineapple
Coconut Milk or any non-dairy milk you love, like oat milk, cashew milk, or soy milk, for extra added proteins.
Blue Spirulina Powder – You can play with the amount of spirulina. Since it's flavorless, it won't impact the smoothie flavor. The more you add, the darker blue the smoothie colors turn out.
Coconut Yogurt or any plant-based plain Greek yogurt style you love made from soy, oat, or almond.
Maple Syrup or any natural sweetener you love.
Preparation
In a powerful blender, add frozen pineapple, frozen banana, blue spirulina powder, coconut yogurt, coconut milk, and maple syrup. Blend on high speed until creamy and smooth.
Blue Spirulina Smoothie
If you want to turn this recipe into a thick ice cream-like texture to serve as a healthy breakfast smoothie bowl, reduce the milk to 1/2 cup.
Then, make sure you use the tamper attachment of the blender, and run the blender on low speed – speed 2-3 of a vitamin. Swirl the tamper tool into the thick frozen fruit mixture to blend into a creamy smoothie bowl.
Serve the blue spirulina smoothie bowl with some fresh fruits, nuts and seeds or granola.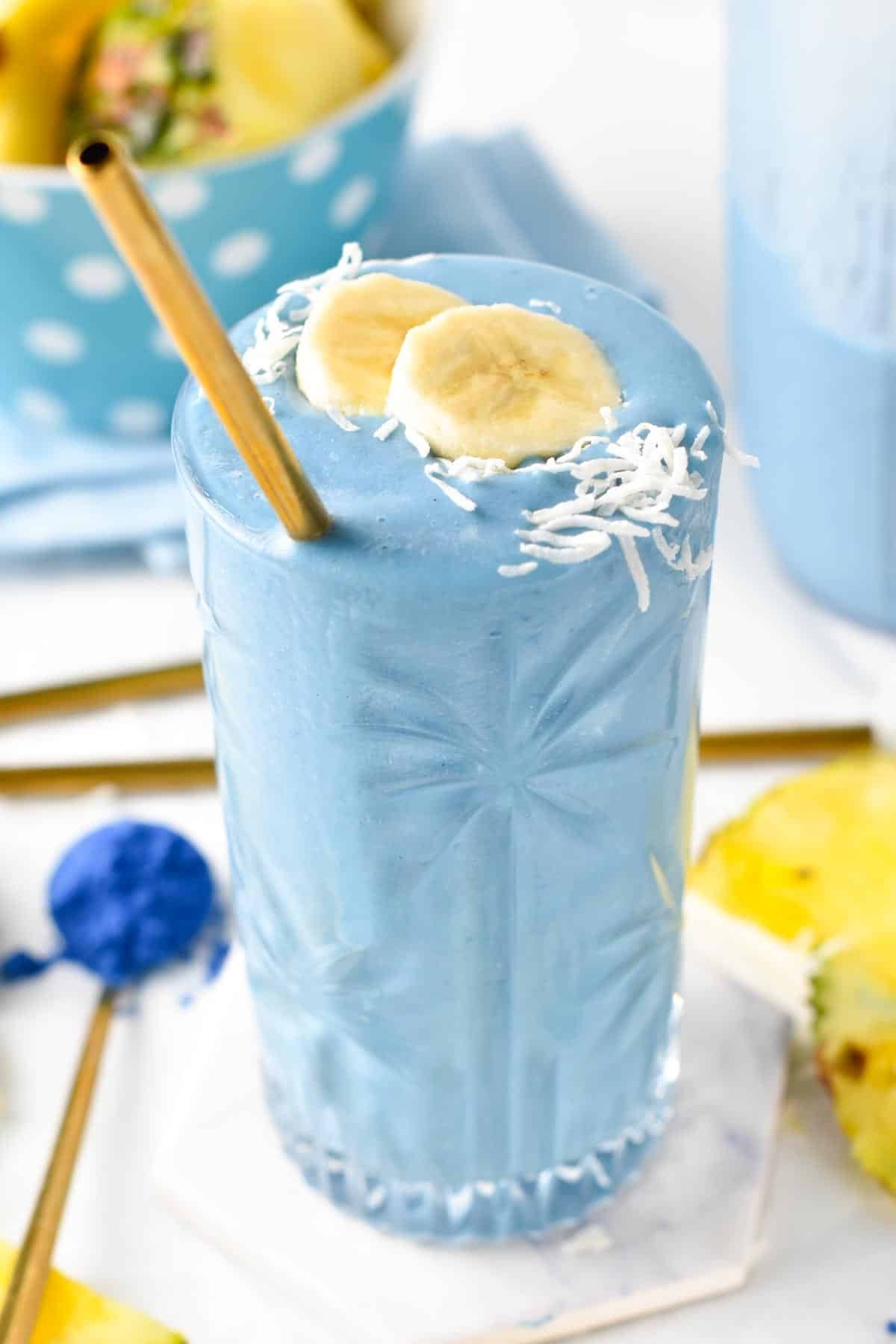 Flavor Variations
You can use this recipe to create a range of blue spirulina smoothie flavors. For example, feel free to add:
One scoop of protein powder and increase the milk to 1 cup.
Frozen mango as a swap to one of the fruits.
1-2 teaspoon of chia seeds to add healthy fats.
A handful of spinach, cucumber, or kale – but this turns the smoothie green.
A tablespoon of nut butter like cashew butter or coconut butter.
Serving
Serve the spirulina smoothie with any toppings you love including:
Banana slices
Shredded coconut
Drizzle of cashew butter or coconut butter.
Homemade granola like my protein granola recipe.
Oats
Seeds and nuts like hemp seeds or slices of almonds.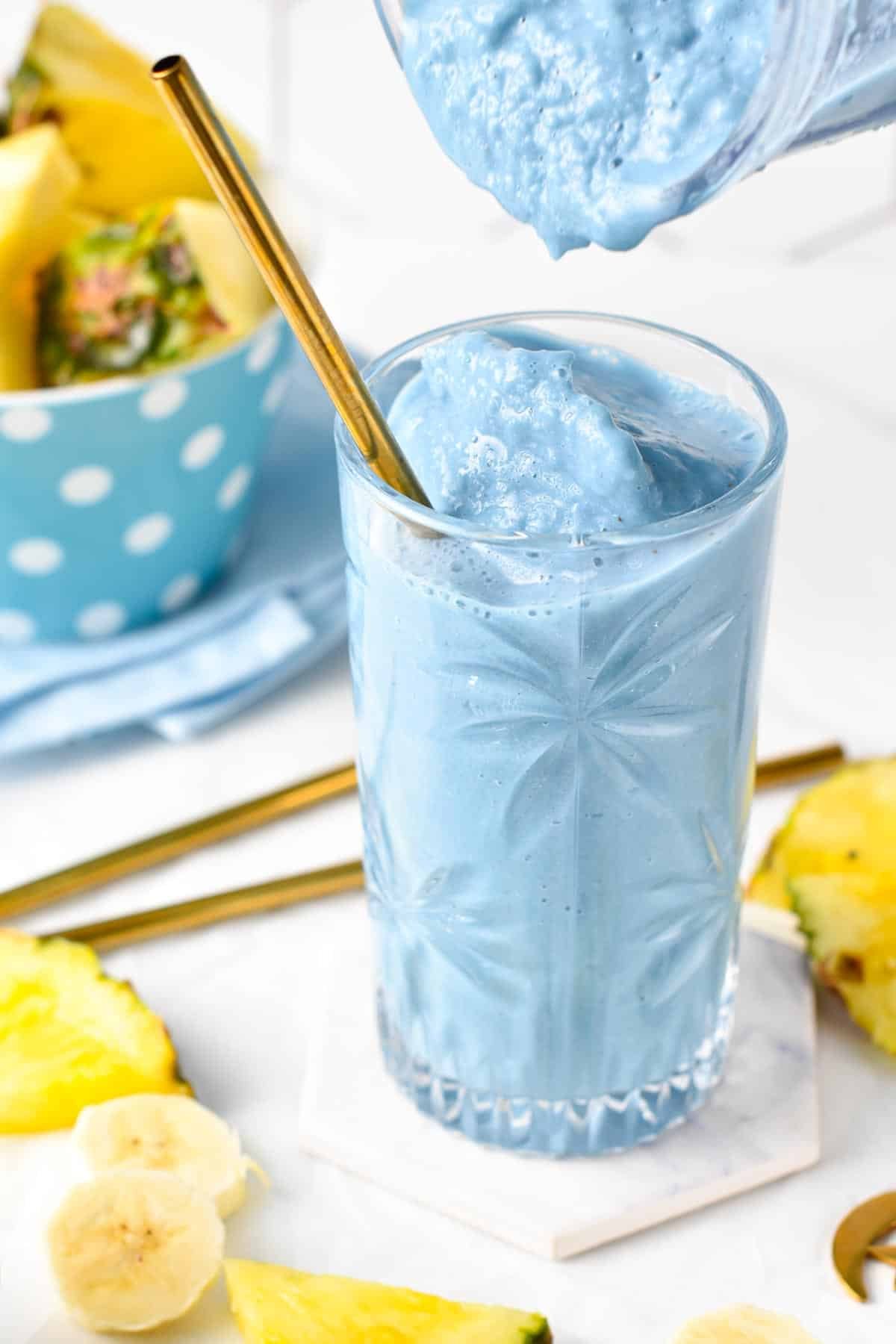 Allergy Swaps
Below are some ingredients swaps options if you need them.
Coconut-Free – Swap the coconut milk for almond milk, and replace the coconut yogurt with soy yogurt or any other coconut-free plant-based yogurt you love.
Blue Spirulina – If you only have green spirulina at home, you can use it in this recipe. While green spirulina is higher health benefits, it also has a strong seaweed flavor. As a result, you may like to decrease the amount in the recipe to 3/4 teaspoon.
Banana-Free – You can replace the banana for mango or more frozen pineapple.
Gluten-Free – Blue spirulina is extracted from blue-green algae and is naturally gluten-free, like all the ingredients in this smoothie recipe.
Frequently Asked Questions
Here are my answers to your most common questions about this blue smoothie.
What does blue spirulina smoothie taste like?
Blue spirulina powder has no flavor. As a result, a blue spirulina smoothie flavor comes from the fruits and milk added.
In this recipe, the flavor is tropical coconut, pineapple, and banana flavor.
What is blue spirulina good for?
Blue spirulina is high in phycocyanin, a plant blue-green pigment with high antioxidant properties.
As a result, it strengthens the immune system by killing free radicals.
Which is healthier blue or green spirulina?
Green spirulina has higher nutritional properties and health benefits than blue spirulina.
Blue spirulina only contains an antioxidant – the blue pigment called phycocyanin extracted from the green spirulina.
On the other hand, green spirulina contains more than antioxidants. It also contains B vitamins, iron, copper, and essential fatty acids called gamma linoleic.
However, not everyone enjoys the flavor of green spirulina, and that's why most health stores sell blue spirulina as it's tasteless and adds a lovely natural blue color to food.
Where to buy blue spirulina?
Blue spirulina is much rarer than green spirulina sold in grocery stores.
However, blue spirulina is often sold in specific stores like health food stores, pharmacies, or online.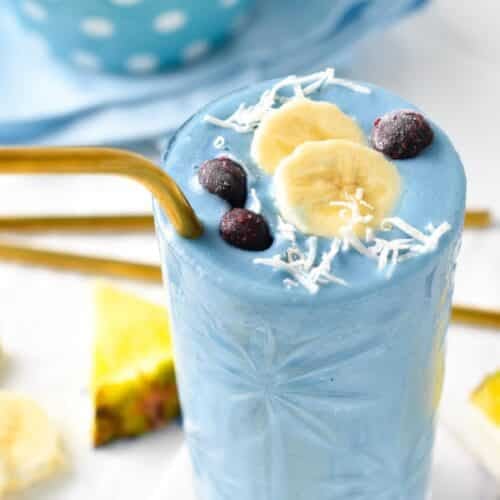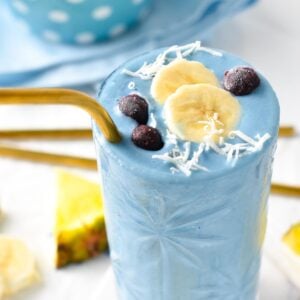 Blue Spirulina Smoothie
This blue spirulina smoothie is a creamy and smooth anti-oxidant smoothie with a vibrant blue lagoon color. Plus, the smoothie is also dairy-free and vegan-friendly.
Pin
Print
Review
Instructions
In a high-speed blender, add all the ingredients and blend on high speed until smooth. If too thick, use the tamper attachment of the blender to swirl the ingredients on the blade.

To thin it out, you can add a splash of coconut milk, or if too thin, add more frozen fruits or some ice and blend in. For a darker blue color, increase the blue spirulina up to 1 extra teaspoon – this won't add flavor, just color and extra antioxidants.

Serve immediately with banana slices and toasted coconut flakes.
Share on Facebook
Pin Recipe
Nutrition
Serving:
1
smoothie
|
Calories:
159.7
kcal
|
Carbohydrates:
28.9
g
|
Protein:
2.3
g
|
Fat:
5.1
g
|
Saturated Fat:
4.4
g
|
Polyunsaturated Fat:
0.1
g
|
Monounsaturated Fat:
0.2
g
|
Sodium:
18.5
mg
|
Potassium:
326.4
mg
|
Fiber:
3.7
g
|
Sugar:
19.4
g
|
Vitamin A:
80.5
IU
|
Vitamin B12:
1.1
µg
|
Vitamin C:
44.1
mg
|
Vitamin D:
44.3
µg
|
Calcium:
55.2
mg
|
Iron:
0.9
mg
|
Magnesium:
43.6
mg
|
Phosphorus:
28.1
mg
|
Zinc:
0.5
mg