Banana Almond Butter Smoothie
This Banana Almond Butter Smoothie is a thick, creamy banana smoothie with a delicious nutty flavor from almond butter.
Plus, this smoothie is naturally dairy-free, vegan, and packed with 15 grams of protein. No protein powder is needed to keep you full and refresh in the afternoon.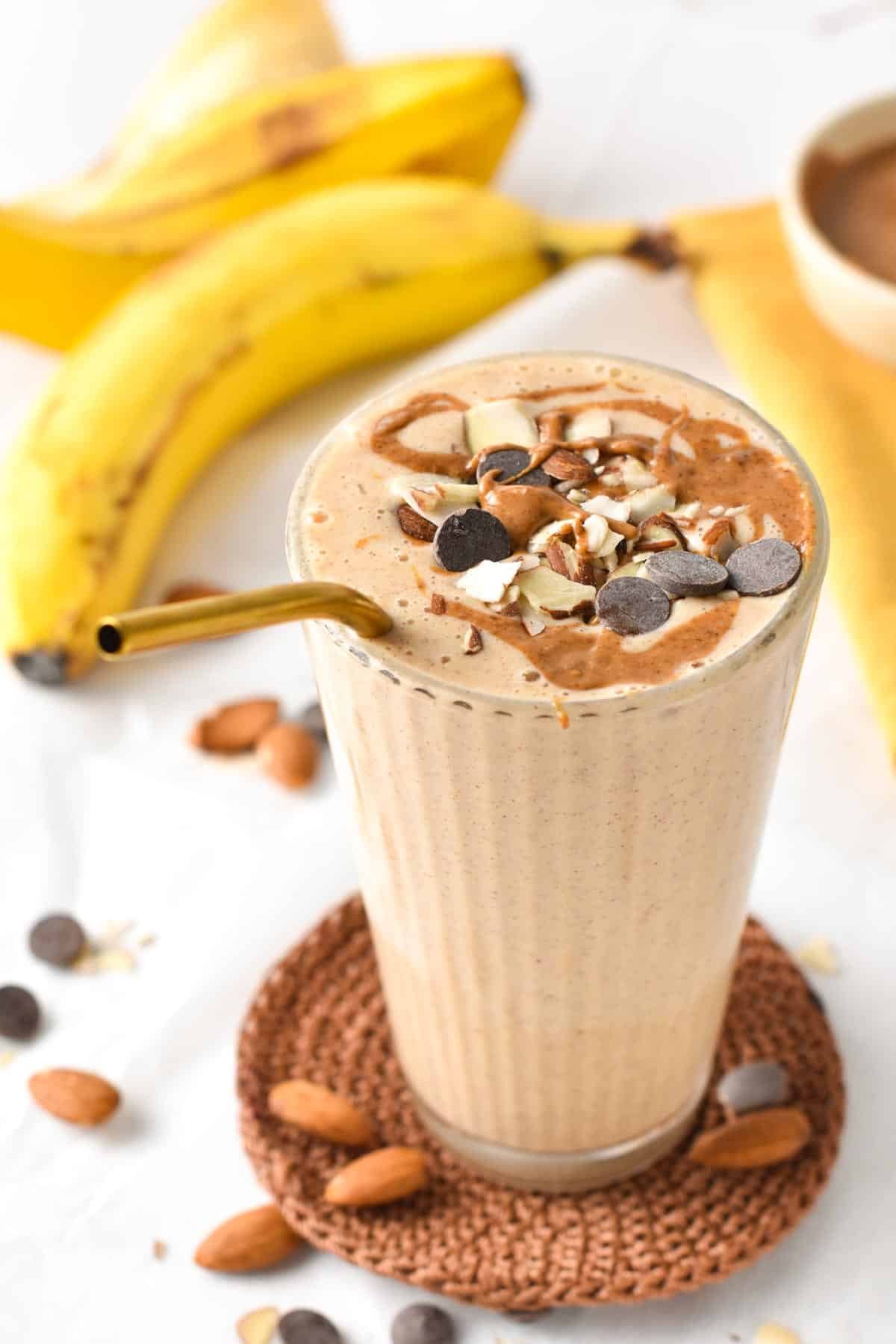 When I crave something sweet, I always reach out for my blender, frozen fruits, and nut butter.
It's honestly the best combo to naturally fix a sweet craving and feel satisfied and full at the same time.
In fact, almond butter is high in protein, even higher than other nut butter like cashew butter or peanut butter. Plus, it contains a bunch of crucial omega-3 fatty acids.
So adding almond butter to shakes and smoothies is a must-try, not only for taste and flavor but for health as well.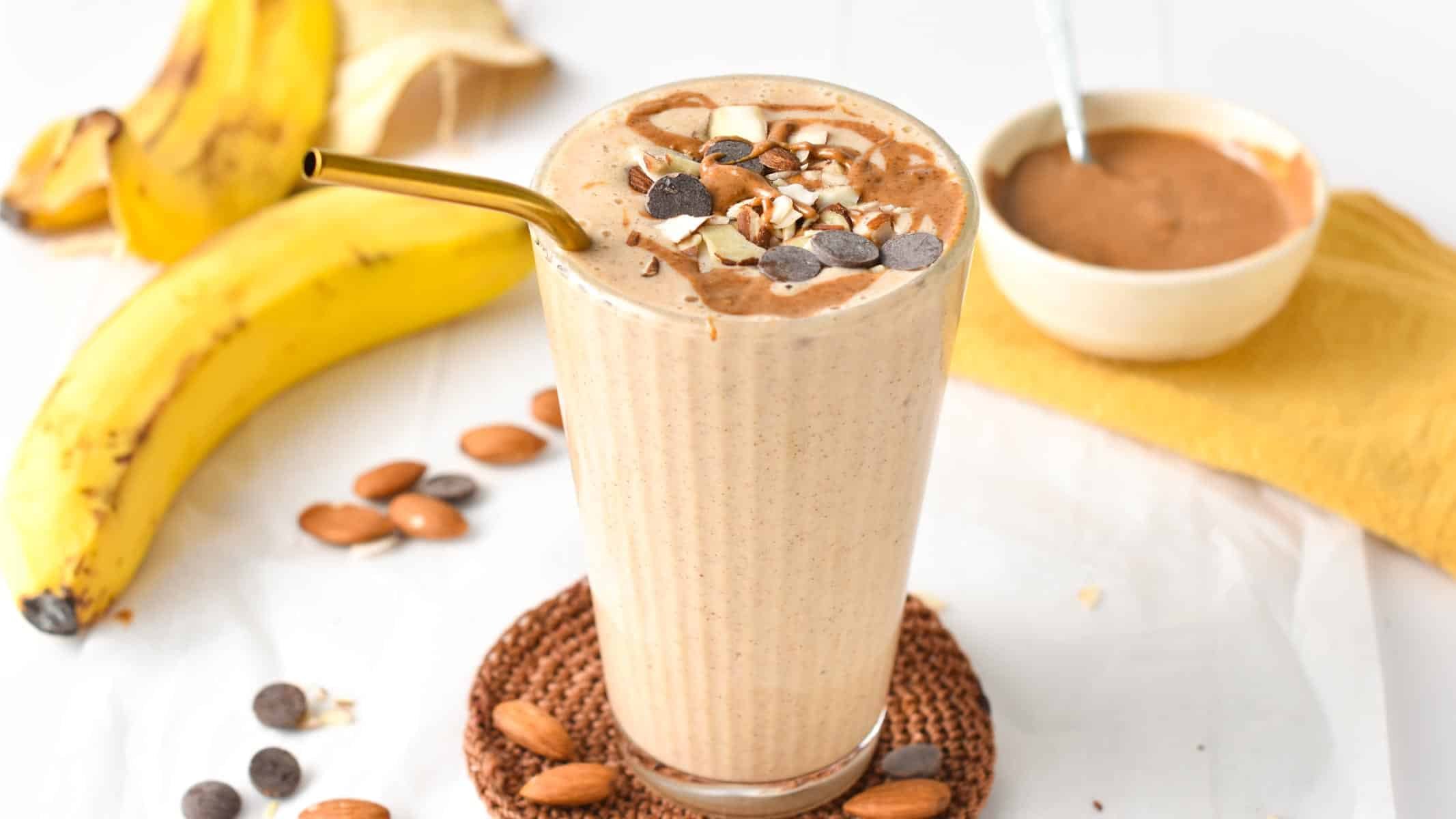 How To Make A Banana Almond Butter Smoothie
It always sounds easy to make a smoothie, but the hardest part is to make it balanced, not too thick, not too sweet – just right!
Ingredients
All you need to make this delicious smoothie are:
Soy Milk – Use any non-dairy milk you love, including coconut, oat, or almond milk. But keep in mind that soy milk increases the protein of the smoothie and keeps you full for longer. Also, soy is a complete protein as it contains all the essential amino acids you need for a plant-based lifestyle, so it's a great way to turn this simple smoothie into a nutrient drink.
Almond Butter – Fresh, drippy, and unsalted.
Frozen Banana Pieces – You can use fresh bananas, but using frozen ones reduces the ice cubes needed to keep the smoothie frosty.
Maple Syrup
Vanilla Extract
Chia Seeds – This is optional, but this adds nutrients like fiber and proteins and thickens the smoothie.
Cinnamon – Optional, but it goes very well with almond butter. The drink tastes a bit like a cinnamon roll with both ingredients.
Ice Cubes
Preparation
Simply add all the ingredients into a high-speed blender jug. Blend on high speed until smooth and creamy.
Taste and adjust depending on your taste buds. You can add ice cubes for a frothier texture or more sweetener to boost the sweetness.
Serving
Pour the smoothie into a large glass and serve with toppings with a boost of flavor and crunch. I like to serve this smoothie with the following:
Dark Chocolate Chips
Drizzle Almond Butter
Sliced Almonds
Pinch of Sea Salt
Homemade Granola – try my peanut butter granola for a delicious extra nutty flavor.
Flavor Variations
You can create a range of flavors starting with this recipe as a base. Try some of the flavors below:
Chocolate Banana Almond Butter Smoothie – Stir in one tablespoon of unsweetened cocoa powder or chocolate protein powder. Serve with melted chocolate and a few chocolate chips.
Strawberry Banana Almond Butter Smoothie – Add 1/2 cup of frozen strawberry slices.
Protein Almond Butter Shake – Add one scoop of protein powder to the recipe and increase the milk by 1/2 cup. Or, replace the non-dairy milk with half dairy-free Greek yogurt like soy yogurt and a splash of water.
Spinach Almond Butter Smoothie – Add a handful of baby spinach leaves to the blender.
Oatmeal Almond Butter Smoothie – Add three tablespoons of old-fashioned rolled oats.
Allergy Swaps
Also, I listed some ingredient substitutions to make this smoothie suitable for any food allergies.
Gluten-Free – Make sure your almond butter doesn't contains wheat – it shouldn't 99% are made from just almonds!
Soy-Free – Swap soy milk for any dairy-free milk you love, like almond milk or oat milk.
Frozen Banana – I always freeze ripe bananas into pieces in zip-lock bags. I love to have frozen bananas in the freezer to make smoothies, but if you don't have some on hand, it's ok to use fresh bananas, but you will need at least 1/2 cup of ice cubes to thicken the smoothie.
No Added Sugar – Skip the sweetener. The smoothie contains bananas that add a natural sweetness.
Nut-Free – You can use this recipe with seed butter instead of almond butter. Great choices are sunflower seed butter or tahini to make a tahini smoothie.
Frequently Asked Questions
Below are my answers to your common questions about this almond butter banana smoothie recipe.
Is Banana And Almond Butter Good For You?
Yes, adding nut butter to high-fructose fruits is a great way to slow down the release of the sugar in your blood stream.
The fat and protein in almond butter delay the spike of sugar from bananasbloodstream, slow down the digestion of carbohydrates and keep your energy level steady for longer.
How Much Nut Butter Should You Put In A Smoothie?
As a general rule, you should add up to two tablespoons of nut butter per smoothie.
This adds protein, healthy fat, and the nutty flavor you are after without adding too many calories.
Is Powdered Almond Butter Good For Smoothies?
Absolutely yes! It's a great way to decrease the fat and calories of your smoothie while adding proteins and almond flavor.
You don't need to rehydrate the powder before adding it to the smoothie recipe.
Are Bananas Still Healthy In A Smoothie?
Absolutely, banana doesn't change their nutrition profile when added to a smoothie.
They are the same nutrient-dense fruits that add a natural sweetness and thick creamy texture to the drink.
More Refreshing Smoothie Recipes
If you like this recipe, you'll love these other smoothies: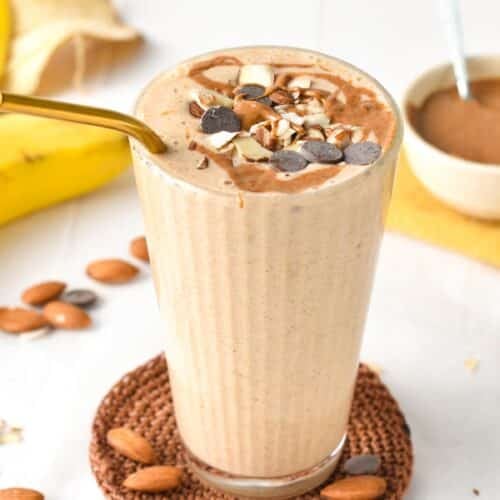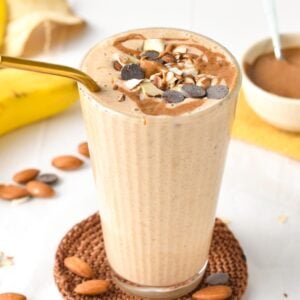 Banana Almond Butter Smoothie
This Banana Almond Butter Smoothie is a thick, creamy banana smoothie with a delicious nutty flavor from almond butter.
Pin
Print
Review
Instructions
Add all the smoothie ingredients to the high-speed blender, except the toppings, using any of the optional ingredients if desired. Blend until smooth.

Taste and adjust the sweetness by adding extra maple syrup if needed. If too thick, add a splash of non-dairy milk, up to 1/4 cup, and blend again. If too liquid, add ice cubes and blend to incorporate.

Serve immediately with a drizzle of almond butter, chocolate chips, and sliced almonds on top.
Share on Facebook
Pin Recipe
Nutrition
Serving:
1
serving
|
Calories:
438
kcal
|
Carbohydrates:
45.2
g
|
Protein:
15.6
g
|
Fat:
24.3
g
|
Saturated Fat:
3.2
g
|
Polyunsaturated Fat:
7.6
g
|
Monounsaturated Fat:
11.4
g
|
Trans Fat:
0.01
g
|
Cholesterol:
0.1
mg
|
Sodium:
100.3
mg
|
Potassium:
997.8
mg
|
Fiber:
9.7
g
|
Sugar:
21.6
g
|
Vitamin A:
676.1
IU
|
Vitamin B12:
2.7
µg
|
Vitamin C:
10.2
mg
|
Vitamin D:
2.9
µg
|
Calcium:
460.3
mg
|
Iron:
3.5
mg
|
Magnesium:
181.4
mg
|
Phosphorus:
305.6
mg
|
Zinc:
1.6
mg